So, this is another checkmark in my ongoing quest to find a perfect, go-to recipe for basic foods, joining dinner rolls, waffles, lasagna, and chocolate chip cookies.
I've had a pancake recipe I really love for a while, but it requires you do a bit of prep the night before. Which is pointless when, like our family, you often decide on a whim that you need to have pancakes for dinner.
I know that pancakes are a very personal thing – some people like really fluffy, thick pancakes. Others like almost crepe-thin pancakes. These are kind of in between. Thin-ish and soft, but not chewy. They don't bounce back when you try to cut them with the side of your fork (I hate that). They are buttery and melt in your mouth.
Ella ate four last Saturday night when we had them for dinner.
We've eaten them with fruit sauce, maple syrup, jam, yogurt, and fresh fruit. All variations were delicious. And they were also amazing eaten cold off the plate while doing the dishes.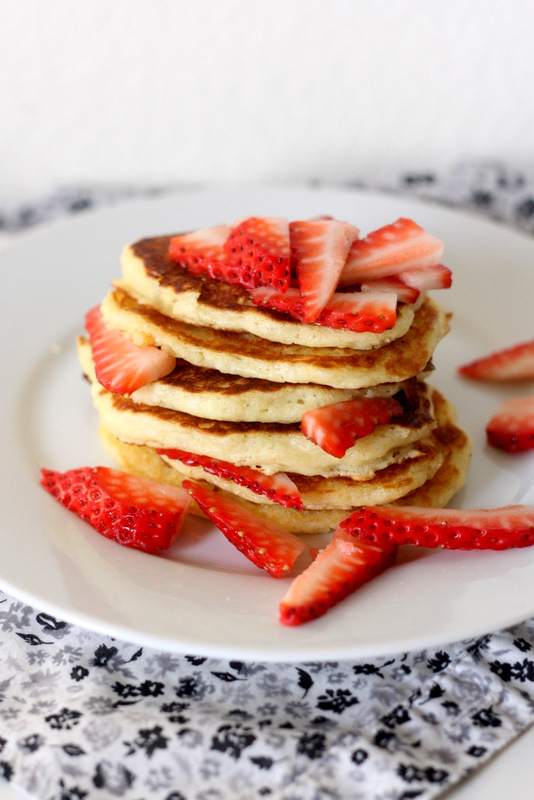 Saturday Night Pancakes
(adapted from Ruth Reichl)
Makes 12-16 medium-sized pancakes (between the three of us, we eat them all)
6 tablespoons butter, melted
1/2 cup milk
1/2 cup buttermilk
2 eggs
1 tablespoon oil (I like coconut)
1 teaspoon vanilla
1 cup flour
4 teaspoons baking powder
4 teaspoons sugar
1 teaspoon salt
Whisk together the melted butter, milk, buttermilk, eggs, oil and vanilla until smooth.
In a small bowl combine the dry igredients. Whisk the dry mix into the wet mixture just until combined (it will be very fluffy looking).
On a greased skillet over medium heat, drop 1/4 cup of batter. Let cook until bubbles form and pop, then flip carefully and cook the other side.
Serve immediately.