We love waffles around here and we've gone through a number of recipes over the years (I have vivid memories of making waffles just a week after our wedding, so this is no short-term love affair with waffles).
Of all of them, this is the recipe that we've stuck with the longest (about two years now) and every single time we make it, Bart and I both say, "These are the BEST waffles ever."
They're easy to make (so much so that sometimes when Bart needs a late night snack, he'll make a half batch), and if you're looking to use up some buttermilk, this is a hard recipe to beat. Also, they freeze and reheat in the toaster beautifully (just as good as fresh, in my mind).
I also like that these are subtle enough to go with pretty much any topping (the picture below is a lemon/blueberry sauce and plain yogurt topping), but they have enough flavor and texture that we eat them plain too.
By the way, I have a standard waffle iron, not a Belgian waffle iron – I don't like Belgian waffles nearly as much as a regular waffle – but Ralphie makes these waffles in her Belgian waffle iron and says they work well there too.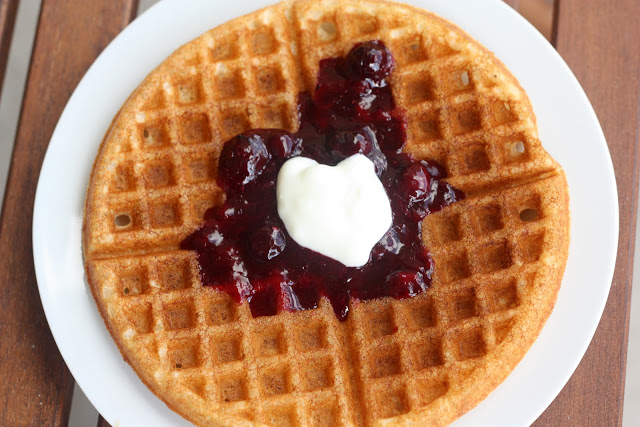 My Favorite Waffles
(adapted from Orangette)
Ingredients
1½

cup

flour

I use white-wheat

½

cup

cornstarch

1

tsp

baking powder

1

tsp

table salt

½

tsp

baking soda

3

tsp

sugar

1

cup

milk

1

cup

buttermilk

2/3

cup

oil

I used canola for a long time, but now I use coconut (if your coconut oil is solid, warm it for a few seconds to get it to a liquid state)

2

eggs

1½

tsp

vanilla extract
Instructions
In a mixing bowl, whisk together the dry ingredients. Pour in the remaining ingredients and blend well so that no lumps remain.

Set aside to rest for 30 minutes (you can skip this and they'll still be good, but I promise, it's worth waiting that thirty minutes. Gives you time to clean up the kitchen, make some syrup, set the table, and heat up the waffle iron).

Preheat your waffle iron. I set mine to heat level 6 of 7.

No need to grease your waffle iron (unless it's an extra-super sticky iron, I suppose). Pour the right amount of batter into your heated waffle iron. Cook until golden and crisp.

Serve immediately.

Leftovers freeze well and are best reheated in a toaster.