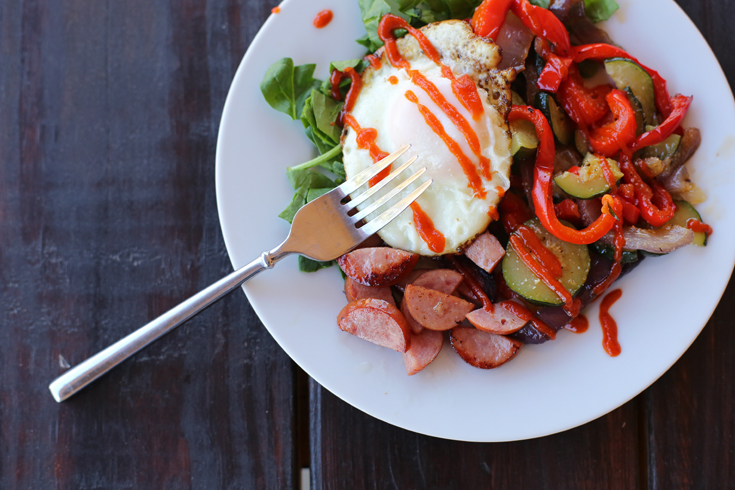 You know how as you get older, you realize that some of the things that work well for you?
One of mine has been realizing that it's much better for me to eat a savory breakfast than a sweet breakfast.
If I eat something sweet for breakfast (cold cereal, my beloved yogurt and granola, etc), I feel like my sweet tooth is kicked off for the day. Plus, I'm usually hungry within an hour or two.
Whereas if I have a savory breakfast, then I stay full and I'm not very tempted by sugar for at least the first half of the day.
(Then I eat cold cereal or yogurt and granola for lunch. . . ).
So almost every morning for the last two years aside from the occasional weekend or holiday, I've eaten some variation of this same breakfast: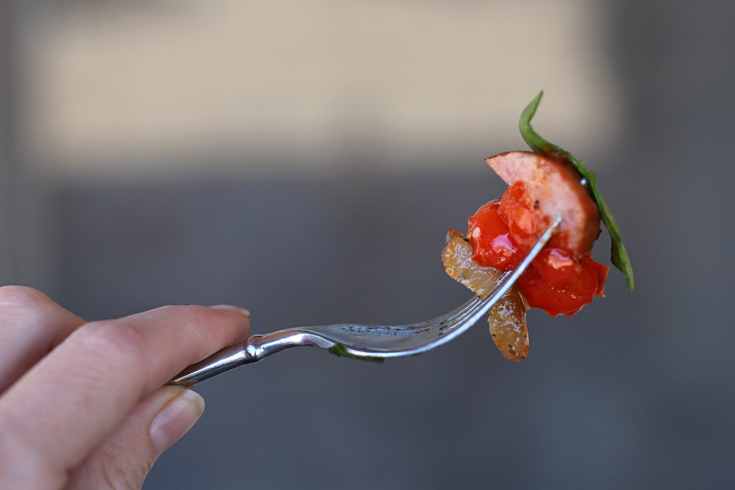 My Daily Savory Breakfast
Sautéed vegetables. Always onions and peppers and sometimes mushrooms and zucchini. If I have roasted sweet potatoes or some other leftover vegetable, I'll toss those in too.
Meat. I almost always do chicken sausage and try to get ones without nitrates since I'm eating it every day. If we have leftover chicken or some other meat, I'll add that instead.
Eggs. I usually do one egg unless I'm feeling especially hungry and then I'll 2.
Cheese. Feta is my first choice, but I also love goat cheese. Cheddar works in a pinch.
Extras. Sometimes I add fresh spinach or if we have leftover quinoa, I love that stirred in too.
Toppings. I always squirt a little sriracha sauce on top and in the last few weeks I've discovered that I love a scoop of hummus with it.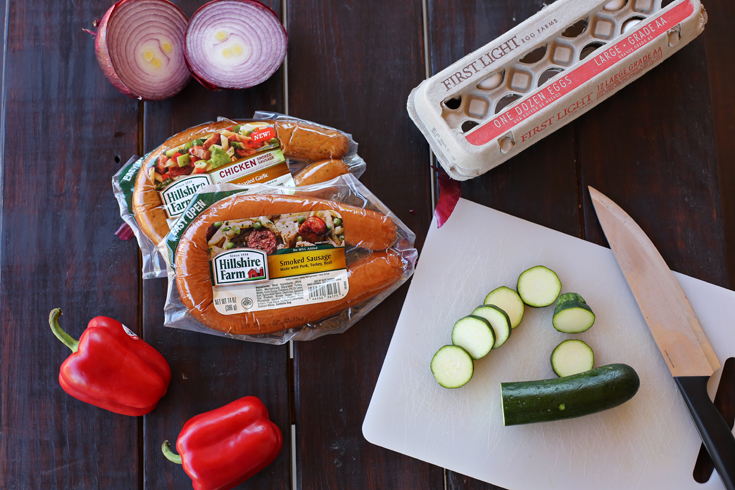 I toss the vegetables in a frying pan with a little drizzle of olive oil and let those sauté  while I unload the dishwasher or help the girls get their breakfast, then I add in the meat for 2-3 minutes and once it's warm, I crack in my eggs and scramble them.
(I did a fried egg in these photos because frankly, scrambled eggs with all those vegetables looks somewhat like a plate of barf).
As soon as the eggs are cooked, I put the whole mixture on a plate, add some spinach if I'm so inclined, sprinkle on the cheese so it can melt, add a scoop of hummus and drizzle on the sriracha sauce.
I never get tired of – it's SO delicious every day and keeps me going until lunchtime.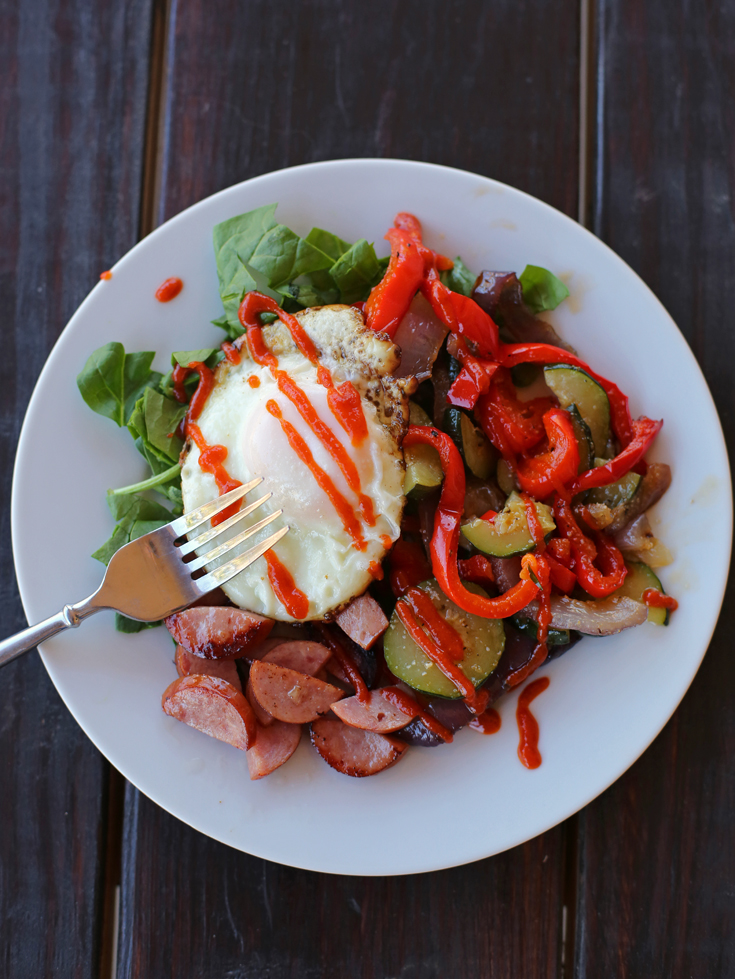 I love not having to think about breakfast because I have the same thing 99% of the time.
The other good thing is that none of my children have any interest in it, so I don't have to share.
if you liked this savory breakfast recipe, you might also like these other recipes: