So this is the time of year when your tomatoes (and obviously by that I mean MY tomatoes) are either hard and flavorless or little red mush balls. Losers, either way.
Roasting tomatoes, though, magically makes both of those problems go away. So bring your sad tomatoes right up for this recipe.
I had Ella find all the tomatoes rolling around in the bottom of the fridge drawers for this, which she thought was really fun. Kids are easy to entertain. (Random aside: I love nearly everything about this house, but the fridge? Horrible. I now know why my mom never liked side-by-side fridges. Also, all but one of the shelves in the door of the freezer are missing their fronts (which makes them useless) and the pins that hold both of the produce drawers in place in the fridge are gone which makes the drawers extremely rickety).
Did I just complain about my fridge there for many sentences when what you really wanted was to get to the recipe? I think I did. I am so terribly sorry.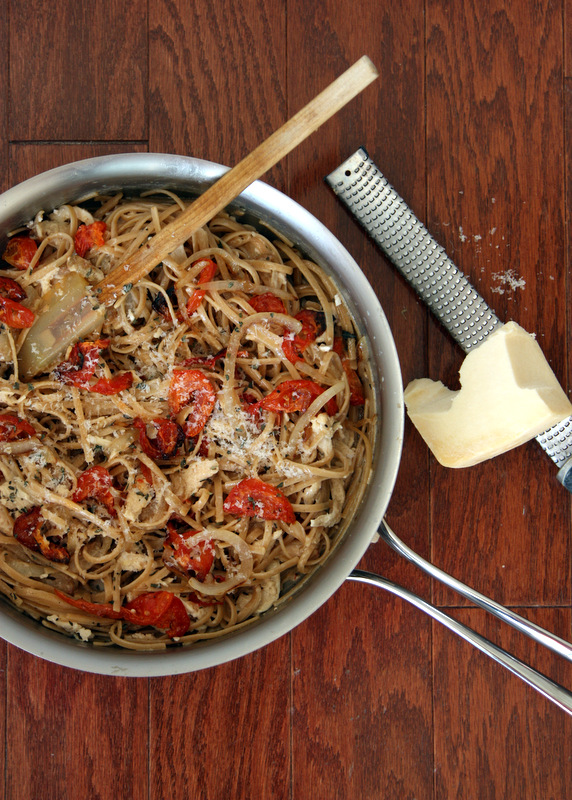 roasted tomato chicken linguine with caramelized onions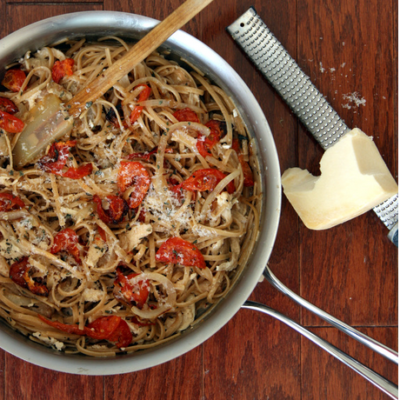 Roasted Tomato and Chicken Linguine with Caramelized Onions
Fresh roasted tomato past chock full of flavors.
Ingredients
4-5

roma tomatoes

there is no such thing as too many tomatoes

1

chicken breast

Olive oil

Salt and Pepper

1/2

sweet onion

sliced into thin half-moons

1/2

lb

linguine noodles

1/2

cup

chicken or vegetable broth

1/2

cup

apple juice

1/2

cup

heavy cream

1/2

cup

Parmesan cheese

grated

1

clove

garlic

minced

1

teaspoon

dried basil
Instructions
Preheat oven to 400 degrees.

Slice the tomatoes in half length-wise and then slice into 1/4" half-moons. Arrange in a single layer on a foil-lined baking sheet. Place the chicken breast on the sheet too, and drizzle everything with olive oil and then generously salt and pepper. Roast for about 30 minutes, or until the tomatoes are beginning to turn brown around the edges (you may need to remove your chicken earlier, depending on how thick it is). Set aside.

While those roast, warm 2 tablespoons of olive oil over medium-low heat in a large skillet, then add onions and stir to coat. Cook until very soft and golden-brown (about 20 minutes), stirring frequently. Put them in a bowl and set aside.

While your onions are caramelizing, bring water to a boil in a saucepan and cook your noodles to al dente. Drain and set aside.

After you've taken your onions out of the skillet, add the broth and apple juice, scraping the bottom of the pan to get any browned bits off. Stir in the cream and bring to a simmer, letting it cook for about 10 minutes. Add the Parmesan cheese, garlic and basil, cooking 1 minute more.

Shred the chicken, then add it, the tomatoes, the noodles, and onions to the cream sauce and stir to coat well. Salt and pepper to taste, and serve immediately.
Recipe Notes
(adapted from What Katie Ate)
if you liked this roasted tomato pasta recipe, you might also like these other recipes: