This Creamy Tuscan Chicken Pasta is a super delicious dinner that our whole family LOVES and I think you'll love it too (unless you hate tasty things)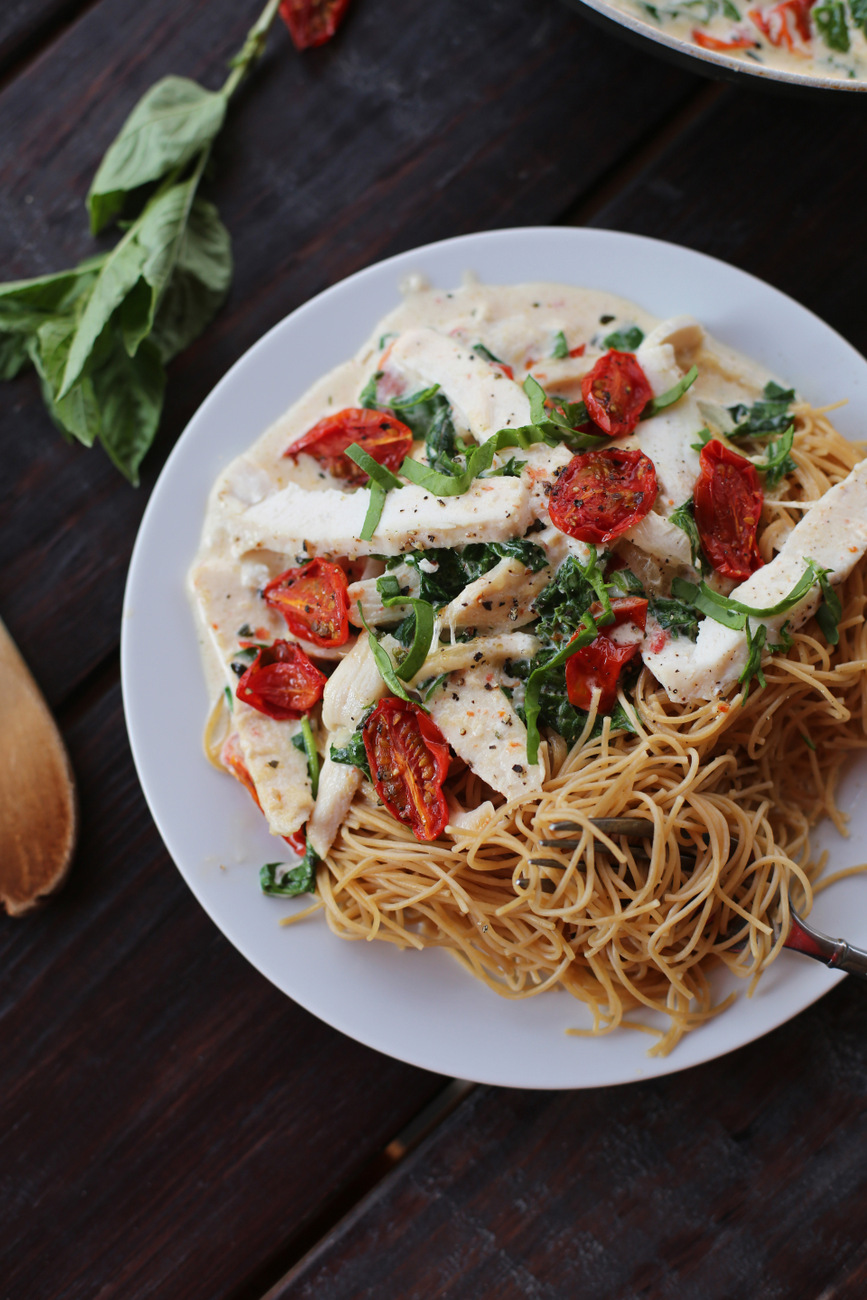 For some reason, pasta is not a dinner default for me.
I don't think of it very often when I'm meal prepping, but then every once in a while, I'll make a pasta dish for dinner and I think, "WHY DON'T I MAKE THIS MORE OFTEN?"
Because it's generally a quick meal, pasta is inexpensive, and, most importantly, everyone in my family will eat it.
(If you're reading that and thinking I'm not that smart to be not making pasta more often, rest assured that I'm nodding my head along with you).
Plus, pasta really makes excellent leftovers, which is a big deal to me because a day with leftovers for lunch is the easiest, quickest, most delicious kind of day.
Time to repent of all my non-pasta-making ways.
And this creamy Tuscan chicken pasta dish is KILLER.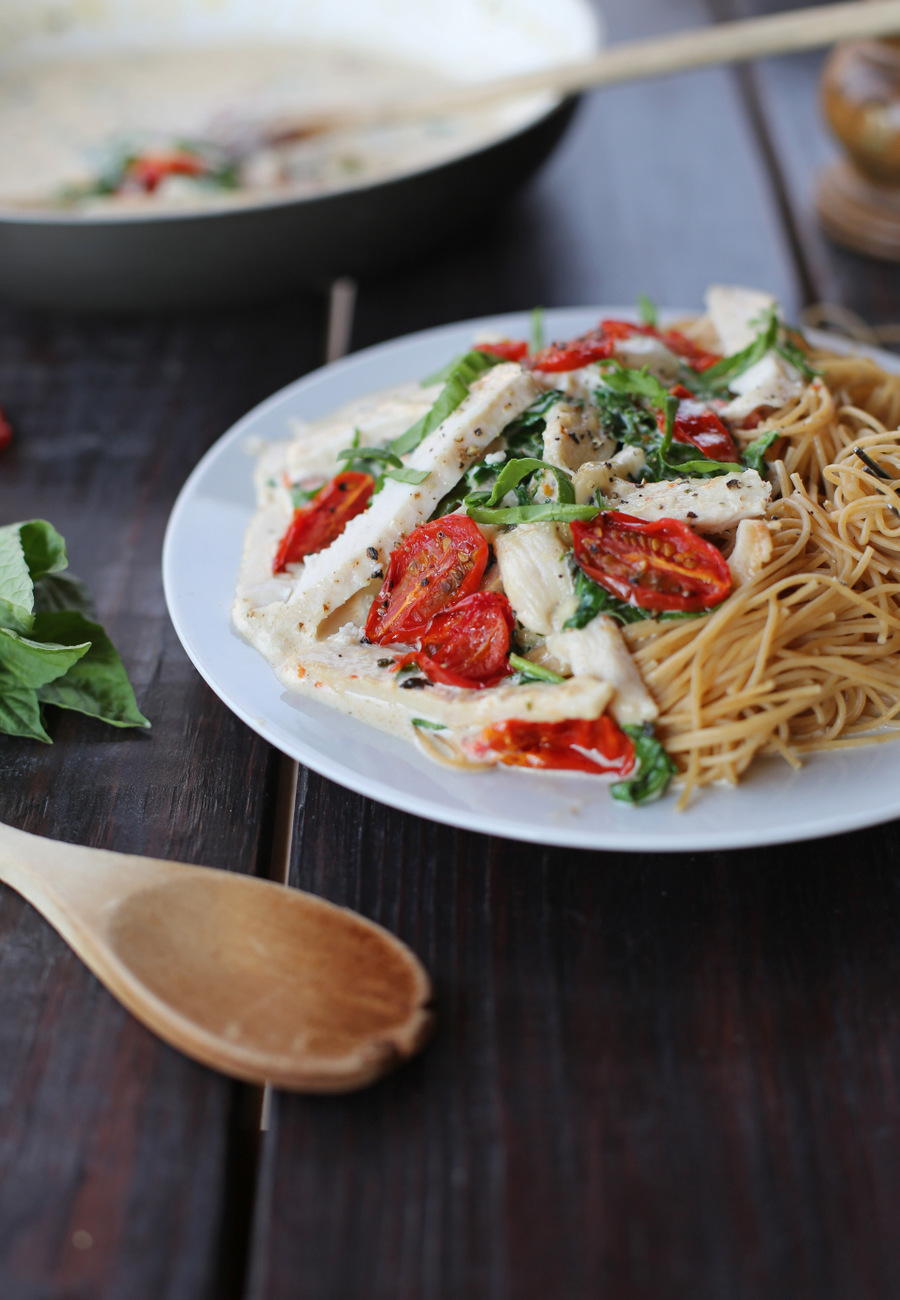 Creamy Tuscan Chicken Pasta
The first time I made it, Bart came home and had already eaten dinner and I said, "You should try this."
He took one bite and then . . . many more bites. I was like, "Hey, that's MY dinner!"
Fortunately there was more in the fridge, waiting to be eaten. And it was gone in a flash.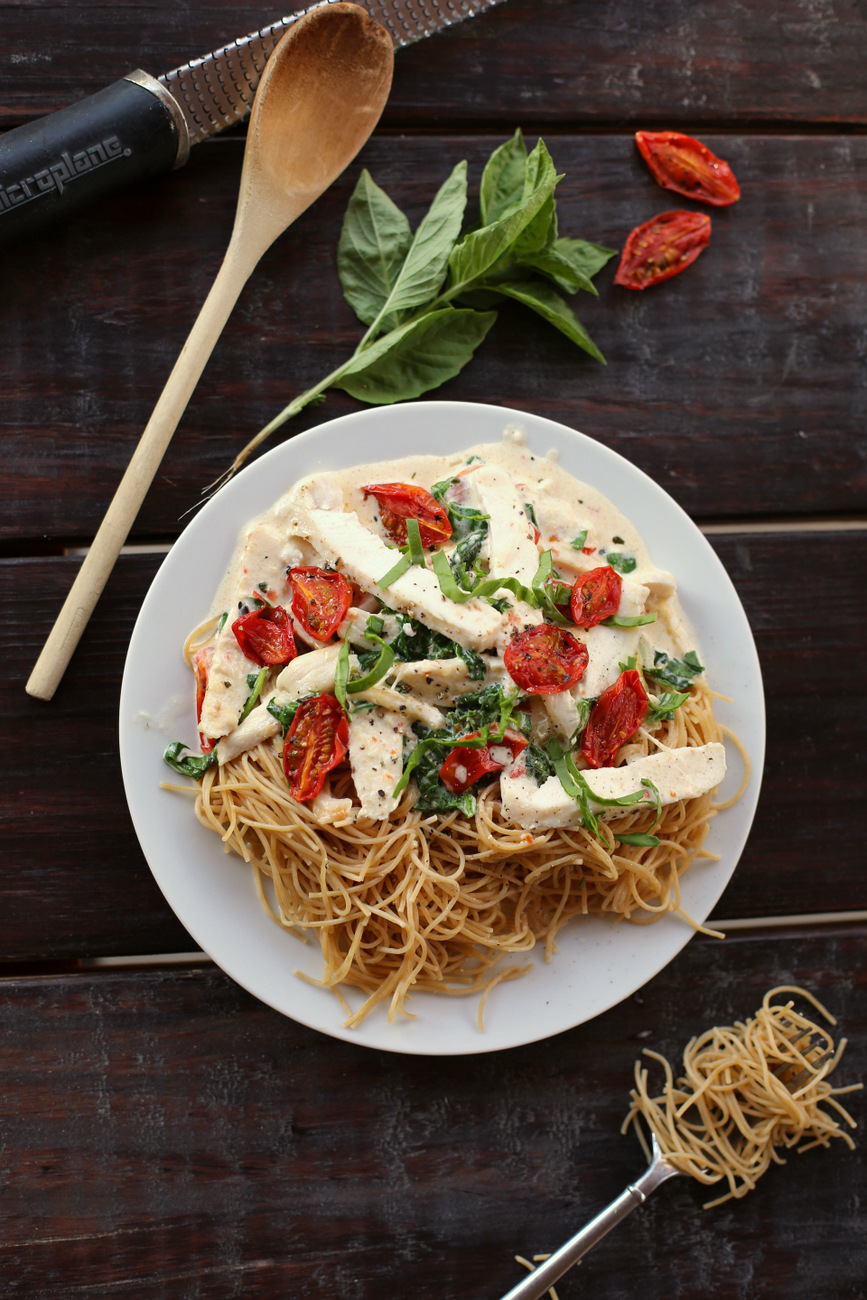 Also, the original Tuscan chicken recipe called for sun-dried tomatoes, but I couldn't FIND sun-dried tomatoes at my grocery store that day (I eventually found them a few weeks later) and I only kind of like sun-dried tomatoes. I usually think they are overly chewy and I'm not wild about the flavor.
But roasted tomatoes? I could eat the whole pan plain. They're so easy and they're BURSTING with flavor even if you start with semi unimpressive tomatoes. I had a bunch of grape tomatoes in my fridge that were starting to look a little soft and unappetizing and after a little round in a hot oven with some olive oil and salt and pepper, they were the most delicious things on the planet.
Seriously, they make this whole chicken pasta dish that much more magical.
And it was a pretty magical dish to begin with.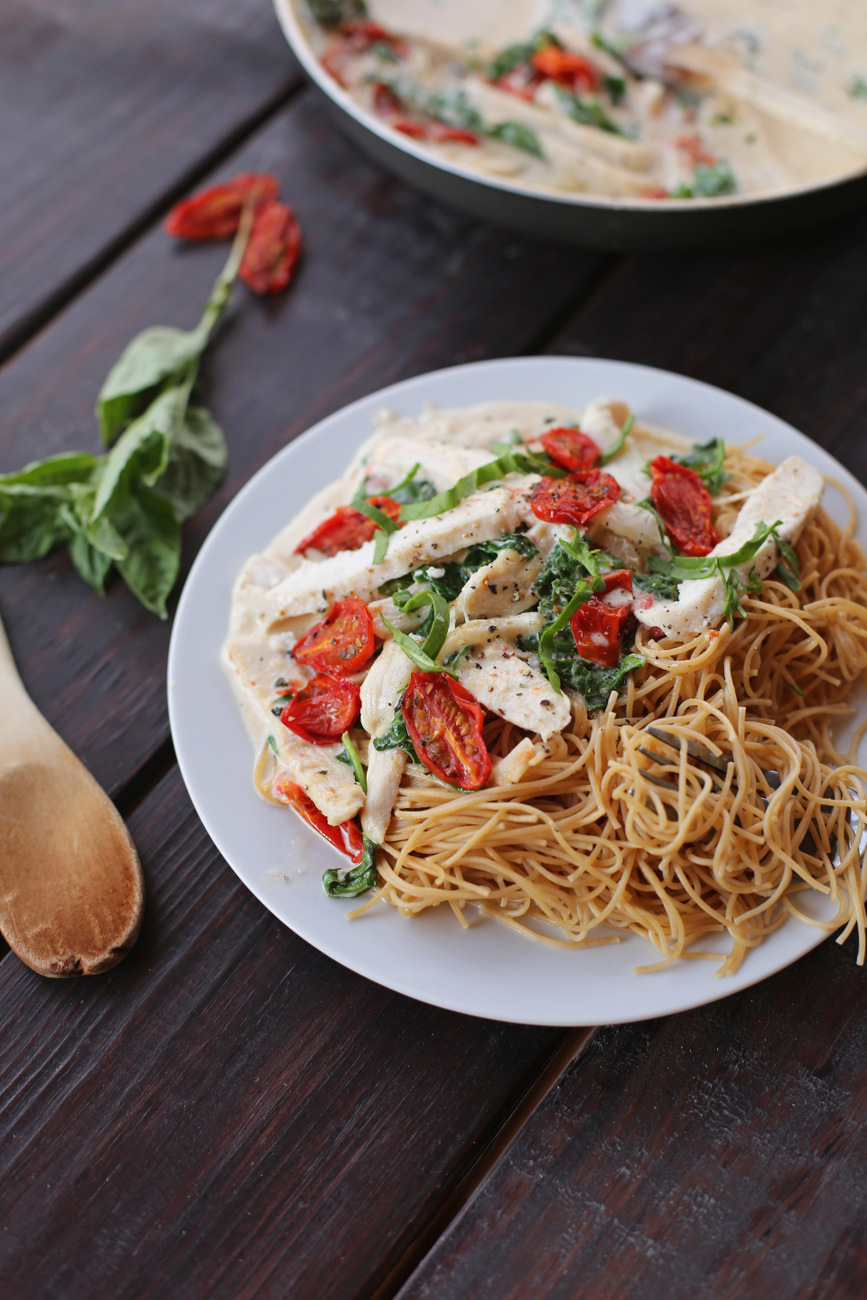 If you like this creamy Tuscan chicken pasta recipe, you might also like these dishes: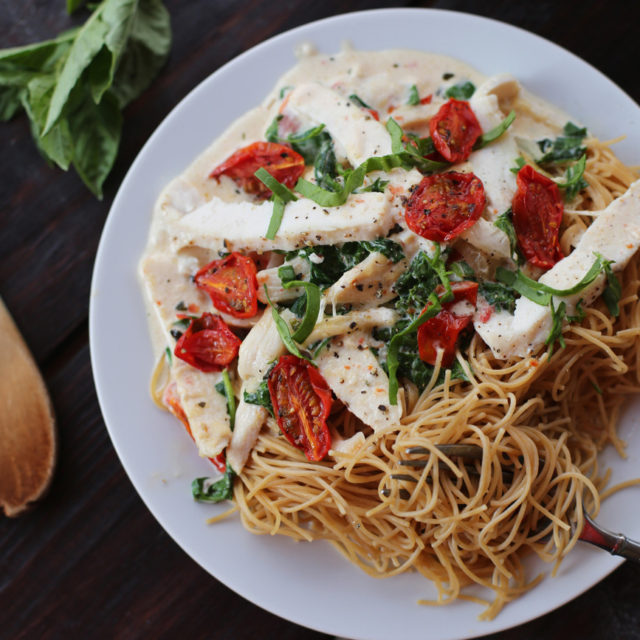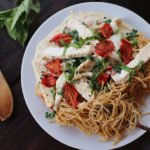 Creamy Roasted Tomato and Chicken Pasta
This Creamy Tuscan Chicken Pasta is a super delicious dinner that our whole family LOVES and I think you'll love it too (unless you hate tasty things)
Ingredients
3

boneless, skinless chicken breasts

2

pints

grape or cherry tomatoes

halved

12

ounces

angel hair or fettuccine noodles

3

Tablespoons

olive oil

salt and pepper

1

Tablespoon

olive oil

1

yellow onion

sliced into half moons

2

cloves

garlic

minced

2

cup

whipping cream

1

cup

chicken broth

1

cup

Parmesan cheese

grated

2

teaspoons

italian seasoning

2

handfuls

baby spinach

roughly chopped

2

Tablespoons

fresh basil

julienned
Instructions
Preheat the oven to 400 degrees. Line a baking sheet with tinfoil. Place the halved tomatoes and chicken breasts on the baking sheet, drizzle with the 3 Tablespoons of olive oil and generously salt and pepper everything. Bake for 20-30 minutes until the chicken is cooked through and the tomatoes are caramelized, with browned edges.

While those cook, heat the 1 Tablespoon of olive oil in a large skillet over medium heat and cook the onions until very soft, about 10 minutes.

Bring a pot of water to a boil and add the pasta and let it cook until al dente while you make the sauce.

Add the garlic to the onion pan, cook for about 30 seconds, then add the cream, chicken broth, Parmesan, and italian seasoning. Cook over medium-low heat, stirring frequently, until it is smooth and thickened.

Slice up the chicken breasts. Add the chicken, the roasted tomatoes, and the spinach to the sauce and let cook 1-2 minutes until the spinach is slightly wilted. Salt and pepper to taste.

Serve the sauce over the pasta and top with the basil, if desired.