I mentioned in this post a few years ago that one of the family traditions we've changed from my growing up is having breakfast during the present unwrapping.
It's nice to take a break part way through the unwrapping festivities for some real food (rather than just eating Reese's peanut butter cups or tic-tacs from your stocking until lunch time and then feeling vaguely ill for the rest of the day).
Of course, my children are always anxious to get back to the presents, and I don't want to spend a long time getting breakfast ready, so I always try to have it be a pretty quick and easy breakfast while still feeling festive.
This make-ahead croissant french toast casserole is PERFECT.
I can get it all ready to go the night before, including making the strawberry sauce and keeping it in the fridge, and then when we start opening presents, I can pop it in the oven and when the timer goes off, I warm up the sauce, pull out some juice and eggnog and breakfast is served.
If I'm feeling very fancy, I might fry up some bacon or make a quick smoothie.
I pretty much never met a croissant in any form that I didn't like, and this is a REALLY good use of them, especially for our family that all loves cream cheese with all their hearts.
(When we lived in Arizona, we could pick a lemon right off our backyard lemon tree, which was even better – now we're back to grocery store lemons).
If you make it for the holidays, I hope you and the rest of your family love it!
But if you'd rather just have a breakfast of stocking candy, I won't judge you for it.
 baked croissant french toast with lemon cream cheese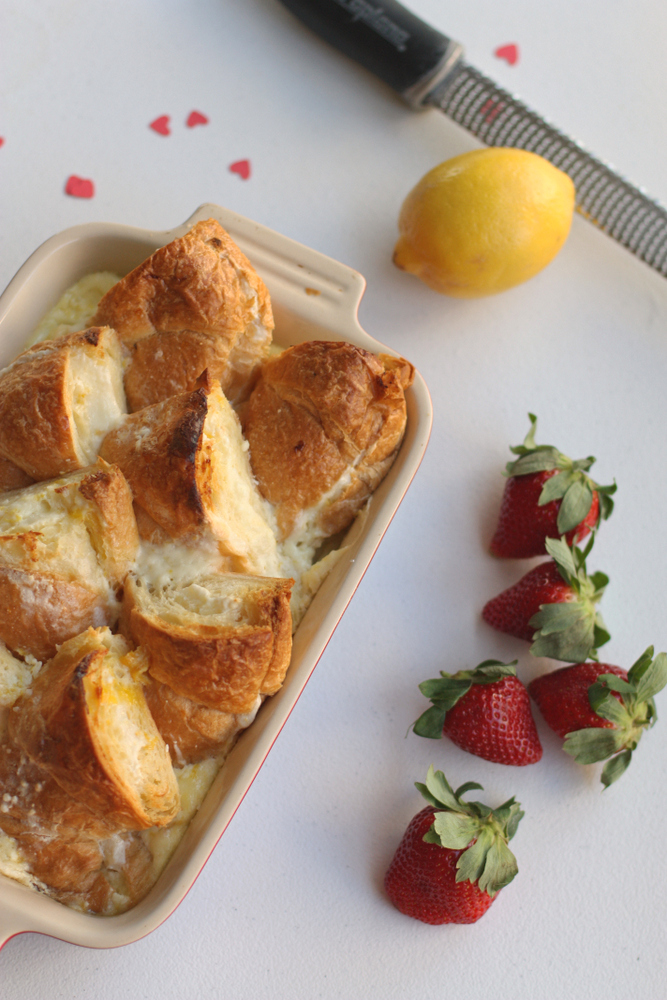 if you liked this baked croissant french toast with lemon cream cheese recipe, you also might like these recipes: