At the last minute, homemade Christmas gifts are zero fun.
But if you plan a little ahead and have the time, it's really fun and special to give homemade Christmas gifts – there's something a little magical about something that didn't come from the store and that you put some time into creating just for the recipient.
My girls, especially, love making Christmas gifts, so I tried to include quite a few that a child could help with.
Turn on some Christmas music or a favorite holiday movie and get to work – it's the perfect activity for a cold December day.
Here are fourteen of my favorite homemade Christmas gifts!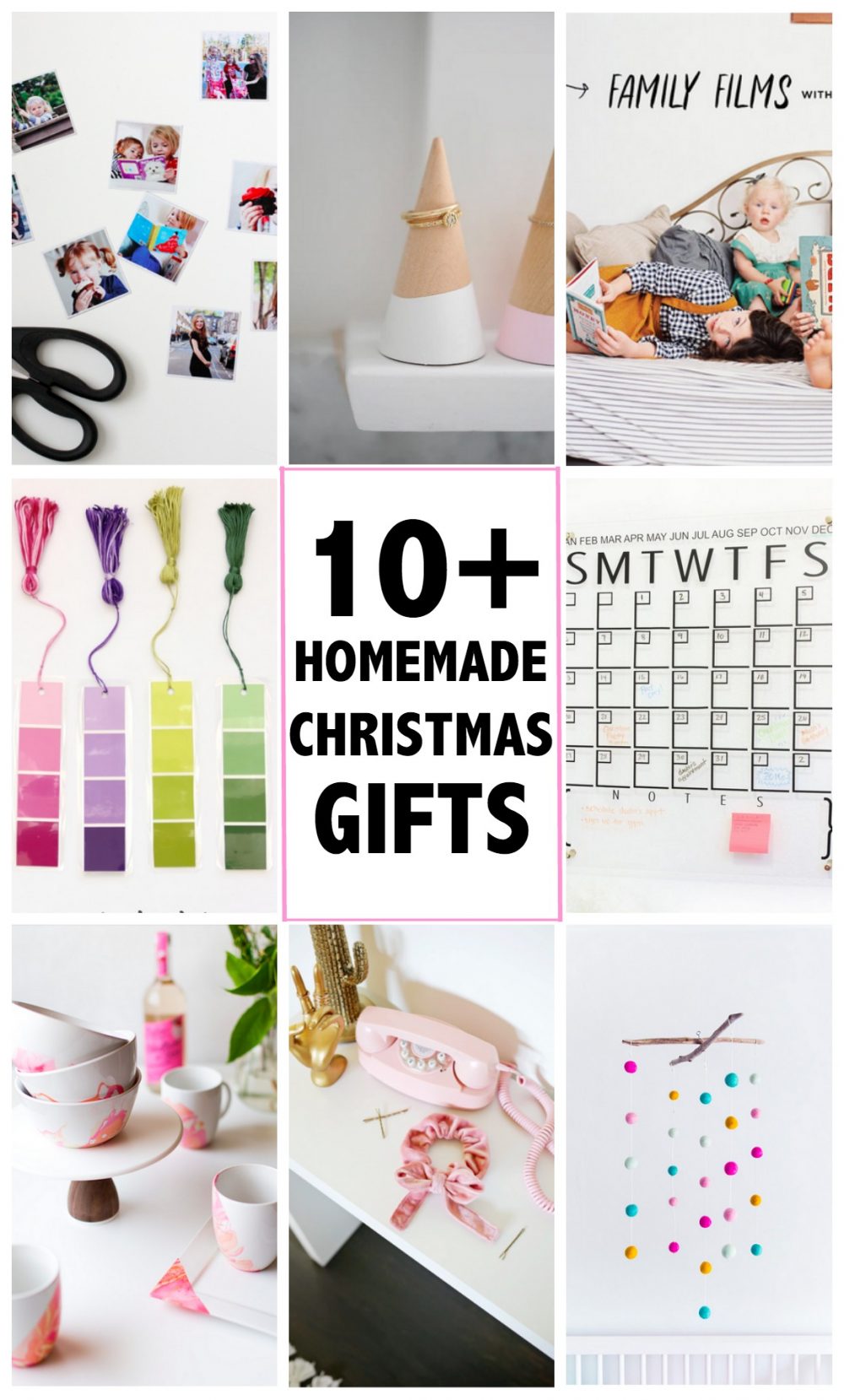 14 Homemade Christmas Gifts
Photo magnets. I made these YEARS ago and my girls never got tired of them. It's the perfect way to display a few extra photos without having to make wallspace. Plus, they're tiny enough to slide into an envelope and easily mail to grandparents or cousins.
Scarf. I made this buffalo five years ago and it's still my favorite favorite scarf. It literally could not be easier and it costs less than $5.
A Family or Travel Video. I already talked about these on my list of free gifts, but I LOVE making these little videos. Whether it's of a family trip (you can see the Hawaii video I made here) or a baby shower or any special occasion, a video that's 30 seconds to 5 or 6 minutes long is such a treasure! If you've never made one before, I loved this class about how to make one (use the code JANSSEN for $5 off).
DIY Acrylic Calendar. If you want to go big with your homemade Christmas gifts, this reusable wall-mounted calendar is very impressive.
Rainbow Mobile. For a playroom or nursery, these are just so happy and classic.
Paint Chip Bookmarks. I love a good bookmark and I LOVE the beauty of paint chips. This is a great gift for members of your book club, paired with a favorite book, or for children to make for their school friends!
Constellation Cards. You can fully complete these or make the cards and then let your recipient add their own constellations. Such an easy and fun gift for a child or any stargazer.
A plant in a hand-painted pot. I'll admit I'm turning a little bit into a plant lady and I think a little plant is such a nice gift, especially if you hand-paint the pot. I love this technique for a fun, professional looking pot.
Felt Fishing Game. If you're looking for a simple activity to keep in a church bag or to entertain on the airplane, this is a great DIY project. And it's perfect for an older sibling to give to a younger sibling.
DIY Ring cones. For a jewelry lover who needs a better way to store their ring collection, this easy DIY project looks gorgeous on a nightstand or dresser.
Velvet Bow Scrunchie. Scrunchies are huge right now and one with a bow are extra special!
Felt Birthday Crowns. This is a serious upgrade from those paper party hats. Make one that the birthday girl or boy can wear or make a whole set so the whole family can celebrate in style.
Gold Dipped Feather Earrings. My sister Merrick made these several years ago and I've never stopped thinking about them. They're so glamorous and special.
Homemade Vanilla. I've been making my own vanilla for seven years and it's just so much more affordable and really makes me feel like a legit baker. Plus, it's SO EASY and there are printable tags you can use to make them extra special.
I'd love to hear your other favorite homemade Christmas gift ideas!
If you liked this post about homemade Christmas gifts, you might also like these posts: