Having a hard time finding great gift ideas for men or struggling with Father's Day gift ideas? I've collected some fun, reasonably-priced gift ideas for men that have been big hits at our house over the past few years. 
Every time a holiday rolls around – whether it's Father's Day or Christmas or Bart's birthday – I remember how HARD it is to find great gift ideas for men.
It cannot just be me, right?
And I feel like every time I find a list of unique gift ideas for men, it basically assumes men are only interested in barbecuing, whiskey, and golf.
Or really expensive clothing items.
After Christmas, I started slowly collecting unique gift ideas for men, and with Father's Day just around the corner, now seemed like a good time to share these great gifts for men.
Whether you're buying for a dad, a husband, a boyfriend, or a brother, I hope at least one or two of these gift ideas for men will be helpful!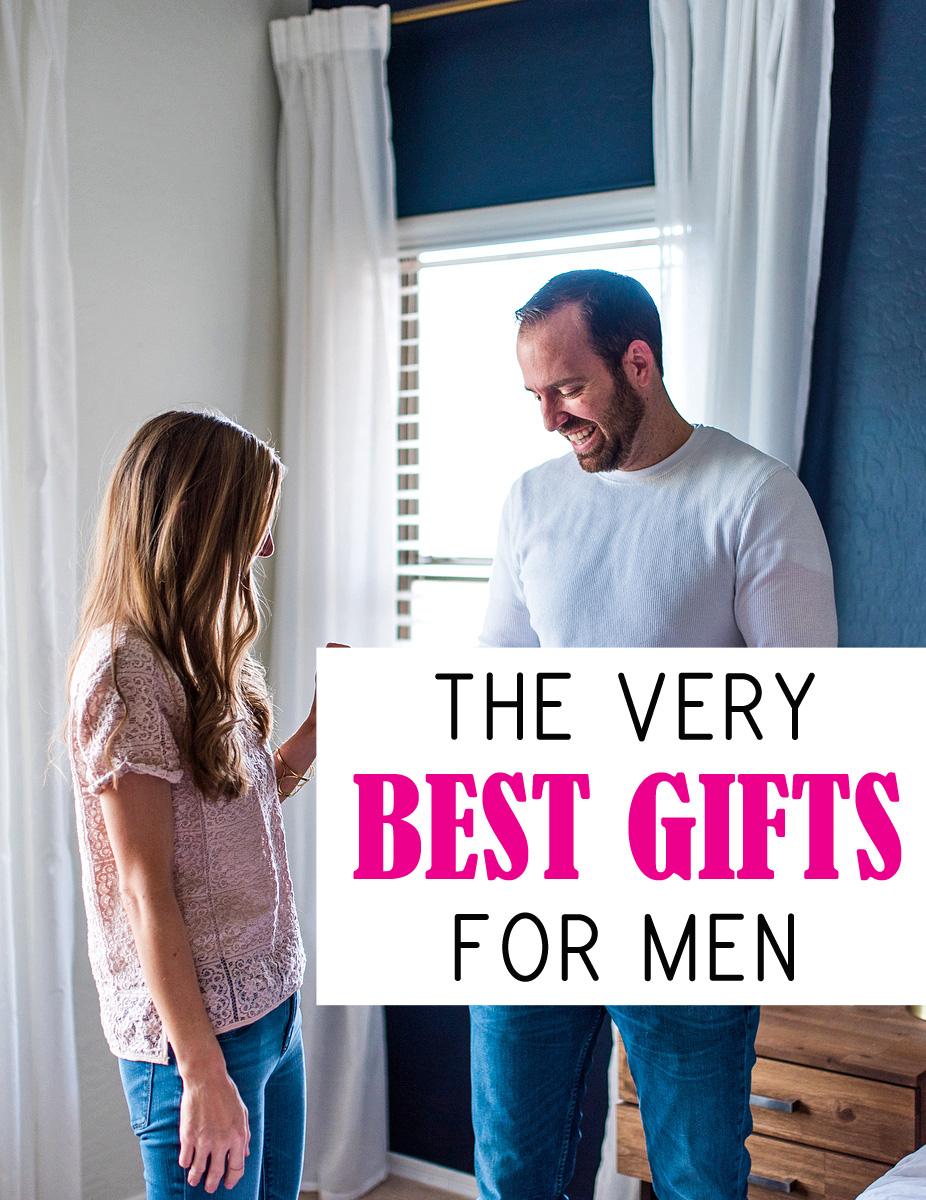 10 Great Gifts for Men
Bart's brother and sister-in-law gave us this for Christmas and I thought it was the COOLEST gift. It can jump start your vehicle (no other car needed) up to 20 times on a single charge and you can use it to charge your electronics on the go (it has two ports which triples the number of things we can charge at once on a road trip). If you have road trips coming up this summer, you'll definitely want one of these. Also, it's tiny. The whole box it comes in is just a little bigger than an iPhone box!
I know . . . how exciting can a toothbrush be? But Bart bought me one last year (I'd never heard of Quip before that) and I LOVE this thing. It's such a good-looking toothbrush, for one, but it's also so slim and streamlined and I feel like my teeth are whiter than they've EVER been before. I also love that a replacement head and new toothpaste just shows up in the mail every three months and I never have to think about it. I used an electric toothbrush for years but stopped about eight years ago because they were just so bulky and got so gross. Quip? The answer to the toothbrush prayers I didn't know I should be offering.
When we moved to Arizona, we bought rash guards for everyone in the family, knowing we'd be spending so much time at the pool in the blazing sun. Bart has worn his for three years straight and it still looks basically brand new. I like the short-sleeve ones better than the long-sleeve ones as far as looks go, and I love that it cuts down so significantly on how much sunscreen you need to use and how much sun you get. And I love that this brand is guaranteed forever, so if you have any issues with it, they'll replace it. No questions asked.
This is just my go-to gift for men or basically anyone who has everything and doesn't want more STUFF. And if you're looking for recommendations for books they can listen to, this list of great non-fiction for men is an excellent place to start (if I say so myself). A three or six month subscription is such an easy, useful gift for men or anyone else!
Modern Ties
We met the owners of Frank & Buck last year and were so impressed by them. And Bart LOVED all their ties. We got ones for both of our college-aged brothers for their birthdays and the feedback was super positive. I love their fun, modern prints and the slimmer cut. And it's such a fun variation on the classic Father's Day gift. DAZI also has really fun modern ties (I'm getting Bart one of them for Christmas this year).
I gave Bart a pair of the wool runners in gray for Christmas and they were a HUGE hit. I think he's probably worn them 80% of the days since December 25th. They're so comfortable, look good with everything, and you can throw them in the washing machine. (In fact, it was kind of an Allbirds Christmas around here – I got a purple pair and my two middle girls got blue and orange SmallBirds respectively). This is one of the best gift ideas for men who love comfort!
When you want something small, inexpensive and useful, this is a good choice. I was standing in the aisle at Target looking at the different options and a guy stopped and said "I've had a beard for a decade and this is the best one." Done. Basically the easiest gift for men who have everything, including facial hair.
I bought this shirt for Bart for Christmas on a whim and then it sat unopened in his closet for about four months (which, you know, winter). When he finally opened it in April, it was an instant favorite and he wears it ALL the time. It's a great fit, nice weight, classic pattern, and reasonable price (right now it's on sale for $31). I actually bought him two more for his birthday earlier this month at his request.
My friend Anne gave me a pair of these running tights right before I had Tally and once I started getting back into running in the fall, I was OBSESSED with them. They're super comfortable and I love the built-in phone and key pocket on the back waistband (for some reason, I didn't start using it for the first couple of months, thinking "how different can it be to run hands free?" Um, ALL THE DIFFERENCE IN THE WORLD). I talked about them so much that Bart asked for a pair for Christmas and he's loved them too.
I told Bart I wanted a car phone mount for Christmas (it was on my wishlist last year) and sent him this suggestion, and he told me later that he'd looked at dozens of options and finally came back to the one I suggested. I love that your phone just pops on and off (no clicking it in) and that you can move it easily around. It's one of those great gifts for men and women alike. My mom liked it so much after she saw me using it that when she ordered herself one. I also like that it comes with two magnetic panels so you and your spouse can both use it with your respective phones. And it's under $10.
Have you seen these? If your husband works out or just doesn't want to wear a metal band, these silcone rings are really good looking and much more comfortable. Perfect especially for someone who works out a lot.
I got a WEMO smart plug last year for this campaign and Bart and I are both OBSESSED with this thing. We plugged our Christmas tree into it and it was so wildly delightful every single day to turn on and off the lights just by telling Google "Okay, Google, turn on the Christmas tree." After Christmas, we plugged our TV into it so we could turn that on and off with voice commands. Now we need about 10 of them. It's the perfect gift combination.
I bought Bart a four-pack of their dress socks for Christmas and I swear, these were his favorite gift. They are seriously the best socks and he comments on them every single time he wears them (so. . . .four days a week).
And if you have other suggestions for great gift ideas for men, I'm ALWAYS up for more recommendations, because holidays keep rolling around again.
If you liked this post with ideas for great gifts for men, you might also enjoy: