I've been meaning to write this post for the, oh, last four years. Clearly, I'm nothing if not wildly timely.
Every year, when Father's Day or Christmas approaches, the requests for some of the best non-fiction books for men start coming fast and furious.
This year, I went through all the non-fiction I've read in the last decade and picked out ones that I think have particular appeal to men, whether you're buying for your dad or your husband or your brother (although, let's be honest, who buys a Father's Day gift for their brother? People who are much nicer sisters than me).
These 17 non-fiction titles cover a whole range of topics from sports to politics to education to food to parenting to pop culture. They also are all books that I absolutely LOVED too, so no need to be a man to enjoy these, obviously.
Also, if your dad is like mine and too busy to actually sit down with a book, audiobooks are a great alternative (because is there anything more depressing than picking out the perfect book as a gift and then two years later discovering they never even cracked the cover?).
I've noted on the titles below which books I've listened to and think the audio is really good for, and of course, Audible always has a rating for the performance so you can check out ones I haven't listened to.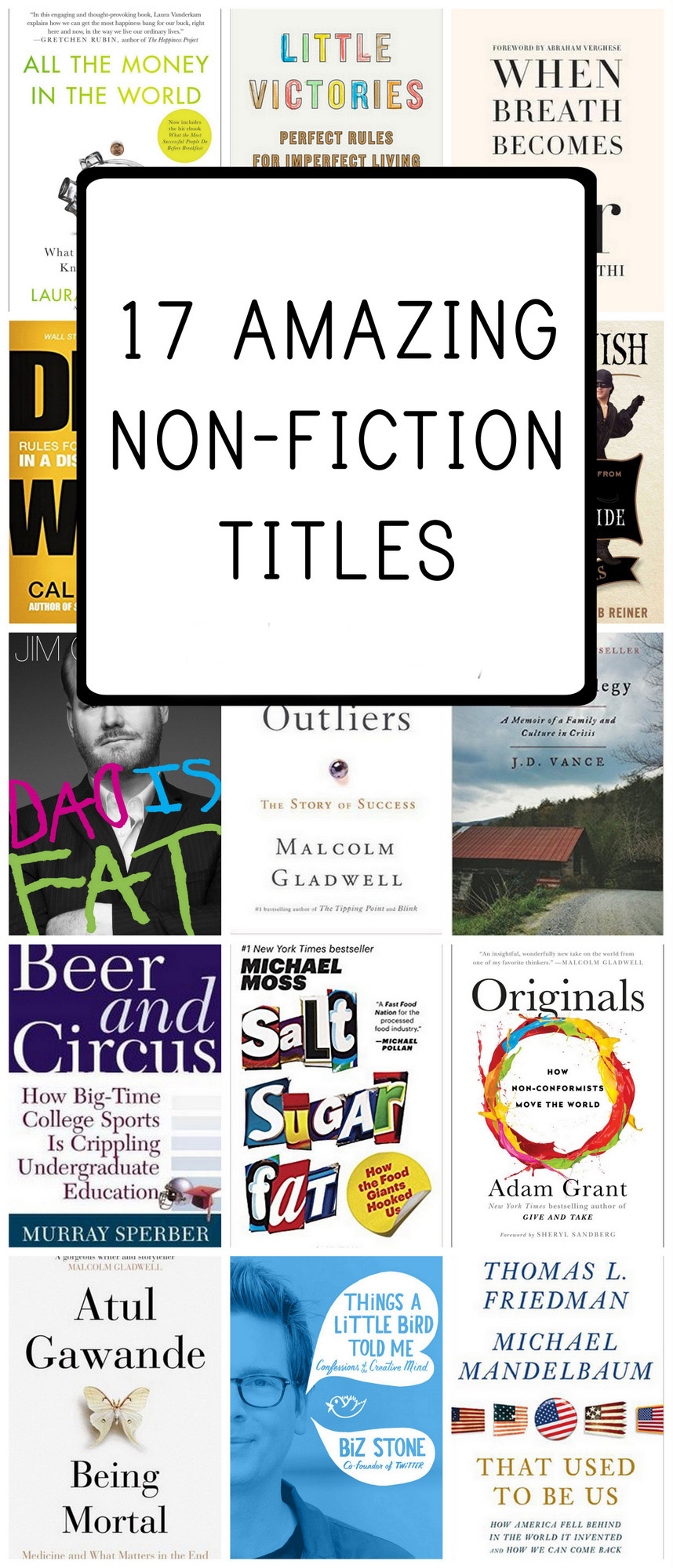 17 of the best non-fiction books for men
Originals: How Non-Conformists Move the World by Adam Grant
This reminds me of Malcolm Gladwell in the best possible way. Full of stories and ideas for incorporating the principles into your own work or raising non-conformists, this is one I think would appeal to most people. And the audiobook is excellent.
Beer and Circus: How Big-Time College Sports Has Crippled Undergraduate Education by Murray Sperber
I took a sports history class in college (despite the fact that my interest in sports is basically non-existent) and this book was my favorite thing we read the whole semester. It was absolutely fascinating to learn about all the things that go into big college sports and how those play nicely or not-so-nicely with education.
Little Victories: Perfect Rules for Imperfect Living by Jason Gay
This is one of those books that is perfect for picking up and reading a few pages here and there, plus it's just laugh-out-loud funny. I mean, when a book has a line like this in the first chapter: "This book does not offer a crash diet or a plan for maximizing your best self. I don't know a thing about your best self. It may be embarrassing. Your best self might be sprinkling peanut M&Ms onto rest-stop pizza as we speak"? You know it's going to be good. And it is.
Hillbilly Elegy: A Memoir of a Family and Culture in Crisis by J. D. Vance
This one got a TON of publicity last year during Trump's presidential run as it gave insight into the lives of working class Americans. It's interesting and eye-opening and almost unbelievable in some parts (has YOUR grandmother ever set her husband on fire with kerosene while he napped on the couch?) and it reads like a novel. Fair warning that there is quite a bit of swearing in this one.
As You Wish: Inconceivable Tales from the Making of The Princess Bride by Cary Elwes and Joe Layden
If you've got a movie-buff on your hands, this book about The Princess Bride, written by the guy who plays Wesley and/or The Dread Pirate Roberts, is a no-brainer. There are so many great behind-the-scenes stories, plus Wesley/Dread Pirate Roberts narrates the audiobook, so it's definitely worth listening to.
All the Money in the World: What the Happiest People Know About Wealth by Laura Vanderkam
I (like most people, probably) have a lot of interest in money and this book looks at money in a number of fascinating ways that had never occurred to me before. Because it's not just about HAVING money, it's about spending it in ways that actually bring you happiness, satisfaction or comfort, and that's not as easy as it sounds. I promise you'll be thinking about your financial habits differently after this one.
Deep Work: Rules for Focused Success in a Distracted World by Cal Newport
Have I flicked over to Gmail a dozen times while writing this post to check if anything new has come in? Yes, yes I have. And let's not even talk about Instagram. So I should probably read this one again. It's got so many helpful, immediately applicable ideas for being more productive and making your life more meaningful, but in a way that feels helpful, not judgey. Also, he suggests a lot of ways for determining what important work actually IS for you.
When Breath Becomes Air by Paul Kalanithi
This was one of the runaway best-sellers of 2016 for good reason. It is THAT good. Paul Kalanithi was a neurosurgeon, just finishing up his training, when he was diagnosed with lung cancer. This book, written in his last year or so and published after his death is funny, smart, and heart-breaking. Pair it with a box of Kleenex.
Outliers: The Story of Success by Malcolm Gladwell
I've read all of Malcolm Gladwell's books and I think this one is the best (although if you prefer essay-style to a full-length book, What the Dog Saw is also fabulous). He talks through so many different scenarios of success, from crazy-successful people like Bill Gates to groups where the most successful people are congregated around a specific marker like birth month. The audio on this one is terrific with Gladwell reading it himself.
The Smartest Kids in the World: And How They Got That Way by Amanda Ripley
If you're into education at ALL, this book is a must-read. It compares the educational systems of three of the most successful countries in the world (Poland, Finland, and South Korea) against the American system and shows what they do wrong and right and what you can do to help your child get a great education no matter where you live.
Things a Little Bird Told Me: Creative Secrets from the Co-Founder of Twitter by Biz Stone
This book was one of my very favorite non-fiction reads back in 2014 and I've re-read big chunks of it again and again, because it's just so funny and smart and fascinating. Most of us are familiar with Twitter to at least some extent, but it's really eye-opening to see how it got off the ground and what the founders saw as the original use-cases and goals for it. And prepare to just laugh a lot and want to be BFFs with Biz Stone.
Salt Sugar Fat: How the Food Giants Hooked Us by Michael Moss
For anyone interested in food, nutrition, and the food industry, this is one of my all-time favorite non-fiction books about food. The audio version was excellent (even if, by the end, I was dying for a bag of Doritos – maybe package the two together for a really thoughtful, if ironic, gift).
Dad is Fat by Jim Gaffigan
This book just made me laugh so much and you ABSOLUTELY must listen to this one since Jim Gaffigan narrates it and it's basically stand-up comedy in book form. It may actually be unsafe to listen to this while driving unless you can control your hysterical outbursts.
Hit Makers: The Science of Popularity in an Age of Distraction by Derek Thompson
I just included this on my Summer Reading Guide but it's too good not to add to this list. Covering popular hits and major flops in all kinds of categories, from tech gadgets to music to books and television shows, this is a lively look at why some things become massive hits and other things die in obscurity. I read 75% of this one aloud to Bart because practically every page had something I just HAD to share.
That Used to Be Us: How America Fell Behind in the World It Invented and How We Can Come Back by Thomas L. Friedman and Michael Mandelbaum
My book club read this about five years ago, and it focuses on America's past, present and future in four major categories: globalization, information technology, fiscal deficits, and energy consumption. Our book club members fell all over the political spectrum and we all thought it was a fascinating book with lots to consider and discuss.
NurtureShock: New Thinking About Children by Po Bronson and Ashley Merryman
Seven years later and this is still one of the best parenting books I've ever read, plus it's just a great read about all sorts of aspects of raising children, from praise to sleep to race. I listened to this one, and my commute always felt too short.
Being Mortal: Medicine and What Matters in the End by Atul Gawande
This book kept me from falling asleep at the wheel two years ago as we drove cross-country and it has a five star average rating on Amazon with more than 6000 reviews, so . . . yes, it really is that good. Atul Gawande is a doctor who is also an insanely talented writer and this book focuses on how medicine can not just provide quality of life, but also help provide a satisfying end of life, whether due to old age or illness. So so interesting.
And if you'd like a printable copy of this list that you can take to your library or screenshot on your phone for easy access, just pop in your email address below and it'll come right to your inbox!
And if you have some best non-fiction books to recommend, I'd love to hear them!
If you liked this list of non-fiction books for men, you might also like these posts: