As Halloween drew to a close, I started getting flooded with requests for Thanksgiving books.
I compiled this list several years ago but have updated it this year. I've taken some of the Thanksgiving books that previously appeared on this list off (ones that inaccurately depict the events of 1621 or are very one-sided) and added several that are more inclusive of Native voices.
I've been doing a ton of reading and research on this topic and feel hugely inadequate to even begin to address this, but if you're interested in Native perspectives on Thanksgiving, Oyate is a really great resource.
American Indians in Children's Literature is a fantastic site that is a wealth of information about books for children that depict Native people and recommends or doesn't recommend many titles (and helps you understand why some books are problematic and why others are worth reading with your children or students).
I have as much to learn about this topic as anyone and it's a work in progress for me to become better informed and more aware of the myths and stereotypes that surround this holiday (which is a day of mourning for many Native people).
If you know of other great Thanksgiving books, I'd love to hear!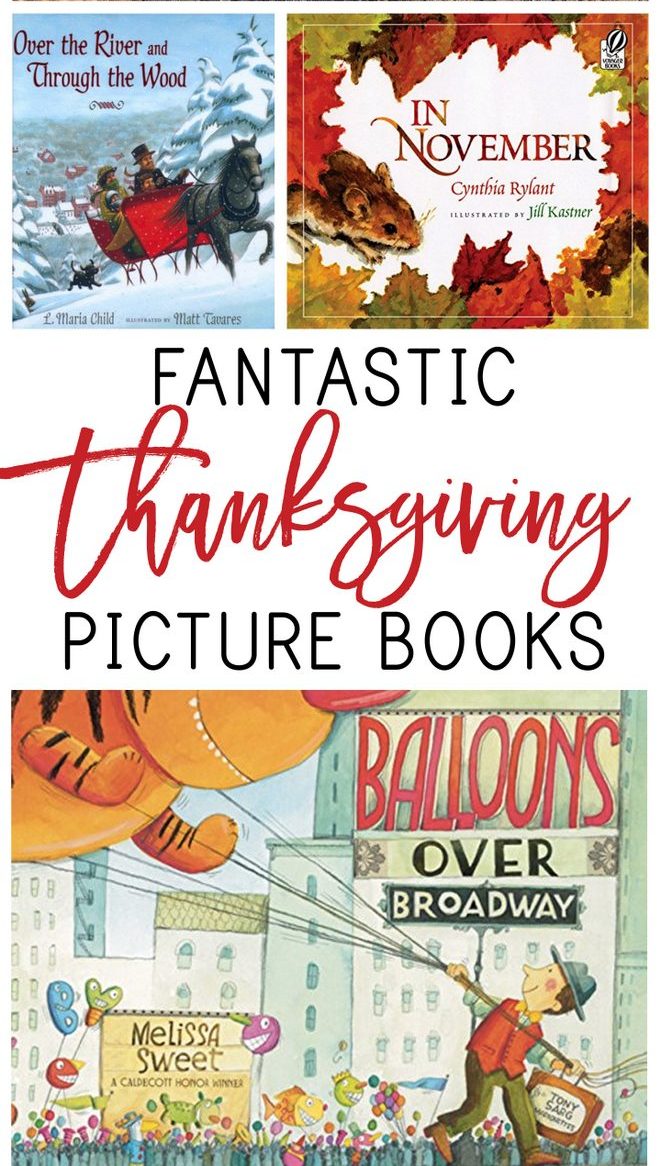 My favorite Thanksgiving books
Balloons Over Broadway: The True Story of the Puppeteer of Macy's Parade by Melissa Sweet. This is, hands down, my favorite Thanksgiving picture book (so much so that I wrote an entire post about it, which I rarely do about picture books). Melissa Sweet's illustrations always blow me away, plus in this book, you get to see her amazing research and writing chops too. The Macy's Parade is a Thanksgiving staple, but I had no idea how it got started, and this book made watching it even more fun
 Over the River and Through the Wood by L. Maria Child and Matt Tavares. If you're looking for a gorgeous picture book, the kind you'll have as a display all season long, this is the one. Makes me almost love the idea of living somewhere with snow (except, you know, not really).
We Are Grateful/Otsaliheliga by Traci Sorell, illustrated by Frane Lessac. This gorgeous book, which garnered an impressive list of awards when it came out last year, focuses on the word "otsaliheliga" which is a Cherokee word that means gratitude and how the Cherokee Nation celebrates a year, starting in the fall when a new year begins.
One is a Feast for a Mouse by Judy Cox and Jeffrey Ebbeler. I love this cute little story about a mouse who goes to get a single pea from the leftover Thanksgiving feast, but then he starts getting more and more things, leaving him ill-prepared to run when the cat makes an appearance.
Giving Thanks: A Native American Good Morning Message by Chief Jake Swamp, illustrated by Erwin Printup Jr. This book is more than 20 years old, but does a beautiful job sharing the Thanksgiving Address that the Iroquois use in an annual ceremony giving thanks.
You are My Little Pumpkin Pie by Amy E. Sklansky and Talitha Shipman. This little board book has been a favorite Thanksgiving book at our house for the past few years – we actually own two copies! It's just a sweet little love note to babies that smell like cinnamon and spice and are just as delicious as a good slice of pumpkin pie.
And if you'd like a printable copy of this list that you can take to your library or screenshot on your phone for easy access, just pop in your email address below and it'll come right to your inbox!
Any Thanksgiving picture books to recommend? I'd love to add to my collection, which is nowhere near as good as my Halloween or Christmas collection.
If you liked this list of Thanksgiving books, you might also like these book lists: