Autumn is the perfect time to snuggle up with a big stack of fall books! These 22 children's books about fall are just right for these cool, crisp days. And if you'd like a printable copy of this list of books about fall that you can take to your library or screenshot on your phone for easy access, just pop in your email address below and it'll come right to your inbox!
I know autumn isn't really officially here until much later in the month, but as soon as the calendar flips to September, I'm READY for fall!
I love that I finally live somewhere that has a real, stunning fall and I can't get enough of it!
The air is cool in the morning, even if by mid-afternoon it's back in the 90s, and obviously we're stocking up on picture books about autumn.
I've collected some of my favorite children's books about fall here – these are perfect for reading with a cozy blanket or with some apples you picked yourself (even if that picking happened at the grocery store).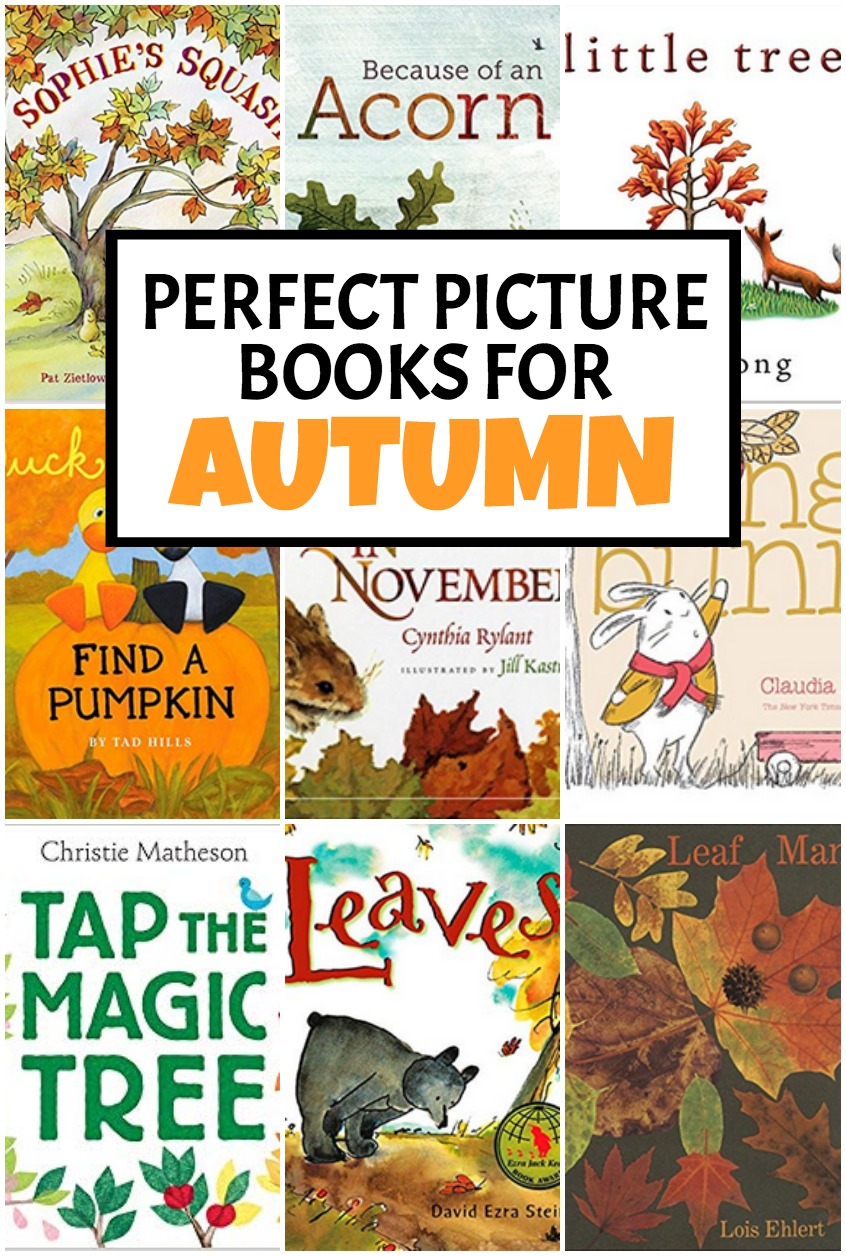 22 Children's Books about Fall
Sophie's Squash by Pat Zietlow Miller
Of all the fall books we've read, I don't know that any delight my children quite like this one about Sophie who adopts a butternut squash and refuses to let her parents eat it. Of course, as the season progresses and winter comes on, the little squash (named Bernice, naturally) starts to get soft and spotty and Sophie has to make a big decision.
In November by Cynthia Rylant, illustrated by Jill Kastner
Humans, animals and nature all react to the changing seasons, as the trees change, animals store food and prepare to hibernate and families gather around to celebrate the holidays. This is just the coziest autumn book, perfect for now and for Thanksgiving!
The Little Yellow Leaf by Carin Berger
Of all the children's books about fall, this is probably my very favorite. The illustrations are absolutely stunning and it's the sweetest story about one little leaf that is still holding on as winter approaches.
Autumn Leaves by Ken Robbins
For every child who has asked a million questions about falling leaves, this striking photo book features thirteen trees with life-size photographs of the leaves and the tree itself, plus details about how to identify it. It's not your typical picture book, but it's really nifty.
Apples and Pumpkins by Anne Rockwell, illustrated by Lizzy Rockwell
Originally published in 1988, this is one of those perfect fall books for preschoolers as a young girl spends the day outdoors picking apples and selecting just the right pumpkin. It's a classic for a reason!
Leaf Man by Lois Ehlert 
I don't believe I've ever seen a list of fall books that didn't include Leaf Man. As fall comes on and the cold winds start blowing, Leaf Man has to move on with those winds. The illustrations are made from real leaves and it's just such a fun book that lends itself perfectly to fall activities for kindergarten and elementary school age children. (Red Leaf, Yellow Leaf  by the same author is also excellent too)
Because of an Acorn by Lola M. Schaefer and Adam Schaefer, illustrated by Frann Preston-Gannon
I got a copy of this beautiful autumn book last year and I've loved it ever since. Beginning with an acorn, the book traces the growth of a tree where a bird builds a nest. And the cycle of life continues on, accompanied by magical die-cuts that show how everything in nature connects, beginning with an acorn.
Too Many Pumpkins by Linda White, illustrated by Megan Lloyd
Rebecca grew up eating pumpkins and now she HATES them. When a giant pumpkin topples off a passing truck, Rebecca promptly shovels dirt over the smashed pumpkin and forgets about it. Until fall arrives and hundreds of new pumpkins start sprouting from the buried seeds. I'm pretty sure we read this book 100 times last year and I still enjoyed it (almost) every time.
Leaves by David Ezra Stein
I love David Ezra Stein (Pouch! is probably my favorite of his, although we got The Nice Book in our Bookroo subscription earlier this year and that one is also delightful). Leaves is no exception, following a young bear who is experience his first autumn and can't quite figure out why all the leaves are falling off the trees. Despite his best efforts, he can't get them to go back on the trees, so he hunkers down for a long winter nap.
Little Tree by Loren Long
Loren Long's books are so gentle and sweet and this autumn book is just exactly as wonderful as you'd expect from him. In this one, a tree is determined to hold on to his leaves, even though everyone else has dropped theirs. Those leaves kept him cool all summer long and there seems no reason to mess with a good thing. For years, as every other tree goes through seasonal cycles, Little Tree holds on until his friends gently encourage him to be willing to let nature take its course.
Fall Is Not Easy by Marty Kelley
If you want an autumn book that will make your kids giggle, this one is a slam-dunk. In it, a tree describes each of the four seasons and why, for a tree, autumn is by far the most difficult.
Duck & Goose Find a Pumpkin by Tad Hills
This is one of my favorite fall books for toddlers. We've owned our board book copy for over a decade and all of my girls have been obsessed with this sweet book about Duck and Goose trying to find a pumpkin (they look everywhere except the pumpkin patch, naturally).
Hungry Bunny by Claudia Rueda
I LOVED Bunny Slopes by the same author a few years ago and this newest autumn book, where the bunny is trying to pick apples and needs the reader's help, is equally well done. Definitely a great addition to our fall books collection.
Goodbye Summer, Hello Autumn by Kenard Pak
I saw this autumn book when it first came out two years ago and have been obsessed ever since. It's just so peaceful and beautiful. A little girl takes a walk through her town and the forest, noting all the signs of summer fading away and autumn swooping in to take its place. There's also a companion book, Goodbye Autumn, Hello Winter.
Ox-Cart Man by Donald Hall, illustrated by Barbara Cooney
The Caldecott winner is so sweet and old-fashioned, about a man who packs up his ox cart in the fall with everything his family has grown and made all year long and takes it to market to sell. Then he returns home to spend the winter with his family making more things. The autumn landscapes in this book are just breathtaking.
How to Make an Apple Pie and See the World by Marjorie Priceman
It's not hard to make an apple pie. Except when you find out the grocery store is closed and you'll have to travel the world to find everything you need for your perfect apple pie. Wheat from Italy. An English cow for milk. Vermont for the best apples. And so it goes until you've collected every ingredient and had the trip of a lifetime to boot.
Tap the Magic Tree by Christie Matheson
If you're a fan of Press Here (and who isn't?), this is a book in the same vein, except that in this case you tap the tree and the leaves change colors, fall off, grow back, and so on and so forth. My girls love all the books Christie Matheson has done and this is one of the best leaf books for preschool age readers.
Acorn Was a Little Wild by Jen Arena, illustrated by Jessica Gibson
Acorn is an adventurer and is ecstatic when he finally falls off the tree! He's excited about every new thing that happens, even being picked up by a squirrel. Things get less exciting when said squirrel buries him. Can Acorn make the best of being in the dirt for who knows how long? Will life start changing for little Acorn?
Storm by Sam Usher 
I love this four book series about a young boy and his grandfather in each of the seasons, going out and having wonderful adventures (after the grandfather takes forever to get ready, of course). In this one, Sam is can't wait to go kite flying, but they can't seem to find the kite anywhere. Their hunt for the kite reminds them of all of the adventures they have been on together and the adventures continue when they make it outside in the fall weather.
The Scarecrow by Beth Ferry, illustrated by Eric Fan and Terry Fan
From the author of Stick and Stone, comes a very grumpy scarecrow that everyone on the farm knows to not mess with. Something peculiar happens though when a baby crow starts falling and the scarecrow saves it. Such a great story about unlikely friends!
Yellow Time by Lauren Stringer 
The animals and children can hardly contain their excitement for the arrival of yellow time! The time of year when all of the leaves turn yellow, the animals are gearing up for winter and the children are soaking in every last little bit of good weather.
The Leaf Thief by Alice Hemming, illustrated by Nicola Slater
Squirrel keeps track of every leaf on his tree, but one day he finds one is missing. Who could be this naughty leaf thief? With bold, fun illustrations and a bit of wackiness, this one will for sure make you ready for fall!
And if you'd like a printable copy of this list of books about fall that you can take to your library or screenshot on your phone for easy access, just pop in your email address below and it'll come right to your inbox!
Any other favorite children's books about fall that I missed? Tell me in the comments!
If you liked this list of children's books about fall, you might also enjoy: