For the past year, I've been really focused on making my weekends more fun and rejuvenating (I read Happier Hour which had a whole section about this and totally revamped my whole view of weekends – highly recommend reading it if you're interested!).
When I most recently talked about weekends on Instagram, one of the most common responses that came up were "I have kids! How can I have a fun and relaxing weekend when I still have kids that need attention all weekend long?"
And I know that feeling 100% – when you're still changing diapers or dealing with nap times or running kids to sports games or don't have the budget to pay a babysitter so you can go out, it can feel like the weekends are a total wash. Just another day, no different from any other.
But the good news is that even with kids, you can still have a weekend that includes relaxation and fun.
Here are some of my best tips!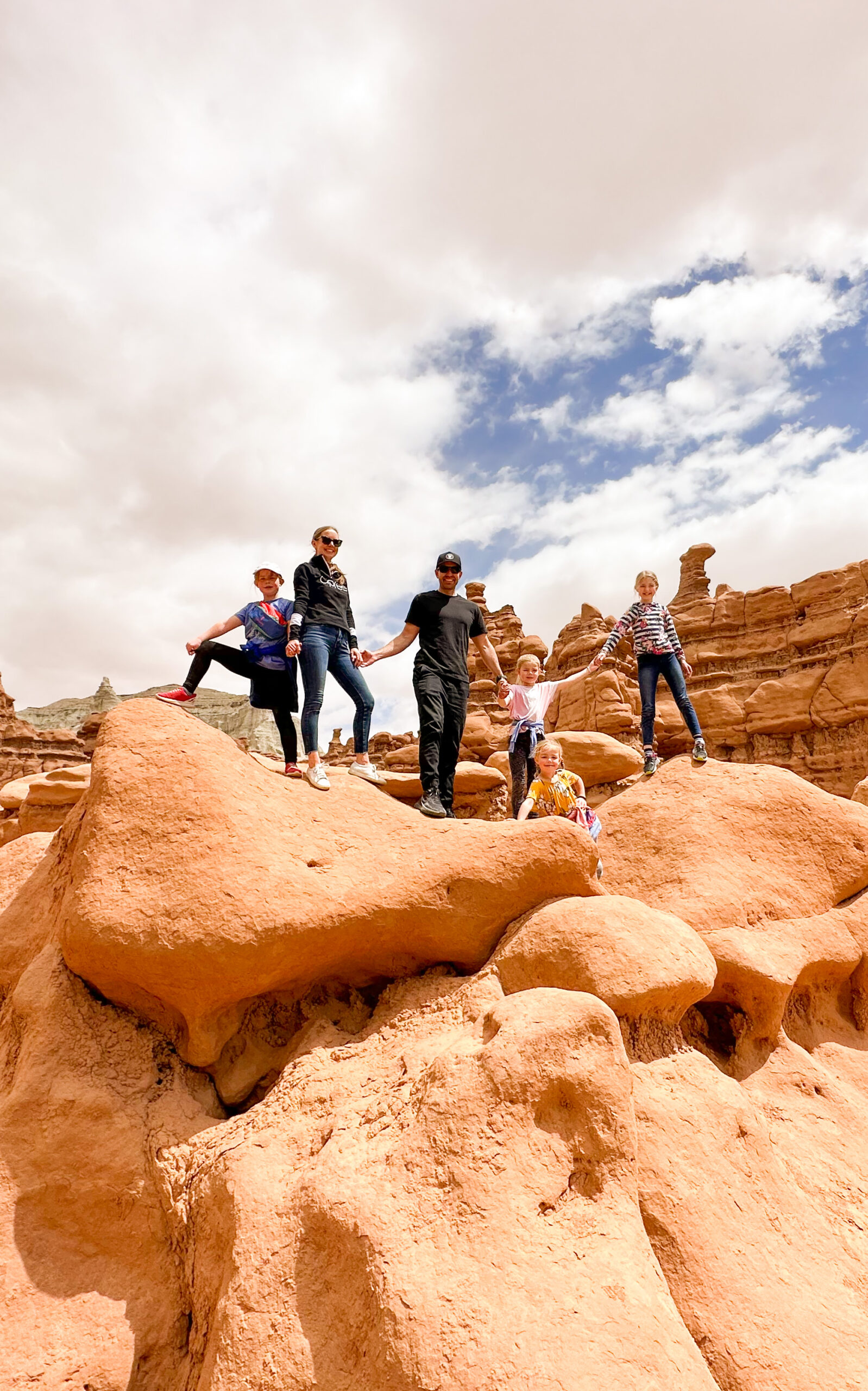 how to actually enjoy a weekend with your kids
Decide what 2-3 things make a weekend feel good for you. It's really hard to optimize your weekend when you and your family aren't clear about what makes for a good weekend. Obviously, be realistic (your budget likely doesn't allow for a day trip to Paris and with small children, it might be challenging to make a difficult 20 mile hike work), but if you can identify just a couple of things that will make the weekend feel good to you – going for a 3 mile run, having 30 minutes to read a book, chatting with your best friend on the phone, visiting the farmer's market, getting outdoors – it's much easier to fit those into your weekend. And it can be so tempting to throw in the whole weekend towel ("I can't have a fun weekend because I have kids!") instead of recognizing that even though it might look different from weekends in your past, there IS still time in your weekend to fit in a few things that matter to you.
Identify what is NOT working about your weekends currently. Human brains looooove to see problems, so here's a chance to let it loose! What things are getting in the way of a good weekend for you? Too many chores? Too many sports? No babysitter? Waiting until the last minute to plan anything? Once you've identified what's not working, you can work on solving those problems!
Include your children in the things you love. One of the things my parents did well and that we're trying to do in our own family is include our kids in the things that we love. My husband loves to play pickleball, so we'll go play with our kids (who keep getting better the more we play!) or we find a court that's next to a playground and they can play there while we hit balls on the court. If you love to hike, pick hikes that your kids can do with you. My mom loved touring model homes and took us along many times (and guess what – now I love going through model homes too, and so do my kids!). You may have to make some adjustments to include kids, but it helps build a family culture where everyone's interests are acknowledged and accommodated, not just the things the kids want to do.
Create a weekend ritual or two. I don't constantly want to have to be coming up with fun things and having a few things that we do every (or almost every) weekend makes it so much easier to make sure we have things to look forward to without requiring a ton of planning. For us, we kick off nearly every weekend with Friday night pizza and movie night (for more ideas about fun ways to kick off the weekend, check out this blog post!). Other families said that Dad made pancakes every Saturday morning while Mom slept in or they go out to dinner on restaurants where kids eat free on Sundays or they do a stroller run with a baby or toddler on weekend mornings. It can be big or as small as having a special drink you spend 10 minutes enjoying alone.
Set expectations ahead of time. Bart and I have said one million times that this is the key to a happy life. If I want to take a nap on Sunday afternoon, it helps to let the family know that I'm doing this so kids don't come bursting into my room and wake me up just as I've dozed off. If I need some alone time to read, letting my husband know that this is a priority for me so that he can help me protect that time goes a long way (and then I can help HIM fit in a weekend activity that matters to him too). Similarly, when we go on a weekend outing with our kids, it makes it all go much more smoothly if we are clear with them about how it's going to go down – how long it'll take, what is expected of them, what behavior we'd like, if and when there will be food/snacks, etc.
Take advantage of the season you're in. If you have a baby that needs to be home for a nap or a toddler that REALLY needs quiet time, make the most of that quiet time at home. Maybe it's a great time for YOU to squeeze in a nap or read a book or watch a favorite show or work in your garden. If you're in the thick of sports season with kids, listen to audiobooks together in the car, put your phone away on the sidelines and read a book, or invite a friend to join you so you can visit while you watch the game. Taking advantage of what your life looks like now and maximizing it means you won't look back and think "if only I'd known how great that season was then!"
Recognize that constraints can breed creativity. It's easy to think "if only we didn't have naps/had more money/lived somewhere more fun/had family nearby/etc/etc/etc" but your reality is your reality. If you can't afford to head to a zoo or amusement park, then you don't even have to spend any time thinking about that. Instead, you can focus on looking for free entertainment, whether it's a local festival, a free outdoor concert, visiting the library, checking out playgrounds, or riding your bikes. When Bart and I were newlyweds, nearly every one of our friends had babies and toddlers and not a lot of budget for babysitters. So we invited ourselves over to their houses on Friday or Saturday nights – we'd call and say "hey, how about you put your kids to bed and we'll bring over dessert and we can play games or watch a movie?" We loved it because we got to spend time with friends and they loved it because they had a fun evening without having to pay for a babysitter.
Plan for YOUR family. What makes a weekend really fun for one family might be your personal idea of purgatory. Saturday morning screen time might make for a relaxed, low-key start to the weekend for one family and put another family in a grouchy grumpy mood right off the bat. Some families might find kid sports to be the biggest bane of the existence while other families love that time all spent together. When you lean in to what works for your family and put aside the things that DON'T work for your family, you can have a much better weekend because you're not trying to be a family you aren't.
I also asked on Instagram for suggestions about making weekends with kids fun and there were so many great responses – here are some of my favorite!
Getting out of the house! It can be challenging to pack them up and go but worth it.
Three parts of day: activity/quiet time/ activity
Have a plan! If we wing it, then no adventures happen in our home with a little one
Pack lots of snacks in the diaper bag.
Let go of "perfect"
Each spouse sees friends if they want
Less strict screen time AND get outside more
Get together with friends. Makes things so much easier.
We do the park often with other families. The kids get to play with each other and adults can have conversations.
I utilize my husband being with me to take on bigger/more fun activities with kids.
Friday night chores= free Saturday
Go to different playgrounds
Be intentional about fun rather than house stuff
Making sure to add an activity I enjoy to our day.
We go hiking most weekends. Start hiking with kids young and  they don't know to expect different haha.
Just a change from routine is fun: Saturday morning cartoons, pancakes for breakfast, pizza for dinner
We save our eating out for lunch or dinner on the weekend so I can cook one less meal
Teach them board/card games! Games are fun, can be quick, and at home (favorite family games here)
They're in school during the week so weekends for exploring the city; hanging with friends; eating out
My husband and I both get big chunks of alone while the other play with the kiddos on Saturday
Prioritize me time and switch off with husband so he gets it too, then do an all family thing
We do a big breakfast Saturday morning which helps break it up
Low expectations – plan on naps on the go and low stress dinners
One fun thing for at least 1 hour= very fun weekend
Realizing we need breaks/downtime, snacks, extra sleep  & building it in
Lower your expectations of their behavior or thinking they will have fun every minute.
What other suggestions do you have for making weekends with kids fun? i'd love to hear!
if you liked this post about how to make weekends fun with kids, you might also like these other posts: