Some kids really have trouble sitting still for a book (frankly, even as a huge reader myself, sometimes I'm just not in the mood to sit quietly).
In those cases, the perfect solution is a book that is a little more engaging than your typical picture book – one that brings them into the story and gives them something to touch or open or find.
I especially love interactive books when we're traveling or waiting at the doctor's office or something else where I am grateful to get as much mileage out of a single book as possible.
Whether you're on the go, trying to make reading fun for a rambunctious toddler or preschooler, or just looking for something a little different, these interactive books for kids are top-notch!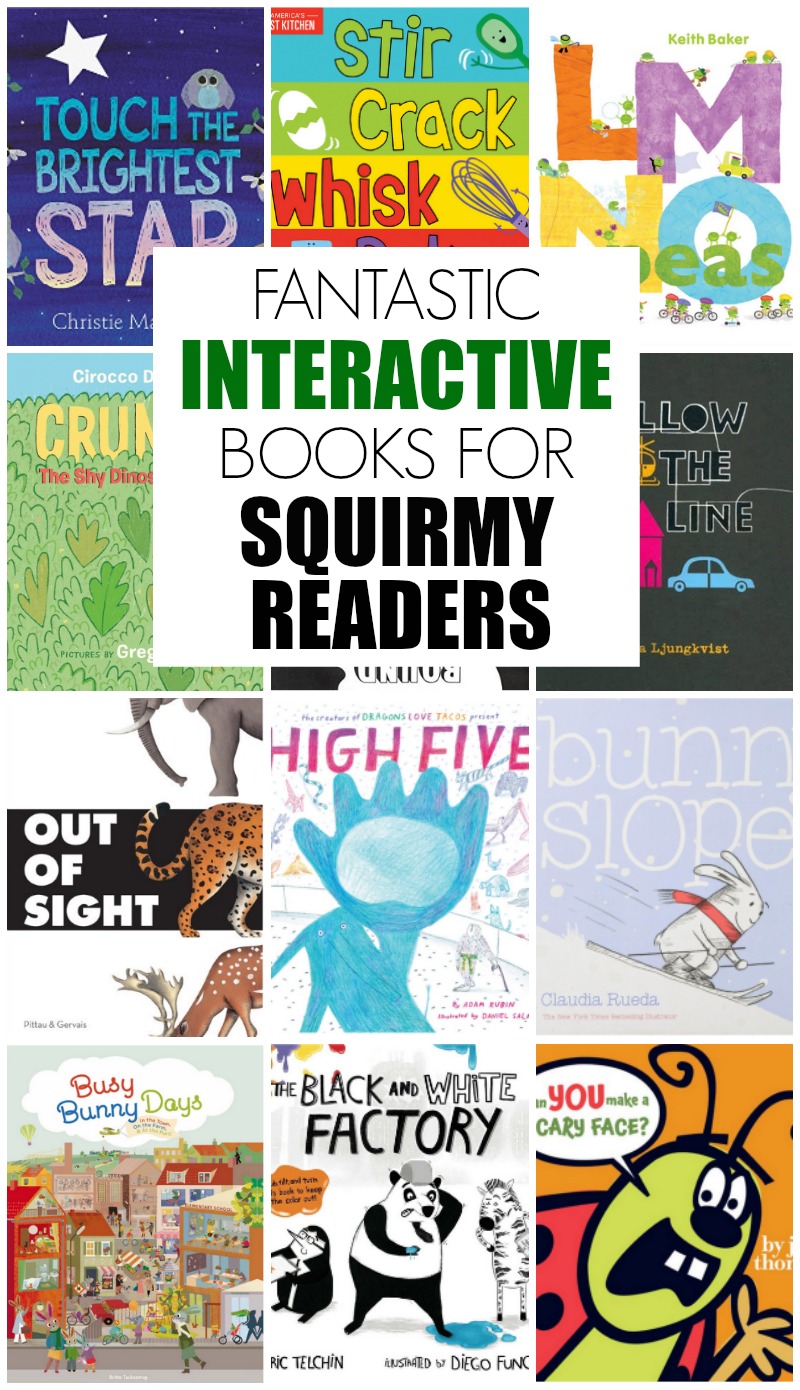 interactive books for energetic little readers
Press Here by Herve Tullet.
Well obviously this was going to be first on this list. Each page gives you an instruction ("tap the yellow dot twice" or "shake the page up and down") and on the following page, the picture has changed according to your actions. We've been reading it for nearly a decade, and my girls still love it. Also check out the other interactive books he's written including Mix It Up!
Crunch the Shy Dinosaur by Cirocco Dunlap, illustrated by Greg Pizzoli
Are you ready for a new friend? Crunch is a delightful brontosaurus who would LOVE to play with you. . . but he's too shy. The narrator gives the readers lots of suggestions for how to help Crunch feel comfortable coming out to play. This one is ALWAYS a hit at our house.
Out of Sight by Francesco Pittau and Bernadette Gervais.
Do kids EVER get tired of animal books? Mine certainly don't seem to. This one is probably my all-time favorite animal book. Each page shows a part of several animals on flaps (a collection of ears or paw prints or coat patterns). Lift the flap and the corresponding animal is revealed, plus the back of the flap has an interesting fact about the animal. I learned loads about animals and our whole family was sad to take this one back to the library. Check out The Open Ocean and Birds of a Feather too.
Stir Crack Whisk Bake: A Little Book about Little Cakes by America's Test Kitchen Kids and Maddie Frost 
This little board book is TOO CUTE. My younger girls loved pretending to crack eggs, whisk ingredients and frost cakes in this delightfully clever interactive book.
Adventures in Cartooning: How to Turn Your Doodles Into Comics by James Sturm, Andrew Arnold and Alexis Frederick-Frost.
This one is for a slightly older audience (think 2 grade or older) than some of the other books on this list. I bought a copy of this for my library when I was a school librarian and I didn't shelve it once for an entire year. As soon as one student brought it back, another would snatch it from the cart and check it out. I especially like that it's both a story and provides drawing instruction. There are other books in this series too, like Characters in Action, an activity book, and a Christmas Special edition.
Bunny Slopes by Claudia Rueda
I LOVE this interactive children's book (along with the companion books Hungry Bunny and Bunny Overboard). Bunny is ready to ski down the slopes but . . . it's pretty flat. Could you tip the book a little to create a slope? And also maybe shake the book to get some snow going? Thank you!
High Five by Adam Rubin, illustrated by Daniel Salmieri
So you think you know how to High Five, do you? Well. . . are you ready to compete in a super competitive high five contest? If so, you'd better work on your hand-limbering stretches and get yourself ready to compete in this goofy and hysterical book.
Busy Bunny Days: In the Town, On the Farm & At the Port by Britta Teckentrup. 
I love everything Britta Teckentrup does – she has the most gorgeous illustrations and this book, originally published in Germany, is a cross between Richard Scarry and Where's Waldo?, with a million cool details to check out, plus a tricky badger hiding on each page. The illustrations are bright, detailed, and beautiful, and I could look at the different spreads all day long. I also love her spotting books, like Where's the Pair? and The Odd One Out.
Can You Make a Scary Face? by Jan Thomas
I don't know that there are many authors that make me laugh like Jan Thomas does. This one is a pitch perfect interactive book for little readers who will love making crazy faces on each page.
The Jolly Postman by Allan Ahlberg and Janet Ahlberg.
I'd never read this one until Bart and I got married and it was part of his collection of picture books (a gift from his parents a few years earlier – it's no wonder I married into that family). A postman goes on his daily rounds, delivering letters to various fairy tale characters. At each delivery, there is a letter, with a pocket on the page where you can pull out the actual letter. Opening those tiny letters never gets old and they are so clever!  I need to buy the Christmas version too.
Round Trip by Ann Jonas.
My dad loves a clever design and this book is one of the few picture books I remember him pointing out to me as a child. All in black and white, it begins with a trip to the city. And then when you reach the end of the book, you flip the book upside down and read back the other way, returning home. It's mind-boggling to see all the pictures turn into completely different images just with a 180 degree spin. Seriously, it's insane.
Follow the Line by Laura Ljungkvist
There is a whole series of these Follow the Line books – this is the first one. The line runs from the front cover to the back cover, through all the pages, plus there is so much to look at on every single page.
Color Blocked by Ashley Sorenson, illustrated by David W. Miles
Someone mentioned this one as a favorite interactive book and then literally THE NEXT DAY it showed up in Tally's Bookroo box. And it's been a favorite ever since (I don't think we've ever been able to read it just once!). This one shows a color factory where the pipes have all gotten stopped up and no color is coming out. And when you untwist them, now the colors are getting all mixed up!
This Book Just Ate My Dog by Byrnem Richard
Bella is taking her dog for a perfectly normal stroll across the page until he disappears into the book gutter (that seam between the right and left pages). Can she rescue him? Only with the help of the reader!
The Book That Did Not Want to Be Read by David Sundin 
When a book does NOT want to be read, it will go to all sorts of hilarious lengths to keep the reader from being able to proceed, from stealing letters to turning into a steering wheel. But. . . you'll probably want to keep reading.
Count the Monkeys by Mac Barnett and Kevin Cornell
I thought this was going to be your basic (boring) counting book. Au contraire. Page after page goes by with no monkeys in sight because other scary animals keep frightening them off. The end of the book is coming up fast – will the monkeys ever return? (I loved a review on Amazon that gave it a one star because "Once you remove [the dust jacket], the only page in the actual book that has a monkey is the last page.")
Hey Bruce by Ryan Higgins
We've long been fans of Mother Bruce at our house, so when an interactive Bruce book was released this year? It was a day of rejoicing! The little mice who are always getting into mischief are back at in this book and bringing along the reader to drop things, turn things, wake up Bruce and basically make a big mess (the good news about a book mess is that you just close the book and voila! It's gone).
There's a Dragon in Your Book by Tom Fletcher, illustrated by Greg Abbott 
This is one of many in the "Who's in your book" series and they're all absolutely delightful and perfect interactive books. This one requires the reader to save the book from being burned by cute little dragon sneezes (which are unfortunately, quite fiery!).
Touch the Brightest Star by Christie Matheson.
The concept is similar to the one in Press Here. On every page, you touch or rub or tap something in the picture, and on the next page, the illustration has shifted in response. Christie Matheson did Tap the Magic Tree a couple of years ago, which I liked but this one I think is WAY better. The colors are so vibrant and there is just something so magical about the night in this book.
LMNO Peas by Keith Baker.
My girls love a book where you're looking for something on each page, and this clever alphabet book (full of puns and tiny details to notice as you read it for the millionth time) has a ladybug on each spread. I have spent approximately a week of my life helping Ella find the ladybug. There's also a number version too, 1-2-3 Peas, and a color version, Little Green Peas.
The Black and White Factory by Eric Telchin, illustrated by Diego Funck
This is the newest interactive book we've discovered and I'm pretty sure we read it every day one summer. The Black and White Factory makes everything you can think of that's black and white. And there is NO color allowed. Definitely no surprises. Until a little color leaks into the factory.
Don't Push the Button! by Bill Cotter.
I think of this as the modern version of the classic There's a Monster at the End of this Book with a lot more interaction. The reader is warned not to push the button but then, if you break the rules and push the button (which, of course you will, or it would be a very short book), things start to go haywire. I spotted this one in a bookstore when it first came out and it was immediately a hit with my girls.

And if you'd like a printable copy of this interactive book list that you can take to your library or screenshot on your phone for easy access, just pop in your email address below and it'll come right to your inbox!

if you liked this post about interactive books for kids, you might also like these posts: