Well, HOW is Ella a fifth grader now?
I just can't even believe it.
She's settling well into a new school year and thrilled to be back in her Mandarin classroom.
And, of course, with a reduced school schedule, she has plenty of time for reading.
Here are some books she's been a big fan of lately.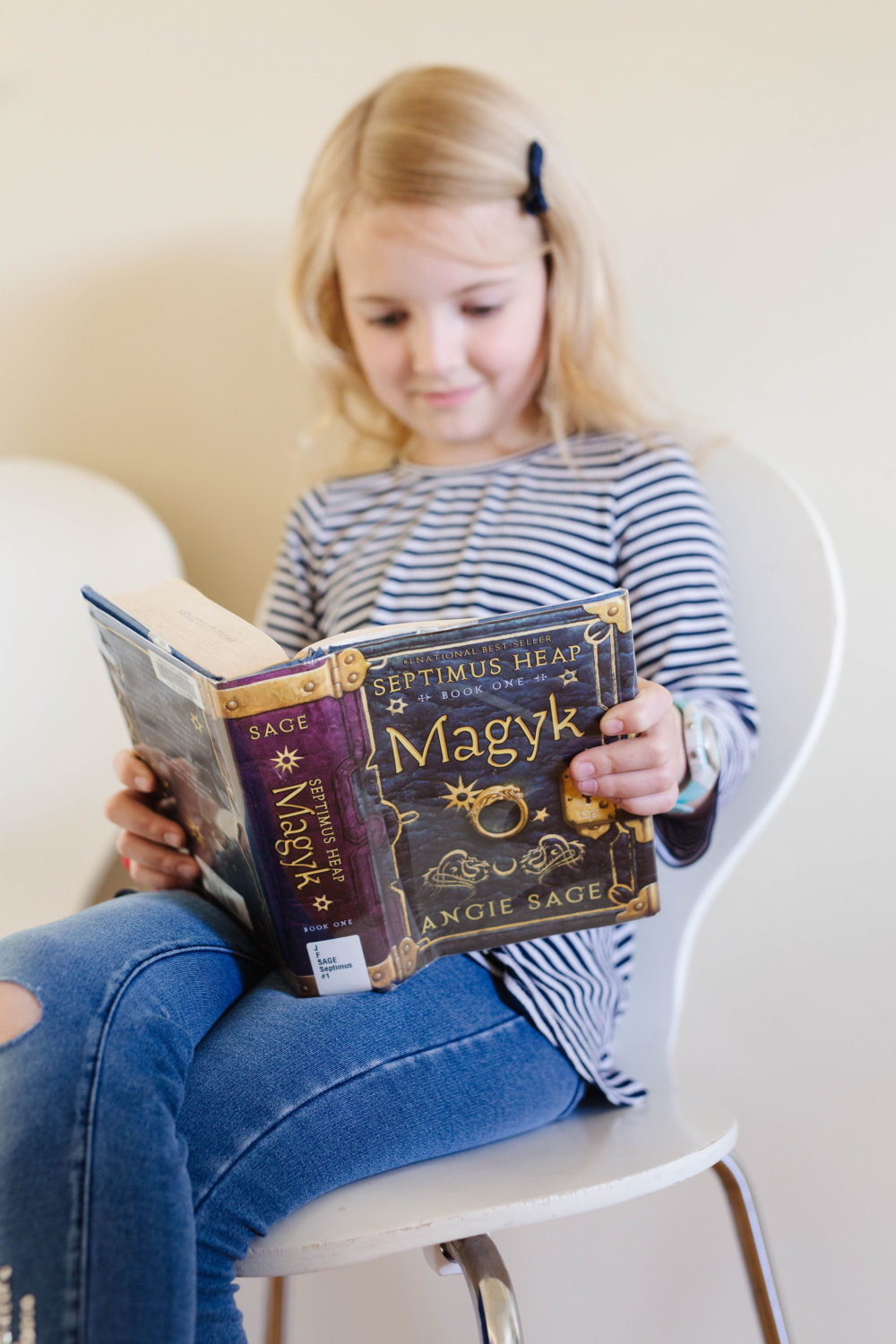 FIFTH GRADE BOOKS RECOMMENDed by Ella
Magyk by Angie Sage
576 pages
Over the summer, Ella and two of her cousins started a little bookclub. They'd pick a book and then meet every two weeks with snacks at the park to discuss. Magyk was their first read, and it begins when Septimus Heap, the seventh son of the seventh son, vanishes on the night of his birth. The midwife declares him dead . . .but that might not be the whole story. And things really get interesting when, on the same evening, Septimus' father finds a newborn baby girl abandoned outside.
What Ella has to say: I loved how this book had a really different feel from any other fantasy book I've read. I loved that it had a little bit of mystery and magic all packed into one book. This is a little bit better for older kids (probably 8 and up) because it's so long and because it has a complex plot. I haven't decided yet if I'm going to read the rest of the books in the series because they're so long.  
Nanny Piggins by R. A. Spratt, illustrated by Dan Santat
251 pages
I can't even remember how we discovered Nanny Piggins, but Ella read it several years ago and then insisted I immediately read it too. And it was just as good as she promised – I laughed my way through every page and then added this ridiculous story of a family that hires a pig as a nanny to the 2017 Summer Reading Guide.
What Ella has to say: I LOVE Nanny Piggins. Our library in Arizona had them and I checked them out again and again – they're so hilarious. All I can really say is: this is an amazing, amazing, amazing book.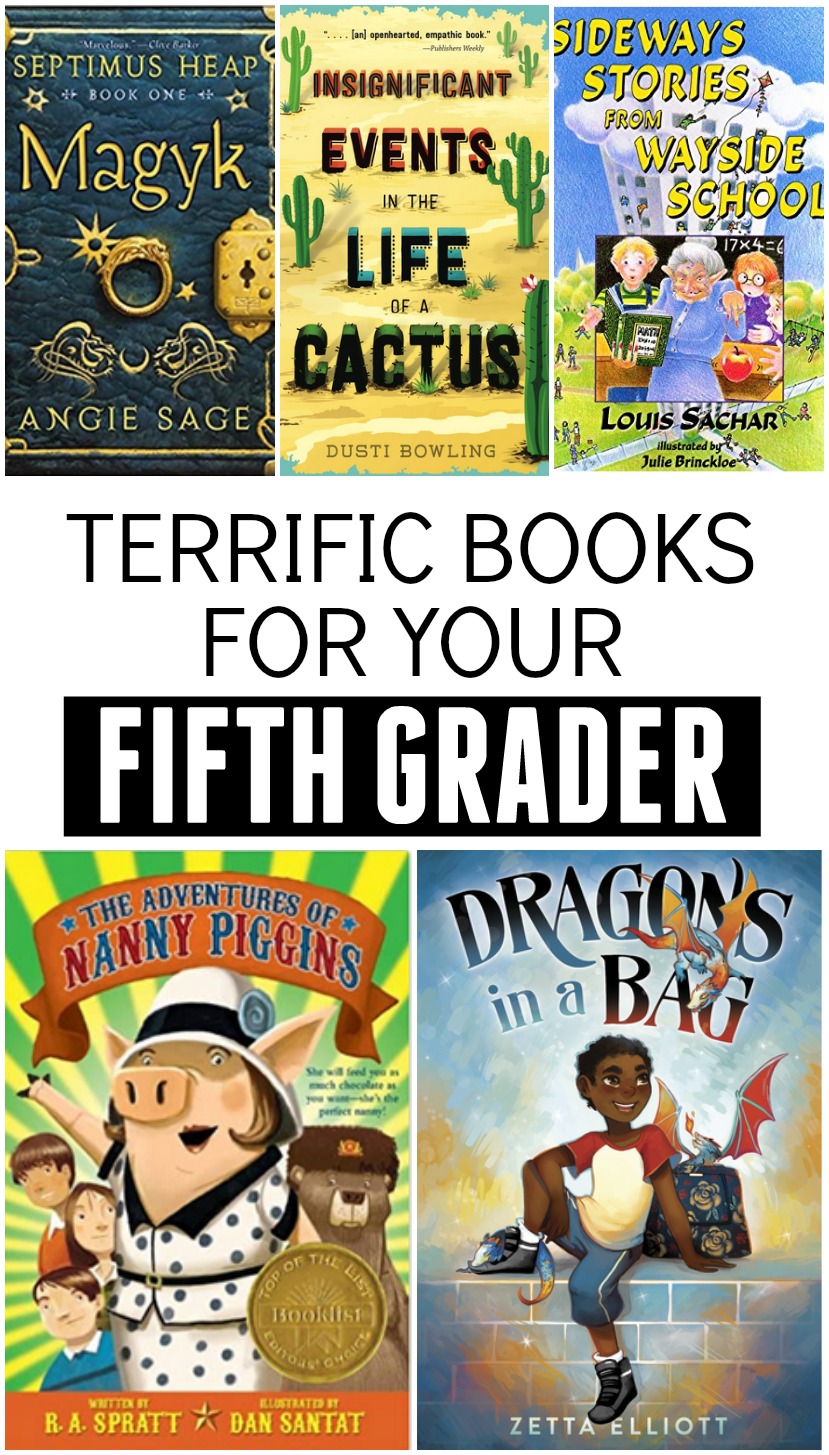 Dragons in a Bag by Zetta Elliott, illustrated by Geneva B
160 pages
I read this book aloud to the girls over the summer (it is one of the books on the 2021 Beehive Book Awards Shortlist) and we all really enjoyed this fun story of a little boy who is sent to spend the day with an old woman. And quickly discovers that she has a sack of baby dragons that she needs to deliver. It's going to get exciting really fast.
What Ella has to say: Dragons in a Bag was a really interesting fantasy book and I liked how it got quickly into the action (I hate it when a book just talks and talks and talks before it really gets started). It ends with a cliffhanger which makes it so I HAVE to read the next book. 
Sideways Stories from Wayside School by Louis Sachar
163 pages
My girls have listened to these books DOZENS of times (they were on Scribd last year) and they never get tired of the wacky antics of the school that was accidentally built 30 stories high with one classroom on each floor instead of one story with 30 side-by-side classrooms. (I'll admit that, as a kid, I found these books just too weird for my taste, but my sisters love them and I've warmed to them after hearing them on repeat for months).
What Ella has to say: These are the funnest books to read in the history of the world (aside from Nanny Piggins). I love that they're from a different point of view in every chapter so you get stories from all the people in the class. I like how it's magic and just very wacky. 
Insignificant Events in the Life of a Cactus by Dusti Bowling
192 pages
My big girls listened to this one repeatedly over the summer. Moving is never fun, but it's especially unpleasant for Aven who was born without arms. A new town and school means she'll have to explain herself repeatedly to a bunch of strangers. But in her new town, she make friends with Conner, who also feels like an outsider in their school. And together, they embark on solving a mystery at the dilapidated theme park her parents are running.
What Ella has to say: This book was in my school book fair so I came home and found it on Libby. I thought it was going to be about a cactus but it really didn't have anything to do with a cactus until the end. It's so interesting to read this and see trials and tribulations of a girl going through middle school without arms. I loved hearing about how she did all these things without her arms and how she has an amazing sense of humor. 
And if you'd like a printable copy of this list that you can take to your library or screenshot on your phone for easy access, just pop in your email address below and it'll come right to your inbox!