Pretty much my favorite thing in the world is a new picture book.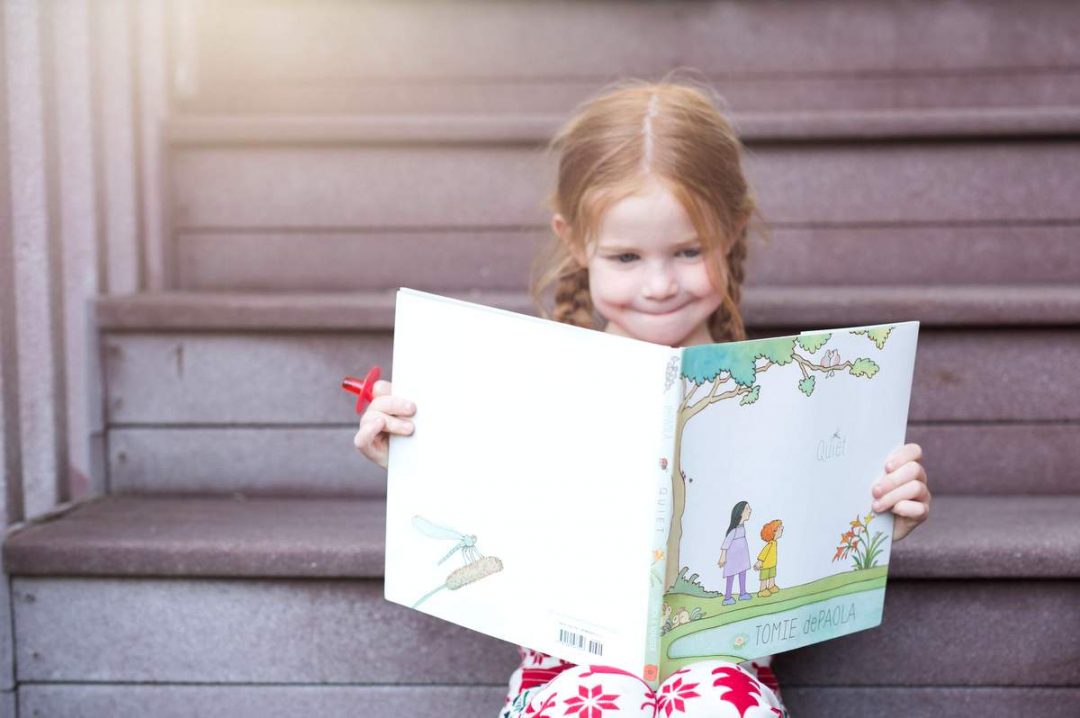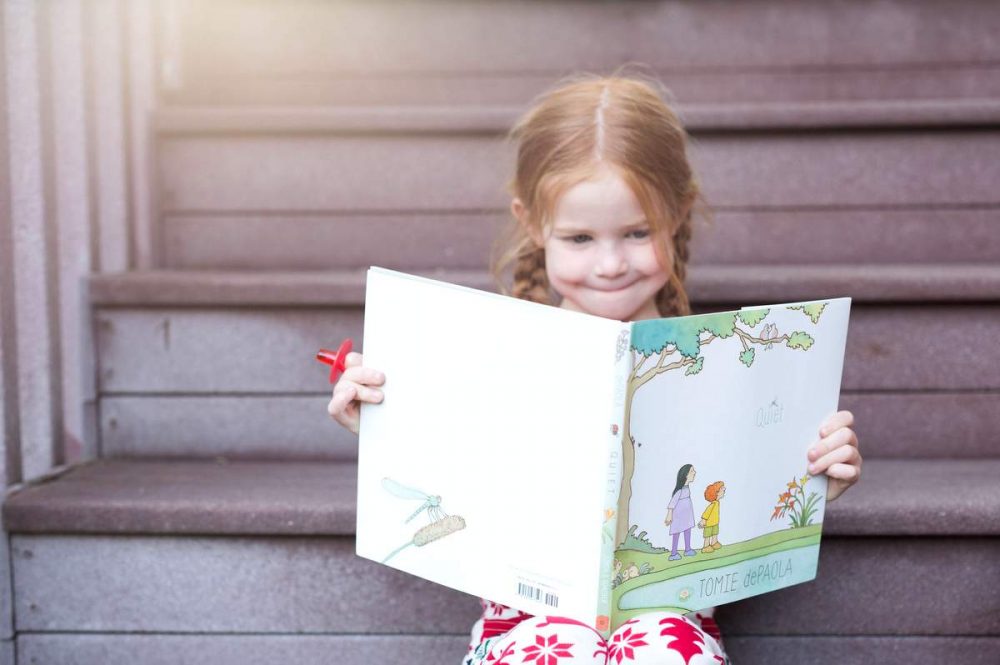 I love looking through book lists and maxing out my library holds with all the new releases (if you're curious where I find recommendations for new books, here are my best sources).
Of course, there are plenty of new children's books that I read and think, "Why is anyone recommending this?"
But then there are those picture book gems that instantly become a favorite and we read them so many times I know we should add a copy to our home library.
These twelve new children's books have all been released in the last few months (some as recently as last week!) and every one of them is terrific.
I hope you'll like them as much as our family has!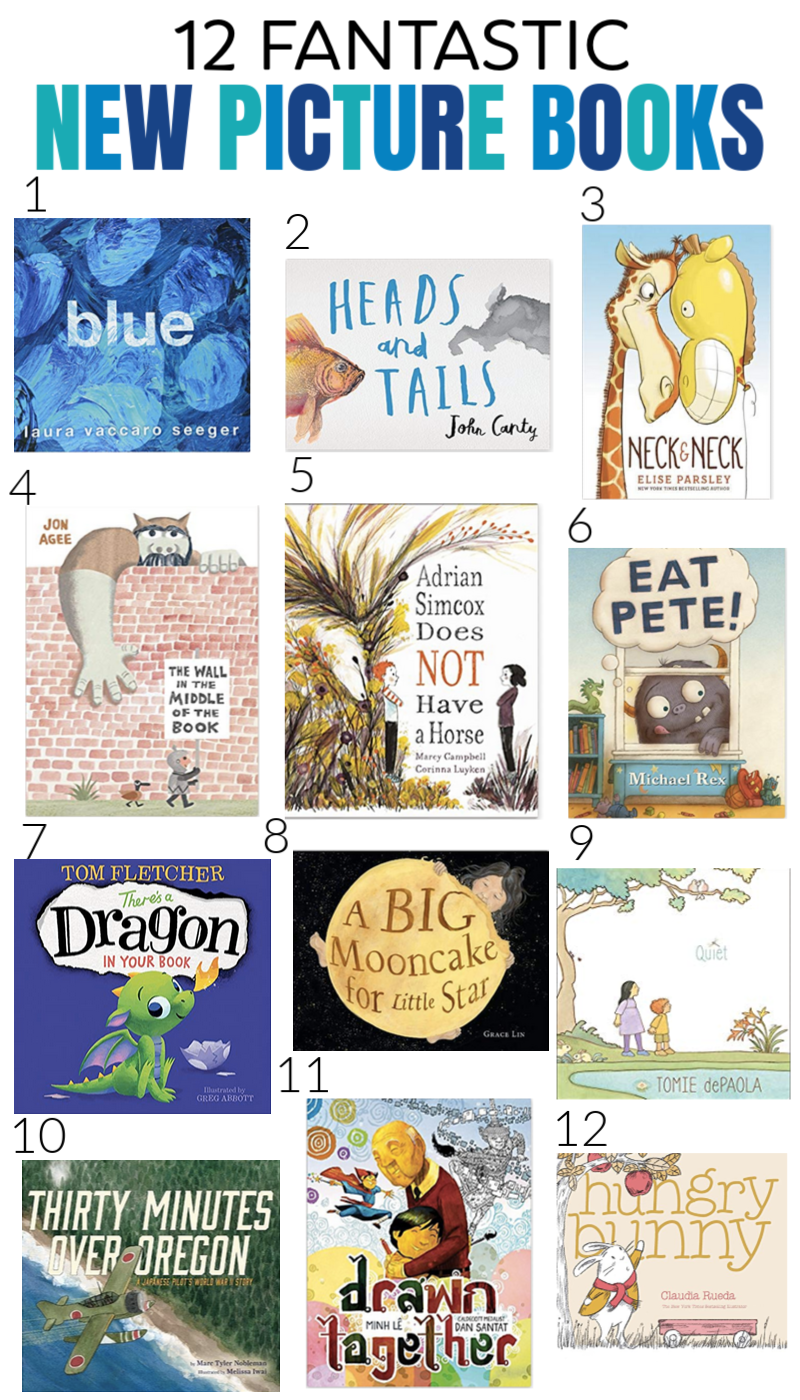 Fantastic New Children's Books
Blue by Laura Vaccaro Seeger
Her book Green has long been one of my very favorite picture books and I couldn't wait to crack open this one. I love her clever way of exploring all the shades of one color and all the different ways the name of a color can be used.
Heads and Tails by John Canty
Done in beautiful watercolors on striking white backgrounds, this book shows just a bit of an animal and then gives clues – can you guess what animal you'll see when you turn the page? (This book actually doesn't come out until next week, but it was too good not to include here).
Neck & Neck by Elise Parsley
Leopold the giraffe is a beloved feature at the local zoo. He loves his steady stream of visitors. But when a little boy appears with a giraffe balloon, he feels deeply threatened. Isn't a real live giraffe better than a balloon? There might be nothing to do but take on this enemy.
The Wall in the Middle of the Book by Jon Agee
There's a wall running through the middle of this book and the young knight on one side is SURE that it's the only thing protecting him from a tiger. No, a rhino! No, an ogre! It turns out that what's REALLY on the side of the wall might be the only thing that can save the knight.
Adrian Simcox Does Not Have a Horse by Marcy Campbell, illustrated by Corrina Luyken
Adrian won't stop talking about how wonderful and beautiful and amazing his horse is. Which would be annoying enough, except that Chloe is CONVINCED it's also a lie. How could Adrian have a horse when he eats free lunch, has holes in his shoes and lives in a tiny house with practically no yard. Chloe's mother listens to her complaints and then they go for a walk together where Chloe learns that she's right. And that's she's also wrong.
Eat Pete by Michael Rex
When a monster climbs into Pete's room, he only has one thing on his mind. Eat Pete. But Pete keeps suggesting fun new games to play together. Is it possible that the monster WON'T eat Pete?
There's a Dragon in Your Book by Tom Fletcher and Greg Abbott
If your child loves interactive picture books like Press Here (and what child doesn't?), they'll love this companion book to There's A Monster in Your Book, where a dragon egg hatches on the page and the baby dragon wants to PLAY! But a fire-breathing dragon, no matter how little and cute, can also be trouble!
A Big Mooncake for Little Star byGrace Lin
I love Grace Lin (we are huge Ling & Ting fans here) and her new picture book is completely stunning. A mother make a big round mooncake and each night, Little Star sneaks in and nibbles away a bit of it until a month has passed and the mooncake is gone. Of course, it follows the cycles of the moon, so it's a fun introduction to that topic, but it's also visually beautiful.
Quiet by Tomie dePaola
Is it ever a bad time for a new Tomie dePaola book? This one, with his super recognizable illustration style, follows a grandfather on a walk with his two grandchildren. Together, they take a few minutes to slow down and just be still. It's one of those books that you read and then take a deep, calming breath afterward. It's just so sweet.
Thirty Minutes Over Oregon: A Japanese Pilot's World War II Story by Marc Tyler Nobleman, illustrated by Melissa Iwai
I'd never heard this story about a Japanese pilot who bombed Oregon during WWII not once, but twice (the only time the U.S. mainland was attacked during WWII). The bombs made little impact and the pilot didn't tell his family until decades later when he was invited to one of the Oregon towns he'd tried to destroy. Despite his fears that it's a trick, he make the journey back to the United States. It's really well-done, with beautiful illustrations and makes a great way to talk about forgiveness and putting aside differences. (Note that this one has a reference to seppuku, which is traditional Japanese suicide by someone consumed by shame).
Drawn Together by Minh Lê, illustrated by Dan Santat
You guys. This book. It's nearly wordless (if you struggle with wordless books, here are a few suggestions for how to read them with your child!), beginning with a young boy coming to spend the afternoon with his grandfather. Their differences, including a language barrier, couldn't be more stark, until they discover how much they both love to draw.
Hungry Bunny by Claudia Rueda
I LOVED her book Bunny Slopes a couple of years ago and it's been a staple in our rotation since it was released, so I was thrilled to see a companion book come out this fall with the same lovable bunny. But this time, he needs help picking apples. There is a red ribbon bookmark attached to the book and it's cleverly used in this book as an interactive tool.
And if you'd like a printable copy of this list that you can take to your library or screenshot on your phone for easy access, just pop in your email address below and it'll come right to your inbox!
What new children's books are you loving lately?
If you liked this post about new children's books, you might also enjoy these posts:
Reader Interactions