It's always so fun at the end of the year to look back at what I read aloud to the girls.
It took me a long time to get in a good bedtime read-aloud groove. For many years, it was just too exhausting at the end of the day to read aloud, but now it's a beloved part of our routine.
I try to have a good variety of new and old titles, a variety of genres, and a few tossed in that cater more to my younger girls than my older girls.
Here are the 17 books we read all together this year: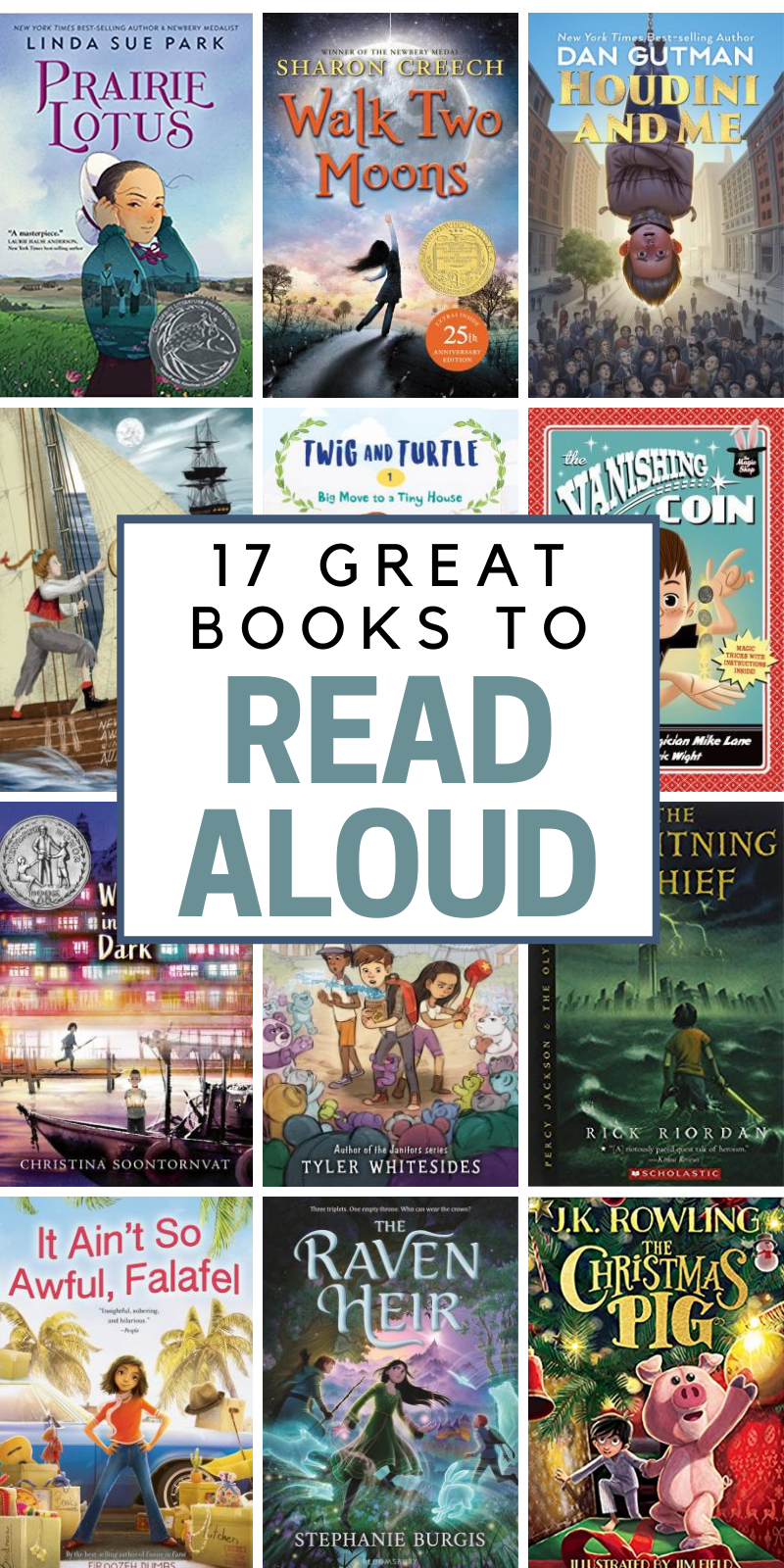 read aloud stories for kids
Prairie Lotus by Linda Sue Park
I read this to the girls at the beginning of the year and it was terrific. I already knew and loved Linda Sue Park from her Newbery winner, A Single Shard, and this one didn't disappoint (although I would say it wasn't QUITE as good as A Single Shard which I consider basically perfect). If you're a Little House on the Prairie fan, this has similar vibes, but from a totally different point of view.
Walk Two Moons by Sharon Creech
I'd never read anything by Sharon Creech until I was an adult and then when I was making some serious progress through my lifetime goal of reading all the Newbery winners, I listened to this on audio and really loved it. Ella was reading Newbery books for a school contest, so I offered to read this one for our read-aloud and they all really enjoyed it, although I have to admit that this time around I didn't love it as much as when I listened more than a decade ago. Maybe a professional narrator helps. (Full review here)
Mia Mayhem Stops Time! by Kara West, illustrated by Leeza Hernandez
This was a quick read that catered more to my younger girls, but all of the girls were surprisingly into it and my middle girls both went on to read more of the books in the series after we read this one together. (I like choosing a shorter chapter book every 3-5 books that caters more to my younger listeners, since the majority of the books I read aloud are aimed more at my 9 and 11 year olds).
The Wishmakers by Tyler Whitesides, illustrated by Jessica Warrick
I think we got this book in our Bookroo subscription and when we were looking for a new title for a family read-aloud, the girls picked this one out of a few options I gave them. They were all fans from page 1. The main character opens a jar of peanut butter and discovers a genie inside. But he's not limited to three wishes – he can have as many wishes as he wants! The only problem is that with every wish granted comes a consequence. Oh, and also? He needs to use wishes to save the world from destruction. If you have readers who love a book that's a little on the wacky side, this is the book for them!
The Wishbreaker by Tyler Whitesides
This is the sequel to the The Wishmakers and while I'll admit that it's a BIT too wacky for my taste, my girls were OBSESSED with the first book and when it ended on a cliffhanger, they begged for me to read the second one aloud. Bart sat in on both of these books which made it extra fun for all of us. 

Houdini and Me by Dan Gutman
My girls were absolutely transfixed by this book (so much so that I put it on the Summer Reading Guide). They didn't know much about Houdini before this and we all loved the photographs of the real Houdini scattered throughout the book. In this story, Harry is a young boy who lives in the house Houdini once inhabited and loves learning more about the famous magician. But things take a surprising turn when he discovers an old flip phone and it starts receiving texts from someone who claims to be the real Harry Houdini. Could it be possible? And what does Houdini want?
Gold Rush Girl by Avi
I have loved some Avi books but this one dragged a little bit for me. Tory is fourteen year old girl who sneaks aboard a ship headed for California and the Gold Rush (her father and younger brother are headed there to seek their fortune and she has no intentions of being left behind in Rhode Island). But when they get to California, it's not at all what she expected. I'm glad we stuck it out, but I wouldn't rush out to recommend it.
A Wish in the Dark by Christina Soontornvat
After I read her book, All Thirteen, and love love loved it, I knew I had to read her other book that won a Newbery Honor (having two books both be Newbery titles in one year is basically unheard of). This one is completely different from All Thirteen, which is non-fiction – it's a retelling of Les Mis set in a Thai-inspired fantasy world and it is SO GOOD.
Twig and Turtle: Big Move to a Tiny House by Jennifer Richard Jacobson
My big girls were taking turns being gone for Grancie Camp so I did several read alouds in a row that were aimed at my younger girls that we could finish in the few days that my big girls were gone. This cute story was a total hit with my girls.
The Vanishing Coin by Kate Egan & Mike Lane, illustrated by Eric Wight
Now that I'm seeing all the books we read aloud in 2021 lined up, I'm noticing a magic theme this year! And this one as a huge success – I loved it just as much as my girls did! Perfect short chapter book to read aloud or for 1st or 2nd graders to read solo.
Twig and Turtle: Toy Store Trouble by Jennifer Richard Jacobson
Everyone enjoyed the first Twig & Turtle book so much that I grabbed the second one from the library and it was equally delightful. Another one that was only a few days of read alouds long and perfect for younger listeners.
The Lighting Thief: Percy Jackson and the Olympians by Rick Riordan

I grabbed my mother-in-law's copy of this book when we were living there and I suddenly found myself without a next book to read to the girls and they are SO INTO it. Seriously, there were shrieks of despair every night when I finished for the evening. I read it back in 2008 and it's fun to revisit – I enjoyed it MUCH more as a read aloud than I did when I read it solo! (Full review here).

The Raven Heir by Stephanie Burgis
My girls have all loved The Goose Girl and this had comparisons to it, so it seemed like it would be a hit. And it was! I'll admit I didn't think it was anywhere on the level of The Goose Girl, but it was a well-done story about a kingdom torn apart by war and the mother and her triplets hidden away in the forest to keep from becoming forced to rule (and likely die for) the kingdom.
It Ain't So Awful, Falafel by Firoozeh Dumas
I didn't even know this book existed until after we did Funny in Farsi for the Everyday Reading Book Club this year. I'd read both of Firoozeh Dumas' adult memoirs but I had no idea she'd written a middle grade novel! I picked it up this fall and read it aloud to the girls and we all loved this fictionalized story based on Dumas' own childhood growing up as an Iranian in Southern California during the Iranian Revolution and the Iranian hostage crisis.
The Marvelous Magic of Miss Mabel by Natasha Lowe
This was a perfect non-scary but festive Halloween pick! Mabel is left on a doorstep as a baby and the widow who finds her takes her and raises her as her own child. When Mabel is quite young, they discover that she has magical abilities and she wins a place at a prestigious witch school. But it's not all that Mabel hopes – way too much tradition and far too little experimenting with interesting magic. We all loved it!
The Memory Thief by Jodi Lynn Anderson
This was one of the books on my shelf that I have no idea where it came from (hazards of being a book blogger) but it looked like a perfect pick to finish off October and the Halloween season. It's definitely a bit spooky, but we were all VERY into it and it felt very different from anything else we'd read!
The Christmas Pig by J.K. Rowling, illustrated by Jim Field
This was my London souvenir to myself – I bought it at one of my favorite bookstores in central London and the girls and I jumped into this year's Christmas read aloud right away.  Jack loves his beloved stuffed pig, DP, and when DP is lost, he'll do whatever it takes to get him back, including going to the Land of the Lost, which can only happen for a human boy on Christmas Eve. Don't let the cover fool you – this is definitely a middle grade book with some heavier themes than you might expect. But we all loved it.
What did you read aloud this year? I'd love to hear your favorites in the comments!
And if you'd like a printable copy of this list that you can take to your library or screenshot on your phone for easy access, just pop in your email address below and it'll come right to your inbox!
if you liked this post about read aloud stories for kids, you might also like these other posts: