One of the things I missed most during the pandemic was my children's lit book club.
I joined it a few weeks after I moved to Utah and I LOVE this group of smart women who absolutely love children's literature.
I am 100% the weakest link of this book club and probably read half as much as any one else.
But I love hearing what they think about books, what they're reading, and I always come home with a massive new to-read list.
We didn't start meeting again until midway through the year, but here's what we read this year.
(P.S. If you're interested, you can see the list of what we read in 2019!)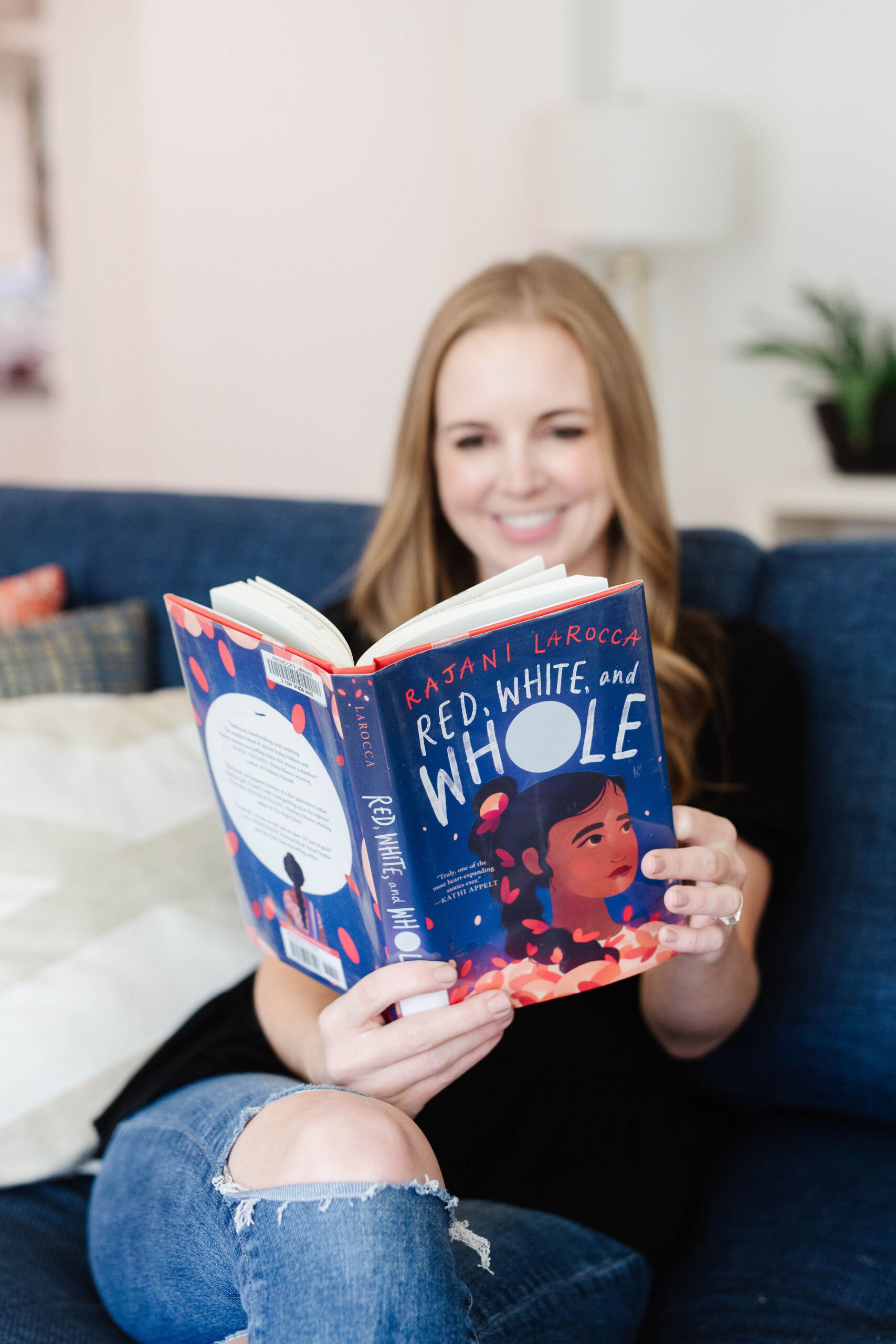 Children's Lit Book Club
JUNE
AUGUST
For August, we went with a back-to-school theme, reading recent books dealing with school issues.
Secondary books were:
When the middle school dress code causes more issues than it solves and is specifically focused on girls (and even then, isn't equally enforced), one girl decides to take action by starting a podcast detailing the problems in the hopes of bringing out change. This was a fascinating one with lots to think about!
SEPTEMBER
For September, we read recent books focused on immigrant students.
OCTOBER
In October, we read books from this year's 5th and 6th grade Battle of the Books list.
The primary books for October were:
Secondary books were:
NOVEMBER
In November, we read middle grade historical fiction titles. 
The primary books were:

A Place to Hang the Moon by Kate Albus
It's 1940 in London, right in the middle of World War II when three children become orphaned. Unsure what to do, they leave their home and head for the countryside in hopes of finding a good temporary or even permanent home. I cannot WAIT to read this one to my girls this year. 

Village of Scoundrels by Margi Preus
A heartwarming true story about a group of French teenagers who put their lives at risk in order to save thousands of lives through forgery skills, high-risk message carrying and smuggling people through the mountains.

The secondary books were:

Show Me a Sign by Ann Clare LeZotte
This book has won numerous awards in the past couple of years and it's on my to-read list. The story begins with Mary Lambert, who is deaf. She has always felt safe and connected with everyone because almost everyone on the island of Martha's Vineyard is also deaf and uses sign language. This way of life is challenged though when a scientist arrives at the island trying to dig up the mystery of why deafness on this island is prevalent, using Mary as his experimental guinea pig.
Pony by R.J. Palacio
From the extremely popular book, Wonder, comes the author's new story about a boy whose father is kidnapped in the middle of the night. Silas make the courageous decision to take one of the robbers horses to journey across the country in search of his dad.

The Beatryce Prophecy by Kate DiCamillo, illustrated by Susan Blackall
I love The Tale of Despereaux, by Kate DiCamillo, so I'm anxious to read this one to my girls as well. Baby Beatryce is found in the stalls at the monastery. She is dirty, bloody, sick as can be and clinging to a goat. As the monks take care of Beatryce, they figure out she has powers the king wants and he will do anything to get his hands on the girl.

If you're wondering if I read all the books on this list this year, the answer is a definitive no. I did my best, but I wasn't even CLOSE most months.
What did you book club read this year? I'd love to hear!
And if you'd like a printable copy of this list that you can take to your library or screenshot on your phone for easy access, just pop in your email address below and it'll come right to your inbox!
If you liked this post about my children's lit book club, you might also like these posts: