I LOVE writing this post every year.
I go to Goodreads and pull up all the books I read that year, sort them by star rating and then choose my 10 favorites.
(If you're curious, I have a whole post here about how I use Goodreads, plus my profile if you'd like to follow along).
It's such a fun way to look back on the year and remember my 2021 in books.
Here are the ten that made the cut for the best books I read in 2021!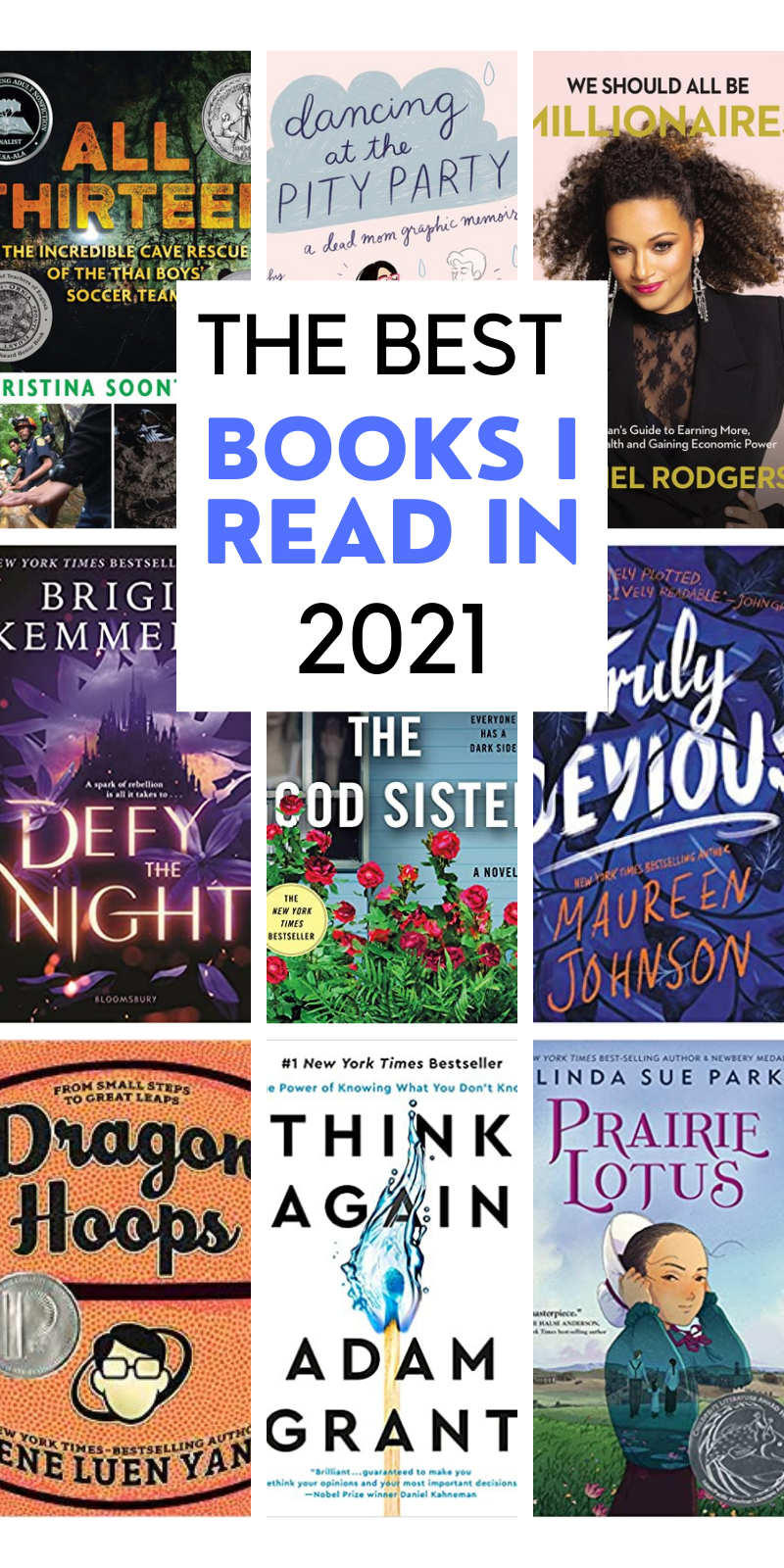 Best Books 2021
All Thirteen: The Incredible Cave Rescue of the Thai Boys' Soccer Team by Christina SoontornvatI
If I had to choose a single favorite book from 2021, it might be this one. I picked it up when it won the Newbery Honor and then was BLOWN AWAY by it. I had only the vaguest recollections of the news stories around the boys' soccer team in Thailand that got stuck in a cave during the rainy season, but I knew basically nothing beyond that. This book made the whole thing come vividly to life for me and even though I knew the ending, I was on the edge of my seat the whole time. And seeing the efforts made to get them out makes it even more incredible that they actually succeeded. If you haven't read this one yet, now is the time. (Full review here)
Truly Devious by Maureen Johnson
I've heard raves about this book for years and decided that it would be my personal October read. I LOVED it – I blew through the whole trilogy and am currently am listening to the new fourth book which is the same characters but a new case to solve. It was perfectly spooky without being scary and I loved watching all the pieces drop into place. (P.S. All four of the audiobooks are included on Scribd!)

Prairie Lotus by Linda Sue Park
I read this to the girls at the beginning of the year and it was terrific. I already knew and loved Linda Sue Park from her Newbery winner, A Single Shard, and this one didn't disappoint (although I would say it wasn't QUITE as good as A Single Shard which I consider basically perfect). If you're a Little House on the Prairie fan, this has similar vibes, but from a totally different point of view.

Dancing at the Pity Party by Tyler Feder
You don't expect to laugh this much in a graphic memoir about losing your mother to cancer. And yet, this book manages to be both utterly delightful and absolutely heartbreaking. This was one of the first books I read in 2021 and it set the bar high for books for the rest of the year. Whether you've lost a loved one and need to feel less alone in your grief or just want a book that will draw you in, this one is an absolute winner. I wouldn't be surprised if this one ends up on a future Everyday Reading Book Club list.
Dragon Hoops by Gene Luen Yang
This book changed my mind about graphic novels (I'd always been a fan for my kids, but never thought of myself as a graphic novel reader). I don't even care about basketball and I was incredibly invested in this true story of a high school team that's trying to win the state championship title that has eluded them for decades. Packed with history, incredible stories, and a season-long chase for glory, I couldn't put this down or stop talking about it. Even if you've been dubious about graphic novels, I strongly urge you to give it a try. I cannot WAIT to talk about this one in the 2022 Everyday Reading Book Club. (Full review here)
The Good Sister by Sally Hepworth
If I was forced to choose a single favorite book from the 2021 Summer Reading Guide. . . .it might be this one. I read this on our spring break trip earlier this year and blew through it in less than two days. It's the story of two sisters who grew up with a very difficult mother and got each other through it. Now they're both adults and still lean on each other, although Fern relies much more heavily on Rose, who is the more stable of the two. But when Fern discovers that her sister can't have the thing she most wants – a baby – Fern decides this might be the moment she can pay Rose back for a lifetime of taking care of her. What could possibly go wrong? I really enjoyed The Mother-in-Law by the same author, but this one blew that one out of the water in my opinion.
Think Again: The Power of Knowing What You Don't Know by Adam Grant
I read and LOVED Adam Grant's book, Originals a few years ago and his new book is equally good – he's just so good at writing the kinds of books that you can't stop thinking about. Like Originals, it's full of fascinating stories and terrific insights, and I truly feel like every parent, business owner, teacher, and . . .okay, human, should read this one. It's one I'll be returning to again and again because it's just so insightful!
Defy the Night by Brigid Kemmerer
You already know that fantasy isn't my normal genre, so for a fantasy book to snag a spot on this list? You know it's good. This one isn't full-on fantasy – there's no magic or powers – but it's set in a fictional world where the kingdom is splintering under the pressure of a mysterious sickness that's spreading through the kingdom and the only cure is in short supply. The king and his brother took over running the kingdom after their parents were assassinated and they're holding the kingdom together basically by brute force. Naturally, there are those in the Wilds who are determined to undermine the king's iron grip on the kingdom. (Full review here)
We Should All Be Millionaires by Rachel Rodgers
You know I can't resist a money book and this one was so good and quite different than a lot of the money books I've read in the past. It got me so fired up! It's ultra-readable and really inspired me as a business owner. It's also full of practical tips, not just high level information.
Malibu Rising by Taylor Jenkins Reid
I have read every book she's written (this one is my favorite) so I didn't want to skip her newest title and it didn't disappoint! Four famous siblings throw a huge party every summer in Malibu. But this year? The mansion burns to the ground during the party. I listened to the audio version and it was so well done. I'm still thinking about it more than six months later – she is such a master at a large cast of characters. (Full review here)
What were the best books you read this year? I'd love to hear!
And if you'd like a printable copy of this list that you can take to your library or screenshot on your phone for easy access, just pop in your email address below and it'll come right to your inbox!
if you liked this post about the best books of 2021, you might also like these other posts: