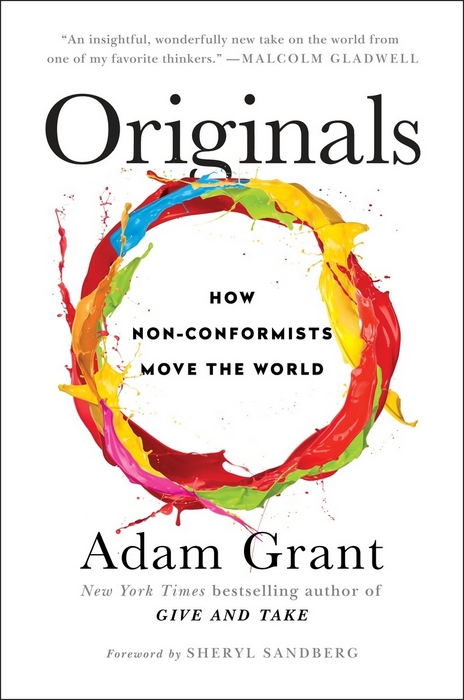 Sometimes, you just know from the first moments of a book that you're going to love it.
Originals: How Non Conformists Move the World was one of those books for me.
I'd actually read Adam Grant's first book, Give and Take, back in 2013, listening to the audio version as we drove from Texas to our new home in North Carolina. And while some bits of it were interesting, overall, I wasn't wild about it.
But then this one was getting such rave reviews that I couldn't resist giving it a try too.
And when I started it during a five minute drive, I barely wanted to get out of the car, and I came home and told Bart, "You would love this too."
We both listened to it in about a week, and had lots of great conversations about it. In fact, Bart said he was going to recommend that his whole team at work read it as well, which is a pretty glowing recommendation, I think.
This book reminded me, in the best possible way, of Malcolm Gladwell's books (especially Outliers, which I still think is his best).
originals how non conformists move the world by adam grant
The premise of this book is that the world is greatly improved by new ideas, but that it can be risky to introduce new policies or products or ideas.
Some people, though, excel at doing exactly that, and Originals is all about ways to create a space where those new ideas can flourish or to push new ideas of our own or raise our children to be the kind of people who take those risks.
The most interesting part of books like this for me are all the stories, but after you've read a dozen or so of these types of books, you start to feel like it's the same stories over and over again. This one, though, was basically all new to me.
I loved the story about how Seinfeld almost never made it to television after being a complete flop with test audiences (and the man who saved one of the most successful shows in television history). I knew basically nothing about Warby Parker (except that they made cool glasses), but now I think they're a completely amazing business. And I loved story after story about people you know well and those you've never heard of who stood up for things they believed in, whether it was the cause of women's suffrage or an online system of sharing at the CIA.
This would be an amazing book club pick because there is just SO much interesting fodder for discussion (plus it's just delightful to read).
And I love a book like this that ends with a lot of practical advice for how to implement the high level things you've learned into your own life, whether as a parent, a business leader, a student, or a neighbor.
Originals How Non Conformists Move the World is a book I would definitely recommend and I can't wait to see what Adam Grant comes out with next.
If you liked this review of originals how non conformists move the world, you might also like these books: