There's something so great about a fresh new year, isn't there? 
I love setting new goals, figuring out what habits I'm going to tweak, and deciding how I want to spend the next 12 months.
And, of course, I love an inspirational book or two to help me really start the year off on the right food.
No matter what your goals for the new year are, there's a book to help you out. These 14 titles cover a wide range of common New Year's resolutions, everything from improving your relationships to saving money to becoming more anti-racist.
I loved every one of them and I hope they'll be helpful to you in making this your best year yet! 
12 inspirational books to start the year off right
Better Than Before by Gretchen Rubin
I kind of think I need to read this book about habits every single January. I love how practical it is and especially how she helps you identify what kinds of strategies will work for YOU as you set goals and develop new habits. Plus, I find her writing so delightful and interesting. I love all her books, but this is definitely my favorite. (Full review here)
Stamped: Racism, Antiracism, and You by Jason Reynolds and Ibram X. Kendi
This is an excellent remix of Stamped from the Beginning: The Definitive History of Racist Ideas in America for younger readers (it's still not meant for really young kids – I think it'd be way over the heads of most elementary schoolers because it assumes you have a fair amount of background knowledge of US history and politics) and it's perfect for adults too. Jason Reynolds is a terrific writer and also a top-notch narrator – I highly recommend listening to the audio version!
Deep Work: Rules for Focused Success in a Distracted World by Cal Newport
Okay, I KNOW I need to re-read this book every January. In this age of so much distraction, I love his hands-on ideas for how to really focus and get the things that matter to you done. If you feel pulled in all directions by your phone or social media and like you aren't able to focus on the projects and work that matters to you (whether that's a job, writing a novel, your family, or something else entirely), this book is so good. I'm also really excited for his new book coming out this year, Digital Minimalism: Choosing a Focused Life in a Noisy World.
Zero Waste Home by Bea Johnson
I'm fairly certain we're never going to be a family that produces one quart jar of garbage per year like Bea Johnson's family, but if you're looking to go more green this year, there aren't many more inspirational books than this one. Zero Waste Home is packed with useful suggestions for how to reduce your family's trash production, from grocery shopping to holidays and clothing to yard work.
Even if you only do a handful of them, you can make a huge difference. My favorites are her tips for reducing food and food-related waste like packaging. Right there, you can drop your garbage output significantly. (Full review here)
The Total Money Makeover by Dave Ramsey
I LOVE Dame Ramsey and when we were working like dogs to pay off our student loans before Ella was born, I listened to his radio show every day and my parents gave us this book for Christmas that year. I love that his strategies are common sense and work whether you're making a million dollars or . . . . much less than a million dollars. He makes a list of what order to do things in so you don't get overwhelmed or discouraged by the fact that you have debt, a car payment, college to save for, a home mortgage to pay down, and retirement to put away for. Step-by-step, you can do the most important things first and in a way that will keep you feeling motivated. Money might not feel exciting, especially the paying down debts part, but there's no way I could leave this off a list of inspirational books.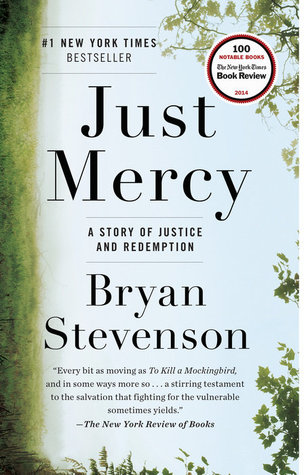 Just Mercy: A Story of Justice and Redemption by Bryan Stevenson
This book. It's such important reading and sometimes that means dull as dirt, but this one was also completely gripping. If you want to start the year better understanding the US  justice system and how deeply broken it is right now, how racism plays into so much of American culture, and what kind of changes need to be made (and how you can advocate for them), this book is for you. I truly think this should be required reading for every adult. (Full review here)
French Kids Eat Everything by Karen Le Billon
In 2014, I only set one goal for each of my children (I'm sure they appreciated me taking over their goal setting). For Ella, who was 3.5, it was better eating and this book was my guide. It follows a family that moves from North America to rural France for a year and it's packed with ideas for how to transition your child from a picky, junk-food-eating table tyrant to a pleasant, well-fed and adventurous eater. I especially like that she talks about how to implement these ideas when you live in  fast-food, snack-obsessed America. (Full review here)
168 Hours: You Have More Time Than You Think by Laura Vanderkam
I'll probably never stop talking about this book because I love it so much (I've read it multiple times). It's so easy to feel like we're all so BUSY and that there couldn't possibly be time to fit in hobbies, rest, or relationships. I love this different look at your schedule and taking real ownership of how you spend your time. If you feel overwhelmed with your routine or like your life is just a hamster wheel of tasks, this book is a must read. Plus, it's totally readable: I think I read half the book aloud to Bart because it was so fascinating. She talks in detail about how to cut out time-wasters and things that aren't bringing you happiness. (Full review here)
The Read-Aloud Family: Making Meaningful and Lasting Connections with Your Kids by Sarah MacKenzie
I mean, you already know I love this book (so much so that I picked it for the 2019 Everyday Reading Book Club!). But if you're looking to make reading with your children a bigger part of your routine this year, there aren't many more inspirational books than this one. It's truly a gold mine of ideas. (Full review here)
How to Celebrate Everything: Recipes and Rituals for Birthdays, Holidays, Family Dinners, and Every Day In Between by Jenny Rosenstrach
If you want this year to be more fun and filled with happy family memories, this book is just a must. I lost my copy in our move somehow and I need to replace it ASAP. It's a fun, delightful read, and packed with ideas from a real family that you'll want to be adopted by immediately. (She also wrote Dinner: A Love Story which I love too!).
How Not to Hate Your Husband After Kids by Jancee Dunn
If your relationship needs a little help this year, I love this practical and completely readable book about how to improve so many aspects of your marriage. I ALLLLLMOST picked this one for the January book in the 2019 Everyday Reading Book Club, but swapped it at the last moment, mainly because I worried that some of the language in this book would be a turn off to some readers. Other than that, though, I love this book and think it's so helpful for basically every relationship, including parents, siblings, bosses, and friends. (Full review here)
This Is Where You Belong: The Art and Science of Loving the Place You Live by Melody Warnick
If you've moved recently or just feel like you're not taking advantage of where you live, I love this book that's jammed with practical suggestions for digging into your community and local culture. I actually just chose this one as the January book for the 2019 Everyday Reading Book Club and I can't wait to dive in this month! (Full Review Here)
Big Magic: Creative Living Beyond Fear by Elizabeth Gilbert
If you're ready to unleash your creativity this year in whatever form that looks like for your life, I love this book (even if it's a bit mystical for my usual tastes). It seriously is one of the most inspirational books I've read in the past five years, and I love her light-hearted approach to creativity. She rejects the idea that creativity has to be dark and painful, instead asserting that creating something should bring you joy, even if it's hard work, and it definitely shouldn't destroy your soul or your life or your relationships in the process. And I love her open view of creativity that can mean so many different things to different people. (Full review here)
Year of No Sugar by Eve Schaub
We all know sugar is basically poison (a fact which I find to be a massive bummer), and this book about a family that spent a year avoiding all sugar is super interesting and inspiring, even if you don't want to do something quite so drastic!
And if you'd like a printable copy of this list that you can take to your library or screenshot on your phone for easy access, just pop in your email address below and it'll come right to your inbox!
Any other inspirational books to kick off 2021? I'd love to hear your favorites in the comments!
If you liked this post about inspiring books to start the year off right, you might also like these posts: