For nearly a decade, I've been posting an annual list of children's Christmas books.
Every year, I love checking out every Christmas picture book I can find from the library and visiting my local Barnes & Noble to read all the newest Christmas releases.
Each year, when I finish the list up, I think, "Well. . . . no way I'll be able to come up with 24 DIFFERENT children's Christmas books next year, but at least this year was a great list."
And then every year, I discover plenty of new ones, both new to me and brand-new in general.
This year it felt almost embarrassingly easy to find 24 new titles – there are so many fantastic Christmas picture books.
I hope you'll enjoy finding a few new favorite children's Christmas books to add to your holiday celebrations this year!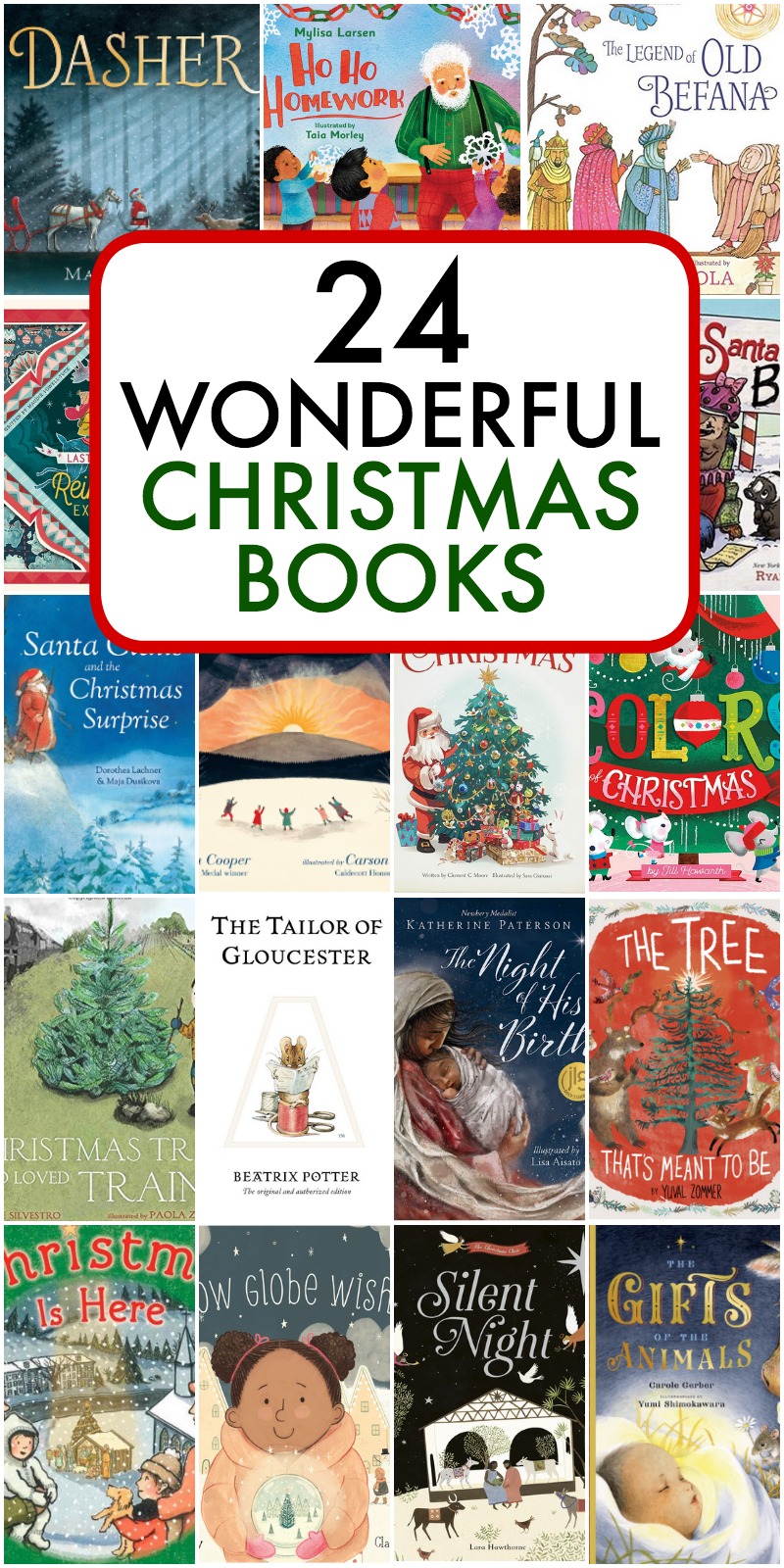 24 Wonderful children's Christmas Books
Dasher by Matt Tavares. This brand-new book is absolutely gorgeous and feels so fresh. It's about Dasher, a little reindeer who lives in sad circumstances with her family and dreams of visiting the north where her mother is from. A perfect children's Christmas books to read throughout the years.
The Tailor of Gloucester by Beatrix Potter. I have a special place in my heart for Beatrix Potter and love this Christmas tale of a tailor trying to survive a long, frigid winter. He's taken on the job of sewing the clothing for the Mayor's wedding on Christmas Day, but it's beginning to look like an impossible task, until some small mice make a Christmas miracle happen.
Ho Ho Homework by Mylisa Larsen, illustrated by Taia Morley. Jack has one Christmas wish but it doesn't look like it's going to come true. When a substitute teacher that is suspiciously similar to Santa shows up at school, Jack is wary but quietly hopeful. The illustrations remind me a little bit of Ezra Jack Keats in The Snowy Day.
A Mustache Baby Christmas by Bridget Heos, illustrated by Joy Ang. My girls are OBSESSED with Mustache Baby and they were overjoyed to discover a Christmas version out this year where Javier's beard turns into a Santa beard and he's put in charge of gifts for all the babies of the world.
Last Stop on the Reindeer Express by Maudie Powell-Tuck, illustrated by Karl James Mountford. I've seen this book before (the cover is so eye-catching!) but never actually opened it until this year. It is STUNNING. I love its sensitive portrayal of a Christmas with someone missing, whether it's due to death or distance.
The Bear and the Star by Lola Schafer, illustrated by Bethanne Andersen. On a frozen winter morning, Bear spots a new star and when he arrives at a massive evergreen to celebrate, the other animals of the forest join him bringing their own gifts and wishes.
The Colors of Christmas by Jill Howarth. This gorgeous board book (bigger than a standard board book) has the most beautiful retro illustrations and just feels so cozy and festive.
The Shortest Day by Susan Cooper, illustrated by Carson Ellis. I love Carson Ellis and her take on Susan Cooper's poem about the Winter Solstice is stunning. This might be my favorite new addition to our children's Christmas picture books.
The Legend of Old Befana by Tomie DePaola. The Italian Christmas legend inspired this book by the beloved Tomie dePaola came out nearly 30 years ago and was just reissued recently.
The Night Before Christmas by Cottage Door Press, illustrated by Sara Gianassi. If you're looking for a classic version of this poem, you can't do much better than this one. It has thicker than normal pages so it'll stand up to ALLLLLL the re-readings.
Santa Bruce by Ryan T. Higgins. I have a soft spot in my heart grumpy bear Bruce, who is surrounded by festive, friendly animals who are always roping him into activities he would definitely prefer to skip. Naturally, this time they want Bruce to play Santa.
The Night of His Birth by Katherine Paterson, illustrated by Lisa Aisato. In this spectacular book, the nativity story is told from Mary's point of view – from her first visit from Gabriel to the confusion of Joseph and worry of her parents to those first precious moments with her baby. I've never seen a nativity book quite like this.
The Tree That's Meant to Be by Yuval Zommer. A little tree wants desperately to be chosen as a Christmas tree, but he's a little misshapen and no one seems to want him. But on Christmas Eve, a group of forest animals discover him and make him into a gorgeous little Christmas tree.
Santa's Prayer by Tom Roberts, illustrated by Doug Moss. As a brother and sister walk through town talking about their Christmas wishlists, they spot Santa slipping into the local church to offer a prayer before setting out on his journey. A sweet reminder of the real reason we celebrate Christmas.
Snow Globe Wishes by Erin Dealey, illustrated by Claire Shorrock. This beautiful book reminds me a little bit of Extra Yarn, as far as the illustrations go. In it, a little girl and her family hunker down during a snowstorm in their cozy home and as they sleep, the little girl makes a wish on her snow globe.
The Gifts of the Animals by Carole Gerber, illustrated by Yumi Shimokawara. This beautiful new book shows the stable animals preparing for the arrival of the Savior in their own way.
Silent Night by Lara Hawthorne. I shared a photo of the interior of this book on Instagram and was flooded with messages asking for the title. It is UNBELIEVABLE. I can't believe I didn't see this one last year when it was released, but I'm making up for lost time now.
The Christmas Tree Who Loved Trains by Annie Silvestro, illustrated by Paola Zakimi. A little tree is out on the edge of the woods right near the train tracks and loves hearing the trains roar by. When she's chosen as a Christmas tree, she mourns the loss of her beloved trains, until Christmas morning when a surprise awaits both her and the little boy in the home.
Christmas is Here illustrated by Lauren Castillo. This book begins with wordless spreads of a family out in the snowy streets of their town, where they come upon a nativity scene. And then the nativity plays out with the text of Luke 2. I LOVE this one.
Santa Claus and the Christmas Surprise by Dorothea Lachner, illustrated by Maja Duskov. Christmas is just around the corner but with the deep snow, Anna and Michael are afraid there will be no Santa that year. But things work out in the most delightful and sweet way that brings the community together.
The Night Before Christmas by Rachel Isadora. I love this version of the familiar story retold with beautiful illustrations set in Africa.
Merry Christmas, Little Elliot by Mike Curato. Poor little Elliot. He can't get in the Christmas spirit. No matter what he tries, nothing seems to work, until he finds a lost letter to Santa and decides to grant the little girl's wish himself.
How the Reindeer Got Their Antlers by Geraldine McCaughrean, illustrated by Heather Holland. This Christmas book is nearly 20 years old, but I'd never seen it. After the animals are made, they can't agree on who should be king, so they're all given crowns of different types. But Reindeer is deeply embarrassed by her spiky antlers and heads north to hide. Until Santa discovers the reindeer's descendents and doesn't find their antlers ugly at all.
The Christmas Eve Tree by Delia Huddy and Emily Sutton. When a little fir tree gets blown over in the early days of its life and its growth is stunted, the little tree is sure it will never become a great Christmas tree like his neighbors. And yet, there might be a surprise waiting for him as Christmas approaches.
You can see all the previous children's Christmas book lists here – there is very little crossover between them, so you'll have literally hundreds of options!
If you'd like a printable copy of this list that you can take to your library or screenshot on your phone for easy access, just pop in your email address below and it'll come right to your inbox!
And don't forget to download a free copy of the Rad Reader Christmas Calendar – it's the perfect way to make these Christmas books a part of your December celebrations!
If you liked this list of children's Christmas books, you might also like these post: