If you've been around for me five minutes, you know there is nothing I like better than a good deal.
And I LOVE inexpensive, cheap gifts that are useful and fun.
So putting together the annual $5 gift guide is one of my favorite things in the world – I LOVE finding cheap gifts that won't get immediately thrown away or donated.
Whether you're looking for stocking stuffers or small gifts for friends, neighbors or teachers, I hope this list of the best gifts for under $5 will come in handy this holiday season!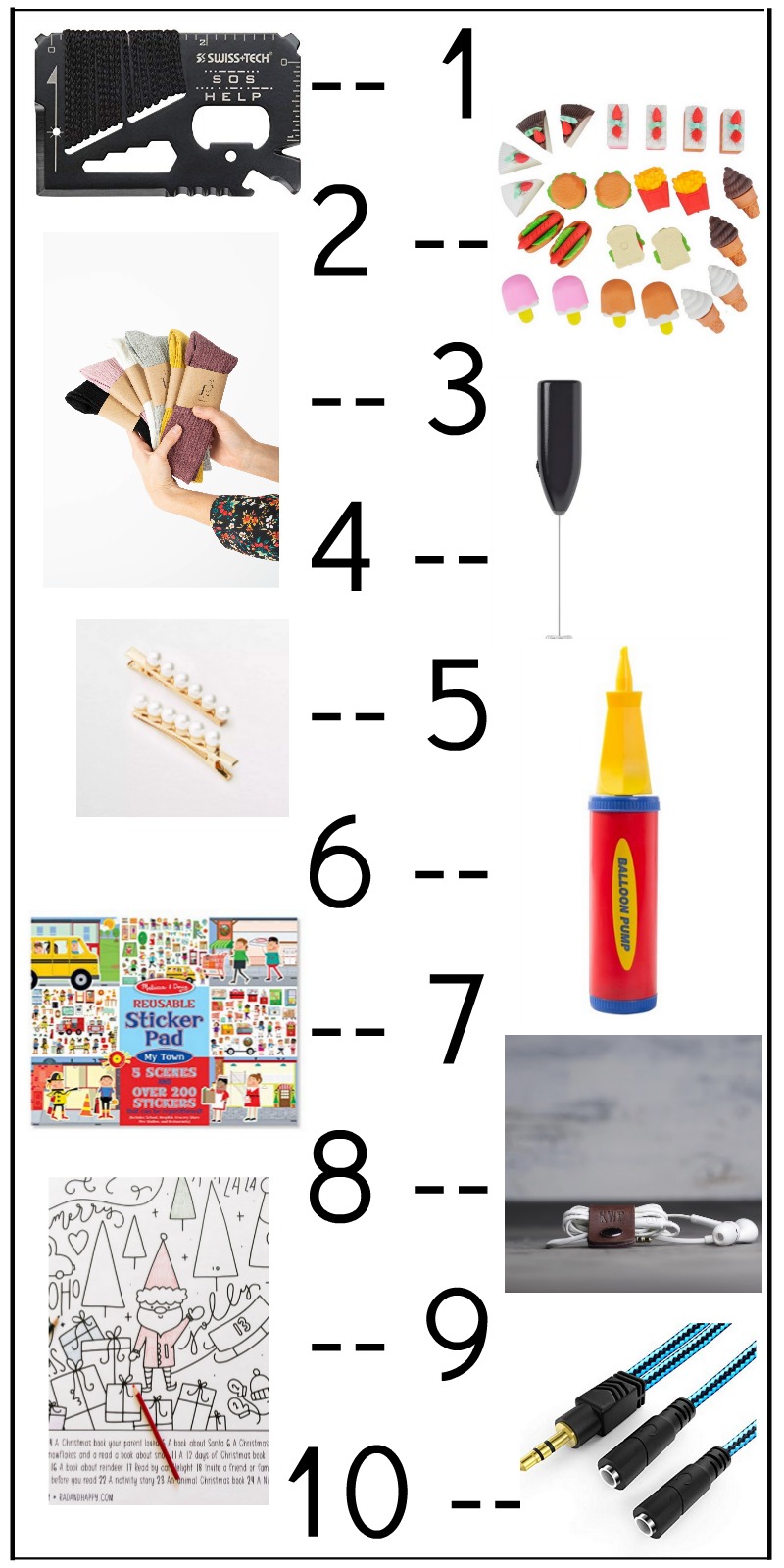 20 CHEAP christmas GIFT IDEAS
1.Wallet Multi-Tool ($6.79) Small enough to fit in your wallet, this clever tool includes a can opener, a bottle opener, 2 screwdrivers, 2 rulers, 4-size wrench, a wing nut wrench, 2 knife edges and a saw blade. This is a total win anyone outdoorsy, handy or who hates to not have the right tools on hand.
2. Food Erasers (24 for $4.99) These cute little erasers are perfect for school age children and a great gift for a child to give out to their school friends without breaking the bank.
3. London Little Knee Socks ($4.80) My girls LOVE these little knee socks (they come in six different colors!) and are so cute with rain boots, Mary Janes, or ankle boots. I'm pretty sure Ani wore a pair every single day to school last winter. Use the code EVERYDAYREADING for 20% off!
4. Milk Frother ($2.99) I asked for gifts under $5 on Instagram and so many people RAVED about this milk frother from IKEA.
5. Pearl Hair Clips (2 for $6.95) I have gotten more questions this year about my hair clips than any other item I've worn. They're just the perfect way to make any outfit feel a little more special and these ones are darling!
6. Balloon Pump ($3.87) I LOVE the festive look of balloons for a party or birthday and I HATE blowing them up. This is the perfect solution at an amazing price. Pair it with a bag of colorful balloons and you're good to go!
7. Reusable Sticker Pad ($6.49) We gave these to the girls a few years ago for Christmas and they were a HUGE hit. I was expecting them to be tiny, but they're quite large and the perfect activity for a car trip or a long afternoon stuck at home.
8. Leather Cord Clip ($5) I loathe tangled cords and this stylish leather clip is perfect for keeping all your cords neatly organized. You can choose from 5 colors of genuine leather and for an extra $3 have them personalized with initials or a symbol.
9. Rad Reader Christmas Calendar (Free! Or $4 to print a giant copy at Staples or Office Max) I mean, how could I not include this? It's the perfect neighbor gift and you can print off a giant version of it for just a few dollars (instructions here). Pair it with a favorite Christmas picture book if you really want to go the distance and it makes the perfect gift!
10. Headphone Splitter ($3.79) We have one of these and use it ALL the time. Whether Bart and I want to watch a show on the laptop without disturbing our children in a hotel room or the girls want to both listen to an audiobook on the tablet, this is so useful!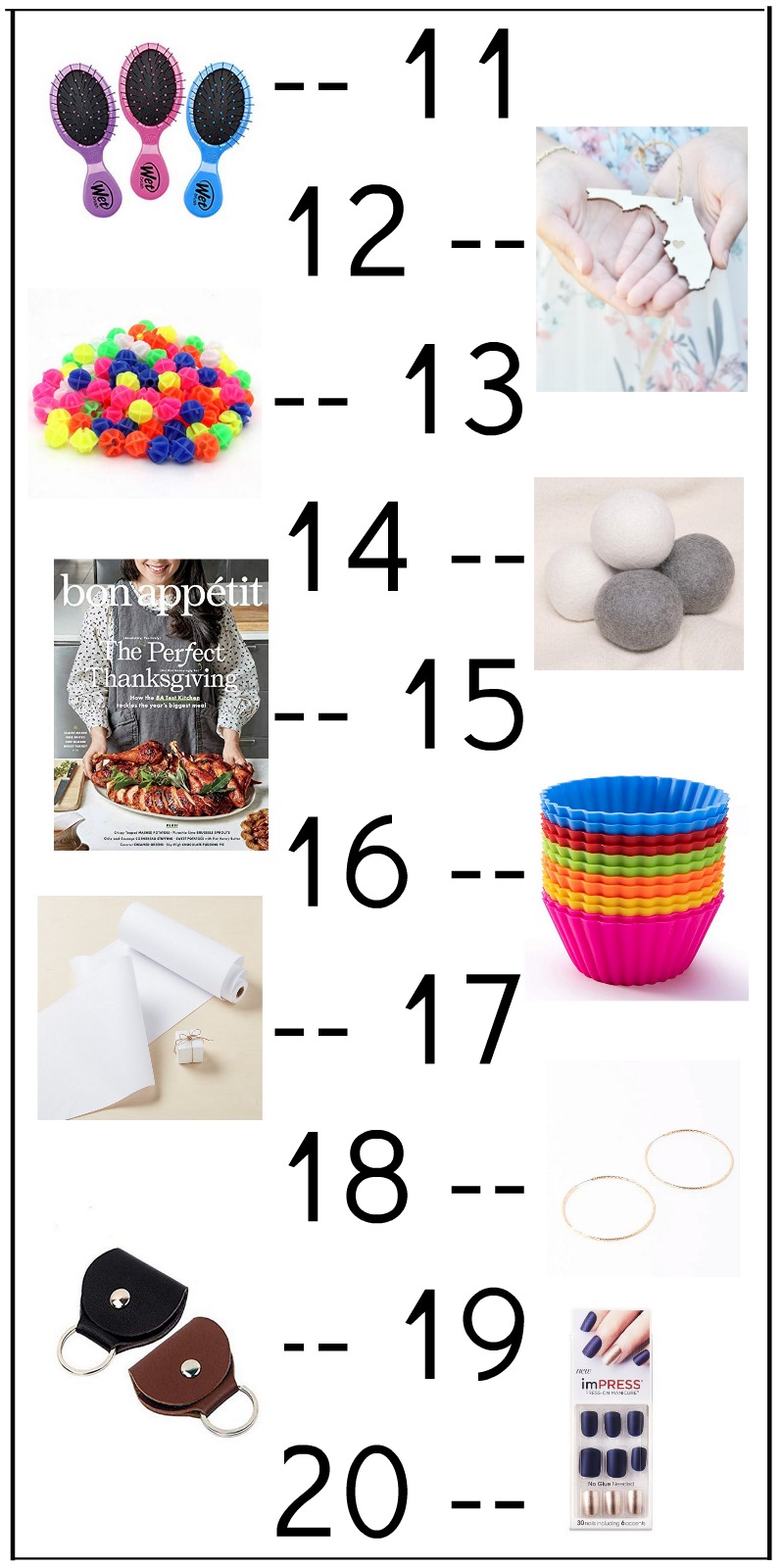 11. Wet Mini Brush ($12.99 for 3) I love our Wet Brush (we gave one to Ani for Christmas years ago) and these mini ones are perfect for tucking into a purse or backpack or keeping in your car.
12. State Ornament ($6) These wooden ornaments make a beautiful gift and are super affordable.
13. Bike Beads ($5.99 for 105) I LOVED these when I was a child – they make riding a bike even more fun. Split these up and put 20 or so in each of your children's stockings or give them out to the kids in your neighborhood or your child's school class!
14. Dryer Balls (4 for $8.49) If you want a more affordable and environmentally friendly way to do your laundry, you can't beat these dryer balls. A cheap gift that will get used for YEARS.
15. A Magazine Subscription ($0.99 for four months) Amazon has amazing deals on magazine subscriptions during the holidays and it's a gift they can enjoy for months instead of just for one day. My favorites are Bon Appetit, Highlights, and Better Homes & Gardens.
16. Silicone Baking Cups (12 for $7.79) I love making muffins and so these get used all the time in my kitchen. And aside from baking you can use them as dividers in a lunchbox or on a plate for kids.
17. 75 foot paper roll ($9.95) For the children who constantly want to draw or doodle, this roll of paper will be well loved.
18. Hoop earrings ($1.20) Like lots of 90s style, hoop earrings are coming back and this inexpensive pair is a little extra special, thanks to the etched design. Makes for a great gift idea for anyone who likes jewelry.
19. Guitar Pick Holder Keychain (2 for $4.99) For the person who always wants to be able to play, this clever little keychain keeps their picks ready at a moment's notice.
20. imPRESS Nails ($6.99) If you love the look of painted nails but hate the cost or how quickly they chip, these are for you! They last for more than a week for most people and they cost a fraction of going to a nail salon. They are like a little treat for your nails!
And if you want even MORE inspiration for cheap gifts, you can see all the previous $5 gift guides here – there are more than 100 other ideas!
If you liked this post full of fun, useful, cheap Christmas gift IDEAS, you might also like these posts: