Just Mercy is a non-fiction account by lawyer Bryan Stevenson of one of his early cases trying to exonerate a man on Death Row, plus a look at the current state of the U.S. justice and prison systems that basically floored me. This book gets compared frequently to To Kill a Mockingbird and it's an apt description.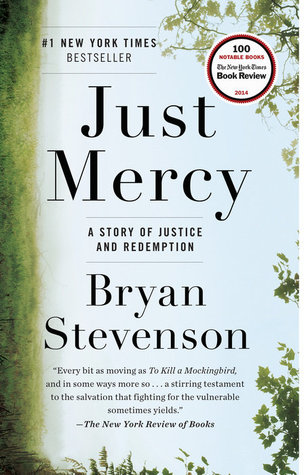 I don't think of myself as a rebel at all, but when it comes to Tell Me What to Read books, my closet rebel seems to come out and I read the books in whatever order I darn well feel like.
(Also, which library holds come in first).
So even though Just Mercy by Bryan Stevenson was the June book, I just finished it last night and I couldn't wait any longer to tell you about it.
Just Mercy is a non-fiction book by Bryan Stevenson.
He's a lawyer, and now the executive director of the Equal Justice Initiative in Alabama, plus teaches law at NYU law school in all his spare time (this was one of those books that you read and think . . . "does this man actually ever sleep?").
His life work centers around fixing the many many problems in the U.S. justice system, including legions of racial issues, children being tried and sentenced as adults (and sent to adult prisons), the death penalty, and how massive the prison system has become in the U.S.
Just thinking about all the wrongs he's trying to right in the world makes me think of that line from Harry Potter where Ron says:
"One person can't feel all that at once, they'd explode."

"Just because you've got the emotional range of a teaspoon doesn't mean we all have," said Hermione nastily, picking up her quill again.
I'm doing laundry over here and Bryan Stevenson is saving the world for all of us.
Just Mercy Summary
A Just Mercy summary isn't super straight-forward because it has one specific storyline woven into a larger discussion and the story goes back and forth between the two.
The main storyline is about an African-American man named Walter McMillian. He was put on death row in the late 1980s for the murder of a white teenage girl who was shot three times at the dry cleaners where she worked.
But when Bryan Stevenson met him, Walter was INSISTENT that he didn't kill her.
Bryan Stevenson promises to look into it, and when he does, it seems pretty clear right away that he's telling the truth.
The amount of evidence to prove him innocent is fairly astounding (like the fact that a fundraiser for his church was taking place at his home during the time of the murder, 11 miles away, and dozens of people saw and talked to him during that time period, including a police officer who noted it in his police log) and the evidence against him is shaky at the very best (basically hinging on two witnesses that were co-erced by law officials who were feeling very antsy about the public backlash surrounding how long it was taking them to find the murderer).
What's so heart-breaking is that even after it's very clear that Walter is innocent, it's not as easy as just releasing him from jail. He was sent to death row even before a trial and when the jury condemned him to life in prison without parole, the judge overrode that decision and sentenced him to death. But it requires about ten thousands hoops to jump through to get the case appealed and anyone even willing to look at it.
In between that drama playing out over the late 1980s and early 1990s, Stevenson discusses some of the larger issues going on in the legal and prison system, with lots of case examples that will basically break your heart right in two.
There are stories of 13 and 14 year olds being tried for crimes as adults and sentenced to life in prison without parole, or people with significant mental disabilities sent to prison where their problems are exacerbated.
It's just so horrifying to think of all these people spending their lives rotting away in prison after a quick trial that clearly didn't take in to account many important facts or had an appointed lawyer that didn't have the capacity or ability or interest to help out their client.
I didn't feel for a moment like Bryan Stevenson was saying that prisons are all bad or that no one deserves to go to prison, but there seems to be no question that there are massive problems with how and why so many Americans are sent there.
And the whole system also costs a FORTUNE.
In 1980, spending on jails and prisons between states and federal funding was $6.9 billion. When this book went to press in 2014, that number was at almost $80 billion.
Prison building and prison running is generally done by private contractors and so the more people who go to jail, the more money they make. So laws and punishments are getting harsher (Bryan Stevenson met one woman who was sentenced to more than 10 years in prison because she'd written five bad checks to buy her children Christmas presents (none of the checks were for more than $150) – he couldn't believe it when she told him but when he checked her file he discovered that was exactly what had happened) and, of course, these laws and punishments tend to be applied much more stringently to minorities and poor people.
This book was one of those ones you can't put down – I just was so anxious to see how it would play out and the pacing was spot on, with writing that was so engaging. I read a paper copy, but I've heard that the Just Mercy audiobook is also fantastic with Bryan Stevenson narrating it himself.
My only complaint about the whole book is that I wished there was a section at the end about what regular people can do to make a difference.
I'm obviously not a lawyer, so I won't be defending anyone in court, but I would have appreciate even a paragraph or two about what can be done in local communities to help with the problems he addressed.
If you've read Just Mercy, I'd love to hear what you thought too!
If you liked this review of Just Mercy by Bryan Stevenson, you might also be interested in the reviews I've written about these books: