One of my favorite parts of late December is going through all the books I've read during the year and picking the best books of 2018.
There are no rules about what kinds of books make the cut and it's usually a complete hodgepodge of new and old titles, audiobooks and paper copies, adult and children's books, and fiction and non-fiction.
This year's top ten is no exception.
I loved every one of these books and if you're in the market for something really terrific to kick off your new year of reading with, I highly recommend these.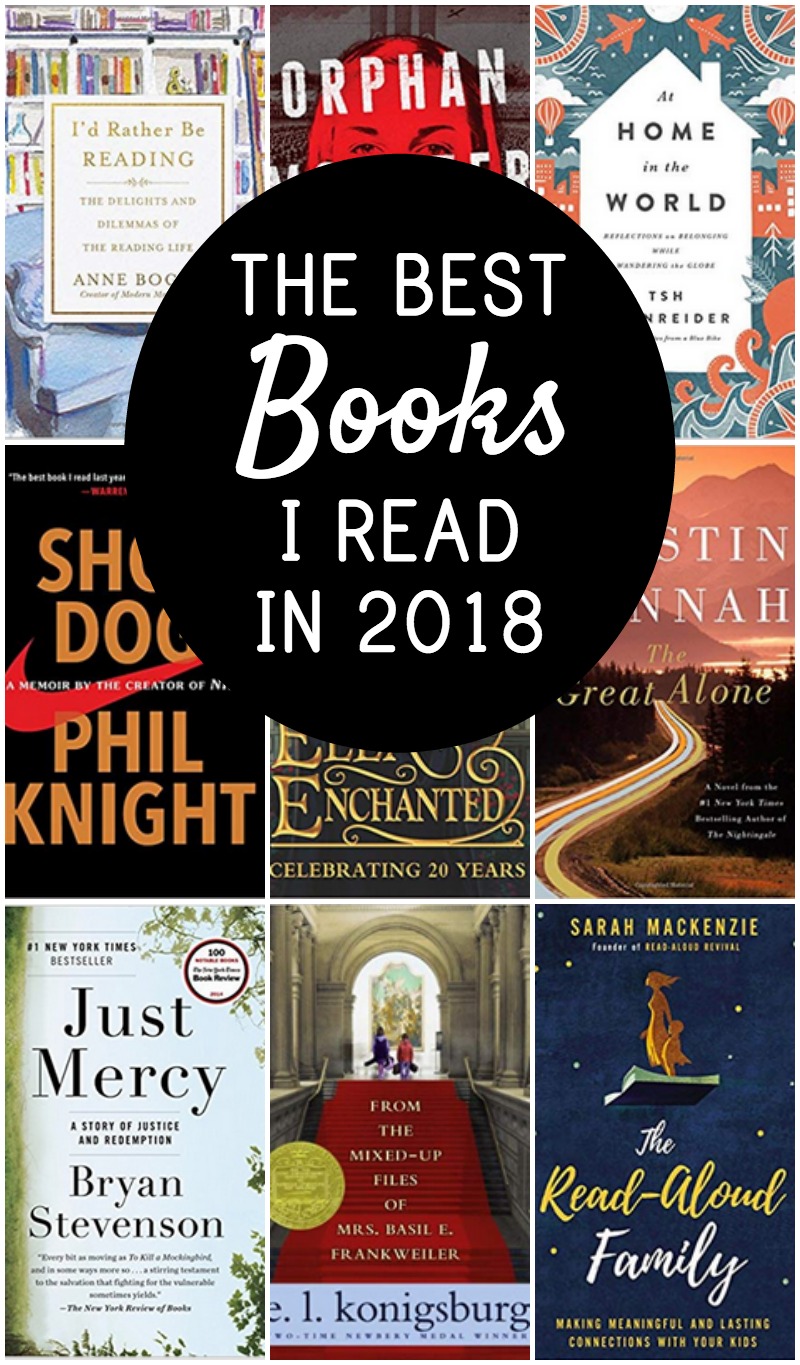 The Best Books of 2018
The Read-Aloud Family: Making Meaningful and Lasting Connections with Your Kids by Sarah MacKenzie
You guys. If I were limited to a single book on my list of best books of 2018, it'd be this one. I was a little dubious if this book would offer a lot to people who already read to their children, but I found it so inspiring and so useful. I cried reading it on an airplane and I've referred back to my copy many times since I finished it. This should basically be required reading for parents. (Full review here)
Shoe Dog: A Memoir by the Creator of NIKE by Phil Knight
I knew exactly zero about Phil Knight and the origins of NIKE, and now I'm a fan for life. This memoir was completely fascinating even for someone like me and I stayed up way too late finishing it. I'm also realizing as I write this that Shoe Dog would make a great addition to this list of non-fiction for men. (Full review here)
I'd Rather Be Reading: The Delights and Dilemmas of the Reading Life by Anne Bogel
Although I love Anne Bogel and her blog Modern Mrs Darcy, I wasn't convinced I'd love a book of essays (because I generally don't). This one, though, was delightful from the first page to the last and I wish I could give a copy to every person I know who loves books too. It's seriously so wonderful.
At Home in the World: Reflections on Belonging While Wandering the Globe by Tsh Oxenreider
I read this book early in the year and I still think about it almost daily. I have no desire to be a full-time wanderer, but it was fascinating to read about a family traveling the world especially with young children. It was such an amazing peek into a totally different life experience and into so many other cultures. (Full review here)
Boston Jane: An Adventure by Jennifer L. Holm
If I had to choose one book to reflect my 2018 reading, it'd be this book and the two sequels – I just LOVED this young adult historical fiction trilogy, and it was such a fun, delightful read with a little sprinkle of romance and a lot of adventure. (Full review here)
From the Mixed-Up Files of Mrs. Basil E. Frankweiler by E.L. Konigsburg
The girls and I listened to this one in the car earlier this year, and the whole time I couldn't stop thinking, "This woman is the most masterful writer." I also really want to take my girls to NYC now. But we'll stay in a hotel, not in the Met.
Just Mercy: A Story of Justice and Redemption by Bryan Stevenson
This book. It's such important reading and sometimes that means dull as dirt, but this one was also completely gripping about our justice system and how deeply broken it is right now. I'm still so full of regret that I missed him speaking at BYU this fall (of course I found out about it literally three days after it happened). (Full review here)
The Great Alone by Kristin Hannah
I feel like people either loved this book or found it the most depressing story of all time. I LOVED it and couldn't put it down, even as one terrible thing after another kept happening. And I definitely want to visit Alaska now. (Full review here)
Orphan Monster Spy by Matt Killeen
You know how some books, you can look at the cover even months or years later and the feel of the book comes rushing back to you? That is this book for me. The atmosphere of the German city, the Nazi boarding school, and the woods was SO strong for me it was like falling into those places headfirst while I read. I'm crossing my fingers hard for a sequel. (Full review here)
Ella Enchanted by Gail Carson Levine
With a companion book coming out some 20 years after Ella Enchanted debuted, I knew I had to re-read the first one before diving into Ogre Enchanted. And I loved this book just as much as I did when I was 11 (and when I re-read it at 18). I just LOVE this clever, funny, and sweet retelling of Cinderella. I read it on the plane on the way home from Italy and definitely cried into my Kindle a little bit.
And if you'd like a printable copy of this list that you can take to your library or screenshot on your phone for easy access, just pop in your email address below and it'll come right to your inbox!
I'd love to hear – what were YOUR favorite books from 2018?
P.S. If you're looking for more books I absolutely loved, you can see my ten favorite books from 2017 here.