You know that fantastic feeling where you're reading something just REALLY fun?
The Boston Jane series did that for me.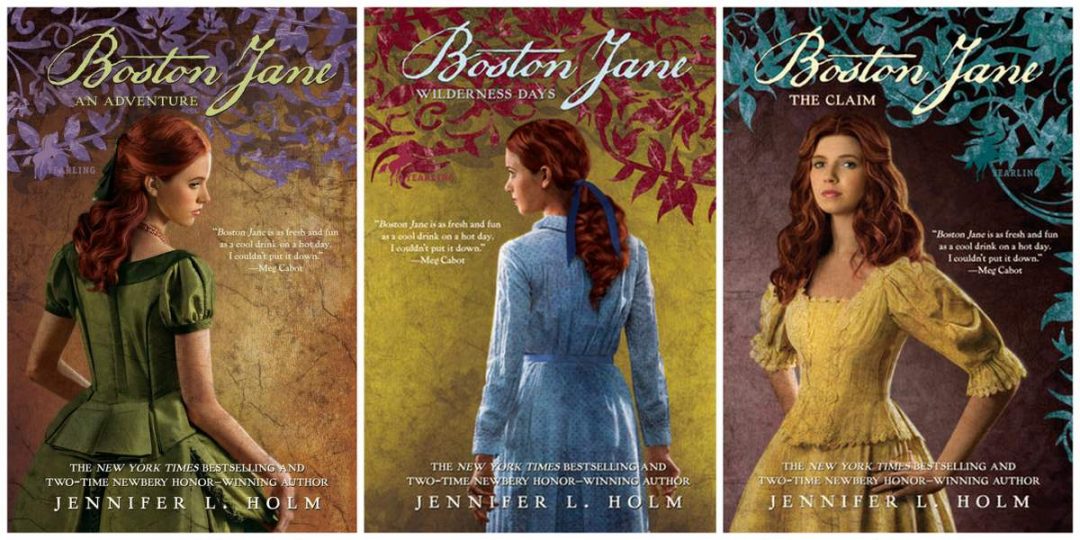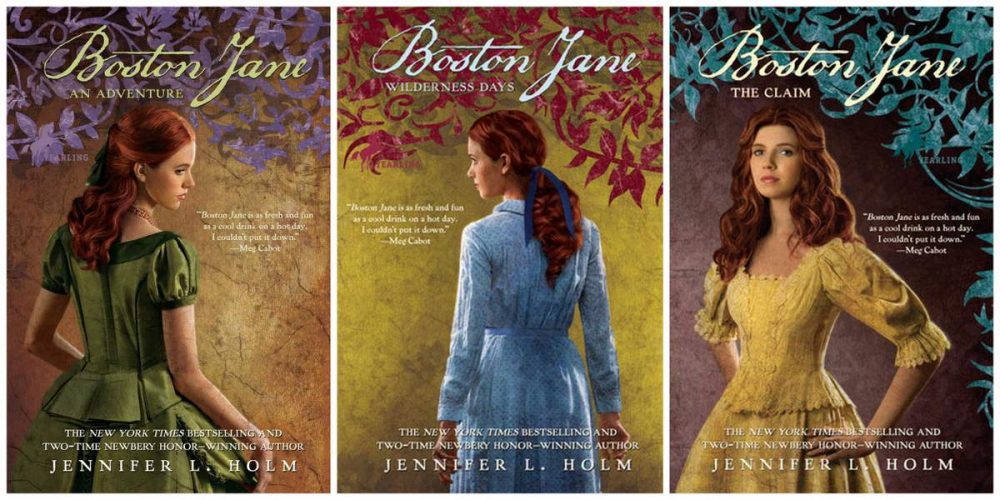 The first one, Boston Jane: An Adventure, came out back in 2001, but somehow I'd never even heard of them.
I was familiar, of course, with Jennifer L. Holm, thanks to her smash-hit graphic novel series she co-writes with her brother, Babymouse, and I knew she'd written a few other novels, but Boston Jane was completely off my radar until Brightly asked me to write a piece about her, including an overview of her major works.
As soon as I read the description of this series, I knew it was one I wanted to read.
I downloaded the first Boston Jane on my Kindle and plowed through it during our first couple of days in Italy a couple of weeks ago.
Happily, my library had Kindle versions of the next two books in the series, Wilderness Days and The Claim, so I could download them from overseas and I finished them all before we came home.
I enjoyed every second of them and they're exactly the kind of book I would have LOVED as a 12 or 13 year-old myself.
boston jane by jennifer l. holm
The books start with Jane, celebrating her sixteenth birthday aboard a ship bound for the west coast (Washington State specifically, although it's not a state in 1854). She's leaving behind everything she knows in Philadelphia, including her beloved father and the girl that made her life miserable in school and in the community for the past five years.
Jane has never quite fit in with proper society, thanks to being raised by her boisterous doctor father (her mother died when Jane was born) and running wild through most of her childhood. Things have become especially bad since she started attending finishing school, where Sally Biddle won't stop tormenting her.
So when her father's former medical apprentice, William Baldt, who has since left Philadelphia to seek his fortune in the timber business in the Pacific Northwest, sends her a letter of proposal, she eagerly accepts and, along with her maid and only friend, sets out on a new adventure that's nothing like she's expected.
She arrives to find that her finishing school lessons have left her entirely unprepared to live in the wilderness and she has to decide whether she'll flee back to proper society or roll up her sleeves and learn some actual skills.
Of course, you can imagine which route she opts to take.
I LOVED Jane. She was smart and spunky, but also felt so real – making mistakes at every step of the way as she navigates her new life, and I loved all the details about the settlement (there's an author's note in the back with lots of information about the facts that these stories draw from).
There are so many great characters too, not just Jane. There are rough hunters and trappers who she learns to respect, the Native Americans who help the settlers navigate life in a strange land, and Jane's friends and family from her previous life in Philadelphia. I loved how fleshed out they were, making the whole story feel rich and real.
It's also a really well-paced story, with lots of action and plenty of humor.
And some very chaste romance (I think, in the first book, there is a total of one kiss), which always makes me like a book even more.
When I mentioned these books on InstaStories, I got so many comments from readers who read these books when they were young and loved them, including several who'd read the whole series multiple times. I can 100% see why – they're just FANTASTIC.
I get asked all the time about young adult books that are appropriate for younger readers who are advanced, and the Boston Jane series is perfect for that.
Now I'm diving into some of Jennifer L. Holm's other books, including Our Only May Amelia – I can't wait! What other books by her should I not miss?
If you like the Boston Jane trilogy, you might also like these books:
Caddie Woodlawn (another spunky pioneer-era heroine based on the author's grandmother)
Ten Cents a Dance (fascinating young adult historical fiction novel about pre-WWII Chicago)
Jefferson's Sons (amazing middle grade novel about Thomas Jefferson's sons born to his slave mistress, Sally Hemming)