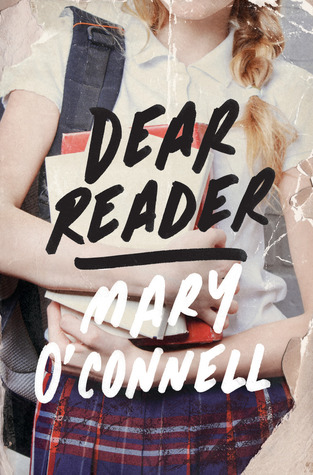 Here's what I always remember about reading.
When you're reading a really good book? It is surprisingly easy to find time to read.
While you're waiting in the pick-up line at school. When your children go out in the backyard for fifteen minutes. When your laundry is laying on the bed waiting to be folded and you ignore it to read another five pages.
Whenever people ask for suggestions about how to read more, I always say "Find something you REALLY want to read."
I took my own advice a few weeks ago.
I was kind of slogging along through a different book and finally, after a couple of days, I thought, "I'm just going to take a quick break and try out Dear Reader before I have to do the re-request of shame AGAIN from the library."
And what do you know?
Suddenly I was miraculously finding pockets of time to read.
I don't know that this book has the universal appeal of, say, To All the Boys I've Loved Before (a book I get near daily messages about from people who read it, loved it, and then were forced to buy the next two books because they couldn't wait any longer), but it was just the right book at the right time for me.
dear reader by mary o'connell
Dear Reader is a young adult novel about Flannery.
She's a senior at a private all-girls Catholic school in Connecticut and she's headed to Columbia in the fall.
She's not exactly popular at her school, mainly because she definitely errs on the nerdy side, but her AP English teacher, Miss Sweeney, assures her that when she arrives at Columbia, she'll find her people. Of course, Miss Sweeney knows something about that, having grown up in Kansas and also having gone to Columbia (her stellar letter of recommendation certainly didn't hurt Flannery's application).
But then Flannery shows up for school and Miss Sweeney never arrives for class.
She's young and been late before, but when the class period is over and there's still no sign of her, Flannery feels sure something is wrong.
Especially because the day before, Miss Sweeney, in their class discussion of Wuthering Heights, acts extremely unusually.
The police are called, but before they arrive, Flannery discovers Miss Sweeney's abandoned purse in her desk, with phone and wallet still inside. There's also a battered copy of Wuthering Heights.
And on a whim – maybe because it's her favorite book, maybe because she's just a nosy teenager, maybe because she's so worried about her teacher – Flannery nicks the book before turning over the purse to the police.
But when she cracks open the book, it's not the towering masterpiece of English Literature she expects. Instead, it somehow is showing Miss Sweeney's journey as it unfolds.
Once Flannery determines she isn't actually losing her mind, she decides she's going to hunt down Miss Sweeney and figure out what exactly is going on.
And what's going on is that Miss Sweeney has headed to New York City on a romantic quest that looks like it has the potential to go very badly.
Flannery ducks out of school, boards the train and finds herself in New York City too, always just a step or two behind her teacher, as she follows along in Wuthering Heights-turned-diary.
As the day plays out, Flannery can clearly imagine her teacher briskly editing Flannery's inner commentary on the day, scolding her for too much hyperbole or bizarre similes. This little edition to the story just completely delighted me.
This already-odd situation takes a turn from the extra-strange when a really handsome British guy shows up on Columbia's campus and seems to take an interest in Flannery.
And when his name turns out to be . . . Heath Smith, Flannery can't quite believe it. Could this really be Heathcliff brought to life in the same mysterious way that her teacher's every thought and action is appearing in her copy of Wuthering Heights?
I had no idea how it was going to play out, but I was basically on the edge of my seat the whole time (or, you know, lying in bed. Same thing).
When I mentioned this book on InstaStories, a bunch of people asked if you needed to have read Wuthering Heights to enjoy it.
I don't think so.
I read it about 15 years ago, but my memory of it is foggy, to say the least. I think the book does a great job giving you enough information about Wuthering Heights for you to know what's going on, and you could always read a quick SparkNotes summary.
(Basically all you need to know is that Heathcliff and Catherine grew up together and fell in love, but then Catherine marries someone else, mainly because of social class and money, and then dies in childbirth. Heathcliff basically spends the rest of his life seeking revenge, being haunted by his memories of Catherine and wishing to be reunited with Catherine, which finally happens when Heathcliff dies too. Cheerful book).
Since this book is kind of a retelling of Wuthering Heights, I kind of suspected that things might not all end happily ever after – either way, it's definitely not a happy light little YA novel.
But it's still a lot of fun. There is a lot of really good dialogue and I laughed out loud many times at various witty banter.
Also, one of my biggest pet peeves in any sort of book is when a character is supposed to be really brainy and then the whole book seems like a contradiction of that fact. In this one, I really bought that Flannery was as smart as everyone was telling me she was.
And I loved that she KNEW she was kind of a nerd but she just couldn't really help herself.
I always get asked about age level for young adult books – who is it appropriate for, what's the content like, etc, and I feel deeply uncomfortable making that judgement for anyone, and especially anyone else's CHILD.
That said, it's definitely on the heavier side. There's some swearing (although it's mostly contained to a few pages) and some off-screen sex, but I'd say overall my hesitation would be that it's a little on the dark side, much like Wuthering Heights, which no one ever read for it's happy, lighthearted character or it's happy neatly-tied-up ending.
One of the reviews I read of it called it "Gilmore Girls meets Wuthering Heights" and. . . actually, that's not a bad description.
If you've read Dear Reader, I'd love to hear what you thought!
If you liked this review of dear reader, you might also like these books: