It's a magical moment when you move into the toddler books phase.
Board books are probably still part of the rotation, but now you can start to add in some picture books with a bit more text and a few more pages.
These are fifty of my very favorite toddler books. They have bright illustrations, lots of fun details to look at, and not too much text on the page (we all know a toddler won't sit through 15 lines of text per page. . . and lots of parents can't either!).
This toddler book list is full of new and classic titles, funny and sweet books, and ones you'll be (mostly) happy to read 100 times, because any toddler parent knows that once they find a favorite book, that's ALL they want to read!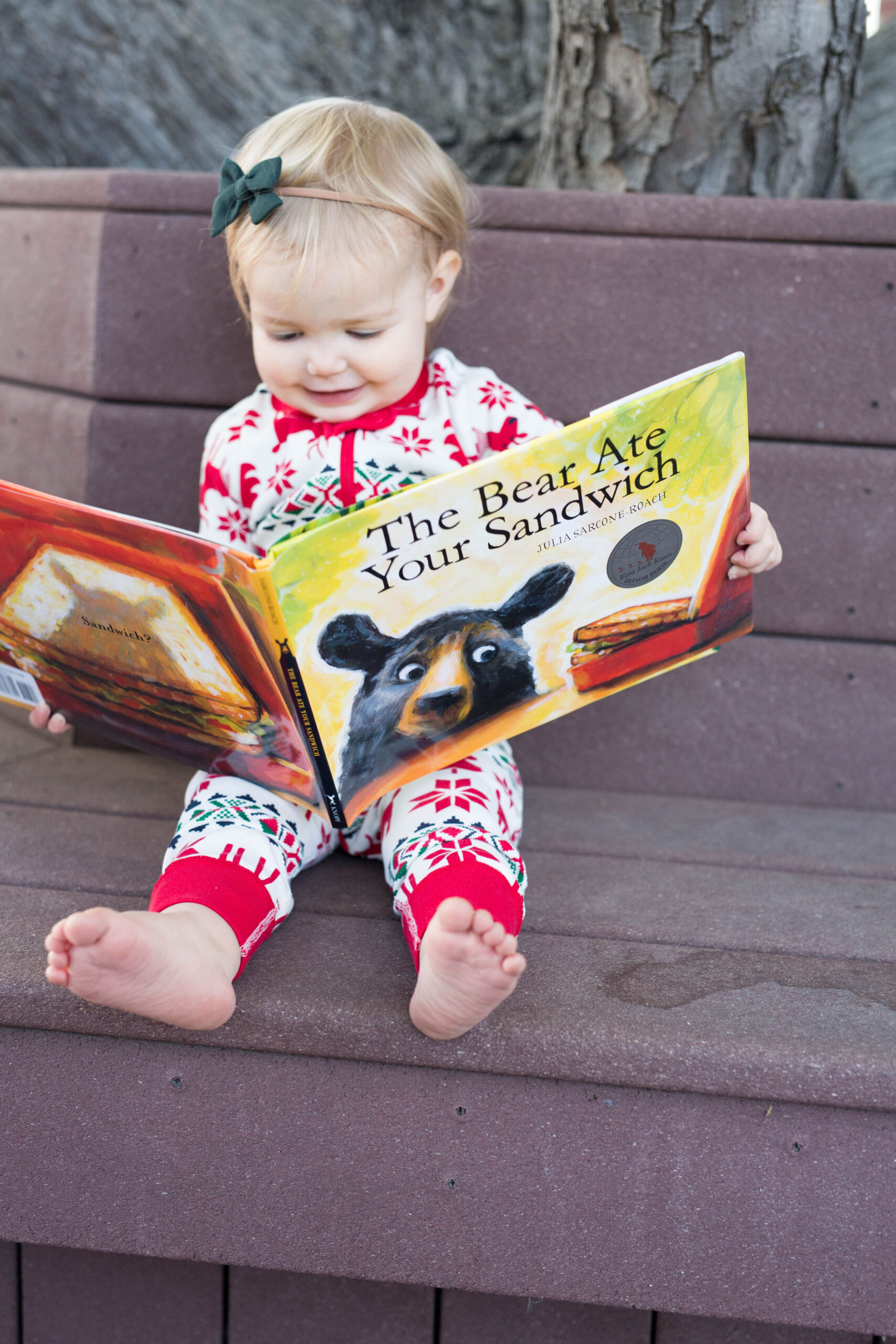 50 Delightful Toddler Books
It's a Tiger by David LaRochelle and Jeremy Tankard. A little child keeps thinking he's escaped the tiger, only to discover it hiding again on each page.
Let's Sing a Lullaby with the Brave Cowboy by Jan Thomas. Singing his cows to sleep, the cowboy discovers he's possibly not as brave as he thought.
Freight Train by Donald Crews. I'll admit we don't read a ton of vehicle books in our family, but this one is just gorgeous, with the colored train cars and then the movement of that train through the landscape. It's a classic.
Bear Sees Colors by Karma Wilson and Jane Chapman. This is bright and colorful and perfect for the youngest readers. Star can't get enough of this one.
King Baby by Kate Beaton. We all know that when a baby arrives, he becomes the king.
Moo! by David LaRochelle and Mike Wohnoutka. This book has only one word, but you'll be amazed at how versatile a "mooooo" can be when a cow steals a car and goes joyriding.
Strollercoaster by Matt Ringler, illustrated by Raúl the Third and Elaine Bay. A fun loving dad turns a stroll through an urban neighborhood into an adventure that stops his toddler's tantrum in its tracks. The pictures in this book are fun, comic-like, and colorful – we read this SO MANY TIMES this winter.
Red Sled by Lita Judge. In this nearly-wordless story, a group of animals find a sled left out in the snow and have themselves a winter adventure.
The Woods by Paul Hoppe. When a beloved bedtime friend goes missing, a little boy braves the woods to go find his pal.
Good Boy, Fergus! by David Shannon. Even better than the No, David! series, this book is all about a little dog who gets himself into all sorts of mischief.
Grumpy Bird by Jeremy Tankard. Bird wakes up too grumpy to do anything, so he marches off in a huff. But all his friends want to join him for his grouchy stroll. Can he stay grumpy with all his friends in tow?
No Sleep for the Sheep! by Karen Beaumont and Jackie Urbanovic. The sheep just wants to go to bed, setting his alarm, brushing his teeth, and settling in for the night. But the other barn animals aren't giving him a chance to catch a single minute of snoozing. This is the BEST read-aloud.
Piggies by Audrey Wood and Don Wood. Dancing on fat baby hands, these ten little piggies are bursting with personality as they play in the sun, snow, sand, and tub, then finally head to bed.
Pouch! by David Ezra Stein. A baby kangaroo heads out to explore the world, but keeps getting frightened back into his mother's pouch.
Mr. Gumpy's Outing by John Burningham. Mr. Gumpy is happy to take various animals along on his boat ride, provided they behave themselves. To no one's surprise, they don't.
Welcome to the Party by Gabrielle Union, illustrated by Ashley Evans. The perfect book for a new baby, this book shows the wonder and joy of a new little one joining a family.
The Watermelon Seed by Greg Pizzoli. Nothing could stop this crocodile from eating watermelon. Nothing, that is, except swallowing a seed.
Not a Stick by Antoinette Portis. Who knew a stick could be so many different things, from a sword to a baton to a fire hose (check out Not a Box too!).
The Bear Ate Your Sandwich by Julia Sarcone-Roach. When a sandwich goes missing from a park bench, the only logical explanation is that a bear wandered into the city, discovered this delicious treat, and scarfed it up before returning to the forest. Obviously. Hello, unreliable narrator!
Where's Walrus? by Stephen Savage. A wordless book about a walrus who escapes from the zoo, my girls have both loved finding the walrus hiding from the zookeeper on each page. This is my go-to gift for toddler books.
Whistle for Willie by Ezra Jack Keats. All Peter wants is to be able to whistle for his dog Willie, but he can't quite figure out how to whistle. I like this one even better than Keats' most famous book, The Snowy Day (which I love too).
LMNO Peas by Keith Baker. The best part of this fun alphabet book is finding the ladybug hidden on each page. This is top five of my personal favorite toddler books.
Should I Share My Ice Cream? by Mo Willems. When Gerald gets an ice cream cone, he deliberates so long about whether or not to share with Piggie that his ice cream cone melts completely. Now what will he do?
Jamberry by Bruce Degen. This delightful rhyming book about a bear and a boy doesn't really have a plot – it's just full of fun rhymes and bright pictures. You'll probably want a blueberry afterward.
Along a Long Road by Frank Viva. The shiny yellow road in this book stretches across all the pages, making it perfect to trace through towns, countrysides, and along the sea, and the retro illustrations are super fun.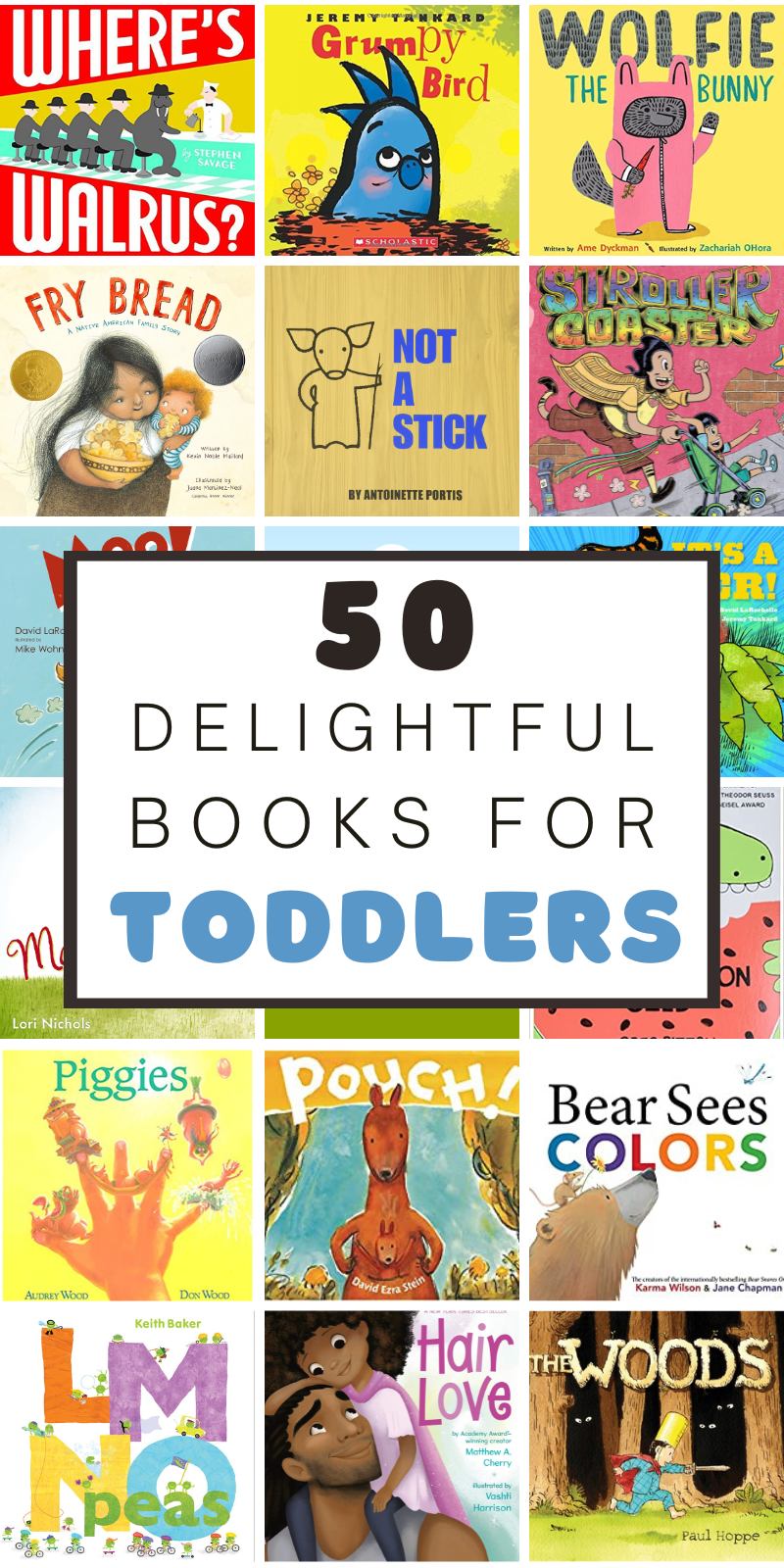 Olivia by Ian Falconer. Before there was the television show and all the merchandise, there was just the first Olivia book. And it was perfect.
Polar Bear's Underwear by Tupera Tupera. One of my favorite new books, Polar Bear can't find his underwear. Where could it have gone?
The Library Lion by Michelle Knudsen and Kevin Hawkes. A strict librarian makes sure all the rules in the library are kept. But when a lion shows up, everyone is perplexed – there aren't any rules about lions in the library!
Wolfie the Bunny by Ame Dyckman and Zachariah OHora. When the Bunny family adopts a wolf left on their doorstep, the youngest bunny is sure the whole family is going to get eaten.
I Spy with My Little Eye by Edward Gibbs. A cut-out and clue on each page lets you guess which animal will be coming next.
Hair Love by Matthew Cherry. Zuri's hair curls in every which way and she loves it! But when her dad steps in to do it, he has some things to learn. This is such a fun story of a daddy/ daughter relationship.
Hairy Maclary from Donaldson's Dairy by Lynley Dodd. Hairy Maclary goes for a little stroll, with his other doggy friends joining him. But when they come across the scariest cat around, everyone heads for home.
My Pet Wants a Pet by Elise Broach, illustrated by Eric Barclay. When a little boy gets a dog, it's so wonderful that the dog quickly decides that HE wants a pet too. The little boy's mom is much less enthusiastic about this idea.
The House in the Night by Susan Marie Swanson and Beth Krommes. Make room next to your beloved copy of Goodnight Moon; this bedtime story is an instant classic.
Backseat A-B-See by Maria van Lieshout. For your vehicle loving child, this is the perfect ABC book, with traffic and street signs demonstrating various letters. Plus the black backgrounds are really striking.
Farmyard Beat by Lindsey Craig and Marc Brown. When the animals start tapping their toes, it isn't long before the farmer comes out to investigate and soon it's a full on barnyard dance.
First the Egg by Laura Vaccaro Seeger. What's first? In this cut-out book, you'll find out. Maybe.
Dandy by Ame Dyckman, illustrated by Charles Santoso. Daddy Lion and his neighborhood pals are SERIOUS about their lawns. But then Sweetie Lion falls in love with a tiny dandelion growing in the yard and Daddy Lion has to decide what's more important – his daughter or his lawn?
Fry Bread by Kevin Noble Maillard, illustrated by Juana Martinez-Neal. This gorgeous book about a Native American food staple has been a favorite at our house – my toddler asked for it daily for six months!
All Aboard the Moonlight Train by Kristyn Crow, illustrated by Annie Won. This is a perfect quiet bedtime story about a ride through the jungle on a train when you can't fall asleep.
Too Many Carrots by Katy Hudson. Rabbit has SO many carrots. So many he can't even fit into his own house anymore. And when a friend invites him to come to HIS house, there is no way he can leave behind all those carrots.
The Runaway Bunny by Margaret Wise Brown and Clement Hurd. I'd never read this one until we had children and Bart mentioned it was one of his favorites from his childhood. Now I love this book about a bunny who wants to run away and a mother who keeps assuring him she'll find him wherever he goes.
Puddle by by Hyewon Yum. A little guy is unhappy that he doesn't get to go play outside because of the rain, but his mom comes up with a fun drawing game that makes the rain seem more fun after all.
Press Here by Hervé Tullet.  Tullet leapt on to the children's book scene with this brilliant interactive book where you tap and press and play with colors and just generally make book reading the kind of experience you didn't know was possible.
Don't Wake Up the Tiger by Britta Teckentrup. Tiger is napping and her friends don't want to wake her up in this interactive tale.
Maple by Lori Nichols. Maple's parents planted a tree in her honor when she was born and the tree and Maple are best friends. But will a new baby ruin everything?
I'm the Biggest Thing in the Ocean by Kevin Sherry. After you read this story, you'll probably have to march around and name all the things you're bigger than too.
Caps for Sale: A Tale of a Peddler, Some Monkeys and Their Monkey Business by Esphyr Slobodkina. I grew up on this story about a peddler trying to sell caps but, on a slow day, wanders out to the countryside, takes a nap under a tree, and wakes up to discover all his caps have been stolen by naughty monkeys in the tree above him.
Everyone Says Goodnight by Hiroyuki Arai. Who doesn't love a flap book? On each page, you can tuck in a new group of toys as they get ready for bed.
Grandma's Purse by Vanessa Brantley-Newton. There are lots of things to love about Grandma Mimi's visits. But the best part? Her purse full of amazing treasures just waiting for a little granddaughter to peek through!
And if you'd like a printable copy of this toddler book list that you can take to your library or screenshot on your phone for easy access, just pop in your email address below and it'll come right to your inbox!
What are your favorite toddler books? I'd love to hear!
if you liked this post about our favorite toddler books, you might also like these other posts: