There's no question we're audiobook lovers in our house but there is something extra delightful about audiobooks with sound effects or background music.
It brings a whole new level of fun and delight to a great story and really makes for an immersive experience.
Here are some of the best audiobooks with sound effects or background music for all ages – I've organized them with short stories at the beginning and then middle grade and young adult titles and a few adult audiobook titles at the end.
No matter what age you're listening with, I hope you'll find something delightful!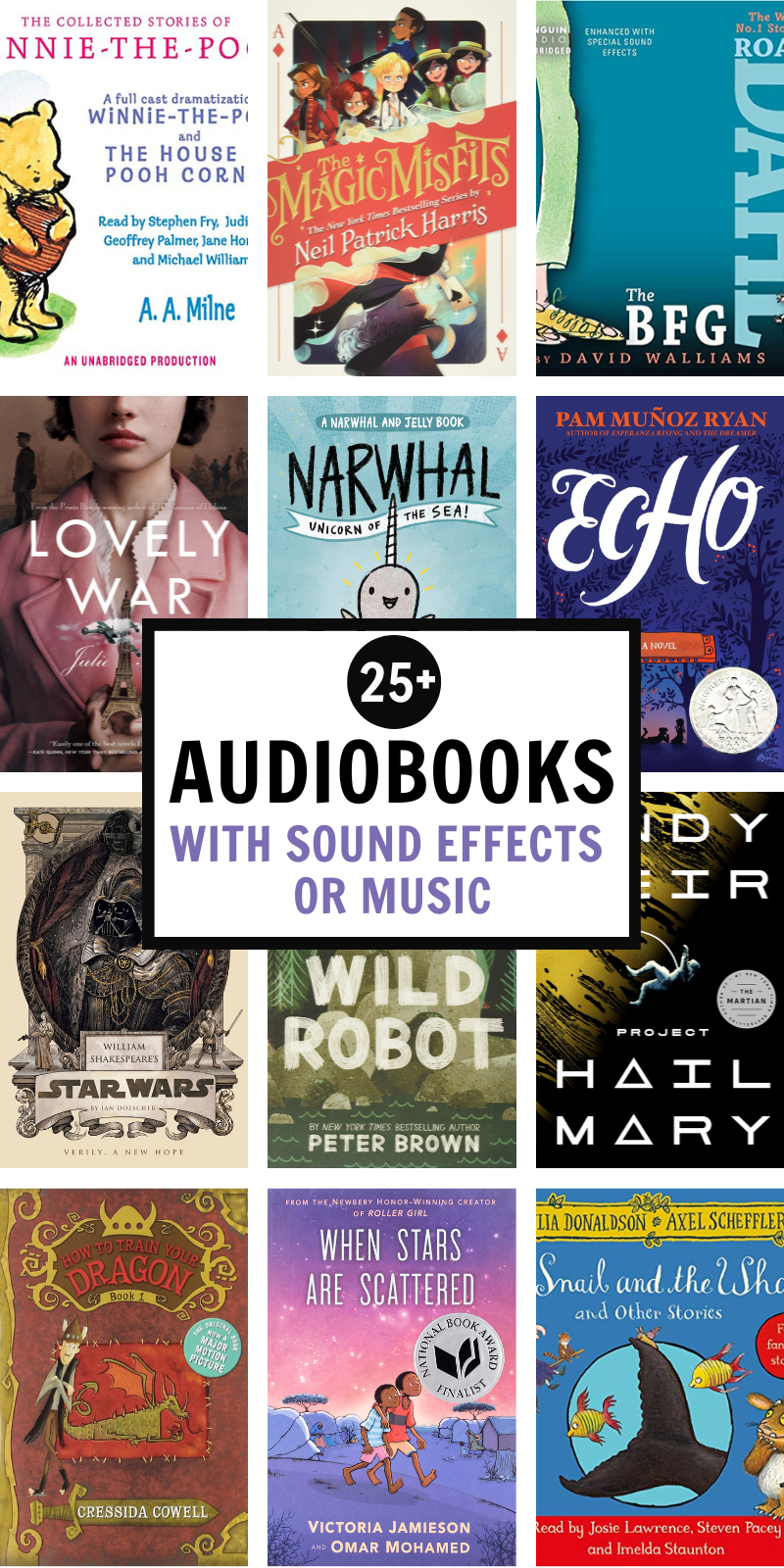 more than 25 audiobooks with sound effects or background music
Frog and Toad by Arnold Lobel
Listening time: 1.5 hours
Read by the author, these are just SO delightful. I love every single one of these sweet stories and my girls have listened to the whole collection a million times.

The Snail and the Whale and Other Stories by Julia Donaldson
Listening time: 1 hour
This Julia Donaldson collection contains four stories, including the very well known Room on the Broom. My girls have loved the sweet story of a snail who doesn't listen to the naysayers who say snails should just stay at home and hops a ride on a whale's back to see the world. You also can't go wrong with The Gruffalo and Other Stories.
Hairy Maclary Treasury: The Complete Adventures of Hairy Maclary by Lynley Dodd
Listening time: 30 minutes
Our family has LOVED Hairy Maclary since Ella was a tiny girl – at one point, I'm pretty sure Bart and I could have recited it backwards and forwards. These animal stories are a can't miss!
Winnie the Pooh by A.A. Milne
Listening time: 4.5 hours
This star-studded audio cast brings one of the most beloved childhood tales of all time to life in the sweetest way. This one is not to be missed.
Narwhal and Jelly: Books 1-5 by Ben Clanton 
Listening time: 1 hour
I have pretty much never written an entire dedicated blog post to a children's audiobook, but this one was so good that I couldn't resist. This one is SO fun with music and sea creature facts and funny stories – my girls have listened to it non-stop for a year! (Full review here)
Peter and the Wolf by Sergei Prokofiev
Listening time: 30 minutes
I grew up listening to Peter and the Wolf and I was delighted to see it included in Audible Plus – it's designed to introduce young audiences to the various instruments of an orchestra with each character having a recognizable instrument assigned to them.
The Magic Misfits by Neil Patrick Harris
Listening time: 4 hours
A street magician runs away and finds something he never expects in a sleepy New England town- friends and magic! He teams up with his new found friends to save the town from villainous B.B. Bosso!
Echo by Pam Mūnoz Ryan
Listening time: 10.5 hours
This is one of the books where I feel deeply sorry for anyone who read this book on paper instead of listening. It's just SO tremendously well done with the musical accompaniment really bringing the magic of this book to life.
The Mystwick School of Musicraft by Jessica Khoury
Listening time: 8 hours
This magical book was the first one we listened to together after we joined Audible Plus – it's delightful and full of original music.
The Wild Robot by Peter Brown
Listening time: 4 hours
The girls and I listened to this fun audiobook a few years ago and I've heard from SO MANY families that have loved this one too.
The BFG by Roald Dahl
Listening time: 4.5 hours
I mean, you just can't go wrong with Roald Dahl. This one has his trademark silliness, plus a plot that moves right along.
William Shakespeare's Star Wars by Ian Doescher
Listening time: 3.5 hours
Can you imagine the story of Star Wars told by Shakespeare? Well imagine no more – this award winning audio performance is just spectacular with multiple voice and lots of sound effects.
Princess Academy by Shannon Hale
Listening time: 7.5 hours
I've listened to this one multiple times and I never get over how GREAT the production is of this one (my girls loved it too) about a remote mountain town that becomes host to a competition to choose the next Princess who is prophesied to come from this town. (Full review here) 
The Graveyard Book by Neil Gaiman
Listening time: 7 hours 45 minutes
I'd heard a lot about The Graveyard Book even before it won the Newbery since it's by Neil Gaiman, a man who inspires a following like few others. It was so lovely and poignant and also sweet and funny. (Full review here)
When Stars are Scattered by Victoria Jamieson
Listening time: 3.5 hours
You might think a graphic novel is really best enjoyed when you can see the… you know, graphics. But the audio version of this stunning book is out to prove you wrong with a full-cast narration that brings this true story of a young boy living in a refugee camp in Kenya, caring for his non-verbal younger brother and trying to attend school to life in the most stunning way. In fact, people who have listened to this audiobook tell me they feel sorry for people who read it on paper instead of getting to experience the audio version. This is a terrific one for both children (probably about 8+) and adults!
Little House on the Prairie by Laura Ingalls Wilder
Listening time: 5 hours 45 minutes
I grew up on these books (I lived in Wisconsin until I was almost 7 and we went to the rebuilt Little House in the Big Woods which I still remember very clearly) and waited my whole life to have children of my own to read them to. When Ella was in kindergarten, we read the first four books together and my girls have listened to the audio dozens of times since then.
Hatchet by Gary Paulsen
Listening time: 3 hours 45 minutes
Ella (like so many readers before her) was completely absorbed by this story of a boy alone in the wilderness trying to survive after a plane crash.
The Goose Girl by Shannon Hale
Listening time: 10 hours
This was the June 2020 book for the Everyday Reading Book Club and a PERFECT pick for the whole family to listen to. It's a full-cast audio performance and our whole family loves Shannon Hale's writing. All four books in the series are TERRIFIC. (Full review here)
Chronicles of Narnia: Complete Audio Collection by C.S. Lewis
Listening time: 33 hours 45 minutes
During World War II, four siblings are sent to the countryside of London where they are to be kept safe from the war. One of the children finds a wardrobe that has the ability to transport them to a completely different world called Narnia. This series is full of excitement and adventure and has been beloved for generations.
Mr. Popper's Penguins by Richard Atwater
Listening time: 2 hours 15 minutes
I'd read this one as a child, but couldn't remember a darn thing about it except that he gets a penguin in the mail. It was so fun to watch this story play out when none of us knew how it was going to turn out.

The Trumpet of the Swan by E.B. White
Listening time: 4.5 hours
I'm pretty sure Ella listened to this audiobook at least a half dozen times and it was one of my favorite books as a child. This one is a great one if your kids are a little younger, but still fun if they're older too.
The Boxcar Children by Aimee Lilly
Listening time: 1 hour and 45 minutes
I was obsessed with this chapter book series growing up and read probably a hundred of them. I like that the mysteries aren't too scary and I really love that they showcase siblings that like each other, get along, and work together to solve problems. These are short and perfect for younger middle grade listeners.
How to Train Your Dragon by Cressida Cowell
Listening time: 3.5 hours
Ella listened to this whole series and loved every second of it. My sister has three boys and they are obsessed with it too. There are 13 books in the series and these stories of Vikings and dragons are fast paced and delightful.
The City of Ember by Jeanne DuPrau
Listening time: 7 hours
I have such vivid memories of reading this book in grad school (not for school. . . .just when I needed a little break from my data heavy courses).
Lovely War by Julie Berry
Listening Time:13 hours
I mean, if you haven't read this book already, I'm probably falling down on my job here, but truly. THIS is the time to pick up a copy. The story takes place during World War I and follows four main characters. Even more fun? The story is framed by several Greek gods who are in a tiff of their own during World War II. I know it sounds weird, but trust me, it works. It's in the top 10 books I've ever read. The audio version is STUNNING.
Call Me Maybe by Cara Bastone
Listening Time: 6 hours
Told in alternating points of view, Vera has spent the last three hours on hold with customer service trying to get her website ready to launch her new business. Kal is the guy who finally picks up and thinks he can help her. As they spend hours together on the phone. . . it's possible that her website won't be the only thing that launches. This one is an Audible Original, meaning it's only available from Audible – if you're an Audible Member, it's included free with your membership (and you can sign up for a free month trial here!) AND there is a sequel, Sweet Talk, which is also free with an Audible membership.
Project Hail Mary by Andy Weir
Listening time: 16 hours
I loved this book from the author of The Martian – it's clever and funny and fascinating. The audio is completely absorbing and you'll feel like you're out in deep space yourself!
And if you'd like a printable copy of this list that you can take to your library or screenshot on your phone for easy access, just pop in your email address below and it'll come right to your inbox!

if you liked this post about audiobooks with sound effects and/or music, you might like these other posts: