Shannon Hale's Newbery Honor book, Princess Academy, is a fantastic middle grade novel that feels like an instant classic. Don't let the name fool you – this book has great appeal for both boys and girls! And check out the Princess Academy audiobook; it's done by a full cast with original music and tremendously good.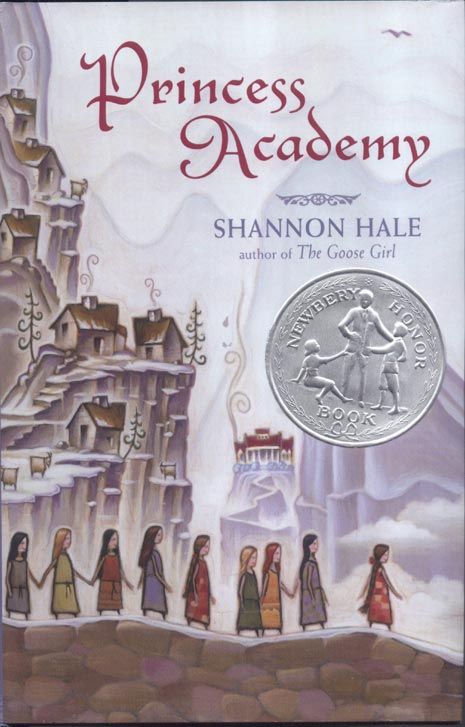 Princess Academy is the second book I've read by Shannon Hale this year (The Goose Girl being the first) and it was just as good, perhaps even better, than the first. I've now put in a request for the next book by her (called Enna Burning) and am looking forward to reading that one as well.
Hooray for good authors that write more than one book (it is a huge disappointment to me that To Kill a Mockingbird is a one hit wonder).
Princess Academy by Shannon Hale
Miri lives in a mountain village that makes its living quarrying special rock from the mountain. Nearly everyone in the village, even the older children, participate in the quarrying. Miri, however, is so tiny that her father won't let her work there, and she feels a bit worthless because of it. The village stays afloat by trading their rock for supplies once a year with traders who make the trek up the mountain. One year, a royal messenger comes with the traders to announce that the royal priests and sorcerers have determined that the prince's future princess will come from this mountain and therefore all girls of appropriate age must come spend a year at an academy that is being built at the base of the mountain to be educated and trained. At the end of the year, the prince himself will come to the academy and choose for himself a bride.
Miri is forced to go, much to her dismay, but soon finds herself wanting to be named "Academy Princess," which is the girl who gains the most education. She quickly learns to read and devours the books in the school, finding out that the stone her village quarries is one of the most valuable resources in the kingdom and also extremely rare. When she returns home for a vacation, she convinces the villagers to barter harder with the traders who have been swindling them for generations.
I realize, reading back on those last two paragraphs, that it sounds like a fairly simplistic story, but there are a number of really fine other threads woven through the book, including Miri's worries about how her father sees her, the competition between the girls who both want the honor and excitement of being princess but also dread the thought of leaving their families and friends, and Miri's quest to learn "quarryspeak," which is how quarry workers communicate over the din of the work.
Like The Goose Girl, this book is spectacularly well-developed with a very tight plot and excellent characters. Sometimes I read books that win a lot of awards and think "Wow, it must have been a bleak year for children's literature." This book obviously didn't make me think that.
One of the things I loved about this book was what an authentic feel it had to it. I can't quite describe it accurately, but it felt more like a book written during the time period it focused on (medievalish times), rather than a book written about that time period, if that makes any sense at all.
As I've mentioned before, I'm listening to The Memory Keeper's Daughter right now, and, since the first chapter, I've been very aware that the feel of the book seems faintly contrived. It's set in the fifties and sixties and I get the impression it's trying very hard to be a book of that time period but doesn't actually succeed.
Princess Academy, on the other hand, feels wonderfully real.
My only complaint about Princess Academy was that it felt like it finished a little abruptly. I was surprised that there wasn't slightly more closure or a little more warning. I would have liked a bit more of a wind-down, but no one asked me. Too bad.
Shannon Hale is coming out with her first adult novel, called Austenland, in late May, and I can't WAIT. It's a book about a woman who absolutely loves Pride and Prejudice, particularly Collin Firth's Mr. Darcy. She's so in love, in fact, that she can't maintain a real relationship because who, after all, could ever measure up to the fabulous Mr. Darcy? I think she's just such a fine writer, and I'm excited to see what her adult fiction is like.
That last paragraph sounds like an advertisement, I know, but she really is that good. I'm always pleased to see really quality children's literature, and her books definitely fall into that category.
If you liked Princess Academy, you might also like these books: