I love food.
There's pretty much no part of food I don't love – I like planning what to cook, I love baking, I love going out to eat.
And, naturally, I love reading about food.
Over the years, I've read many MANY food books but somehow never collected a list of my favorites.
Now is the moment to remedy that!
Here are more than a dozen of my favorite food books – I hope you'll find some new favorites too!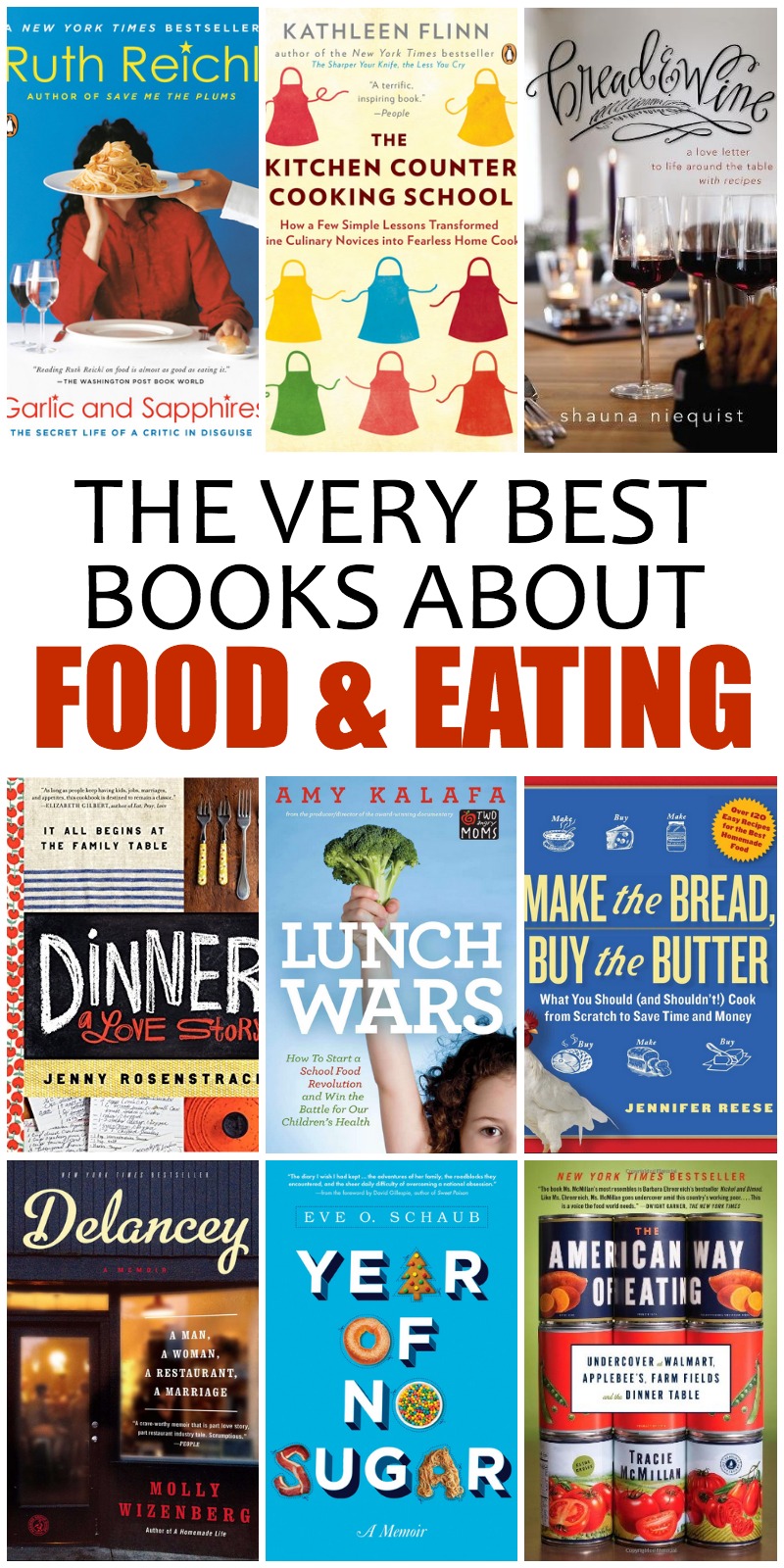 My Favorite Food Books
Garlic and Sapphires: The Secret Life of a Critic in Disguise

by 

Ruth Reichl. If I had to pick a single favorite food book, it would probably be this one. All about her time as the lead restaurant critic The New York Times, it is laugh out loud funny and packed with great recipes. Her newest memoir, Save Me the Plums, about being editor at Gourmet until it shuttered, is also fantastic.
Bread and Wine: A Love Letter to Life Around the Table with Recipes by Shauna Niequist. This book is everything I love about food – warmth and company and family. It's just so wonderful in every way. (Full review here).
Delancey: A Man, a Woman, a Restaurant, a Marriage by Molly Wizenberg. Molly's food blog was one of the early ones I read and I love her cooking and her writing so much. This book, about opening a restaurant and not killing your spouse, was just so fantastic. Her first book, A Homemade Life, is also phenomenal. (Full review here). 
Year of No Sugar by Eve Schaub. This book was SO fascinating and even now, six or seven years later, I still think about it at least weekly. It's so eye-opening to how much sugar there is EVERYWHERE in the American diet and what happens when you opt out of it.
The American Way of Eating: Undercover at Walmart, Applebee's, Farm Fields and the Dinner Table by Tracie McMillan. I read this right after Ani was born and probably bored my mom stiff telling her every detail about every chapter as I read through one million nursing sessions. Truly fascinating.
Dinner: A Love Story: It all begins at the family table by Jenny Rosenstrach. I am truly obsessed with Jenny's writing. It's so personable and fun and I want her to be my next door neighbor in the WORST way,.  I also love her book, How to Celebrate Everything. Read them both and you'll want her to move next door to you too. (Full review here)
French Kids Eat Everything: How Our Family Moved to France, Cured Picky Eating, Banned Snacking, and Discovered 10 Simple Rules for Raising Happy, Healthy Eaters by Karen Le Billon. I read this early in my parenting journey and it's really served me well. It's also so readable and fun. (Full review here)
The Kitchen Counter Cooking School: How a Few Simple Lessons Transformed Nine Culinary Novices into Fearless Home Cooks by Kathleen Flinn. This was one of those books that I saw floating around and then in my moment of book-need, it was available on audio with no wait and I devoured the whole thing. It's just so sweet and special. (She also wrote The Sharper Your Knife, the Less You Cry: Love, Laughter, and Tears at the World's Most Famous Cooking School, which I enjoyed too).
Make the Bread, Buy the Butter: What You Should and Shouldn't Cook from Scratch — Over 120 Recipes for the Best Homemade Foods by Jennifer Reese. I couldn't stop talking about this book for a solid year. It's so interesting and so funny and made me think about how I was using my time in the kitchen and where I could save money or time or both. Highly recommend. (Full review here).
Lunch Wars: How to Start a School Food Revolution and Win the Battle for Our Children's Health by Amy Kalafa. I read this long before I had any children in the public school system, but I ate it up (pun 100% intended because why else even have a blog?). So interesting to see what goes into the policies behind school lunches and all the strong forces at work. (Full review here).
Service Included: Four-Star Secrets of an Eavesdropping Waitress by Phoebe Damrosch. For those of us who are not regularly dining at Michelin Starred establishments, this is a fascinating peek at what it's like to be a waitress in one of those places. (Full review here).
And if you'd like a printable copy of this list that you can take to your library or screenshot on your phone for easy access, just pop in your email address below and it'll come right to your inbox!
I'd love to hear your favorite food books – leave the titles in the comments!
If you liked this post about food books, you might also like these posts: