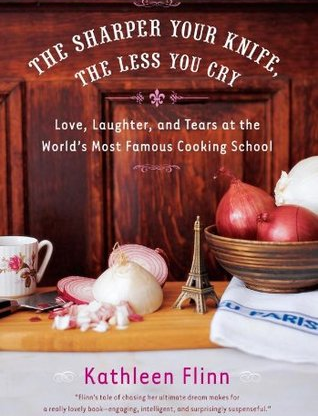 Whew, I'm so tired from typing out the whole title that I may need to end my review here (you only wish you were so lucky).
The Sharper Your Knife, the Less You Cry: Love, Laughter, and Tears at the World's Most Famous Cooking School, like Service Included, is a Texas Festival Book and it just arrived at the library (please note that the Texas Book Festival was 3 months ago – I am nothing if not determined). I started reading the book this morning over breakfast and Bart said "You're reading another cooking memoir?" And yes, I realize that I've read five books this year so far and three of them have been cooking memoirs, but I just love them for some reason.
the sharper YOUR knife, the less you cry
Of the three so far, this was probably my favorite. Kathleen is incredibly down-to-earth; unlike Julie and Julia (a book with very similar themes about finding yourself and your passion through cooking), I really enjoyed Kathleen and found her a delightful person.
Kathleen gets laid off from her corporate job (a job she's hated for a while, but lacked the courage to quit) and, at the urging of her boyfriend, Mike, takes all of her savings and enrolls in Le Cordon Bleu cooking school. As you might expect, the book mostly chronicles her experiences through the three levels of cooking school along with her relationship (of course) and eventual marriage.
And, um, that's about it. Really, The Sharper Your Knife, the Less You Cry is a pretty straight-forward story but an interesting one nevertheless.
(Also, all thoughts I've ever had about going to cooking school were killed when I read about them having to chop heads off of rabbits. I need no such experience).
If you liked this review of THE SHARPER YOUR KNIFE, THE LESS YOU CRY, you might also like these books: