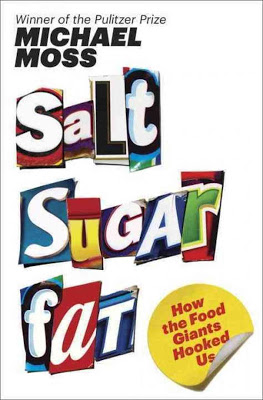 Apparently, it's been over a year since I wrote about a food book (it was
French Kids Eat Everything
, last August). This is not right.
I THINK I've probably read some food books between now and then, but now I can't be certain. It appears that if I haven't documented something on my blog, I have zero ability to recall it (ah, Goodreads tells me I read American Wasteland in January and Garlic and Sapphires in March. Thank heavens for Goodreads).
That's enough about my failing memory. Let's talk about Salt, Sugar, Fat: How the Food Giants Hooked Us instead.
Because Salt Sugar Fat a REALLY good food book. I've been meaning to read it for ages, and when Definitely RA recommended it on my recommended audiobooks post, I pulled up my library's audiobook download page and immediately checked it out.
And then I couldn't stop listening.
salt sugar fat by michael moss
Basically, this book covers all of my favorite topics – food and nutritious, business and marketing.
The book isn't trying to convince you that processed food is bad for you (it basically assumes that's a foregone conclusion). It's more a book about why the foods at the grocery store are made the way they are and the market forces that have led them to look that way.
If you were wondering if money is the bottom line here? Yes. Money is the bottom line.
Salt Sugar Fat is jammed with interesting stories and facts, and I kept repeating them to anyone who would listen (poor Ani. She probably wished I would just stop talking and let her nurse in peace).
For instance, whole milk started getting a really bad rap a couple of decades ago, and low-fat and skim milk was really getting pushed. But cows, obviously, only make whole milk, so suddenly there was this enormous surplus of milk fat (and there's a whole lot about government subsidies and how that played into this), so, hey, cheese!
Except, people mainly ate cheese as an appetizer or after-dinner thing. So the cheese manufacturers did something brilliant – they turned cheese into an ingredient. Now it wasn't just something to eat by itself, it was something to make part of a dish (later on, the beef industry adopted this same strategy).
And did you know that although humans love the taste of sugar, we only like it up to a certain point? At some level of sweetness, it gets too sweet for us and we're just not interested anymore. But fat? Especially fat mixed with sugar? Humans basically have no limit on how much fat and sugar they'll enjoy (so. . .guess what food manufacturers like to pump their products full of?).
Also, healthier versions of products, when done right, actually INCREASE sales of the original product. Much like adding salads to McDonald's menus increased the number of Big Macs they sold – the fact that you HAVE a healthy option makes you feel like you can choose the unhealthy option this time, because next you could, theoretically, pick the low-sodium, reduced-fat, multi-grain variation.
I could go on and on, but I won't, because you should just go read Salt Sugar Fat instead. It's ridiculously interesting and it doesn't have the gross-ness factor that some books have.
It did, however, make me feel a little guilty about the box of Poptarts I had in my cupboard (sale+coupon+brown-sugar-cinnamon = impossible to say no). And I won't lie. Even knowing how much cutting-edge science went into making them hit the bliss point didn't make them taste any less delicious.


if you liked this review of salt sugar fat, you might also like these books: