Well, after my post on Monday about starting a book club, I think it's obvious you should all move to my neighborhood and we can have a killer book club (complete with excellent desserts, of course).
If moving to Arizona isn't in the cards for you, I'll just recommend some books for your own book club to read. These 25 are interesting, well-written, and lend themselves to great discussions.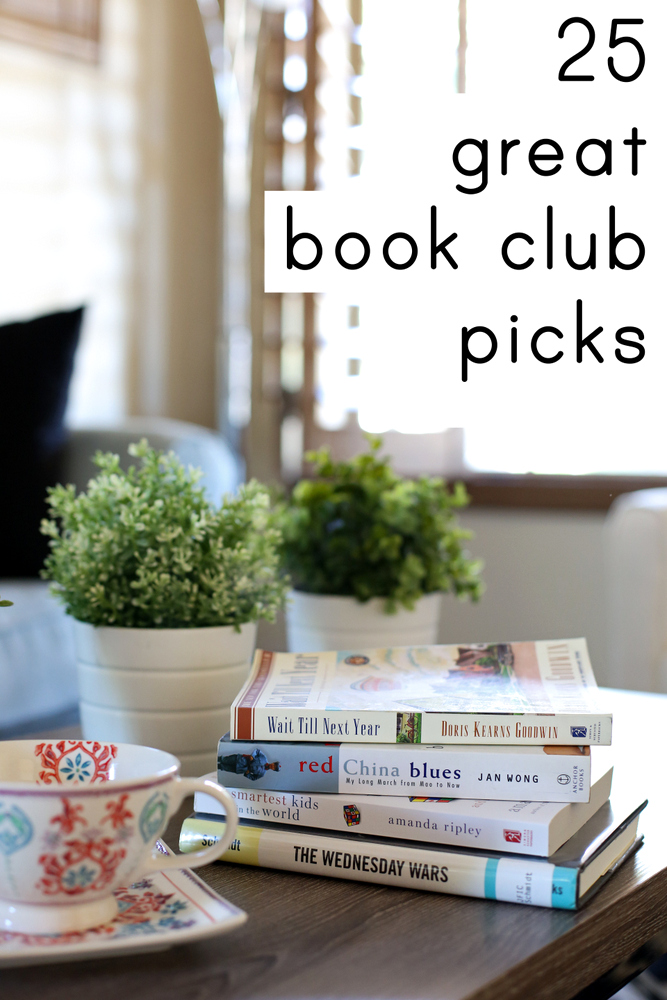 25 great books for book club
What the Dog Saw: And Other Adventures by Malcolm Gladwell. This was the first book I read with my Texas book club and it was a fantastic start – this book has so much to talk about and plenty of interesting connections between each of the short articles. (full review here)
Wait 'til Next Year by Doris Kearns Goodwin. I've read this book several times and with each re-read, I love it a little more. Goodwin is a noted historian but this is her memoir about growing up as a baseball lover in New York. Wonderful no matter how you feel about sports, it deals a lot with the major shifts in society during her childhood, from an idyllic suburb home to increasing divorce, transient families, and dwindling sense of community.
Jefferson's Sons by Kimberly Brubaker Bradley. This middle-grade historical fiction title is so well-done, I can hardly stand it. Told from the perspective of Sally Hemming's slave children, growing up on Thomas Jefferson's plantation, knowing their father is the white master. Brilliant and thought-provoking. (full review here).
Nutureshock: New Thinking About Children by Po Bronson and Ashley Merryman. If you're starting a new book club, I think this is a perfect book to kick off plenty of lively conversation. I loved the amazing discussion about sleep, racism, praising children, and a whole slew of other parenting topics (full review here).
The Warmth of Other Suns: The Epic Story of America's Great Migration by Isabel Wilkerson. I was not excited about this choice, but it ended up being one of the most interesting of the books we read in 2012. It's about 600 pages long, but it reads almost as quickly as a novel. It tracks the migration of black Americans from the South to the North and West during the 40-70s and their experiences assimilating into new cultures (and the lives they left behind in the South). Fascinating.
Quiet: The Power of Introverts in a World that Can't Stop Talking by Susan Cain. I think with book lovers, you often get a good handful of introverts, so this always makes for a interesting discussion. (full review here)
Red China Blues by Jan Wong. In college, I read this memoir about a Canadian girl (of Chinese descent) who goes over to China during the Cultural Revolution, on fire with Mao's vision. During the years she spends there, she comes to realize that Mao's ideas for China might not be all that she's hoped. This book is absolutely fascinating – I even sent my mom a copy for her birthday a couple of years ago (she loved it too).
Code Name Verity by Elizabeth Wein. This YA historical fiction book takes place during WWII and if you feel like you're totally tired of WWII books, this one will still feel fresh and completely gripping. (full review here)
Moon Over Manifest by Clare Vanderpool. One of my favorite Newbery winners in recent years, this story is told by two different voices – a young girl during the Great Depression and a young boy just before WWI breaks out. (full review here)
The Wednesday Wars by Gary D. Schmidt. Only my favorite book ever. My mom picked this for her bookclub and many of the women in her group liked it so much they read the companion book, Okay for Now, before their group even met (full review here)
That Used to Be Us: How America Fell Behind in the World It Invented and How We Can Come Back by Thomas L. Friedman and Michael Mandelbaum. About China's increasing dominance in the financial and educational world, while America struggles to keep up. This was a fun book to read in an election year and so interesting I read huge passages of it outloud to Bart. You'll want to have a relatively calm group, though, because I could imagine discussion getting a little heated if you have people who are extremely polar on either side of the political aisle (I found the book itself to be very even-handed).
The Secret Keeper by Kate Morton. If you want something that's a fairly quick, fun read, but still has enough heft to make for a good discussion, this story about secrets in families is hard to beat (full review here).
Being Mortal: Medicine and What Matters in the End by Atul Gawande. If you think a book about growing old and dying is going to be a downer, you're underestimating Atul Gawande. If I was picking a book club book this year, it would be this one (full review here). 
Bomb: The Race to Build—and Steal—the World's Most Dangerous Weapon by Steve Sheinkin. Just a warning that, if you read this book, you will not be able to stop telling everyone you know about this. It's juvenile non-fiction, but it's probably some of the best non-fiction you've ever read (full review here).
The Good Earth by Pearl S. Buck. If you haven't read this modern classic, it'd be a great pick for a book club with so many interesting themes about culture, marriage, family, and money.
Better Than Before: Mastering the Habits of Our Everyday Lives by Gretchen Rubin. I find habits endlessly interesting and I'm also a huge fan of Gretchen Rubin. So obviously this book really appealed to me – it's fantastic and there's so much you could discuss here (full review here).
The Smartest Kids in the World: And How They Got That Way by Amanda Ripley. I've found that the book groups I've belonged to always care deeply about education, whether it's as a homeschool parent, a parent with a struggling child, or a teacher or professor. This book, about the differences between public school systems in four different countries, is so engaging and interesting. My mom and my sister both picked this for their book clubs this year (full review here).
168 Hours: You Have More Time Than You Think by Laura Vanderkam. I definitely don't agree with her on all counts, but it is so interesting to think about the way you spend your time and what you value. Also, I'd love it if everyone came to book club with a completed list of 100 Dreams and shared some of theirs (full review here).
Still Alice by Lisa Genova. Sometimes it's fun to read a book and then watch the movie version as a group. I haven't seen the film yet, but I was totally captivated by this story of a Harvard professor dealing with Early-onset Alzheimer's (full review here).
Delancey: A Man, a Woman, a Restaurant, a Marriage by Molly Wizenberg. I don't have any interest in opening a restaurant, but this story about a couple that did just that – with full enthusiasm on the husband's part and deep reluctance on the wife's – is just superb. You'll probably need to serve pizza with this book (full review here).
First Mothers: The Women Who Shaped the Presidents by Bonnie Angelo. If you're an American History buff, chances are this book will be deeply interesting to you. I read this when I had the flu my freshman year of college. If you're not on death's doorstep, you'll probably like it even more.
American Wasteland: How America Throws Away Nearly Half of Its Food by Jonathan Bloom. My book club in Texas read a lot of food books, and I wish we'd read this one – waste is such a huge part of the story of modern food, and the discussion would have been amazing.
The House of the Scorpion by Nancy Farmer. This futuristic sci-fi book about a young clone won the National Book Award and its a fun read with enough topics to keep you chatting all night long (full review here).
Salt Sugar Fat: How the Food Giants Hooked Us by Michael Moss. If you're into food books or healthy eating, this book is so so fascinating. I sort of want to set up a huge table of processed foods to eat while discussing this book – would that be wrong? (full review here)
The Chosen by Chaim Potok. My mom suggested I read this when I was trying to pick a book off a list my sophomore year in high school and I was mega dubious. And then I LOVED it. I think I need to read this book about families, faith and friendship again. 
And if you'd like a printable copy of this list good book club picks that you can take to your library or screenshot on your phone for easy access, just pop in your email address below and it'll come right to your inbox!
What have been your favorite book club reads?
if you liked this post about good book for book club, you might also like these posts: