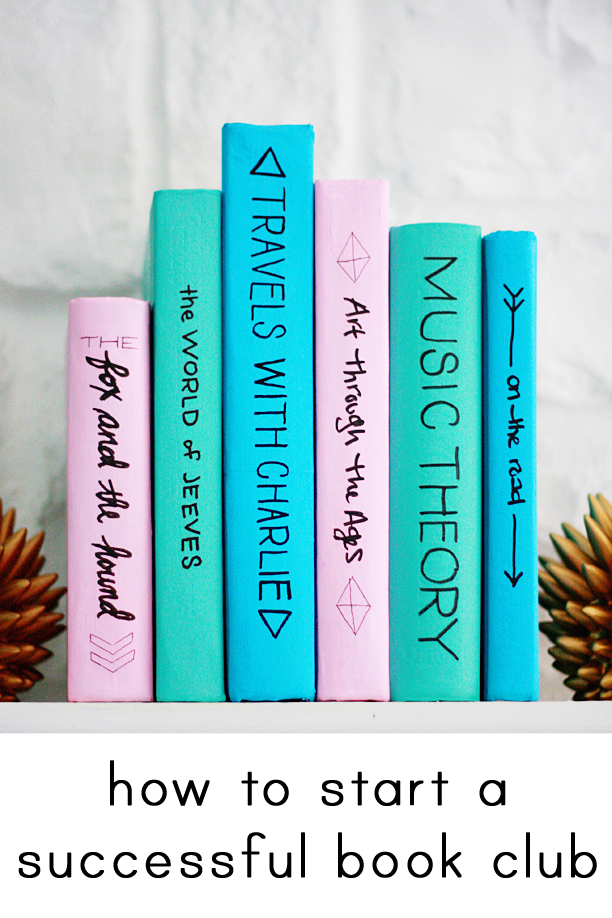 (photo credit and tutorial for painting book covers: The Band Wife)
Raise your hand if you've ever joined a book club, dutifully read the book and showed up to find that 75% of the people hadn't actually read any of the book, there was an obligatory 5 minutes of book discussion and then everyone sat around talking about The Bachelor and eating treats.
Yes, that's what I thought.
Because I've been to about five different book clubs in multiple states that were exactly like that.
When I moved back to Texas in 2010, one of my friends invited me to join a book club. She told me, "This is not a 'see who shows up and we read fluff and self-help' book group; this is a "I commit to having read the book and be there every month unless I am out of town or dead.'"
I will admit, I was a little intimidated by this. Was I really ready to commit to this kind of book group?
As it turns out, yes. I loved this book club so so much and it was really one of the hardest things for me to leave behind when we left three years later.
A week or so after we moved to Arizona, a college friend of Bart's emailed me and asked me to join her book group which is focused on reading the Great Books of the Western World. Like before, I was a little hesitant, but I committed to six months and after our first meeting last week, I'm pretty thrilled to be part of a group that is serious about reading (in fact, I was one of only two people who didn't show up with a notebook to take notes. Time to step up my game here).
So if you're interested in how to start a book club that isn't one of those book clubs where no one actually read the books, here are my recommendations, which are worth exactly what you are paying for them.
how to start a book club
Make it clear right off the bat that everyone is expected to read the books. This is not a social club. If you want to start a "dessert and chatting club," go right ahead (in fact, I started one of these in Texas too, and it was really fun) but this is not the same as book club. If you're in a book club that is actually a chatting club, consider starting a spin-off book group and inviting the people who want to actually read books and talk about them to the book club and keep your former book club as a social group so people who don't actually want to read the books can come without feeling guilty. But there's basically no way to have a great discussion about a book if only one or two people have actually read the book.
Make it a fixed number of participants. My book club in Texas had twelve spots. If someone moved or decided they could no longer commit to attending and reading, the remaining members nominated new members and everyone decided who to invite (I am eternally grateful that my name came up and I got the spot. When we moved, my sister Landen took my spot, that lucky dog). Twelve is a great number, I think, because even if you have one or two people absent on any given night, you have enough to carry a great discussion, everyone chooses one book a year, hosts once, and does refreshments twice.
Set an expectation of how much time will be spent discussing the book. My current book club meets for ninety minutes (sharp – people have little kids and school in the morning) and the expectation is that one hour will be devoted to discussion and then any remaining time of the ninety minutes can be socializing. Last night, the discussion went right up the ninety minute mark and then everyone left, right on time. In the Texas group, the discussion leader was expected to be prepared to lead a 60-90 minute discussion.
Try for a good mix of people. In my Texas book club, no one knew everyone else at the beginning since everyone had recommended a person or two when it formed (I wasn't there for that). We had ages ranging from mid-twenties to sixties. Some were married, some were not. Some had children, others didn't. We had homeschoolers, professors, homemakers and teachers. We seemed to fall all over the spectrum when it came to politics, economics, and education. And that made for some really great discussions.
Pick books that are actually worth reading. There were plenty of books in three years that I never would have picked up on my own and several I didn't even really enjoy. But I always loved the discussion because the books always were full of interesting themes, topics, and opinions. You can read Sophie Kinsella books on your own, but for a book club book, you'll want something that has enough to really warrant a discussion. (And this is why you need a group where people are committed to reading the books even if they've never heard of the title or aren't actually dying to read The Cellist of Sarajevo).
Have everyone pick their own book. I personally don't like it when a group chooses titles as a group. It's harder to get people to take ownership of leading a discussion and people don't seem quite as motivated to read the books since it wasn't someone's pick. (Of course, my current group is picking books off a pre-determined list, so it's a little different, but even so, if it'd been up to me, every person would have chosen their own book from the list and taken responsibility for it).
Have someone review/lead the book discussion. You need one person in charge to be prepared with discussion questions and background on the book. At our last meeting, the woman leading had some great background info on Shakespeare and his canon, had great things to say about each play individually and how they represented his tragedy and comedy plays, and even had some brief movie clips to play. Having someone who will keep the ball rolling makes a huge difference in having a real conversation about a book rather than an obligatory five minute rehash of the plot.
Dessert. My current group doesn't have a dessert policy, but I'll admit I loved that the food in my Texas group was a big deal. Each month, two people were in charge of the food (different from the person leading the discussion) and they usually had the food related to the theme of the book somehow. It was always a beautiful spread, usually served on real dishes, and I learned quickly not to eat dinner on book club nights because there was usually 4-6 different dishes. I think this made it really feel like an event that you didn't want to miss. We would serve up first and then eat as the discussion started, with the food still out so people could go back for second (or thirds or fourths) as needed.
Have someone in charge of the group each year. Every year, one person was in charge of book group (we went in alphabetical order, so we never got to J before I moved). That person created the calendar with book choices, the location for each month, and who was doing refreshments. They also sent email reminders every month with the location, book, and refreshment assignments.
Make sure everyone is on the same page. My Texas group initially put together a list of policies and so when I joined, they sent me a copy and I knew exactly what the expectations were, which was phenomenal. When someone new joined, there were no surprise – you knew exactly what you were getting into.
You might be reading all this and thinking "Whoa. . . this is pretty intense. I would never want to be in a book group with you."
But it's hard to get out on a regular basis and if I'm going to arrange my schedule to go to a book club, I want it to be worth my while. I always came home from book club so energized and inspired, instead of annoyed that it had wasted my evening (and occasionally a babysitter).
You probably wouldn't join a choir or a dance group where they said "no one is really in charge and half the people don't show up and we won't actually sing/dance most of the time."
I feel the same about a book club. And these book clubs are FUN. It is a bunch of vibrant, intelligent women, great books, fascinating discussions, and delicious food. Having a framework and expectations doesn't make it less fun – it makes it far less frustrating for everyone. No one has guilt about coming without reading the book and no one is annoyed that they are the only one who dedicated time to actually reading the book and now has no one to discuss with it.
I've also collected a list of some of my favorite titles for book clubs to read, whether you're looking for hefty or lighter choices.
I hope this helps on starting a book club, but if you have questions on how to start a book club, I'm happy to try to answer and I'd love to hear what's worked for your book clubs!
If you liked this post on how to start a book club, you might also like these posts: