The other day, I jotted down a little list of goals for my blog and one of them was "Don't work on nights or weekends."
I don't know that it's totally possible for me to do that, at least not right now, but I function much better if I have dedicated down time. When I work in the afternoon while the girls are napping and doing quiet time, and then work the whole evening after they go to bed, then get up and be the mom all morning, it wears me down fast.
Of course, I also don't want to just spend my down-time scrolling endlessly through Instagram, so I've been putting together a list of things that help me relax without making me feel like I'm wasting my time.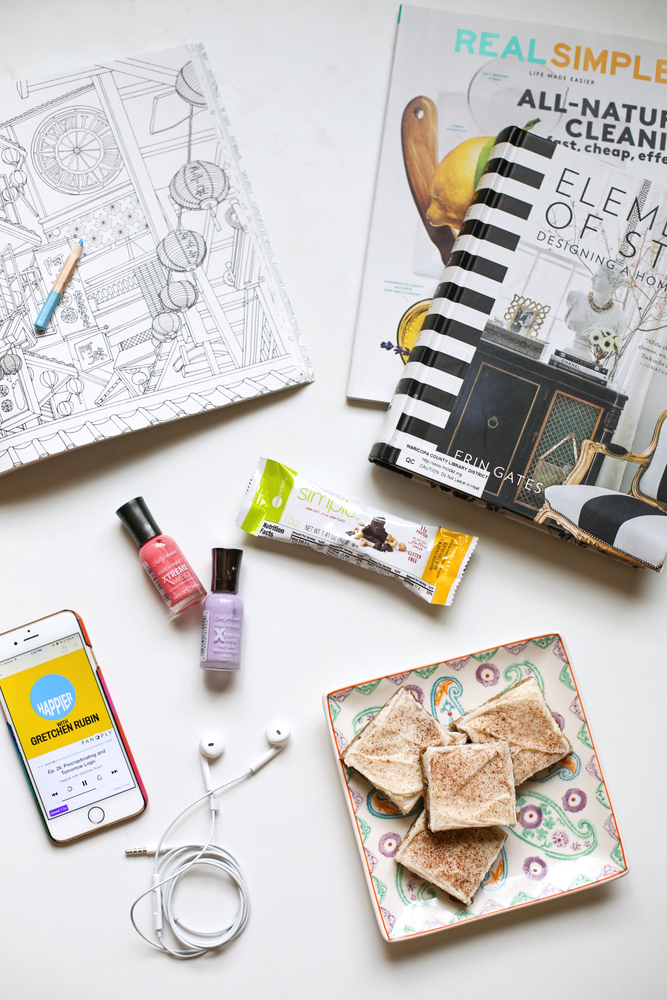 what to do to relax
Read. Aren't you unbelievably shocked to see this on the list? I feel like I sometimes have to force myself to put down my phone and pick up a book, but I'm always more engaged and relaxed by having read an actual book instead of captions and articles on my phone. I've also started checking out magazines from the library.
Paint my nails. Since I am always barefoot at home and wearing sandals when I'm not, my toenails are on display 99% of the time, so I try to paint them every week or two. There's something really nice about being forced to wait around for your polish to dry. And if I'm feeling really luxurious, I paint my finger nails too.
Color. I find this super relaxing (this coloring book is The Time Garden and it is so so beautiful). Plus, it's a nice way to keep my hands busy while I listen to an audiobook or podcast.
Eating snacks without sharing. If this is wrong, so be it. I bought a box of these ZonePerfect Perfectly Simple bars at Target last weekend (I got the Roasted Cashew & Dark Chocolate but I am seriously tempted by the Almond Toffee Crunch and the Oatmeal Chocolate Chunk). My children have no idea these exist, and even less idea that they're in our pantry. Just the way it should be. There's also a printable coupon for $1 off, and let's be honest – nothing relaxes me more than saving money).
Going for a walk. We're running a family 5K in October, so this probably should say running, but I would much prefer to walk. When the girls are all tucked in bed and the evening is cooling off, I love going for a walk in the neighborhood by myself.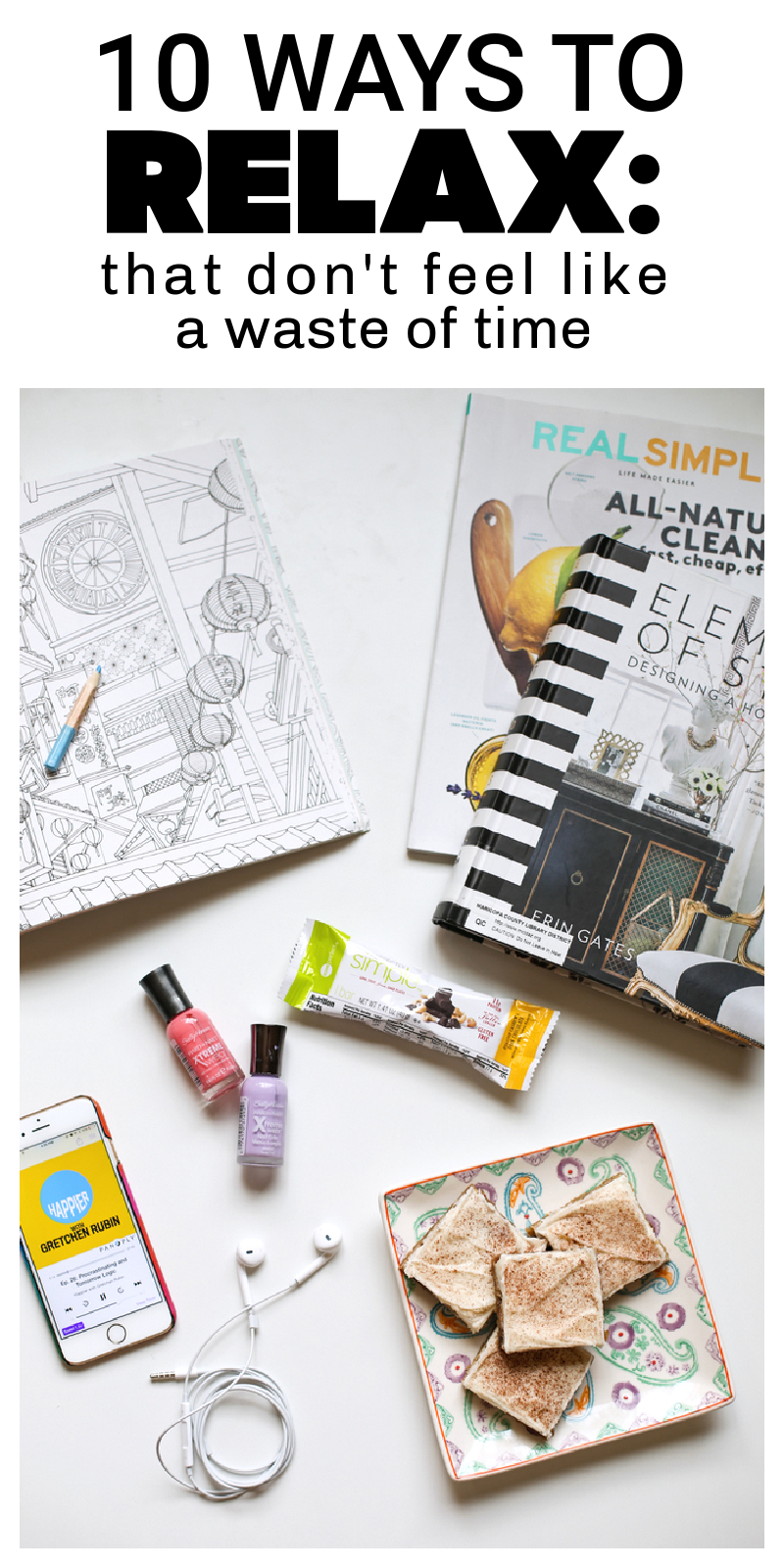 Cooking for fun. I do a lot of cooking on a daily basis, what with dinner and all, plus breakfast muffins and granola, etc., but sometimes it's just really nice to make something from one of my Pinterest boards for no more reason than that I just want to try a new recipe (the bars in this photo are Cinnamon Roll Blondies and they are delicious but they are also so sugar-y I couldn't really stomach them. I took a few bites after I snapped this photo and I had an instant headache).
Watch a movie. I'm actually not much of a movie watcher – it's hard for me to just sit down and watch something, but sometimes if I'm in the mood, I'll put in an old favorite (Anne of Green Gables forever!) and watch while I do some ironing or paint my nails.
Organize something. I like order, and I find it calming to clean something up as long as it's not actual cleaning. But sorting my jewelry, organizing a drawer, or cleaning a shelf? That I like to do. (Also! Prime time to listen to more audiobooks).
Plan. I know – what nerd. But making my to-do list for the next day, going through the calendar for the upcoming week, and making appointments gives me a huge burst of satisfaction and helps me fight that feeling that I can't go to bed on time because I haven't done anything yet!
Work on a project with Bart. We have a lot of similar interests and it's fun to spend some time making future plans, organizing a party, dreaming about house updates, or outlining projects.
Now I just need to remind myself nightly that I'll be happier if I do one of these things instead of squander an hour thumbing through my apps one after another.
I'd love to hear your favorite things to do when your kids are snoozing away and the house is quiet.
if you liked this post on ideas for what to do to relax, you might like these other posts: