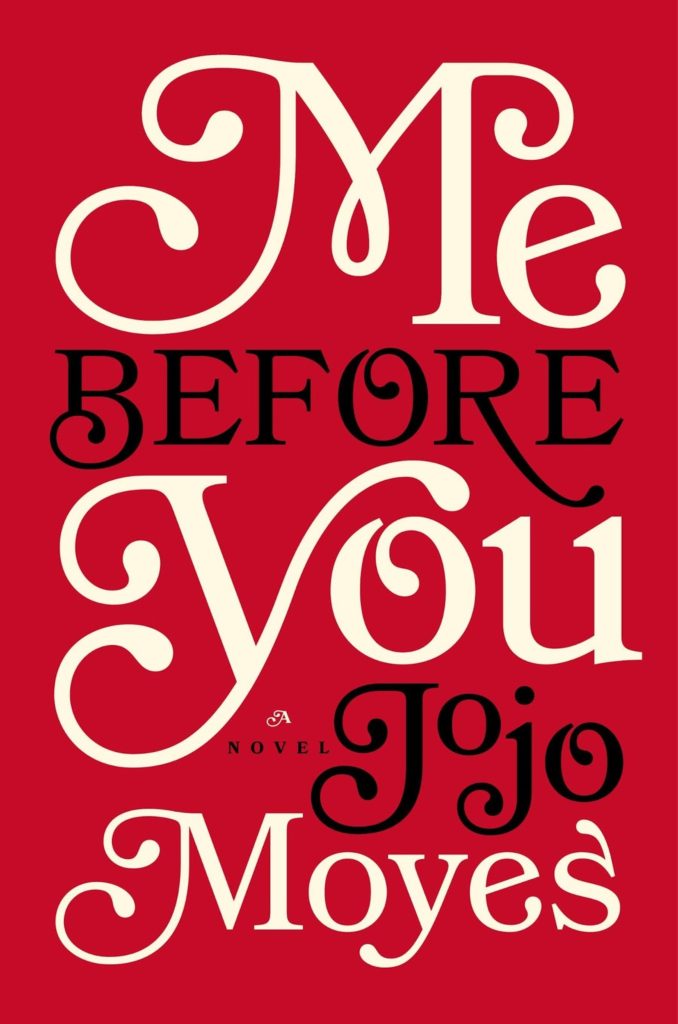 Sometimes I don't get around to writing about a book very quickly after I read it and then, a month or two later, I'm so fuzzy on the details (and the copy of the book has gone back to the library) that writing a post would basically be copying and pasting the publisher blurb.
But Me Before You, which I read 10 months ago, is still sharp and clear in my mind.
And since I put it on my Top 10 Books for 2013 list, I figured I should write about it in a little more detail.
me before you by jojo moyes
Will Traynor was a hot-shot businessman, and, lucky him, also good-looking, adventurous, and filled with love for life.
Until he got hit by a car in a freak-accident and is left a quadriplegic.
Louisa Clark lives with her parents in a tiny village outside of London, living the quietest of lives. When she loses her job at a little tea shop, she's forced to take whatever job is available, which, it happens, is a six month care-taking position.
She's not at all keen on the idea, but the pay is too good to turn down and in this tiny town, there really are very few other options. She assumes it'll be some old person she'll be caring for.
But, of course, it's not. It's Will. Who's about her same age, and deeply unhappy. He's moody and sharp and not particularly pleasant to be around (that's an understatement).
Louisa, though, decides she doesn't care. She'll do her job and if he wants to be a complete jerk to her, well, whatever. She'll take her fat paycheck and in six months, she'll be done.
You can guess it doesn't go like that.
They slowly warm up to each other, but when Louisa discovers that the reason her contract is for six month is because Will isn't sure he wants to keep on living as a quadriplegic, she is first horrified and then determined to show him that, even in a wheelchair, life is still worth living.
But Will, who lived a huge life, full of extreme sports, big business deals, and travel, isn't convinced. And he's REALLY not convinced by Louisa who has spent her whole life doing. . .basically nothing.
He can't understand why, when she has all the abilities he's lost, she spends it sleeping in the same room she grew up in, dating the world's most dull guy, and he's quick to point out, taking care of a guy in a wheelchair. It's not exactly a life to write home about (not that she's even away from home. . . ).
And as they start to get close to each other, he's extremely uncomfortable with the idea of burdening her with his problems.
Their relationship unfolds beautifully, and the dialogue especially is top-notch. It's funny and clever and realistic and I loved both of these characters. The book is fairly long (close to 400 pages) and it was a delight to see the story develop. And I just couldn't tell how the book was going to end. What would they both decide to do with their lives?
To be honest, the real reason I haven't written this Me Before You book review is because of the ending. In a book like this, dealing with some weighty moral dilemmas, it can be hard for me to recommend, because they are sensitive topics and people have opinions on every place on the spectrum. (And, note that, like many of the British chick-lit writers I love, like Sophie Kinsella, there's a bit of swearing and sex).
But, I loved this Me Before You book. I thought it was nicely written, fun to read, well-paced, and one I couldn't stop thinking about. If you read it (or have read it!), I'm dying to talk to someone about it. And after writing this, I went and requested it from the library again so I can re-read it. It was just so engaging. I raced through it the first time in about a day and a half. Probably neglected my children for that day and a half.
(By the way, I've read two of JoJo Moyes books, The Last Letter from Your Lover and The Girl You Left Behind and this one is by far the best. Although The Girl You Left Behind, which follows two couples, one during WWII and one in modern times, both linked by a painting, is quite good).


if you liked this me before your book review, you might also like these books: