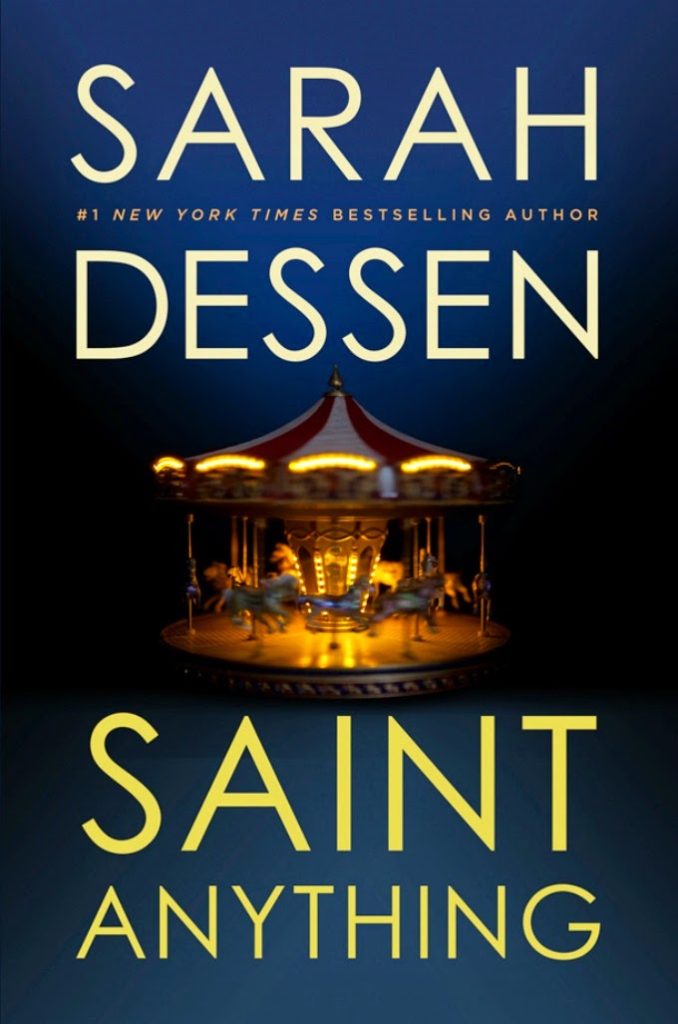 If you are a long-time reader (and I mean LONG), you know that I love Sarah Dessen. When I first discovered her during my library school days, I read every book she'd written, which I rarely rarely do, and then kept up with every book she continued to release.
But I haven't written about her in a couple of years. Because she hasn't written anything in a couple of years.
This week, her latest book, Saint Anything, finally came out.
Back in January, when I discovered it was being released, I emailed the publicist and asked for a copy. I packed it for our hospital stay, but ended up reading Upstairs at the White House instead.
But when we got home and my mom was around and I took a week or so off of working and I was nursing all the time, I zipped through Saint Anything in a couple of days.
And, whoa, I loved it.
I generally categorize her books into three sections. There are the first several which are fine and maybe a little bit heavier (Dreamland, especially). Then there is the next set which I think are the very best – This Lullaby, The Truth About Forever, Just Listen, Lock and Key – with great characters, terrific romances, and good writing. And then the latest three which I liked, but didn't have quite the same delightful feel of the previous four.
But this one? It belongs in the middle category. It's just top-notch from start to finish.
Also, Saint Anything reminded me of just how much I love a good YA novel. (It also reminded me that, for all the books that claim "the next Sarah Dessen" or "in the spirit of Sarah Dessen," nobody actually does it as well as she does. She is a master).
Remember how sometimes I don't actually start writing about the book until fifty paragraphs into the post? Sorry 'bout that.
saint anything by sarah dessen
Sydney has grown up in the shadow of her brother Peyton. He's always been charming and handsome and smart. She's never minded because they were so close and she loved him as much everyone else did.
But then when he got into high school, he started getting in to trouble, with more and more run-ins with the law – shoplifting, drugs, reckless driving – until he's in a drunk-driving accident and paralyzes another teenager.
Now all her parents' attention is REALLY focused on Peyton, even if it's no longer because he's the golden boy. Worse, her mother seems unwilling to think Peyton is really to blame for all of this (she occasionally says things like, "Well, what was that teenager doing out so late at night ANYWAY?"), and Sydney feels like she's the only one who recognizes what an enormous mistake Peyton made.
Because of the steep legal fees and programs associated with all of Peyton's issues over the years and also because she can't stand being the focus of so many pitying looks, Sydney drops out of her expensive prep school and transfers to the public high school.
Here she slowly becomes friends with a new group of people, including a brother and sister duo that work at their family pizza joint nearby. They don't know her as Peyton's little sister, whether for good or bad, and she feels like they actually see her for who she is. And frankly, getting any attention at all is a huge change from her life at home where everything still revolves around Peyton, even if he isn't there.
Which isn't to say her parents are ignoring her. They're now clamping down on her, despite the fact she's always behaved herself and been a pretty good teenager, and so she's frustrated that her parents are belatedly becoming strict when she isn't even the problem.
One of Sarah Dessen's greatest strengths, I think, is fleshing out all the supporting characters. They're just as real and full as the main characters. You get a really good cast in this book, with Sydney and her semi-dysfunctional family, Peyton's very odd friend who won't stop hanging around the house, and the new pizza parlor friends.
And, as usual, you get a nice romance, some top-notch (funny!) dialogue, and a story arc that is satisfying without being predictable.
Saint Anything is one of those perfect books for summer reading – it's so enjoyable and fun, but it's also got enough substance to not give you a reading hangover afterward.
I loved every page of it.
if you liked this review of saint anything, you might also like these books: