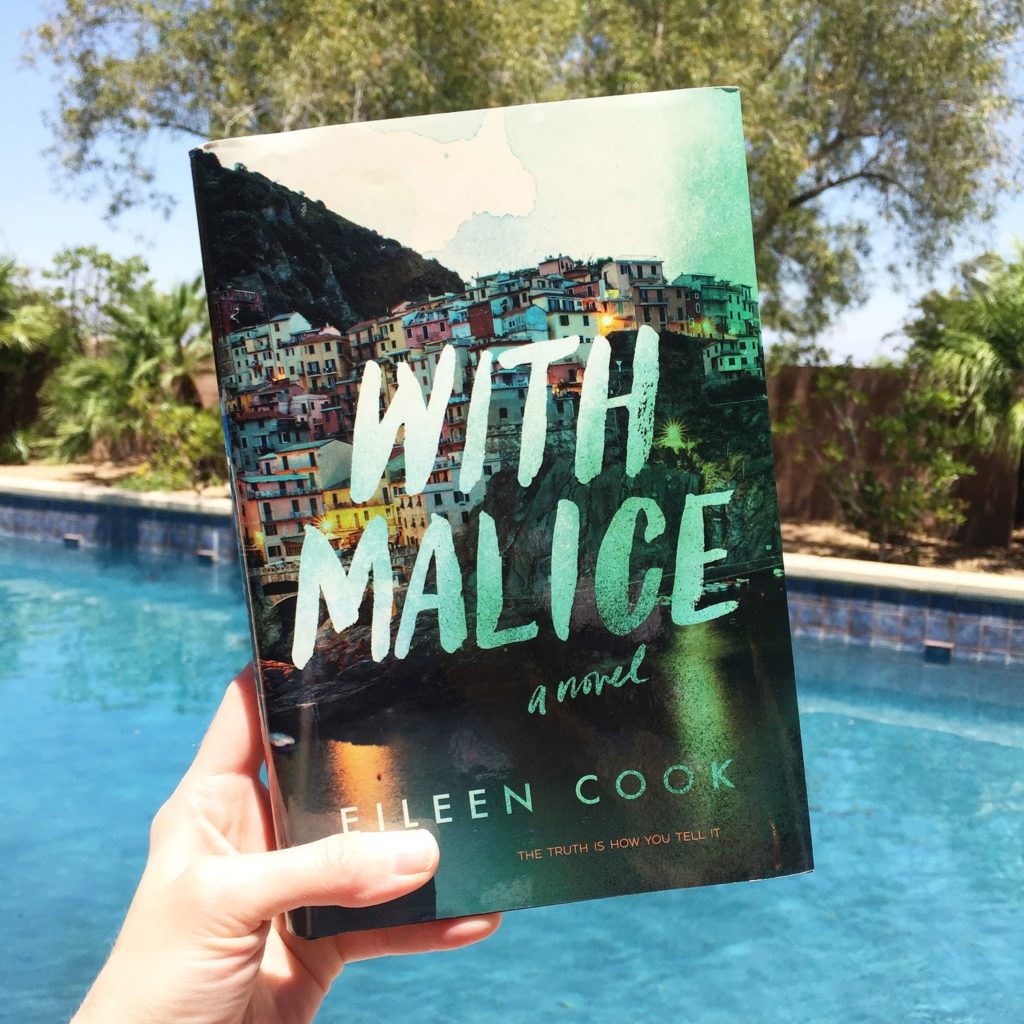 You know when I last wrote a review of a Young Adult book on here?
LAST MAY. (Predictably, it was a Sarah Dessen book. Also, predictably, I loved that book).
Sometime over the past four years, my YA reading has dropped drastically and more and more of my reading is from the grown-up section of the library.
To be fair, all my reading has dropped over the past year, but nothing as sharply as Young Adult.
But I took With Malice on our trip to Vegas last week, and I was sucked in from the first page.
The blurb says "For fans of We Were Liars and The Girl on the Train" and I've read both of those books. And I didn't really care for either of them.
Happily, I didn't see that blurb before I read With Malice because I probably wouldn't have even cracked it open.
Here's how it goes down.
with malice by eileen cook
Jill wakes up in the hospital. She's got some pretty major injuries and both of her parents (long divorced and not amiably so) are there, so she knows things are bad.
And, they are. Actually, quite a lot worse than bad.
Jill's been in a car accident in Italy (she was on a pre-graduation humanities trip with a bunch of other students), and she quickly discovers that the car accident killed her best friend, Simone.
As if that's not enough to take in, she realizes that she can't remember anything of the past six weeks – her last memories are of several weeks before she left for Italy.
Oh, also, did her parents mention that the media (not to mention the Italian police) think it wasn't an accident, but premeditated murder?
She's starting to regret having woken up from her brief coma.
She and Simone have been best friends since they were in elementary school – they were closer than close – and she's certain she wouldn't have killed her.
But the media loves the story of a popular cheerleader being murdered by her nerdy best friend (apparently there was a suave Italian college student involved? Jill doesn't remember him either), and Jill quickly realizes that her parents think she killed Simone too.
What in the world HAPPENED in Italy?
It doesn't help that when bits of memories come back to her, she can't be sure they aren't just fake memories being created by the things everyone is telling her happened in Italy.
Now Jill is facing extradition to Italy to go on trial for murder, while desperately trying to remember what really happened.
Jill's narration is interspersed with interviews of various students from home and the Italy program, dialogues with a psychologist, and blog posts from a blog called "Justice for Simone" that won't stop calling for Jill to end up behind bars. Some people are convinced this whole thing is ridiculous, while others are certain Jill is a murderess. Usually, I don't care for this kind of narrative structure, but in this case it worked.
I had absolutely no idea how things would end up, and I kept going back and forth about whether or not Jill was innocent or guilty. The whole thing is pretty brilliant structured and plotted, and I enjoyed every second of it (also, although there was tension, it wasn't so intense that it stressed me out).
Warning, With Malice does have some swearing, although not so much that I found it distracting from the story. Also a warning that you will never again feel comfortable using any sentences in a blog post, email, post-it note, or text that could ever be possibly badly construed in a murder trial.
(In fact, on Saturday, Bart and I were sitting at the kitchen counter and he was making one of Ani's little stuffed dogs walk along the counter top toward me, and, to make him laugh, I bopped the dog on the head with the water bottle I was drinking out of. That night, when I went to get into bed, Bart had put the dog under the covers with a note that said, "You will pay for what you've done." I laughed my head off, but since I'd just finished this book, every time I've seen that note on my dresser for the past three days, I've thought, "If someone near me dies suspiciously, this note is going to look very bad").
And, if you DID like We Were Liars and The Girl on the Train, you'll probably like With Malice too.
If you liked this review of with malice, you might also like these books:
Review copy received from publisher