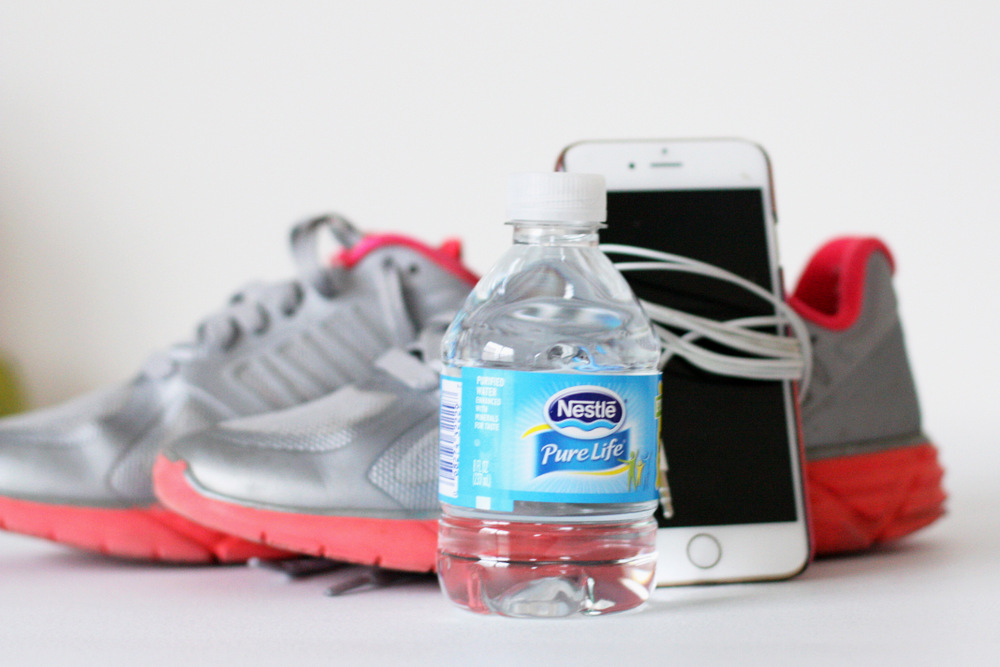 This post is sponsored by Nestlé Pure Life. It's easy to say nice things about waterwhen it's always been my preferred beverage.
I feel super lucky that I bounce back from pregnancy pretty quickly. But now that I've had three children and also now that I'm nearing 30, I've noticed that I'm starting to leave behind the days of "eat whatever I want, exercise not at all, and still weigh 95 pounds."
We'd been eating really well up until Star was born, and then it sort of spiraled downhill immediately. I can't even blame baby fatigue because she's been a fantastic sleeper from the beginning. It was more like I just wanted to bake everything in sight after she was born and that really set my sugar cravings off and suddenly instead of two desserts a week, it was venturing dangerously near to two desserts before lunchtime. I could tell that it was all starting to take a toll on me, with frequent headaches, clothing that didn't fit quite right, and way more photos of double-chins than I'd like to admit (I've always gained weight in my face the fastest which. . . is not my favorite).
My sister Merrick told me she'd pretty much given up eating sugar except for special occasions and then Ralphie gave up ALL sugar for a month and I picked up a copy of Slim by Design from the library which was completely fascinating and useful, so those thoughts were kind of rolling around in my head, usually as I ate one more cookie.
Then Bart came home from his trip to Philadelphia a few weekends ago and said, "I'm ready to start running again and eating better."
So. . . .that was an easy sell.
what i'm doing to be more healthy
Spend more money on healthy foods. As you probably know, I'm notoriously frugal at the grocery store, but I've come to realize that if I don't buy any healthy foods that are fun for me to eat, then of course I'm going to be eating handfuls of chocolate chips or spoonfuls of ice cream straight from the carton. I've started buying quite a bit more produce, yogurt that I love (Noosa!), keeping the pantry stocked with more nuts and dried fruits, and making fun, healthy snacks every week or so to keep in the freezer.
Wash and cut all the produce immediately. I was really great about this last summer when we were in Arizona, and then got out of the habit in London. Now I'm back to doing it and it's made a huge difference. I wash all the produce and then put them in clear Tupperware (and then, thanks to the advice in Slim by Design, I keep them all on the eye-level shelf in the fridge). I cut the tops off the strawberries, snip the grapes into small bunches, take the baby carrots out of the bag (where they inevitably go to die), and slice up cucumbers.
Keep water handy. I'm a huge water drinker in general and always have been, but when I'm nursing especially, I am SO thirsty all the time. A lot of the time, I'll think I'm starving, but after I have a big drink of water, I realize that I'm not actually that hungry at all. I've started keeping a Nestlé Pure Life bottle both on my desk and in my bathroom so that I don't have to go downstairs to get a drink (because inevitably when I go into the kitchen, I think "while I'm here. . ."). I also tend to get super thirty during the night if Star wakes up to nurse, so the one in my bathroom gets frequently used (and having a lid on it seems way more sanitary to me than having an open cup on my bathroom counter).
Stop eating after dinner. I usually eat pretty well through lunch. And then once the girls go down for naps and quiet time, it's like I suddenly fall apart. I'm super lucky that my office is upstairs because I'm lazy enough that I rarely am willing to go downstairs to get a snack, but if I have to go down for something else then all bets are off. And then as the afternoon wears on, I've suddenly spiraled into snack-mode. And then after dinner, I could easily eat another 1000 calories without batting an eye. So I've just called it quits on eating after dinner now. Also, I make a bigger effort to find interesting things to do once the girls are in bed because if I'm involved in a project or being productive, I don't find myself thinking about food all night long.
Find a time to exercise that works NOW. In the early days of our marriage, Bart was always talking about wanting to find habits or routines that he could maintain forever. But with kids and frequently changing schedules, I just don't think that's at all realistic. Instead, I try to figure out what will work for me THIS week or THIS month. If I have to change it after that, so be it. For now, I'm going running a few times a week in the evenings once the girls are in bed and starting up at Zumba again which has been one of my all-time favorite exercises. I'm also planning to give ClassPass a whirl once Bart is out of school and he's more available to stay home with the girls. And then I do a little strength training a few mornings a week (which the girls love to do with me) – I like using the free Nike+ Training App. I don't know what will work for me once we move this summer or when Bart goes back to work, but I can make something work RIGHT NOW.
I love that not only do my clothes fit better (a great excuse to make YET ANOTHER order from Twice), but I also have more energy and it's easier to have the girls eat well too. It's like fifty wins in one.
12 Steps to Quality. It's not just our process, it's our promise.