For years, I've wanted to be a runner and for years, it has been a total failure for me.
The last time I did any sort of significant running was in 2012 just before I got pregnant with Ani. Two friends from my apartment complex and I started running together in the mornings a few days a week and we got up to a pretty consistent three miles.
But then as I got more pregnant and it got really hot in Texas, I stopped and never really started up again.
For the past couple of years, I've half-heartedly run about a mile and never felt able to really push past that.
Finally, in January, Bart said, "What if we started running together and I can help you get better?"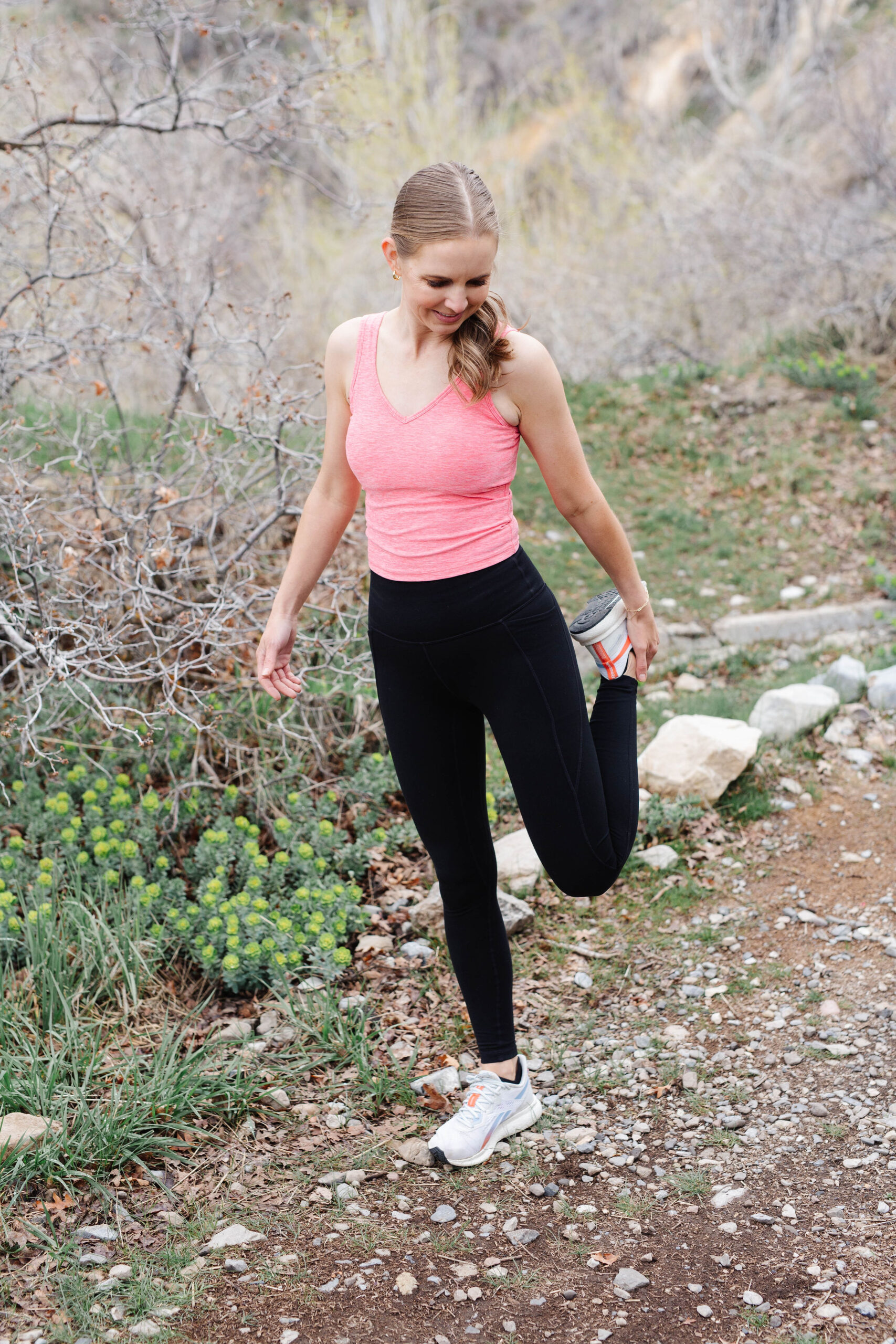 Pink Tank // Black Leggings // Shoes
Well . . . I couldn't pass up an offer like that and so we started running together several mornings a week.
The very first day, we did just over a mile and by the end, I was literally dry heaving and felt like I was going to die.
When we were talking about this post, Bart said, "Most people would look at you and think running would be easy because you're pretty young and in good shape and go to the gym, but running is something your body has to learn to do."
We've been running together now for about four months and now we run three miles most mornings and four on the weekends when we have a little more time.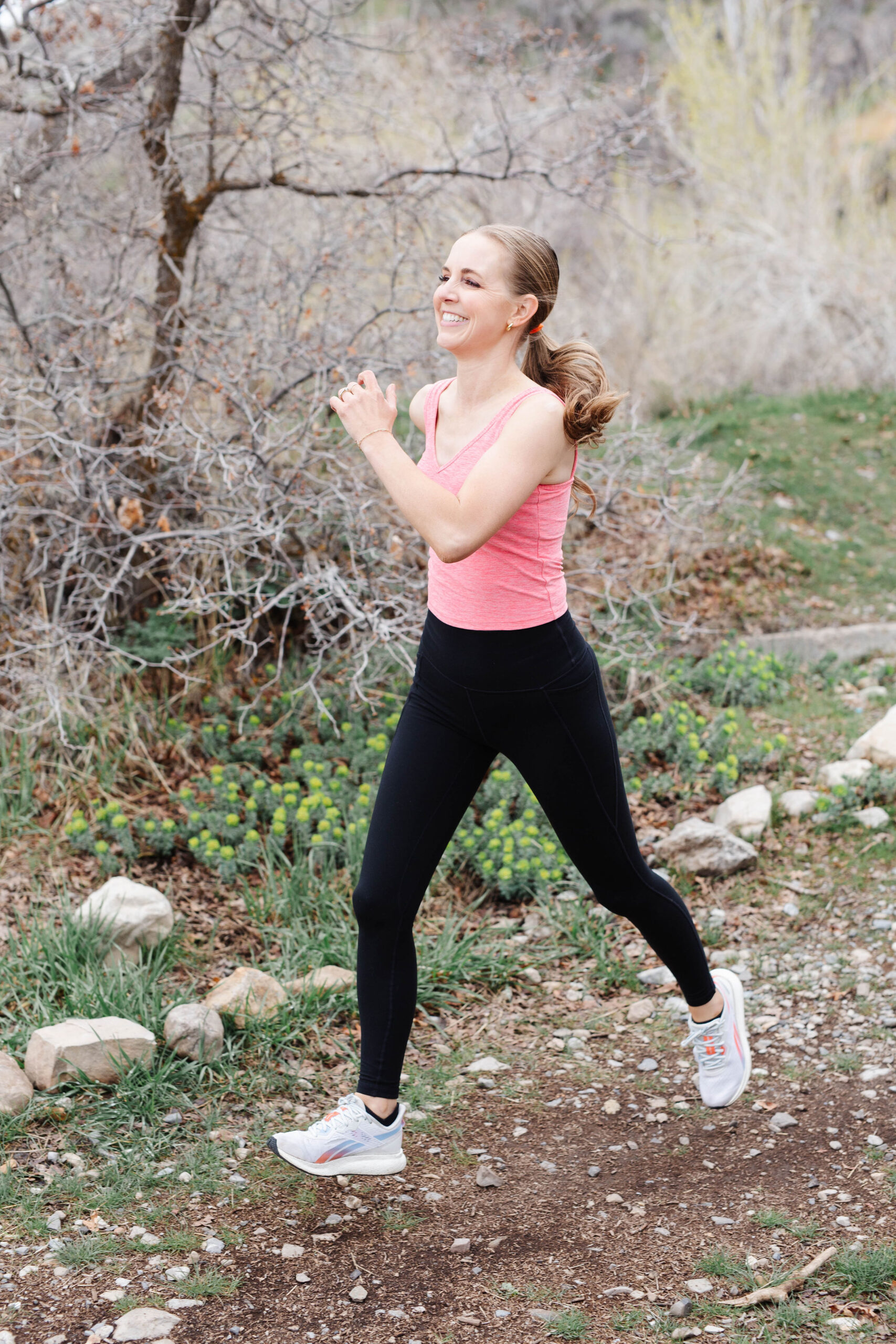 I know that lots of people love the Couch to 5k programs, but I've always found the running/walking combo to be more mentally exhausting and what Bart and I did was just add a little distance each week.
We started at one mile and then each week added 1/4 to 1/2 a mile. We usually run 4 mornings a week and so we'll add on that new distance on Monday and then do it several more times so it feels pretty solid before we add a bit more distance the next week (or sometimes two weeks after – we've been doing three miles for a couple of weeks now).
For Bart, who can run six minute miles, this is way below his running capacity, but it's been a really fun thing to spend this time together and we have the best conversations (or as we get closer to the end, he'll just talk because I'm out of talking breath and just need to focus on not dying). If I'm by myself, I listen to an audiobook and try to pick something really fun and engaging.
Here are the principles that have worked best for me as I've learned how to run: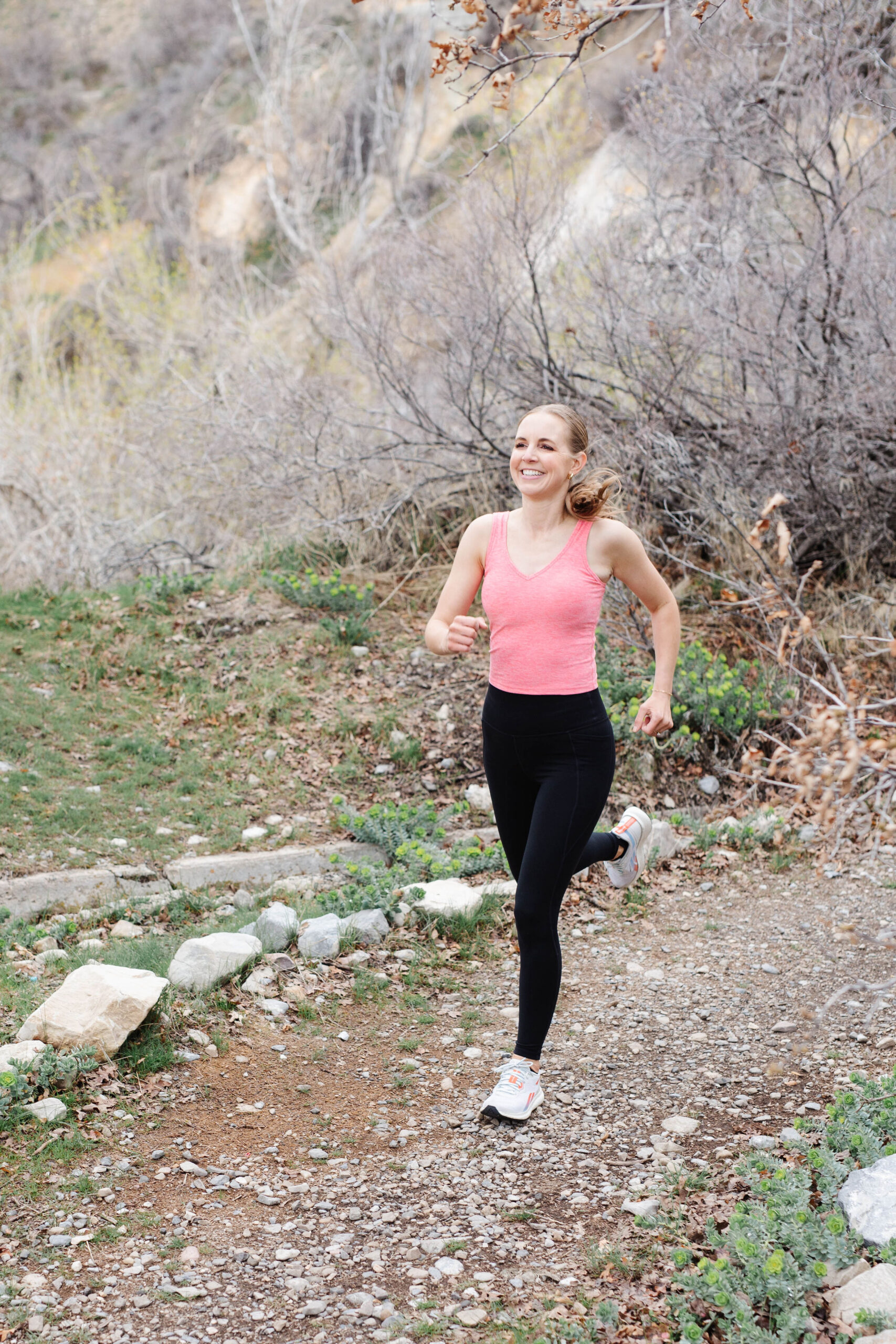 how to start running
Don't worry about pace AT ALL. The first time Bart and I ran together, I was trying to impress him a little and going faster than I really had the capacity to (hence the dry heaving at the end). We slowed way down after that – we were doing in the high 10 minute miles when we started – and the minute I would speed up, Bart would say "slow down a little!" I also got really comfortable slowing down as soon as I started feeling like I was having a hard time." This seems so obvious to me now, but has been a massive game changer for me.
There's no rush to get to a certain distance. It's taken me about four months to build up to four miles and knowing I had all the time in the world to build up to that has been really freeing. If you add 1/4 mile a month, that's fine – you've got time and there's no rush.
Consistency matters a LOT. We run usually 4 mornings a week because that consistency helps you build up the skills to be able to run. If you run twice a month, you'll probably feel like you're dying every time. Running multiple times a week is like practicing piano multiple times a week – you won't be starting from scratch every time.
Running with someone else gives me accountability. I wish I could just have started running easily by myself, but at this point, I can see that running with someone else is a major part of the puzzle for me. I've run solo some of the times this winter when Bart had an early meeting or was out of town, but even then I have Map My Run connected to Bart's so he gets an alert when I finish my run of how far I went and knowing he will see it means my pride won't let me do my normal habit of convincing myself to stop running at a mile.
Having a mental map of where we're running before we start. Bart's been running this area since he was a teenager, so he has them pretty well mapped out and can come up with a route of the appropriate length at the drop of a hat. But I always ask him during our warm-up to walk me through where we're going to run so I have in mind how far it's going to be and don't feel like it should be 3 miles when we've really only done 1.2 miles.
I mentioned that I'd been getting into running on Instagram and here were some of the questions that came up:
WHY?? I don't think running is a higher exercise than other things and if you hate running, find something else that works better for you instead! For me, I'd felt frustrated for years and years by my inability to run and it really felt like something I wanted to conquer. It's been SO GRATIFYING to finally feel like I can go bang out a few miles any morning of the week! Also, I loved that running requires so little equipment, can be done year round and for decades, and is such an efficient way to exercise.
IS IT AS HARD ON YOUR KNEES AS PEOPLE SAY? I haven't noticed any knee or joint pain and we're running short enough distances that I don't anticipate it being an issue. But every body is different, so you may have a different experience!
DO YOU CARRY WATER WITH YOU? No. If I were running long long distances maybe I would, but for a three or four mile run, that feels wildly unnecessary and also like a big hassle.
WHERE DO YOU FIT IT IN TO YOUR DAY? We go in the mornings as soon as we wake up and we're usually gone for around 30-40 minutes. Our girls are old enough that we can just leave them home and generally we're back before any of them wake up.
HOW DO YOU KEEP RUNNING IF YOU FEEL YOU'RE OUT OF BREATH? I know this feeling well! Bart kept coaching me to slow down and take smaller steps while I caught my breath – so I was still running, but not as hard or fast while I caught my breath a little.
WHAT IF IT IS COLD? We decided in January that we were going to run pretty much no matter the weather. We ran in snow and ice, the occasional rainy day, and in temperatures down in the 20s. I'll tell you what, now that it's clear and warmer, it feels like a dream to run in these conditions and I'm glad we didn't wait.
HOW DO YOU GET THROUGH THE FEELING THAT RUNNING IS THE WORST EVER? I'm definitely not at a point where I just LOVE running, but it IS really fun to feel that sense of accomplishment from doing something hard and it's gotten easier over time. For me, the biggest thing has been quieting the constant mental battle of "how about I stop now? How about now? How about I just walk now? Should I quit now?" and committing to a specific distance each time and doing it.
ARE YOU SCARED IF IT'S DARK OUT? Since I'm almost always running with Bart, it's not an issue, but I've done it alone plenty of times and I stay on busy, well-lit streets and I feel totally safe.
WOULD YOU EVER DO A RACE? I THINK HALF MARATHONS ARE SO FUN. My interest in a half marathon is zero – if I can run five miles, then I'll be happy and I don't need to go more than that. I've done a handful of 5ks over the years (I did one in 2019 and it just about killed me because I wasn't at all in shape to run 3.1 miles).
DO YOU CROSS TRAIN? Yes! I do an hour-long strength training/weights class at the gym a couple of mornings a week.
Any other questions about how to start running? I'm definitely not an expert but happy to share any details that have helped me!
if you liked this post about how to start running, you might also like these other posts: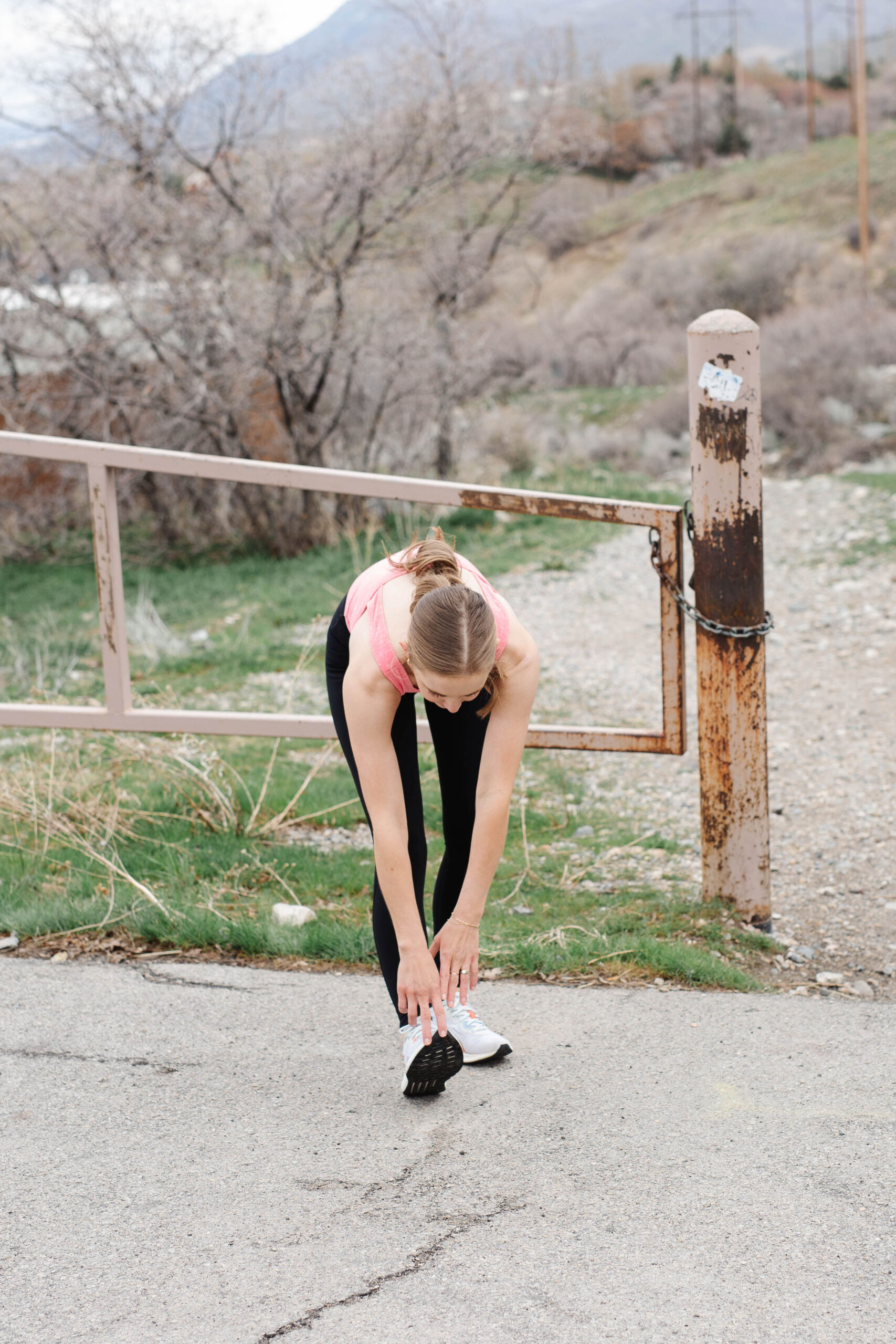 Photos by Heather Mildenstein