With more than 250 copies sold, it's no surprise that there are a LOT of Diary of a Wimpy Kid lovers out there.
If you have a child who has read the Diary of a Wimpy Kid series on repeat and needs something new to try, here are some other series that they might love too!
These books are full of hijinks and school settings, plus fun combinations of text and art like the ones that have made Diary of a Wimpy Kid so wildly popular.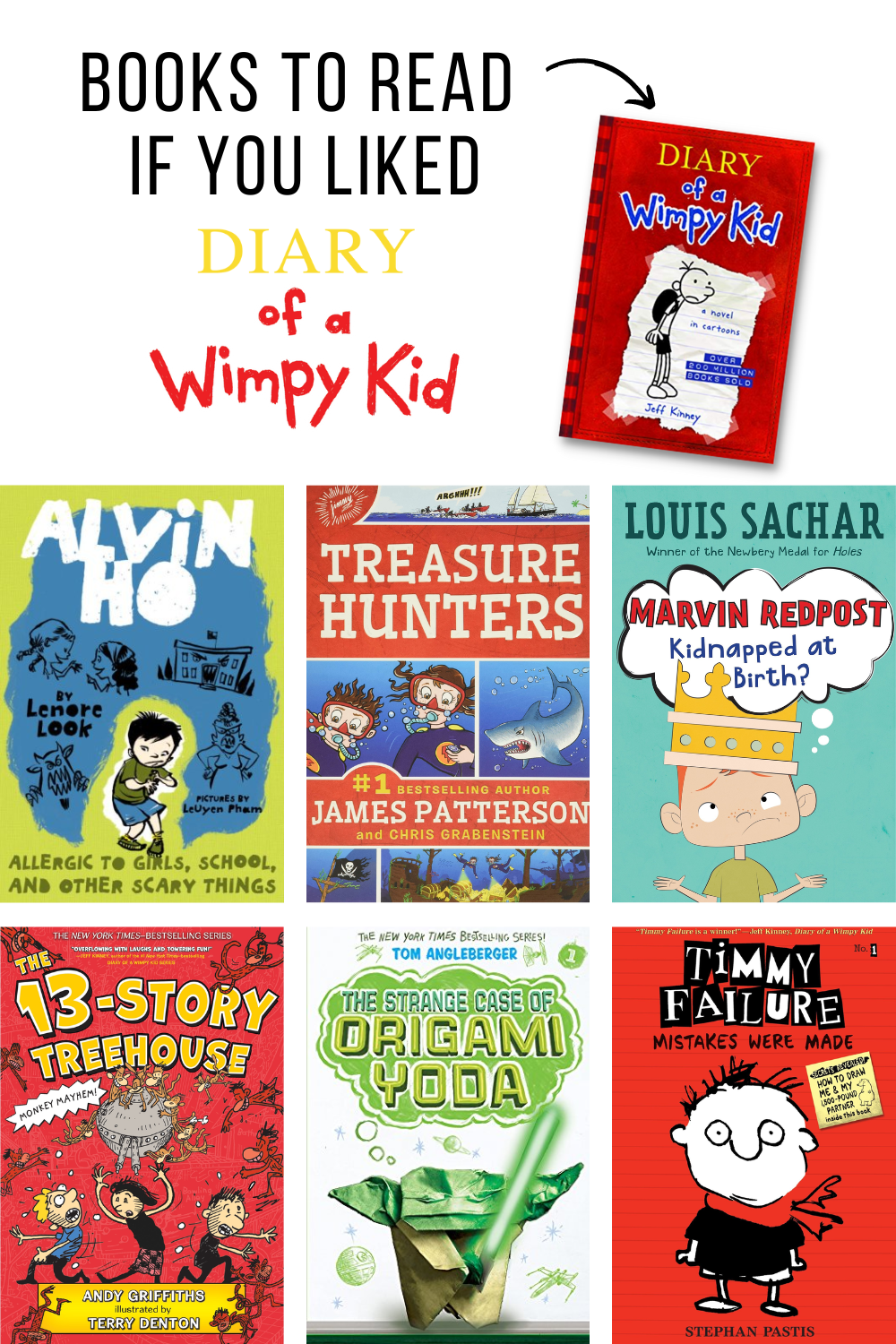 books like diary of a wimpy kid series
The 13-Story Treehouse by Andy Griffiths
13 book series
If your child lives for slapstick, this graphic novel series is for them. Andy and Terry live in a treehouse with thirteen stories. It also has a swimming pool and a bowling alley and it keeps getting bigger and better as the duo add more stories. Chocolate waterfall, anyone?
The Strange Case of Origami Yoda by Tom Angleberger
6 book series
I read this when it first came out and I was working as an elementary school librarian. I knew immediately it would be a hit with my students and I'm pretty sure it never touched the shelf again for the rest of the year! The series starts out with Dwight, a sixth-grade oddball who loves origami. And when he makes an Origami Yoda finger puppet, it suddenly starts to seem that this little paper Yoda can predict the future and give great advice. How could this be!?
Alvin Ho by Lenore Look
6 book series
Alvin Ho is VERY scared of everything, especially school, where he never says a word. But when he's at home? He turns into Firecracker Man who isn't afraid of anything.
The Terrible Two by Mac Barnett and Jory John
4 book series
My girls have listened to these books about the antics of two pranksters on repeat for months – if you have a child who likes humor, some slapstick, and a little naughtiness, these books are for them.

My Weird School by Dan Gutman
21 book series
This is a silly series reminds me of the Wayside School series. This series is geared more for beginning readers, but all the adults at Ella Mentry School are just a little bit weird…maybe REALLY weird! 

Treasure Hunters by James Patterson
9 book series
Follow the Kidd siblings as they embark on adventures under the sea, in the Outback, and even across the United States as they solve mysteries and discover treasure. This hilarious and highly illustrated series is sure to please any adventure lover.
The Genius Files by Dan Gutman
5 book series
In this fun novel, Coke and Pepsi have to evade their crazed health teacher and two guys in bowler hats by accomplishing some pretty crazy feats. Jumping off cliffs, escaping their burning school and jumping off sand dunes are just a few of the challenges they face in this thrilling tale.

Timmy Failure by Stephan Pastis
7 book series
Timmy Failure exudes confidence and he is not afraid to boast that he is the CEO of the best detective agency in town. And did I mention that his business partner is a polar bear named Total? This series is laugh out loud funny as Total Failure Inc. tries to solve each whodunit. 

Marvin Redpost by Louis Sachar
8 book series
Marvin Redpost is just your average third-grader, getting into your average third-grade trouble. He is also relatable, kind, and a loyal friend, even during all the hilarious and unexpected adventures he ends up on.
Joey Pigza Swallowed the Key by Jack Gantos
5 book series
Joey Pigza's life is spiraling out of control. He is not only dealing with his ADHD, but also dealing with the way others react to it. This touching series is written from Joey's perspective and blends heartfelt with a little dose of humor.
And if you'd like a printable copy of this list of books like Diary of a Wimpy kid series that you can take to your library or screenshot on your phone for easy access, just pop in your email address below and it'll come right to your inbox!
if you liked this post about books like diary of a wimpy kid, you might also like these other posts: