A few weeks ago, I asked on Instagram if there would be any interest in Ella periodically recommending books she's read and loved.
100+ enthusiastic responses later, I took the answer to be YES!
Ella reads at a rate I simply cannot keep up with (the delights of being a child who gets in bed at 7:30 and also doesn't have to make dinner every night) and books for her age-range are one of my most requested topics.
I asked her if she'd be willing to do a monthly round-up of some of her favorite books and she was thrilled at the idea. She immediately started making lists and coming to me with ideas. It was basically the cutest thing ever.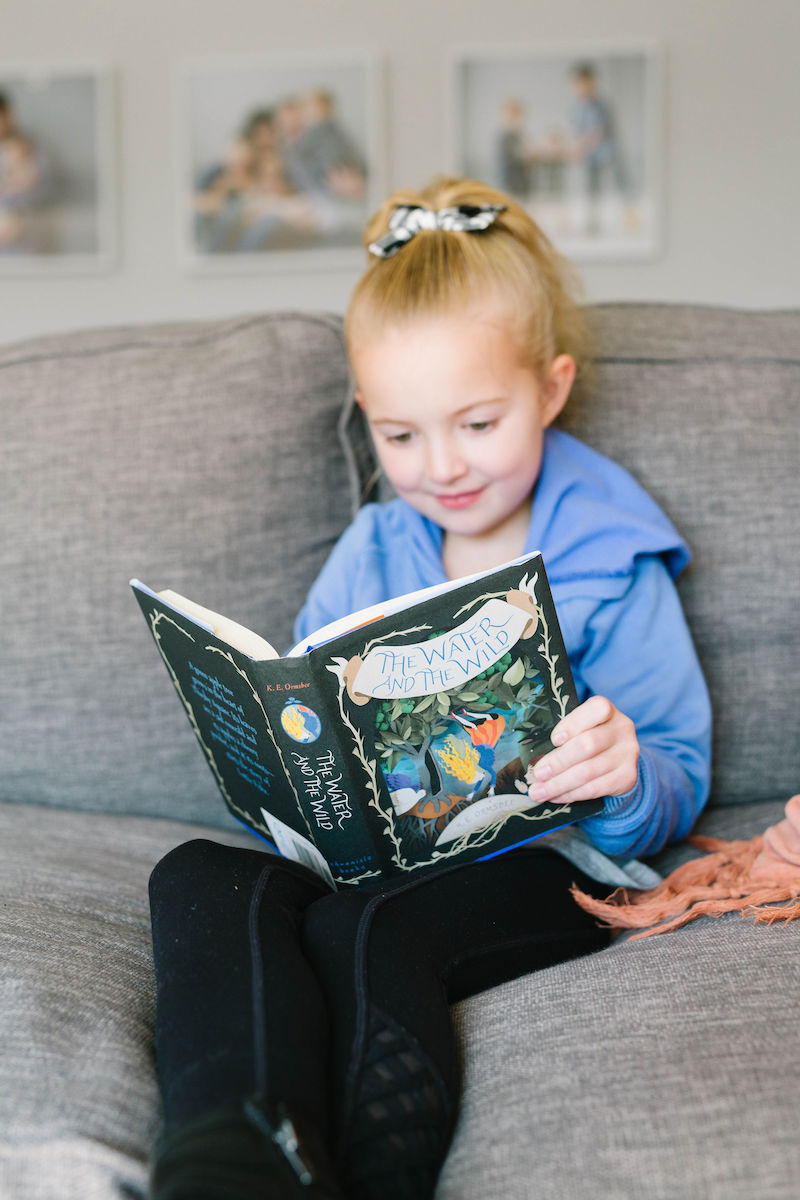 Every month, she'll pick five books she's read recently and really loved. I'll write a description of each the books, plus note the number of pages and then add her commentary at the end of each review.
She'll also be doing some InstaStories tomorrow talking about these books. I hope it'll be helpful as you look for books for your readers!
For reference, Ella is 8.5 and in third grade. She's a very strong reader and especially loves fantasy and mystery.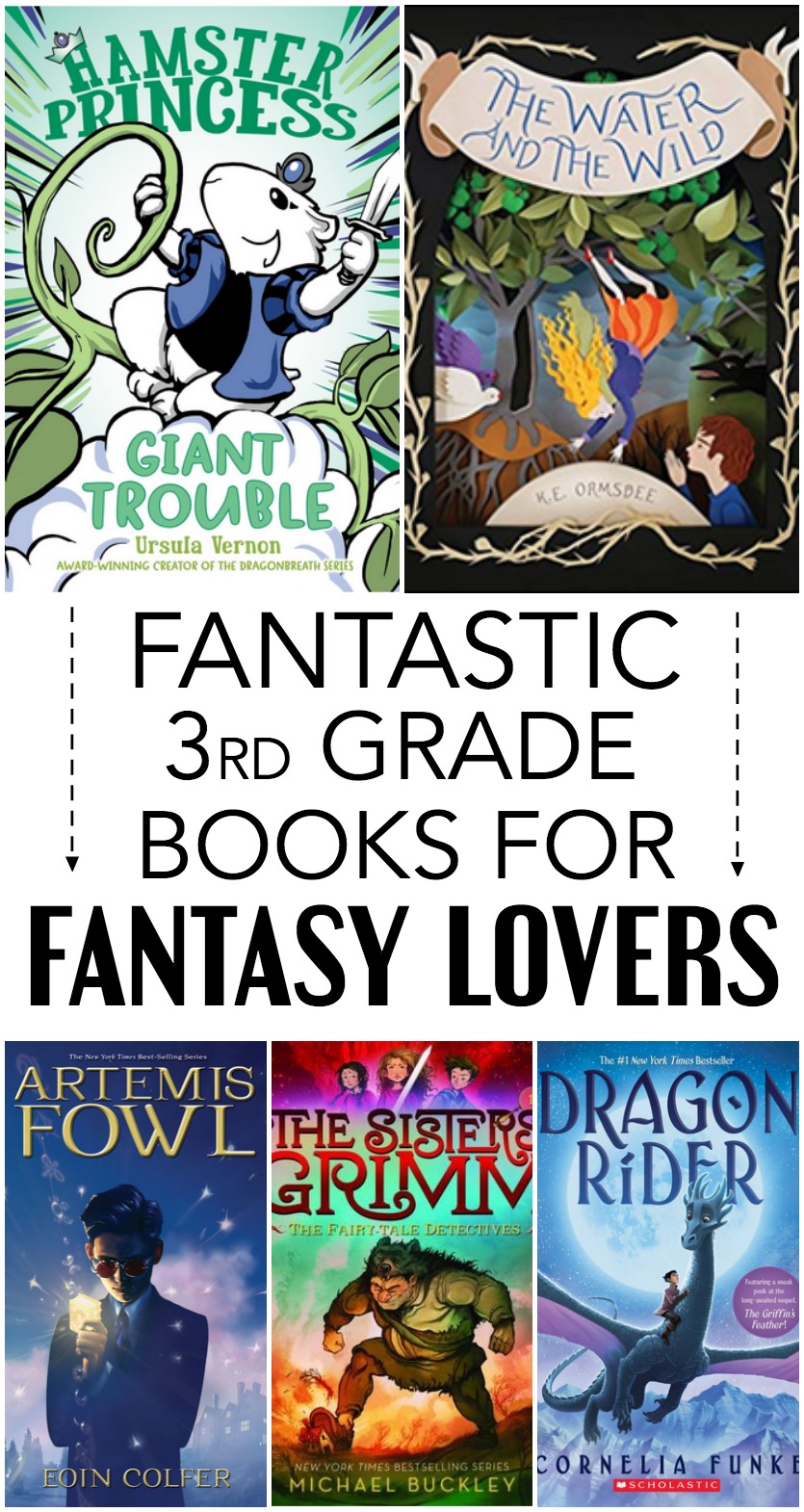 3rd grade books
The Water & the Wild by K.E. Ormsbee
456 pages
Only two people really seem to care about Lottie – her dearest friend, Eliot, and a mystery pen-pal who sends annual birthday presents. Life on their little island is fine until Eliot becomes very ill – so ill that the doctors have determined there is nothing more they can do –  and Lottie doesn't know what she can do help. And then a door to a magical and dangerous world opens up in an apple tree and Lottie thinks she just might be able to find a cure for her best friend in the world that lies below. This is the first book in the series; the second one is The Doorway and the Deep, and the third is The Current and the Cure.
What Ella has to say: This is a really good book for many reasons but one of the things I look for in books is if there are surprises and turns so it is very unpredictable. The Water & the Wild was this kind of book. At first I didn't know if this book would be a hit for me but once I got farther into the book, I knew it would be one of my favorites.
Dragon Rider by Cornelia Funke
544 pages
I know Cornelia Funke best for her Inkheart series, but Ella LOVES this book about a boy named Ben and a young dragon called Firedrake who are both determined to find a place here dragons can live peacefully. Of course their quest is full of challenges and the story is jammed with surprises, mysterious creatures and terrifying villains. The audiobook is read by Brendan Fraser and it's terrific.
What Ella has to say: I think this book is great because the outstanding courage of the main characters makes me feel like anything is possible. There were funny parts and scary parts and lots of twists. I've listened to it multiple times while I did puzzles and it never gets old.
Artemis Fowl by Eoin Colfer
320 pages
This book kicks off the 8 book series (which has also been adapted into a movie) which follows Artemis Fowl. His billionaire father who made his fortune as a criminal has just disappeared and Artemis' mother has a mental breakdown. Which means that it's entirely up to Artemis to restore the family fortune. Luckily, Artemis happens to be a brilliant criminal mastermind. And he's determined that kidnapping a fairy and holding her ransom is the best way to save his family. Except he may have underestimated the fairies.
What Ella has to say:  This book I thought was good but it is quite dark (Artemis Fowl is a criminal mastermind and he kidnaps people!) so it's not a walk in the park. I like that the story switches between different perspectives including Artemis Fowl, the fairies and the butler sidekick. I have the next book on hold.
Hamster Princess by Ursula Vernon
256 pages
This six book series is a comic hybrid with more text than a graphic novel but still plenty of illustrations. Harriet Hamsterbone is a princess but she finds being royal quite boring. Until the day she discovers that she was cursed by a rat shortly after her birth and that when she is 12, she'll prick her finger (on a hamster wheel, of course) and fall into a deep sleep. But far from being horrified, she's thrilled to hear that until she turns twelve, she's basically invincible. Time to go adventuring. Each of the books in these series is a riff on a classic fairy tale and they are HILARIOUS.
What Ella has to say:  Each book in the series is different – sometimes she's looking for adventure and sometimes adventure finds her. She's different from most princesses because she doesn't like being royal and thinks cucumber sandwiches are for wimps. All the princes in her kingdom are no match for her and she doesn't care for them at all. The first three books should be read in order but after that it doesn't matter. I like Whiskerella and Little Red Rodent Hood the best.
The Sisters Grimm: Fairy Tale Detectives by Michael Buckley
288 pages
I first heard about this series nearly a decade ago from my mother-in-law who read it with one of my nieces and Ella spent all last year blazing through the ten books of the series. Two orphaned sisters are sent to live with their grandmother (who they didn't even know existed) in a strange little town called Ferryport Landing. When they arrive they soon learn that they have descended from the Brothers Grimm and the book of fairy tales those brothers wrote? Is actually history. And as one fairy tale mystery after another pops up in their town, it's up to the sisters to solve the mysteries. This series is just DANG fun, with all the characters from every fairy tale you know popping up. The question is, who can they trust and who is trying to take them down?
What Ella has to say:  This series is so good. I was so sad when I finished and realized there were no more to read. I like the teamwork the sisters use and how different fairy tale characters are always showing up. The sisters have very different views on their grandma (and her cooking!) and they have to make their own decisions. These books are a little more advanced and are perfect for people who like a good mystery.
And if you'd like a printable copy of this list of 3rd grade books that you can take to your library or screenshot on your phone for easy access, just pop in your email address below and it'll come right to your inbox!
If you liked this post about 3rd grade books, you might find these posts useful: