You guys were so enthusiastic about Ella's first post about the 3rd grade books she loved. Thank you for being so wonderful!
Of course, if there's anything better than a good book recommendation, it's MORE book recommendations, so we're back this month with five more third grade books Ella loves and ones your child might love too.
Like last time, I've written a description of each the books, plus noted the number of pages and then she's added her commentary at the end of each review.
Happy reading!
Third Grade Books
The Princess and the Absolutely Not a Princess by Emma Wunsch, illustrated by Jessika von Innerebner
144 pages
This first book in the series is an easier read (along the lines of Judy Moody or Ivy & Bean), with lots of illustrations. It starts with a duo that is, naturally, at odds with each other. Princess Miranda is not interested in school – she wants to throw parties and go shopping. Maude, on the other hand, loves school, rules, and grades. Any chance they'll become friends (spoiler: yes). There's a second book in the series out – Banana Pants! – with a third coming this fall.
What Ella has to say: It was interesting to see the contrasts between a princess and a complete nerd. Princess Miranda thinks Maude is the most offensive person she's ever met because she eats hard-boiled eggs and if there is one thing you should know about Miranda, it's that she deeply despises hard-boiled eggs.
The Land of Stories by Chris Colfer
464 pages
I'm pretty sure I didn't see Ella for a month last summer when she blazed through this entire series. Alex and Conner, sister-brother twins, open up a beloved book of stories only to find themselves sucked into the book. In a mysterious land where magic runs rampant, they find themselves interacting with fairy tale characters they've heard about all their lives. The real question is. . . can they ever get home?
What Ella has to say: These are good books for kids because they're written from the perspective of kids and the many adventures they have all connect with different fairy tales that most kids will know. It explains some of the weird things you might not understand about fairy tales, like the fact that there are four Charming Princes and they each marry a different princess.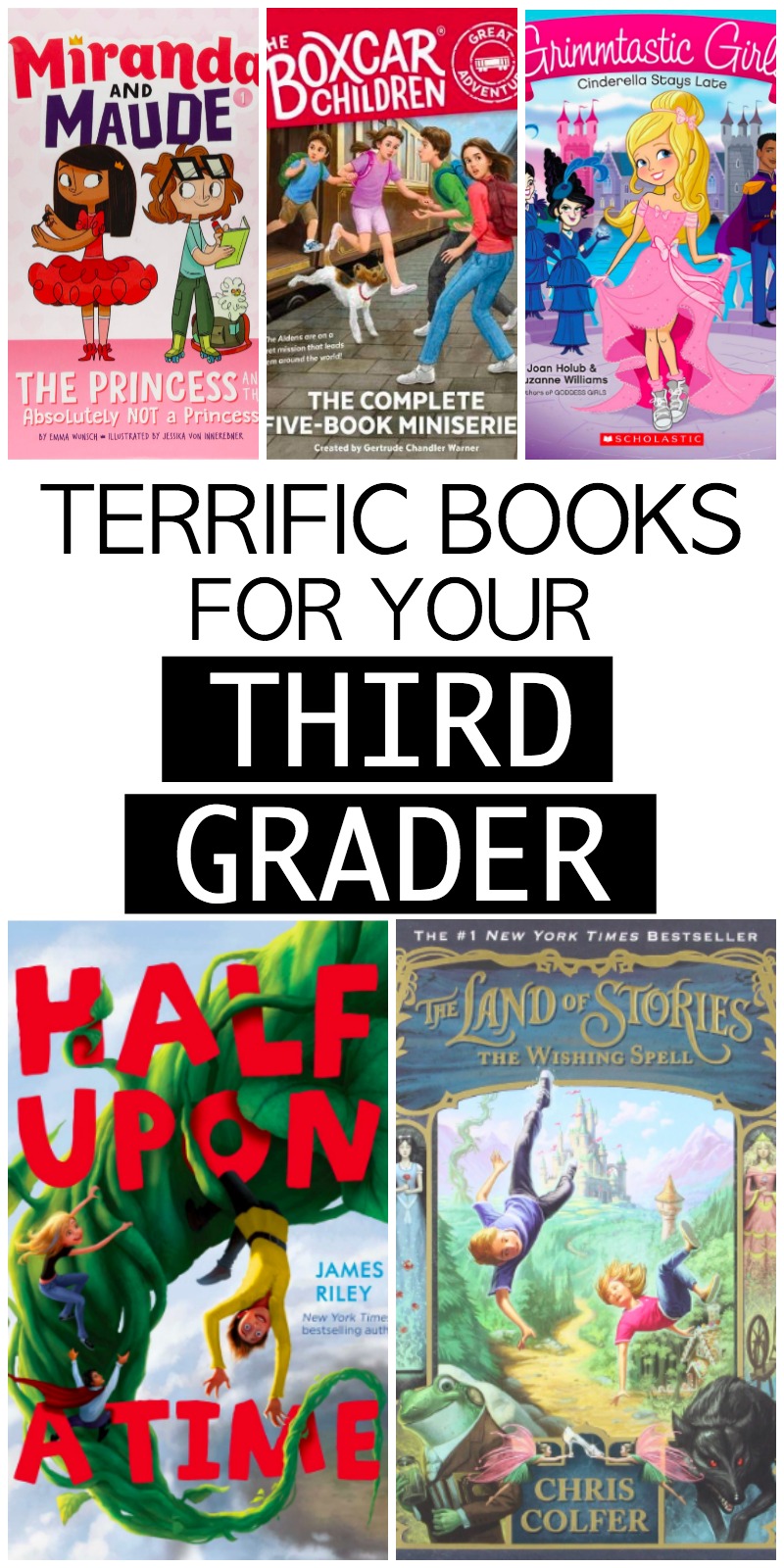 Half Upon a Time by James Riley
432 pages
This was a book that we got last summer in our Bookroo chapter book subscription and Ella just gobbled it up. It follows Jack, who is the son of the infamous Jack and the Beanstalk, and he's hoping to restore his family's reputation in hero training (which he's doing a poor job at). He lives in fairy land and when May, a girl from the real world, lands in front of him, he thinks this is his chance to redeem the family name with a successful princess rescue. Of course, you can already guess that things are NOT going to go according to plan. This is the first in a trilogy.
What Ella has to say: This is a good book because it's funny and it has a mix of good and bad characters. It's fun because you don't know for a long time who is a good guy and who is a bad guy. I haven't read the other books in the trilogy yet but they look great and I'm excited to read them.
Grimmtastic Girls by Joan Holub and Suzanne Williams
192 pages
You'll have noticed by now that Ella LOVES a fractured fairy tale and here's another recent addition to her long list of favorites. Cinderella has just entered the Grimm Academy, and it's going badly, thanks to her truly evil stepsisters who do everything they can to make her look foolish. Then Cinda overhears them plotting to ruin the ball, and only Cinda and her magical glass slippers (plus her new friends) might be able to stop them before the clock strikes midnight.
What Ella has to say: It's fun to meet all the fairy tale princes and princesses and see who is friends and who the princesses' crushes are. The princes all have weird names and I was trying to tell my sisters the names including Prince FoulSmell and Prince Prince and they wondered where I'd come up with these names and why anyone had ever decided to name anyone that.
The Boxcar Children Great Adventure Series created by Gertrude Chandler Warner
160 pages
The Boxcar Children series was what made Ella into the avid audiobook listener she is – I'm pretty sure she listened to more than 100 of them during our four months in Europe and she was devastated when she finished them all. Even now, four years later, she still loves to listen to them and this miniseries was top of her list of favorite books to share here. This 5 book series follows the four Alden children as they're introduced to a secret guild that returns priceless artifacts to the museums or historical sites from which they were stolen. These adventures take the children to all seven continents with plenty of twists and turns.
What Ella has to say: The Boxcar Children Adventure series is a 5 book series that made me just want to keep reading it. It's long enough that it takes up some time but it's always taking new turns with the four characters I already knew and loved. They have enemies and they have to figure out who is double crossing them and who is actually their friend. They get to visit all seven continents and it's fun to hear about what they see.
And if you'd like a printable copy of this list that you can take to your library or screenshot on your phone for easy access, just pop in your email address below and it'll come right to your inbox!
IF YOU LIKED THIS POST ABOUT third GRADE BOOKS, YOU MIGHT FIND THESE POSTS USEFUL: