Ella is now 20 months old (my baby! the time! etc) and she loves books. If you dropped by our house unexpectedly, you would almost certainly find giant stacks of her books on the couch, near the rocker in her room, next to my bed, and outside her bedroom door.
These are ten books that are currently in heavy rotation. Every one of these books is finished to the word "Again!"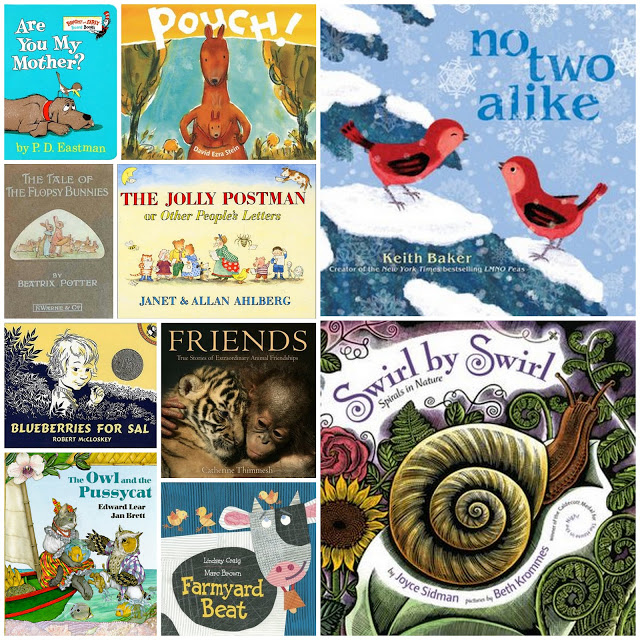 spring picture books
Are You My Mother? by P.D. Eastman. Bart pointed out to me that this is one of the only children's books that casts industrialism in a positive light. Maybe he should have gone to library school instead of me.
The Tale of the Flopsy Bunnies by Beatrix Potter. Y'all, this book is weird. Domestic violence, neglectful rabbit parents – I can hardly believe I read this book to my child.
Blueberries for Sal by Robert McCloskey. I have loved this book all my life. It's a bit on the text-heavy side and I'm amazed that Ella will sit quietly through the whole thing. We need to replace our copy because so many pages have fallen out.
Pouch! by David Ezra Stein. My favorite of her recent book loves. The illustrations are sweet and happy, there are animals to find hidden away, and the text is cute and brief.
Swirl by Swirl: Spirals in Nature by Joyce Sidman and Beth Krommes. This is a wonderful non-fiction book. Ella loves pointing out the animals, and I love the concise text, and the rich colors. An absolute winner.
The Jolly Postman by Janet & Allan Ahlberg. What child DOESN'T love pulling little letters out of envelopes? Of course nearly all the envelopes have tears in them now.
Friends: True Stories of Extraordinary Animal Friendships by Catherine Thimmesh. This is a book that I don't really care for much, but Ella loves and has loved for many many months. Each photograph of two unlikely animal friendships is accompanied by a mega-cheesy verse. Ah, well.
Farmyard Beat by Lindsey Craig and Marc Brown. This is one catchy book. I love the rhythm, the animal sounds, and bright, happy illustrations.
No Two Alike by Keith Baker. This is the sweetest book, with gorgeous illustrations. Ella loves looking for the animals or pointing out the different colors of birds. I laugh a little when we read the end because it says, "Are we the same? Just alike?" and Ella always cries "yes, yes!" even though the text concludes, "Almost, almost, but not quite."
The Owl and the Pussycat by Edward Lear and Jan Brett. My mom brought this out when Ella was born. It's a board book she's owned for years and I love that we now own that old copy.
And if you'd like a printable copy of this list that you can take to your library or screenshot on your phone for easy access, just pop in your email address below and it'll come right to your inbox!
if you liked this post of picture books we loved this spring, you might also like these other posts: