I love all kinds of picture books, but I particularly love picture book biographies for kids where the life of someone famous is brought to life with spectacular illustrations, interesting and surprising stories, and just enough information.
I've been collecting my favorite picture book biography titles for months and am so happy to share some of them with you today (you better believe there are more coming in the next several months – the list is way too long for one post!).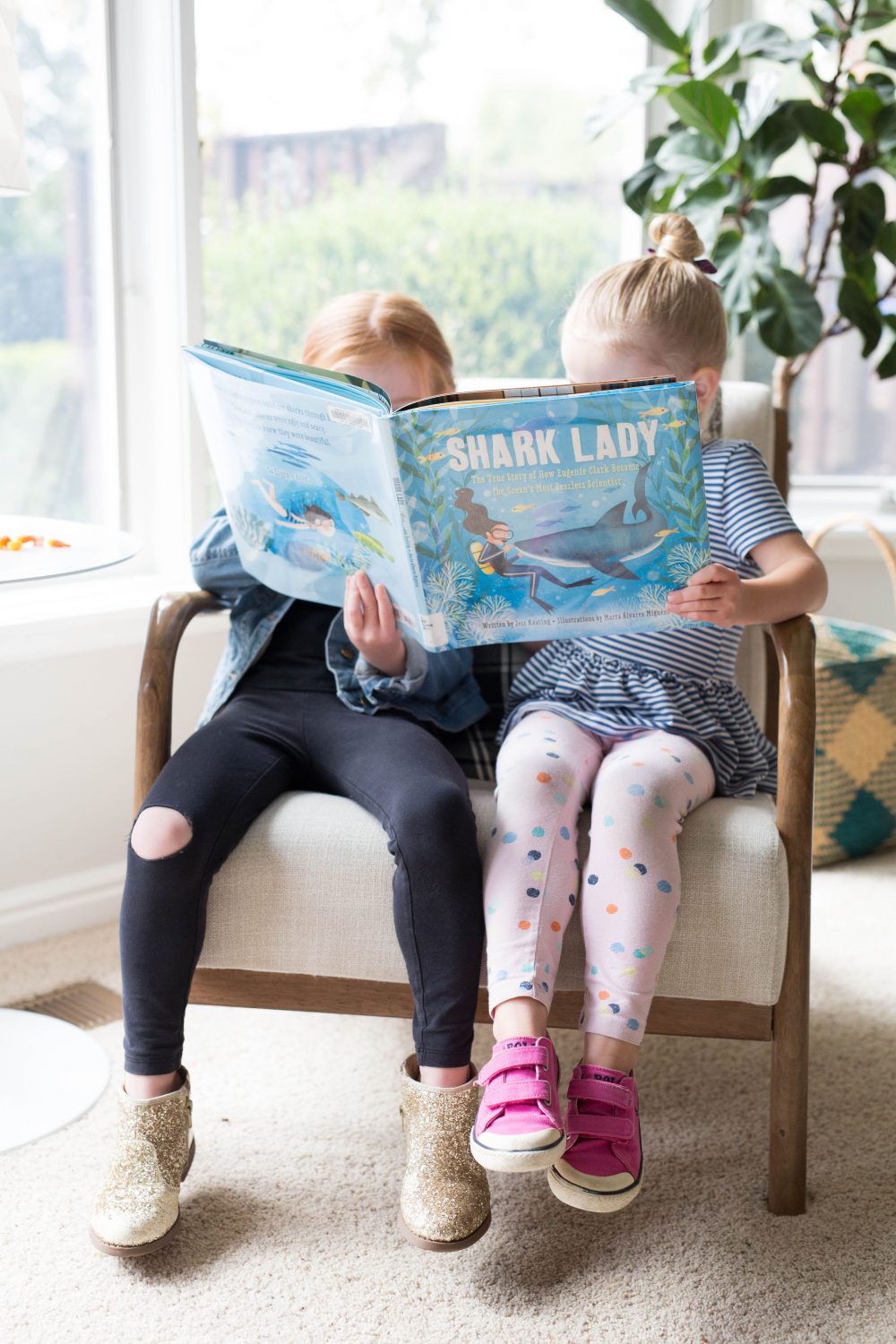 20 fantastic picture book biographies for kids
Shark Lady: The True Story of How Eugenie Clark Became the Ocean's Most Fearless Scientist by Jess Keating, illustrated by Marta Alvarez Miguens
I'd never heard of Eugenie Clark before this book, but I was immediately fascinated by her story. She fell in love with sharks at an early age when she saw them at an aquarium and wanted to know everything she could about them. But many people thought sharks were ugly, terrifying creatures. Plus, women shouldn't be scientists anyway. Eugenie spent her life proving the naysayers wrong, both abut sharks and female scientists. (Also check out Swimming with Sharks: The Daring Discoveries of Eugenie Clark by Heather Lang, illustrated by Jordi Solano).
John Ronald's Dragons: The Story of J.R.R. Tolkien by Caroline McAlister, illustrated by Eliza Wheeler
I'm certainly familiar with the beloved Lord of the Rings series, but I didn't know much about J.R.R. Tolkein (and I REALLY didn't know much about his growing up). So I loved this clever biography about his growing up where he loved dragons, and how much of his young life felt surrounded by dragons, from losing his mother early in his life to fighting in WWI. But until he invented a dragon of his own (which sparked off his Middle Earth writing), he never found one in his actual life.
Ordinary, Extraordinary Jane Austen: The Story of Six Novels, Three Notebooks, a Writing Box, and One Clever Girl by Deborah Hopkinson, illustrated by Qin Leng
Before Jane Austen became one of the most famous English writers of all time, she was a quiet girl. And while you might not have noticed her, she probably would have noticed you. And it might have ended up in her writing. This beautiful picture book is a delightful introduction to a woman who disregarded the publishing trends of her time and created a completely new kind of story.
The World is Not a Rectangle: A Portrait of Architect Zaha Hadid by Jeanette Winter
I'd never heard of Zaha Hadid before this book, but I instantly loved her story. She grew up in Iraq and wanted to be an architect. But as a Muslim woman, this wasn't going to be an easy dream to chase. Now, decades later, you can see her buildings all over the world!
The Girl Who Thought in Pictures: The Story of Dr. Temple Grandin by Julia Finley Mosca, illustrated by Daniel Rieley
Most of us are probably familiar with Dr. Temple Grandin and I love this introduction to her for young children (all the text is told in rhyme). She was diagnosed with autism as a young child and expected never to talk. But she grew up to become a groundbreaking scientist, thanks to her love of animals and her rare ability to connect with animals.
The Noisy Paint Box: The Colors and Sounds of Kandinsky's Abstract Art by Barb Rosenstock, illustrated by Mary GrandPre
Vasya Kandinsky was one of the first abstract artists and this is a beautiful retelling of his story. He had a very proper upbringing and his family expected that his art would also be very proper. But his art was anything but – it came to life, swirling with color and even sound, because throughout his life, he experienced colors as sound and vice versa. (By the way, if the illustrations look vaguely familiar, it's likely because you recognize Mary GrandPre's illustrations from the original Harry Potter books).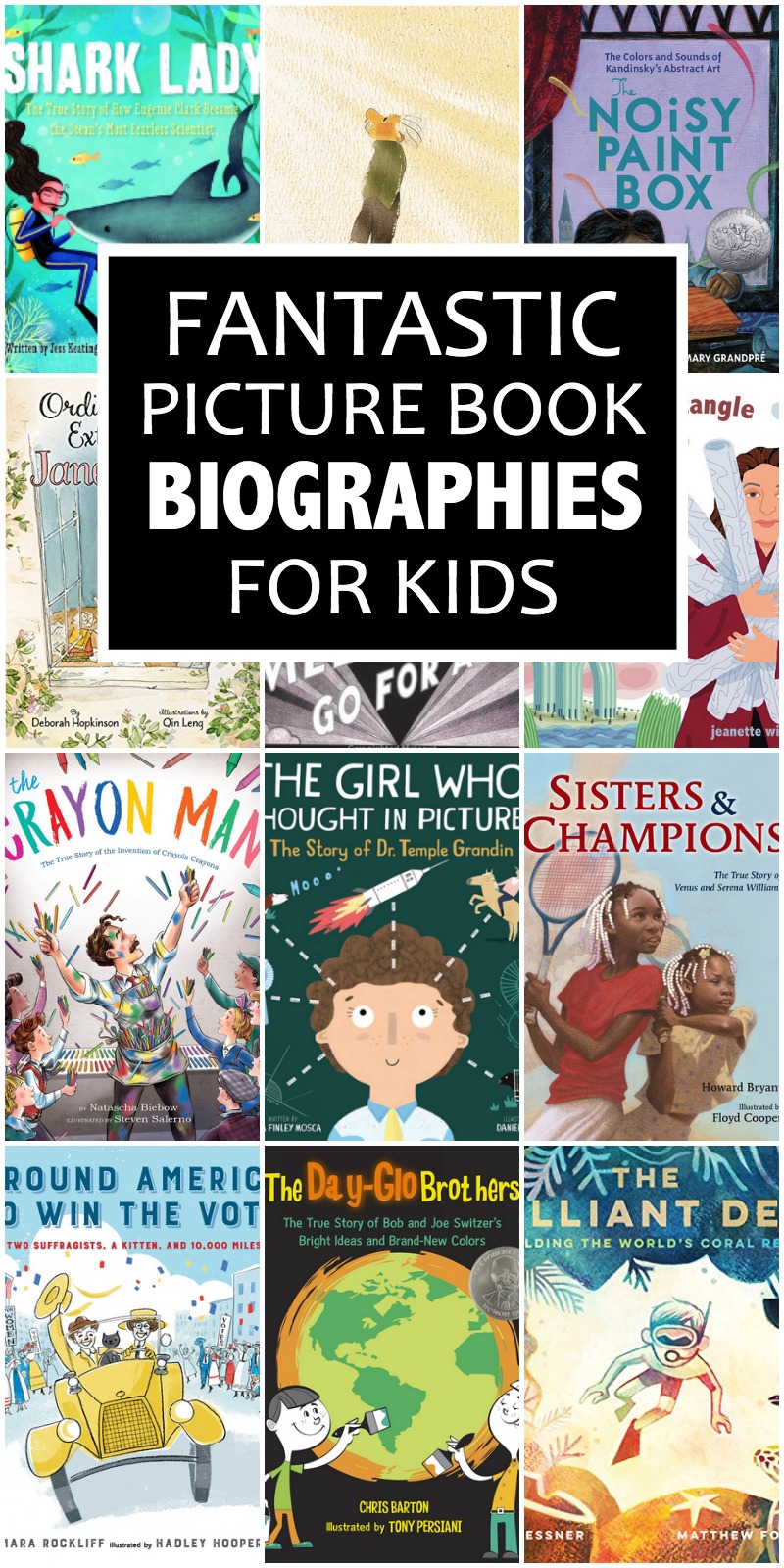 On a Beam of Light: A Story About Albert Einstein by Jennifer Berne, illustrated by Vladimir Radunsky
If you'd seen young Albert Einstein riding his bike down the road, you would have probably just seen a boy on a bike, But in his mind, he saw himself traveling at the speed of light. This book is a delightful look into Einstein's lifelong curiosity and discovery, and perfect for every child who loves to imagine the impossible.
The Watcher: Jane Goodall's Life With Chimps by Jeanette Winter
This was one of the picture books that really helped me see how AMAZING picture book biographies could be. I love that it begins in her childhood and goesthrough her current work, accompanied by breath-taking illustrations. I also love Me….Jane by Patrick McDonnell as a simpler biography of Jane Goodall.
Amelia and Eleanor Go For a Ride by Pam Munoz Ryan, illustrated by Brian Selznick
I have loved Brian Selznick's illustrations since I was a child and his black and white drawings bring this amazing story about Amelia Earhart and First Lady Eleanor Roosevelt to life when, at a White House dinner party, Eleanor and Amelia sneak away to take an evening ride over Washington D.C. in a jet. All while wearing their evening gowns!
The Crayon Man: The True Story of the Invention of Crayola Crayons by Natascha Biebow, illustrated by Steven Salerno
I love picture book biographies that bring to life the inventor of a product children love and use daily. This book does exactly that with the man who invented crayola crayons and I loved every page of it – who knew that so much went into those boxes of 50 cent crayons you can now buy at Target?
Balloons Over Broadway: The True Story of the Puppeteer of Macy's Parade by Melissa Sweet
I am legitimately obsessed with this book and I love bringing out my copy every Thanksgiving about the boy who loved puppets and grew up to create the famous balloons that make up the Thanksgiving Day parade. The color and art in this book bring it to life and the end notes and photos and make it even more special.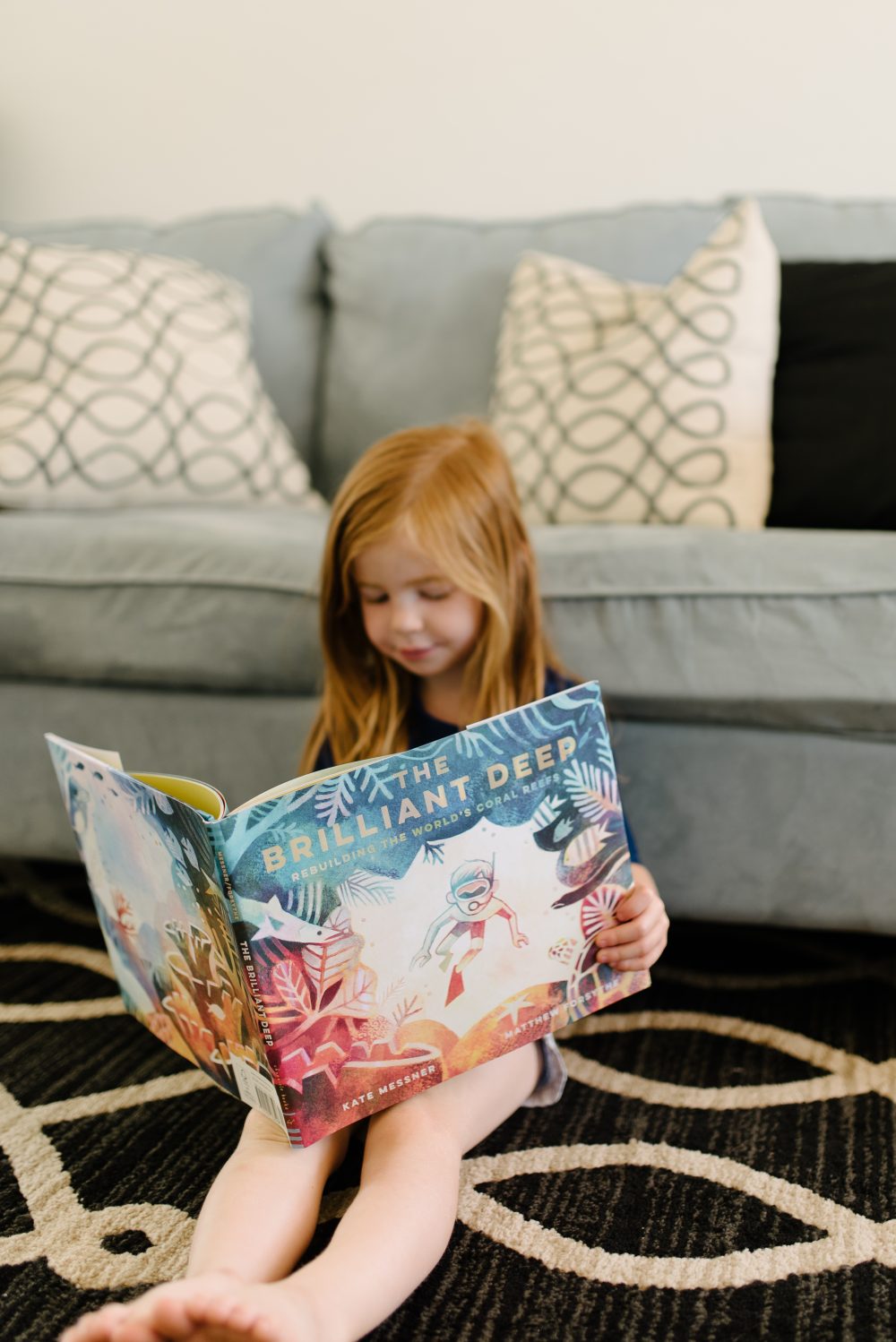 Brilliant Deep: Rebuilding the World's Coral Reefs: The Story of Ken Nedimeyer and the Coral Restoration Foundation by Kate Messner, illustrated Matthew Forsythe
Sometimes the changes we want to see in the world seem too big, too overwhelming to tackle. But I love this biography of Ken Nedimyer, founder of the Coral Restoration Foundation, that shows that even one person can make a difference.
Sisters and Champions: The True Story of Venus and Serena Williams by Howard Bryant, illustrated by Floyd Cooper
I've never watched a professional tennis match, but I was in tears by the end of this gorgeous picture book about Venus and Serena Williams and hard they work and, even more impressively to me, how much they support each other.
Around America to Win the Vote: Two Suffragists, A Kitten, 10,000 Miles by Mara Rockliff, illustrated by Hadley Hooper
Just over a century ago, two friends, Nell Richardson and Alice Burke set out from New York City to spread the word about giving American women the right to vote. Crammed in a little yellow car, with a kitten along for the ride, they drove 10,000 miles in pursuit of their goal.
The Day-Glo Brothers: The True Story of Bob and Joe Switzer's Bright Ideas and Brand New Colors by Chris Barton, illustrated by Tony Persiani
Put neon colors on the list of things I've never given a second thought to. Until this book, about two brothers who loved to invent things and discovered neon coloring that's now used all over the world. Who knew? The black pages with bright neon coloring make this book really pop.
Tree Lady: The Story of How One Tree-Loving Woman Changed a City Forever by H. Joseph Hopkins, illustrated by Jill McElmurry
When I think San Diego, I don't think dry desert town. But more than 100 years ago, when Katherine Olivia Sessions became the first woman to graduate from the University of California with a degree in science, she moved to San Diego and was horrified by the lack of trees. So she started a movement to transform her new home into the garden oasis we now know it as.
Henry's Freedom Box: A True Story from the Underground Railroad by Ellen Levine, illustrated by Kadir Nelson
I've love everything Kadir Nelson touches and this book is no exception, about the lengths one man goes to in order to gain his freedom. After Henry's family is sold, he comes up with a daring and dangerous plan to escape north, by having some friends nail him into a box and mailing him to a free state. Unbelievably it works!
Just Being Audrey by Margaret Cardillo, illustrated by Julia Denos
I love this beautiful book about Audrey Hepburn and her life, from her early difficult childhood during WWII under Nazi occupation to her emergence as a style icon and her work with UNICEF. Star, particularly, took a shine to this book and I read it to her dozens of times (we also both loved Just Being Jackie about Jackie Kennedy Onassis).
Mae Among the Stars by Roda Ahmed, illustrated by Stasia Burrington
When Mae Jemison was young she longed to be an astronaut. Her teacher suggested she find something more practical, but her parents encouraged her to work hard and achieve her seemingly impossible dreams. And she did, becoming the first African American woman to travel in space. My girls loved this book and as a parent, it was so encouraging to me to let my own children dream big.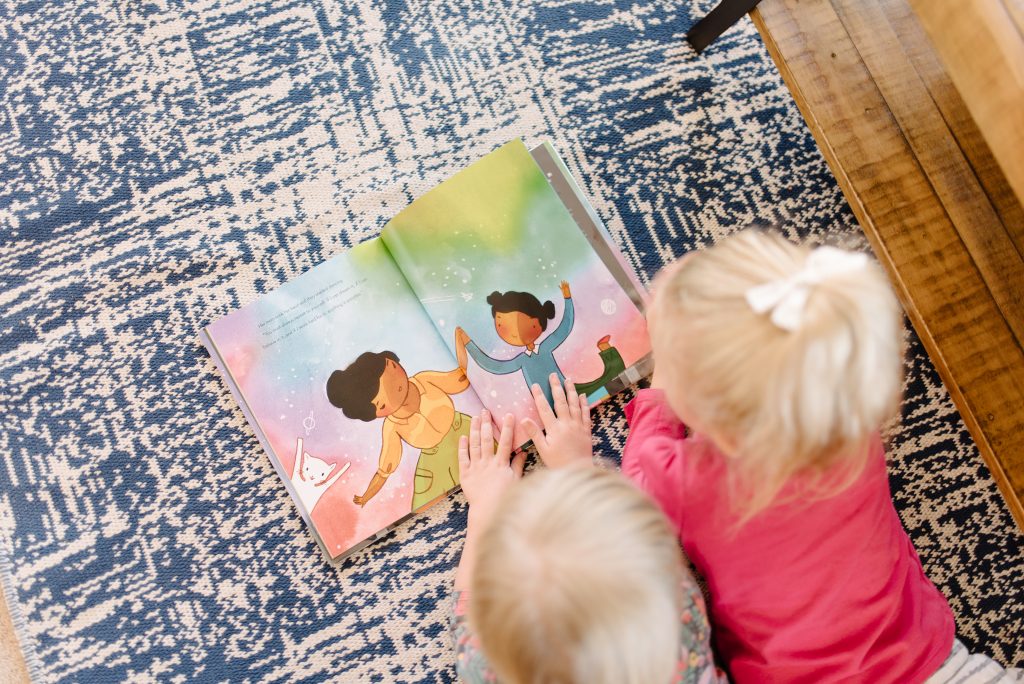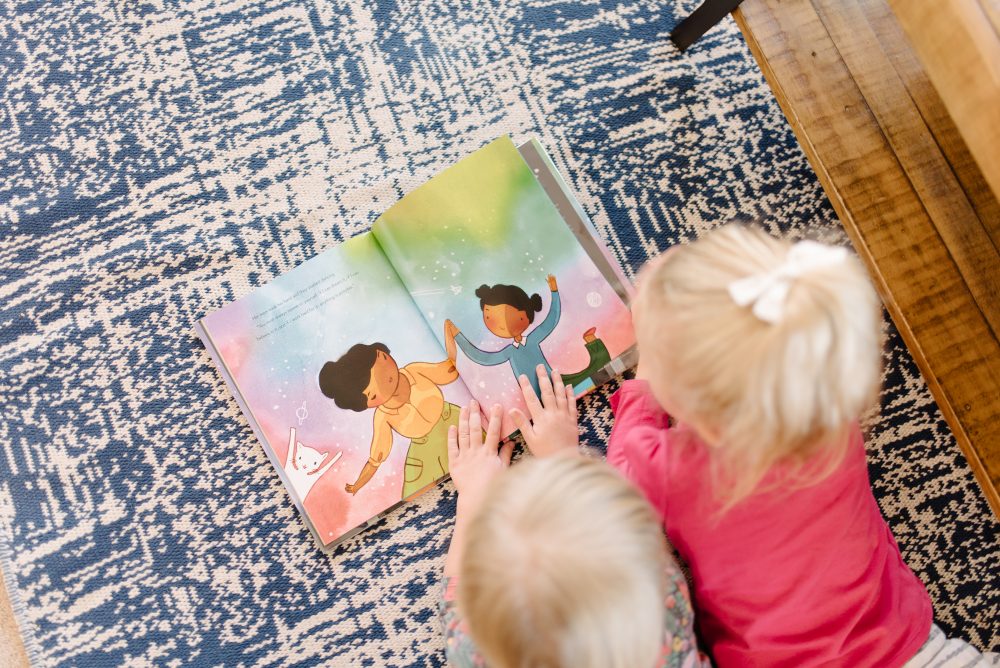 And if you'd like a printable copy of this list that you can take to your library or screenshot on your phone for easy access, just pop in your email address below and it'll come right to your inbox!
What other picture book biographies for kids do you like? I have so many more to share and don't want to miss any good ones!
If you liked this list of picture book biographies for kids, you might also like these posts: