I am not one of those people who reads one book at a time.
I generally have at least three to ten going on at any one time.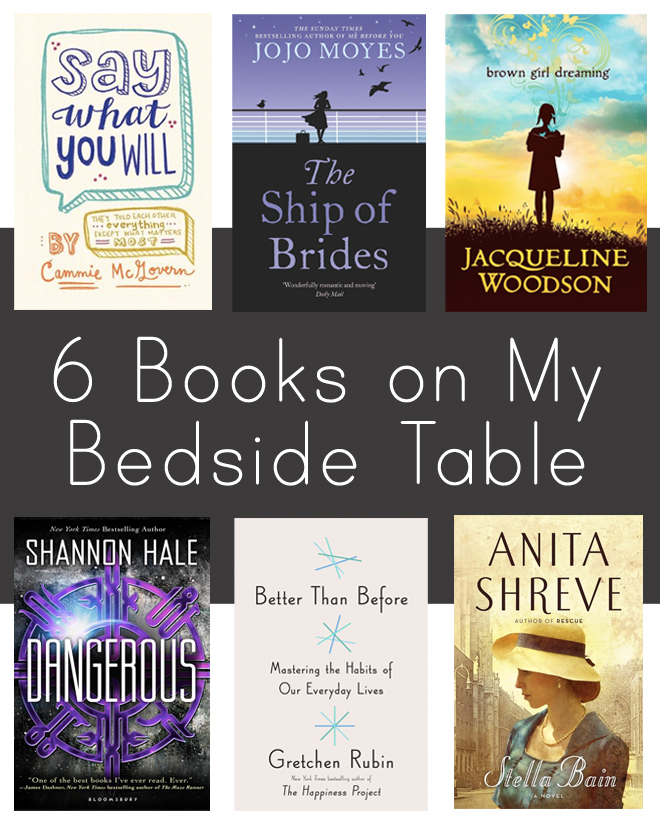 what's on my bedside table
Say What You Will by Cammie McGovern. What the world definitely does not need is another book hailed as "John Green's The Fault in Our Stars meets Rainbow Rowell's Eleanor & Park" but. . . I've seen so much buzz for this one and the audio was available when I looked it up that I checked it out anyway.
The Ship of Brides by Jojo Moyes. I really have liked most of the things written by Jojo Moyes (particularly Me Before You), and I generally like historical fiction, so I'm definitely intrigued by this story about post-WWII war brides leaving Australia for England. It came out almost ten years ago, but just got released in the US this year (the joys of having a best-seller – all your old books get a new lease on life).
Brown Girl Dreaming by Jacqueline Woodson. I'm slowly working my way through the National Book Awards Longlist for Young People, and this is my third (I told you. . .slowly). It's Jacqueline Woodson's memoir told in verse and so far it's lovely. I'm listening to the audio version.
Dangerous by Shannon Hale. I've been meaning to read this sci-fi/romance YA novel about a one-armed girl who wins a trip to astronaut camp for quite a while because I generally love Shannon Hale, and of course now I have two days before my library kindle version expires, so this one is getting my highest attention.
Better than Before: Mastering the Habits of Our Everyday Lives by Gretchen Rubin. I've actually already read this one, but my mom and I spent a lot of the past week talking about it, so I'm reading it again. And it's fantastic. Totally pre-order a copy for when it comes out in March.

The Lives of Stella Bain by Anita Shreve. I saw this one at Waterstones a few weeks ago on display and then it as on the return cart at the library so it came home with me. I like memory loss books and I like WWI books, so I'm hopeful that I'll like this one. I started it last night during a game of Trouble with Ella when she was wrestling with Ani between every turn. Five pages in, so I have no opinions yet.

And if you'd like a printable copy of this list that you can take to your library or screenshot on your phone for easy access, just pop in your email address below and it'll come right to your inbox!


Tell me what you're reading right now. I'll never get tired of reading suggestions.
if you liked this post about what's on my bedside table, you might also like these other posts: