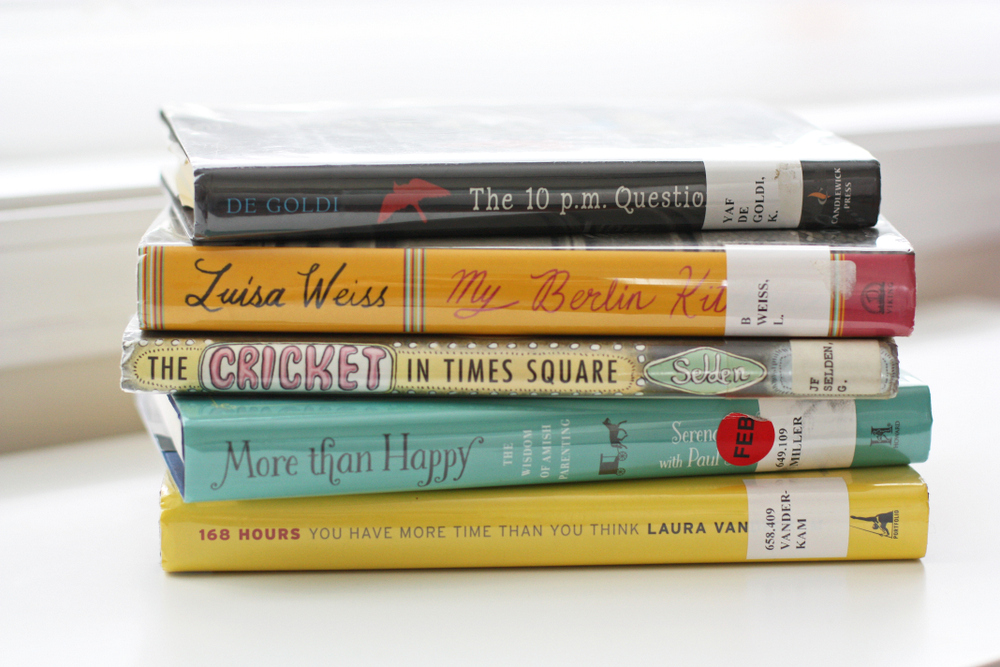 Or more accurately "beside table, coffee table, kitchen table, purse snapshot" because my books are always scattered all over the house.
But I think books are lovely decorations so it doesn't bother me. Except when I'm already in bed and then realize the book I want most in the entire universe is downstairs.
Aside from trillions of picture books, here are the more-than-40-page-books I'm reading right now.
books I'm reading right now
168 Hours: You Have More time Than You Think by Laura Vanderkam
After I read All the Money in the World earlier this year, I checked this one out to re-read it. I loved it last time and I'm loving it this time – it's just such a fascinating topic and I love Laura Vanderkam's writing.
In Honor by Jessi Kirby
This YA roadtrip book is actually on a bit of a hiatus right now because the copy I checked out from the library was missing about 40 pages in the middle, so I'm waiting for a new copy to arrive. But obviously I was enjoying it enough that I didn't just give up when I found out I had a defective copy.
The 10 PM Question by Kate De Goldi
This one was recommended to me by Striking Keys and I'm almost half-way through, but I've kind of stalled out on it and haven't made any progress on it in weeks. It's maybe just a little bit too much on the quirky side for me.
A Little Something Different by Sandy Hall
This is a YA romance told from 14 different points of view (one of them is the squirrel on campus!) and I'm finding the audio version quite delightful.
Jab, Jab, Jab, Right Hook: How to Tell Your Story in a Noisy Social World by Gary Vaynerchuk
I debated whether to even put this one on the list because I've only read about two pages of it and then got side-tracked, but it's still sitting on my bedside table and I still kind of intend to read it and I get to make the rules around here, so it's going on the list.
A Cricket in Time Square by George Selden
I'm reading this one aloud to Ella – I've never actually read this one! We only started it this week, so we we're only a few chapters in, but it's very sweet. Also, I have never not loved Garth Williams' illustrations.
My Berlin Kitchen: A Love Story, with Recipes by Luisa Weiss
You show me a book about food, and I'll show you a book I want to read. I requested a half dozen or so cookbooks from the library last week, but this is the only one that's really more of a book than a cookbook.
More than Happy: The Wisdom of Amish Parenting by Serena B. Miller and Paul Stutzman
Tina recommended this book to me and since I can never resist a parenting-in-other-cultures book, I snatched it right up from my library. It's totally fascinating and so sweet.
And if you'd like a printable copy of this list that you can take to your library or screenshot on your phone for easy access, just pop in your email address below and it'll come right to your inbox!
Anyone reading anything great? I'm picking up a bunch of holds at the library this week, so I have plenty of extra spots itching to be filled immediately (if I haven't maxed out my holds at the library, I feel like I'm doing something wrong).
if you liked this post of books I'm reading, you might like these other posts: