There is something about November and December that just makes me want to pick up the Christmas romances!
And I know I'm not alone because I've been getting almost daily requests for recommendations.
I'm sharing some of my favorites here, plus ones that have been recommended to me from my Instagram community!
Put in your library holds, mix up a steamy beverage and snuggle up by the light of the Christmas tree (and probably the glow of a book light too because I'm too old to read by light as dim as Christmas tree bulbs these days).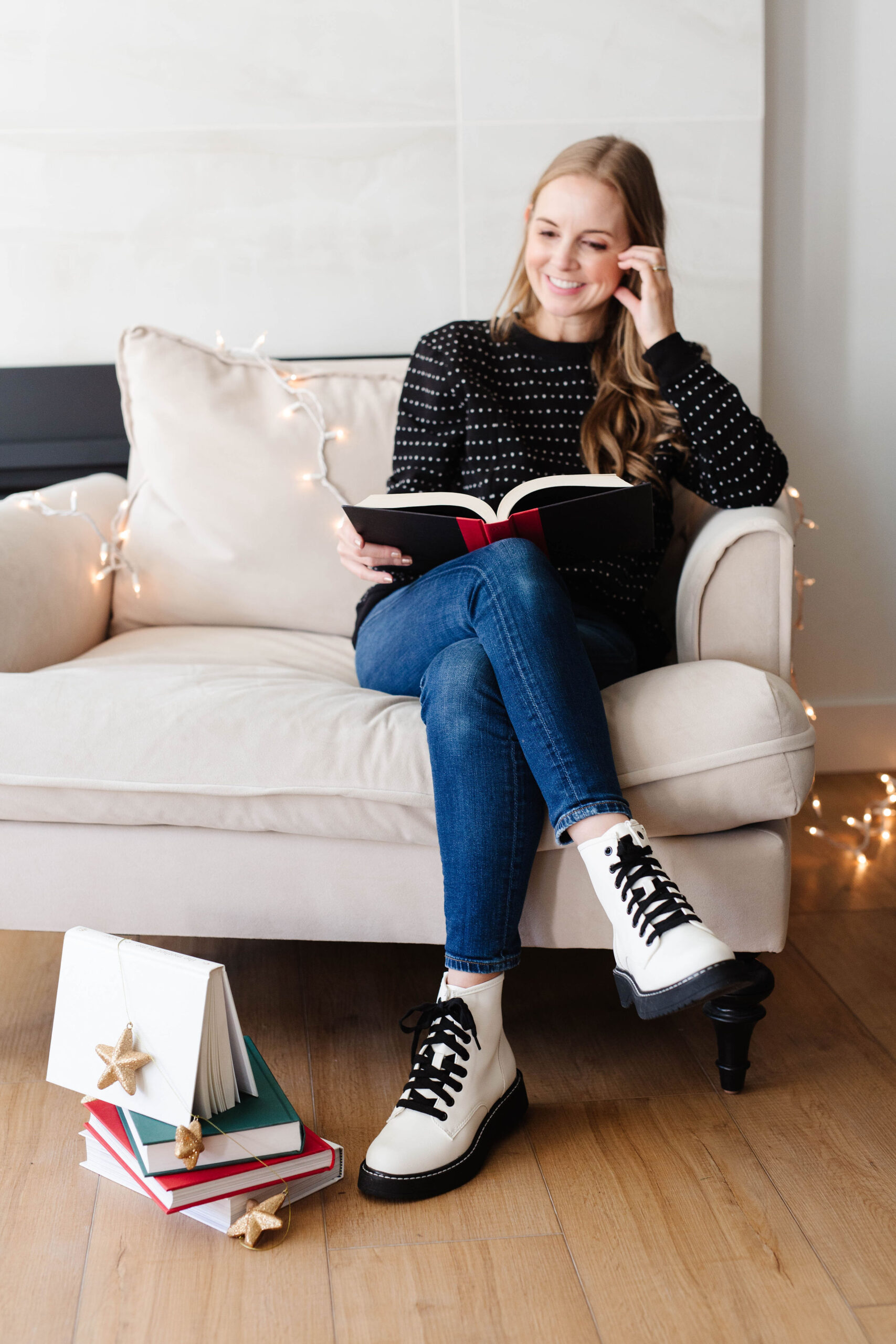 Christmas Romances I've Read and Enjoyed: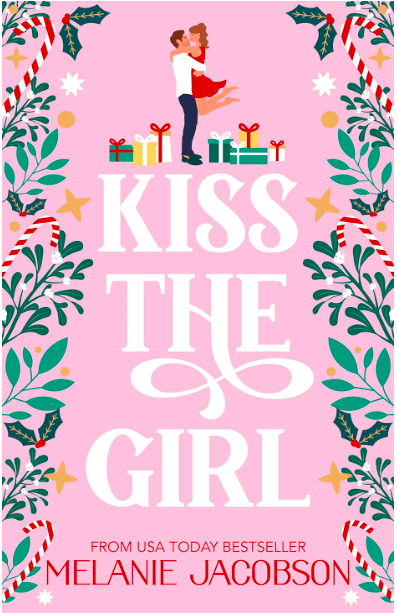 Kiss the Girl by Melanie Jacobson
I read this Christmas romance on a trip last week, and it was a total fluffy delight about an aerospace engineer back in her small town to help run her dad's hardware store while he undergoes cancer treatment. While she's there, she meets a high school teacher and their chemistry is undeniable, but Grace is determined not to get stuck in the tiny town she grew up in. This one has lots of delightful banter and nothing steamier than kissing. Bonus that it is included in Kindle Unlimited, so it was free if you have a membership or you can sign up for a free trial!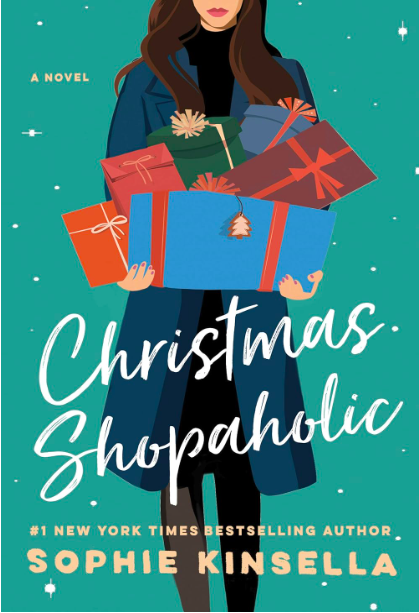 Christmas Shopaholic by Sophie Kinsella
If you know me, you know I have a serious soft spot in my heart for Sophie Kinsella. I find her books so hilarious and Christmas Shopaholic is no exception. It's totally light-hearted and made me laugh out loud AND get in the Christmas spirit. Win-win. Lots of people have asked if you need to read the other Shopaholic books to enjoy this one and I don't think you need to! It stands on its own pretty solidly.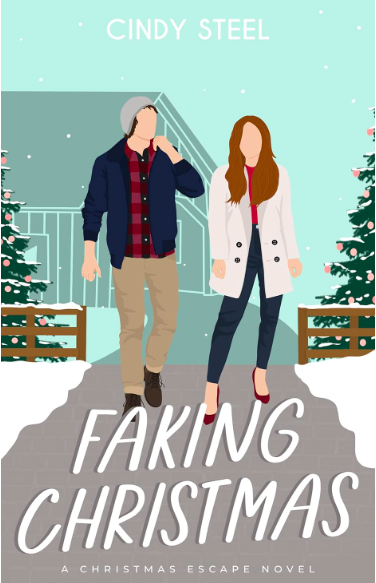 Faking Christmas by Cindy Steele
When I asked about Kindle Unlimited Christmas books, this one came up SO MANY TIMES as a favorite of the year. I blew through it in a day and it's a total delight. Olive and Miles are both high school English teachers and she cannot stand him – he's stolen her title as most popular teacher and makes her work life nearly unbearable. But then, of course, the need for a fake boyfriend comes up and she uses his name to get her mom and sister to back off of setting her up with her ex-boyfriend during the holidays. Which would be fine until the REAL Miles shows up for the holiday celebrations. This one doesn't go past kissing, so if that's your speed, this book is perfect (and A+ for witty banter and lots of chemistry!). You can sign up for a free trial of Kindle Unlimited here and read it for free!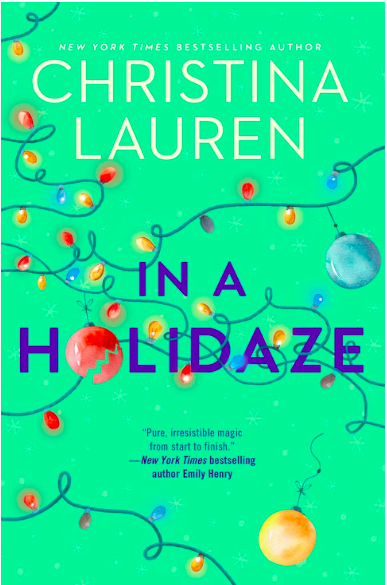 In a Holidaze by Christina Lauren
I read this fun Christmas romance from Book of the Month Club and like most of Christina Lauren's books, it's funny and a little bit predictable. In this one, Maelyn Jones is not feeling very merry – she has a lousy job, lives with her parents, and now has just found out that the mountain cabin where her family spends every holiday with two other family friends is being sold. And then . . . Groundhog Day begins where she starts living the same day over and over. If you like Sophie Kinsella books, this is along the same lines (although not quite as funny).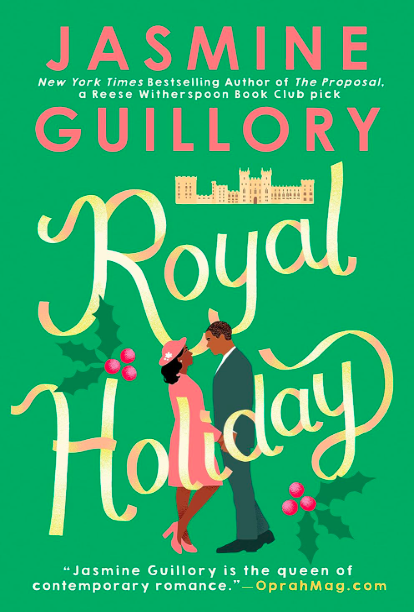 Royal Holiday by Jasmine Guillory
When I asked for suggestions for Christmas romances a few yeas ago, this one got mentioned a LOT and I thoroughly enjoyed this holiday story about Vivian who tags along with her daughter on a work trip to England and, naturally, finds herself falling for a charming British man who works for the queen. There is one brief open door scene, so heads up on that if you want to skip it. 

The Holiday Swap by Maggie Knox
I've never actually seen a Hallmark Christmas movie (I know, I know!) but all the reviews tell me that this is the book equivalent. If you're looking for something deep, this isn't it, but if you want a fun, fluffy holiday romance, this one gives you two for the price of one, since it features identical twins swapping places over the holidays and, naturally, both finding love in the other's life. I read this one last December and it was a perfect light-hearted holiday escape.
Last Christmas in Paris by Hazel Gaynor and Heather Webb
This historical fiction Christmas romance book is set in WWI and is written entirely in letters (a format I don't normally go for). Evie's brother and his best friend are headed off to the front, but like most people, they assume the war will be over by Christmas and they have grand plans to spend it together in Paris. Of course, it doesn't go that way. This is definitely less fluffy than the other ones on this list and I loved every second of it. If you can, I HIGHLY recommend listening to this one – the narration is so good (if you've never used Audible before, you can get one audiobook for free).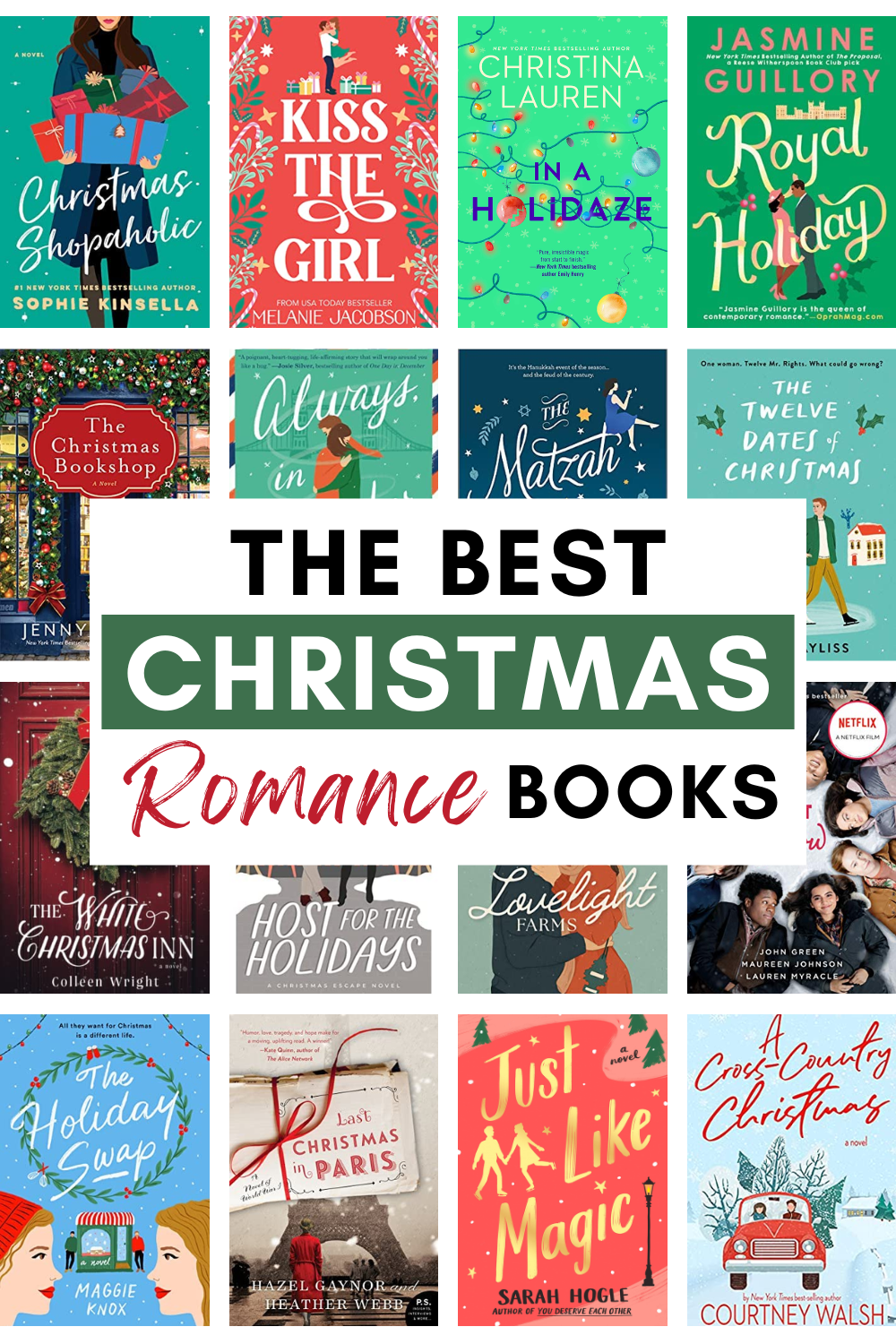 I also asked for suggestions on Instagram and got a FLOOD of titles (plus lots of requests to share those suggestions!). These are all Christmas romances I haven't read, so I can't vouch for them at all or give any insight to how steamy or chaste they might be, so proceed at your own risk!
Christmas Romance Book Suggestions from Instagram:
Lovelight Farms by B.K. Borison
When Stella enters a contest to win a huge cash prize to save her Christmas tree farm, she lies on the contest application claiming to own it with her boyfriend, but there is one BIG problem…there is no boyfriend. So, when her best friend Luka comes home for the winter, he gets a little bit more than some instant hot cocoa, he gets an instant girlfriend!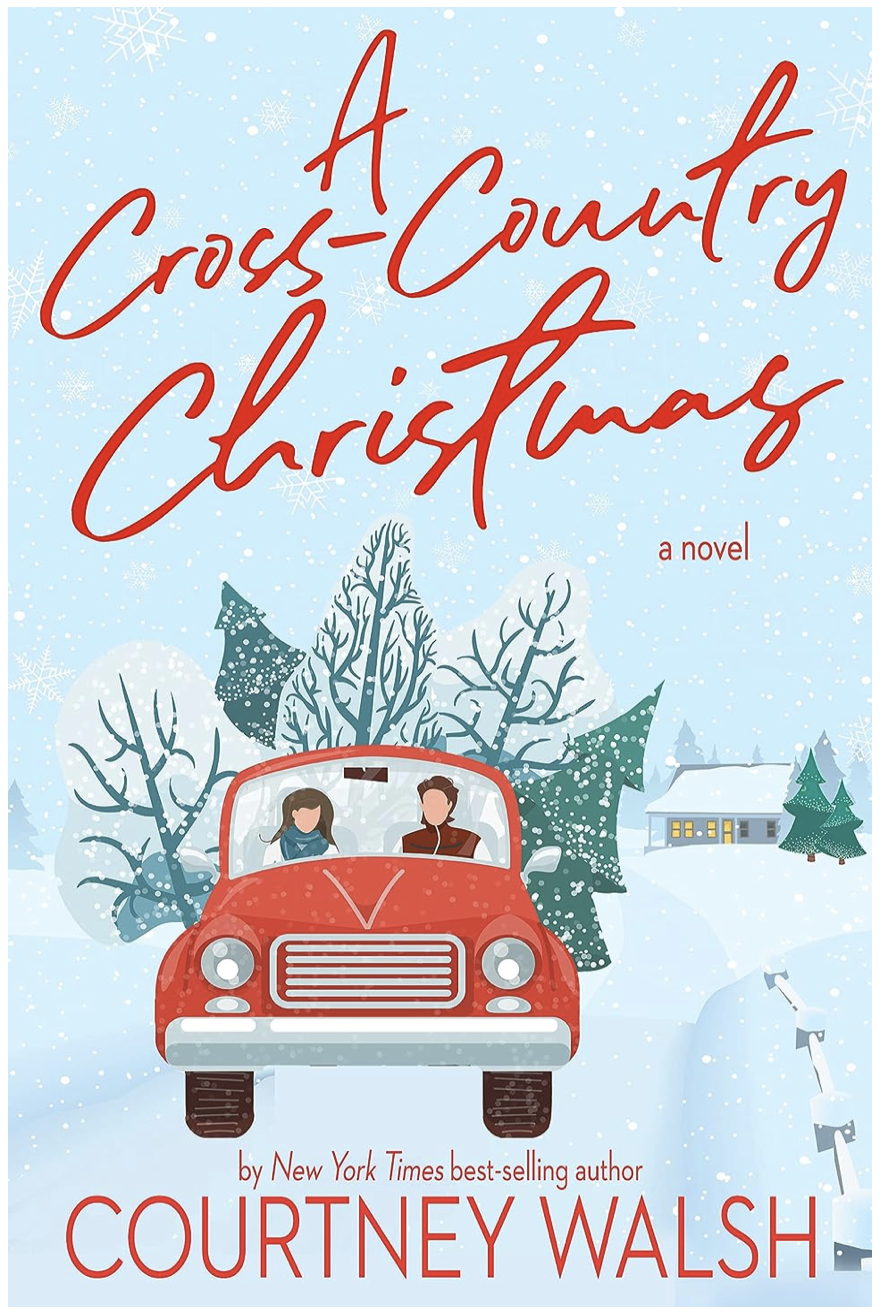 A Cross Country Christmas by Courtney Walsh
Lauren is absolutely terrified of flying and needs to travel home for the birth of her new niece or nephew. She is roped into a road trip with Will Sinclair— her brother's best friend, presumed womanizer, and the man who broke her heart many years ago. With her grumpy attitude and hatred towards Christmas, Will attempts to lighten the mood and spread some holiday cheer through spontaneous pit stops. Misunderstandings are revealed and love begins to blossom.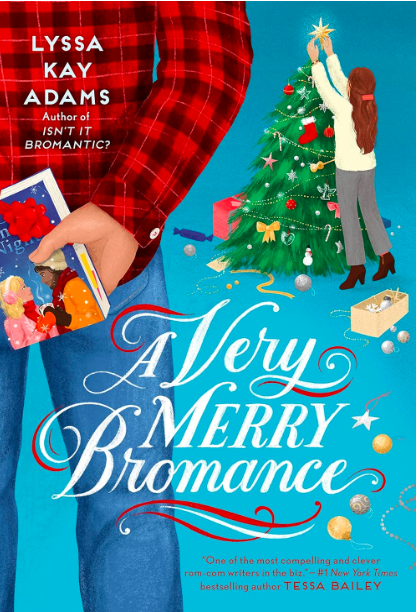 A Very Merry Bromance by Lyssa Kay Adams
This book is part of the Bromance Book Club series where Nashville's alpha men get love advice from a secret romance book club. In this book, Colton, country music's golden boy, has had it bad for Gretchen ever since they met at a wedding a year prior. She wants nothing to do with him and she also doesn't like Christmas. Colton plans to change her mind about both things.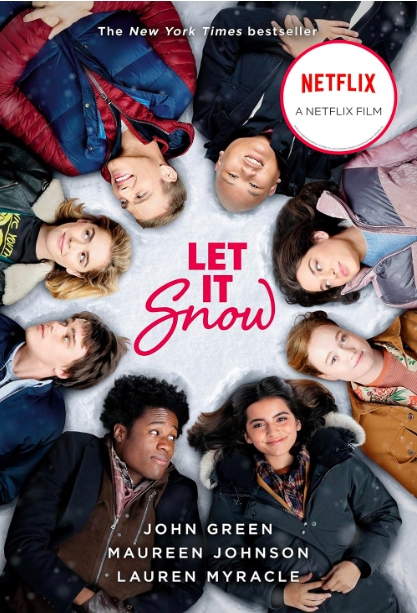 Let It Snow by John Green, Lauren Myracle, and Maureen Johnson
This YA book is a compilation of three funny and charming stories from three different authors, seamlessly combined describing how different people react to a blizzard in the North Carolina mountains on Christmas Eve. There is love, romance, and kisses. When you are done reading, there is a Netflix Original Film too!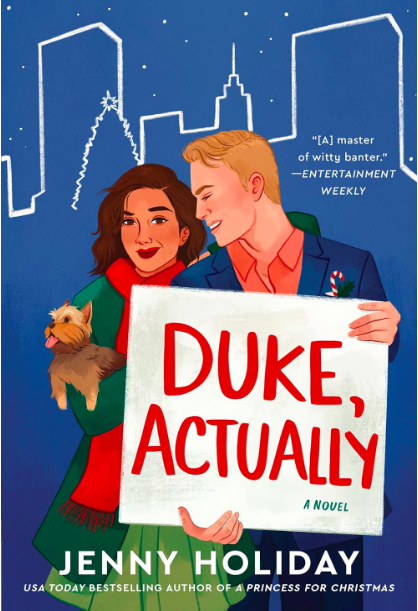 Duke, Actually by Jenny Holiday
Described as a "Hallmark story with spice", this is the second book following A Princess for Christmas. Max, a total ladiesman baron, is next in line for the throne and is under pressure by his family to marry. He meets Dani, a newly divorced professor at a wedding and is determined to befriend her for friendship and distraction. Falling in love, however, was not part of the plan.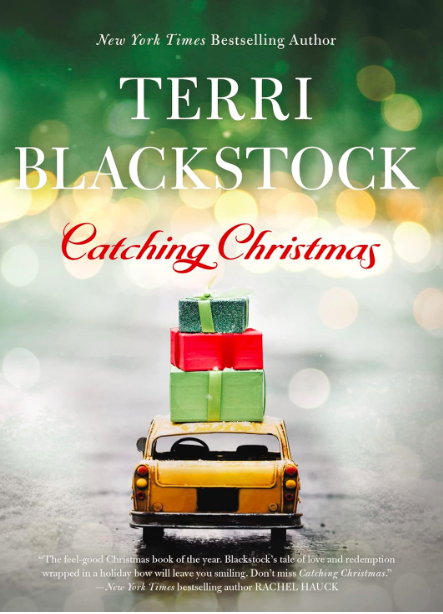 Catching Christmas by Terri Blackstock
An elderly woman decides she will stop at nothing to give her granddaughter, Sydney, a special gift for Christmas. After driving her around for her doctor's appointment, she convinces her cab driver that he might be the perfect date Sydney needs for Christmas.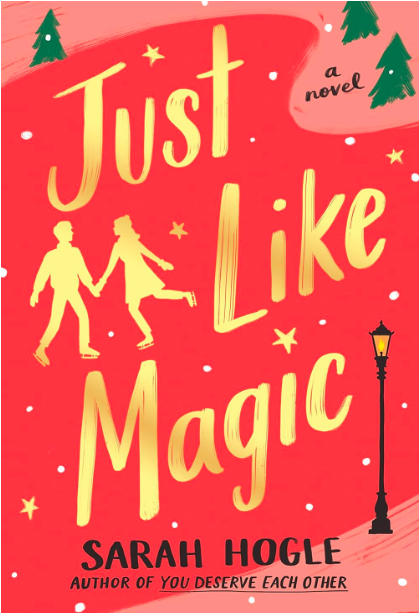 Just Like Magic by Sarah Hogle
Bettie Hughes used to be a glamorous jet setting influencer, but she is now broke and squatting in Colorado. She is not looking forward to to the holidays because her family has no idea how bad things are for her. After a drunken night, she spills some wine, plays a vinyl record of "All I Want for Christmas Is You" backward and poof, appears a very happy, very excited, and very magical holiday spirit named Hal. Did I mention he is also very handsome? Hal is ready to make all of her holiday wishes come true!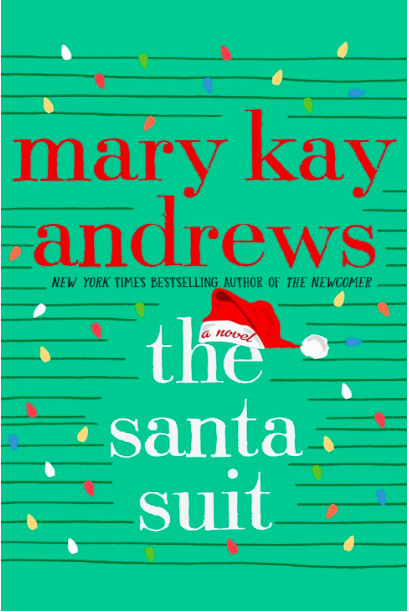 The Santa Suit by Mary Kay Andrews
On Ivey's first night at Four Roses Farm (a farmhouse she buys sight unseen) she finds an old Santa Claus suit. In it, a crumpled note from a child asking for one very special Christmas wish. Ivey can't help wondering whether or not the child got their wish. As she settles into the farmhouse it seems that Santa Suit might have the power to heal her broken heart, find a new home, and new love.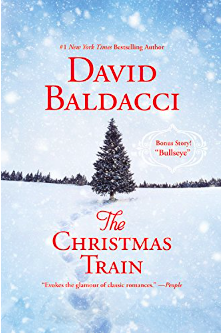 The Christmas Train by David Baldacci
This one is a Hallmark Original movie, so a perfect one to read and then watch. Broke journalist Tom Langdon encounters a ridiculous cast of characters and an unexpected romance on a train ride to Los Angeles. But when an avalanche traps the train in a historic blizzard, everyone's Christmas plans will be changed.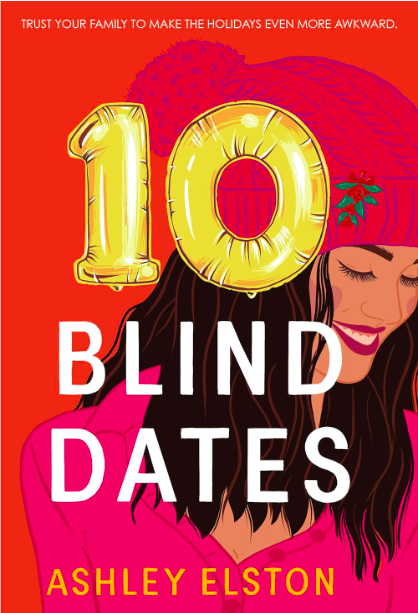 10 Blind Dates by Ashley Elston
High school senior Sophie is finally going to have the perfect Christmas, some alone time with her boyfriend of one year, and some time away from her huge family. That is until she overhears that he wants to break up with her. Devastated, Sophie's big extended family is ready to fix her broken heart. They to set her up on 10 blind dates with 10 different guys of their choosing!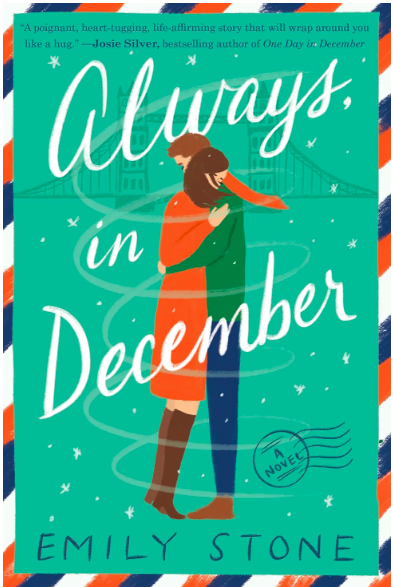 Always, in December by Emily Stone
This book sounds like you will need a whole box of tissues while you read. So be prepared. Josie is on her way to post a letter, to her parents who died too young. It's a tradition that she keeps every year, always in December. On her way to drop of the letter she runs into Max. Did fate bring them together?

Winter Street by Elin Hildebrand
A family Christmas gathering at Kelley Quinn's Nantucket inn is thrown into turmoil by his four adult children's personal dramas and the discovery of his second wife's infidelity.
This book ends with a major cliffhanger, but don't worry, the second book, Winter Stroll will fill in all the pieces!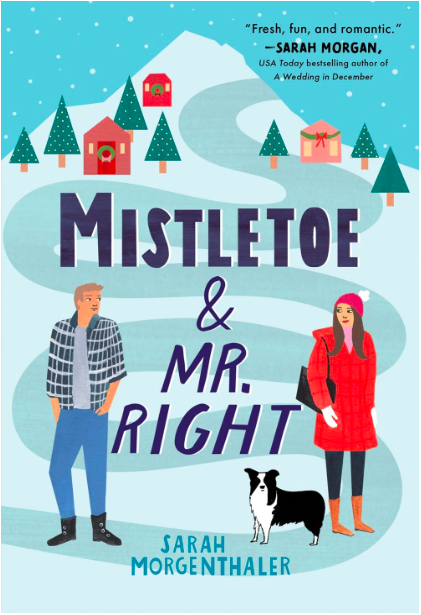 Mistletoe and Mr. Right by Sarah Morgenthaler
This Christmas romcom takes place in Moose Springs, Alaska and features a bed & breakfast filled with taxidermied squirrels, a rampaging Santa moose, and a kind hearted pool hall owner whose billionaire landlord is more interested in his heart than his rent. I mean it sounds adorably funny!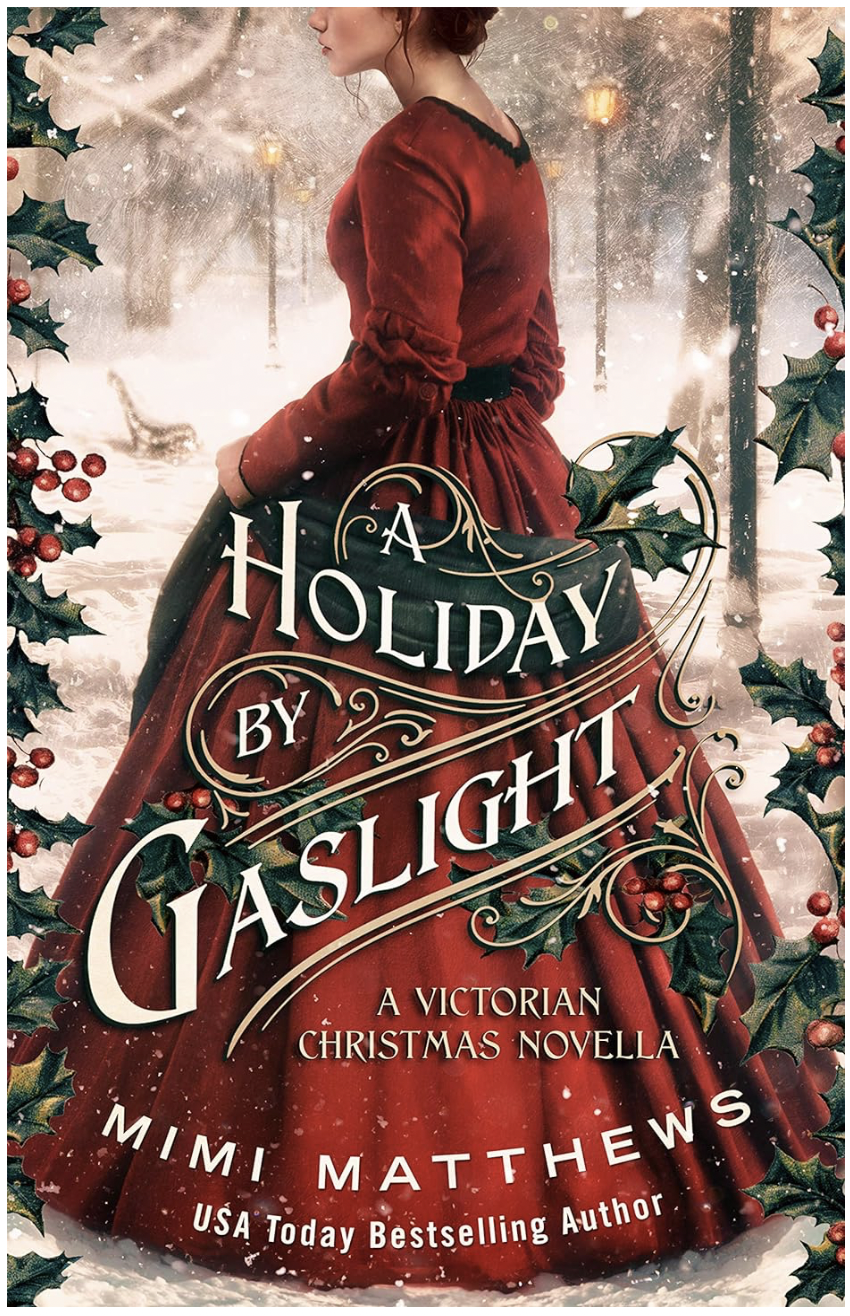 A Holiday by Gaslight by Mimi Matthews
When her father equipped their estate with gaslight, something new and very costly, it became Sophie's her duty to help the family by marrying for financial prosperity. Ned a self-made, serious man, seems to have nothing in common with Sophie. Will Ned and Sophie fall in love over the Christmas holidays? This is a true Victorian novella.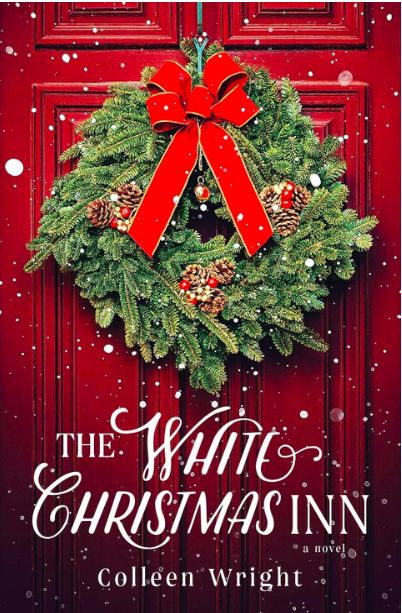 The White Christmas Inn by Colleen Wright
This one definitely has a Hallmark movie vibe. A snowstorm shuts in the guests at a cozy New England inn. Many of them worrying their Christmas plans won't turn out as planned. A writer is distracted by a handsome young widower with two young girls, a bride-to-be is devastated when her fiancé calls everything off but reconnects with a childhood friend at the inn, and the owners of the inn are struggling to keep it afloat, as well as their marriage. With a little bit of Christmas magic they just might make it through the holidays after all.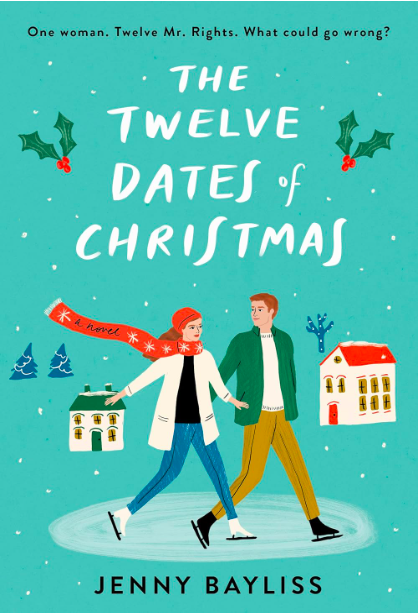 The Twelve Dates of Christmas by Jenny Bayliss
In this funny and hilarious twist on the 12 days of Christmas, Kate Turner is ready to give up on love. But, when her best friend convinces her to join a dating app, Kate is skeptical, but promises to give it a try. The objective: Attend twelve dates in twelve different locations, matched with twelve different men, between the 1st and 23rd of December. What could go wrong?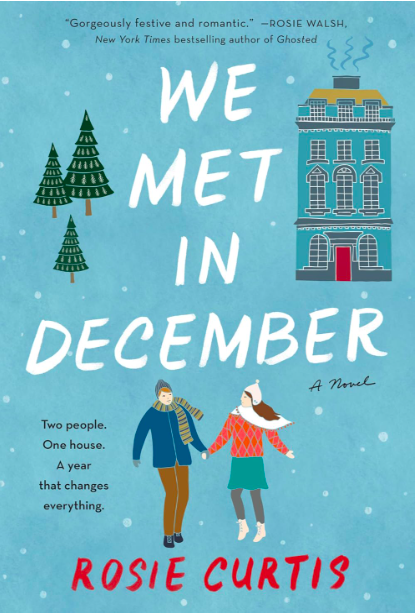 We Met in December by Rosie Curtis
Described as an unforgettable romantic comedy for those who love Bridget Jones. This slow-burn love story covers two years in the lives of Jess & Alex as they become friends while their romantic potential keeps swinging and missing.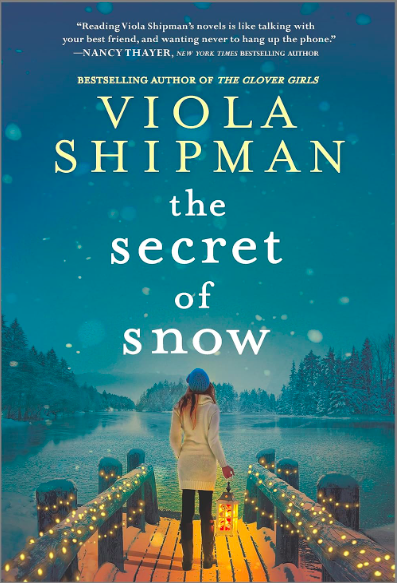 The Secret of Snow by Viola Shipman
A 50 year old Palm Springs TV meteorologist has a major breakdown on air after being let go from her job. She returns home to icy Michigan to take a job at the only news station willing to give her a chance. She has been avoiding her home and a winter tragedy she has been trying to outrun. Can she move on and finally thaw her heart?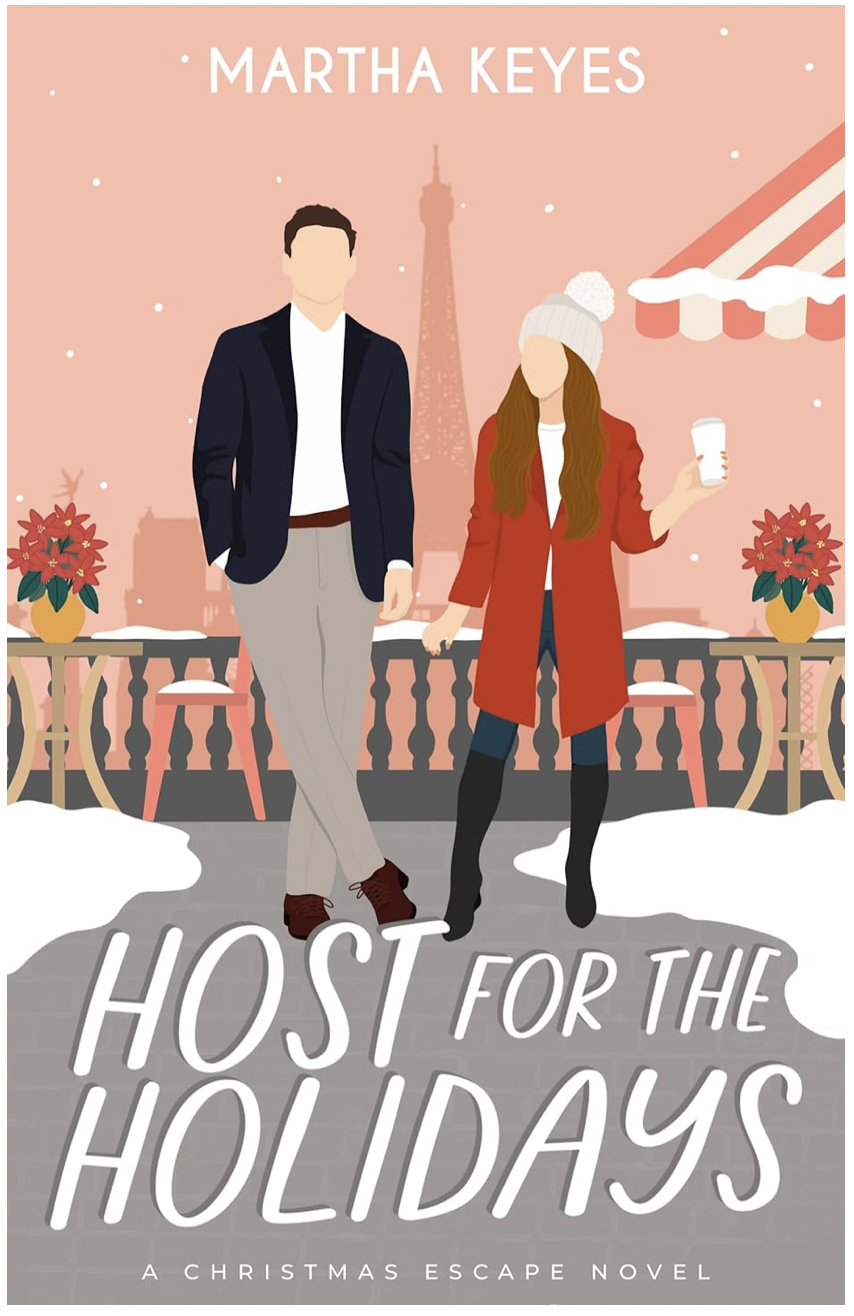 Host for the Holidays by Martha Keyes
There are 7 of these Christmas Escape novels – so if you liked this one, there are several more to fill your holidays with! It's a closed-door romance, so kissing only. Madi is ready to explore Paris with her boyfriend and is hoping he will pop the big question. Instead, she finds herself renting a tiny room from ridiculously attractive French rental host Rémy. This is a sweet, accidental roommates romance for the holidays.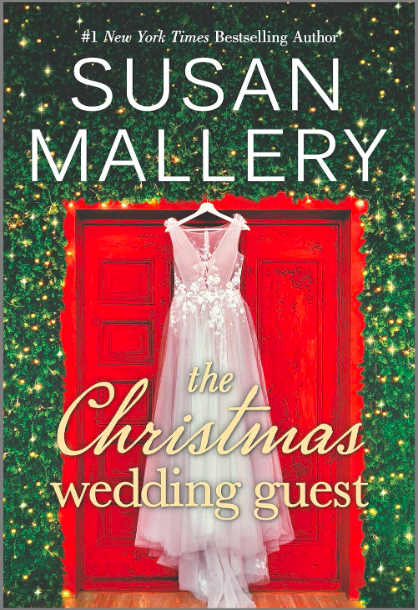 The Christmas Wedding Guest by Susan Mallery
Sisters, Reggie and Dena, are both searching for love as they help plan their parent's vow renewal ceremony for the upcoming holiday. Reggie is back in town after a broken two-day engagement, and Dena doesn't have a great track record with love herself. Can these sisters find it in their hearts to love again?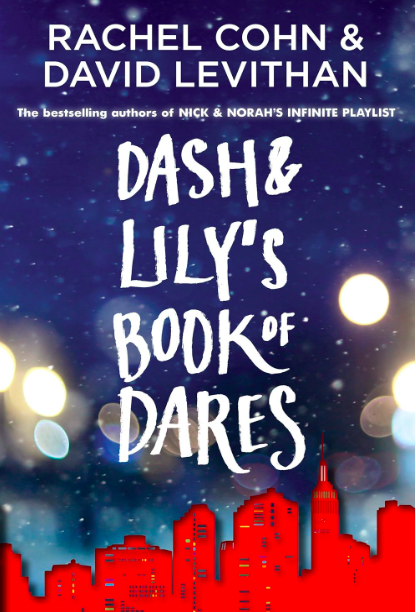 Dash and Lily series by Rachel Cohn and David Levithan
This one has been adapted into a charming Netflix series about two 16 year olds, Dash and Lily, embarking on a wintery scavenger hunt at Christmastime in New York. Neither of them know what, or who, they will find along the way.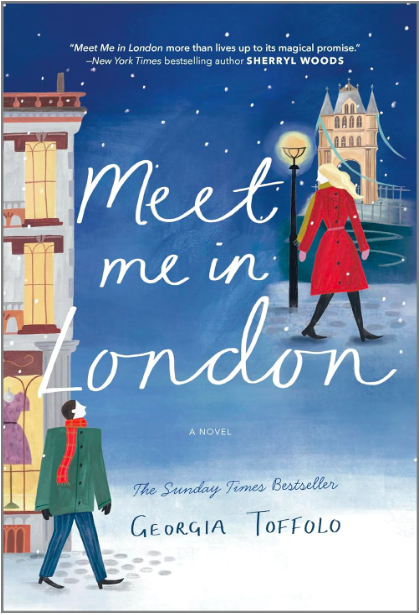 Meet Me in London by Georgia Toffolo
If you like In a Holidaze by Christina Lauren, this one might also be up your alley. Victoria and Oliver make a formal arrangement to pretend to be in a relationship. Victoria will get her fashion designs seen, and Oliver's mother will stop meddling in his love life. Keeping things professional isn't easy, especially when their fake relationship starts to feel very real.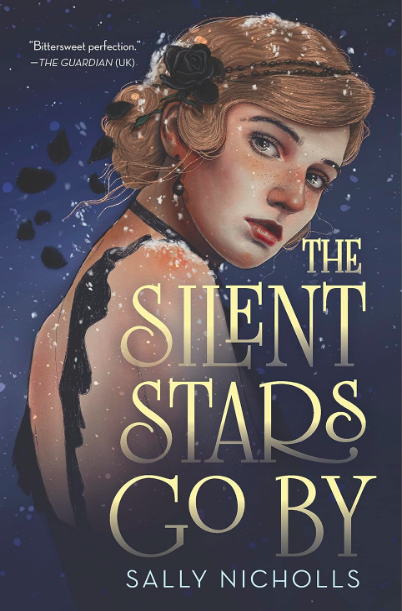 The Silent Stars Go By by Sally Nicholls
This YA historical fiction book follows Margot, and the baby she gave up when her fiancé Harry is declared missing in action during WWI. Now Harry has returned for Christmas, a different man than the boy who went to war, and Margot faces the dilemma of whether to tell him the truth.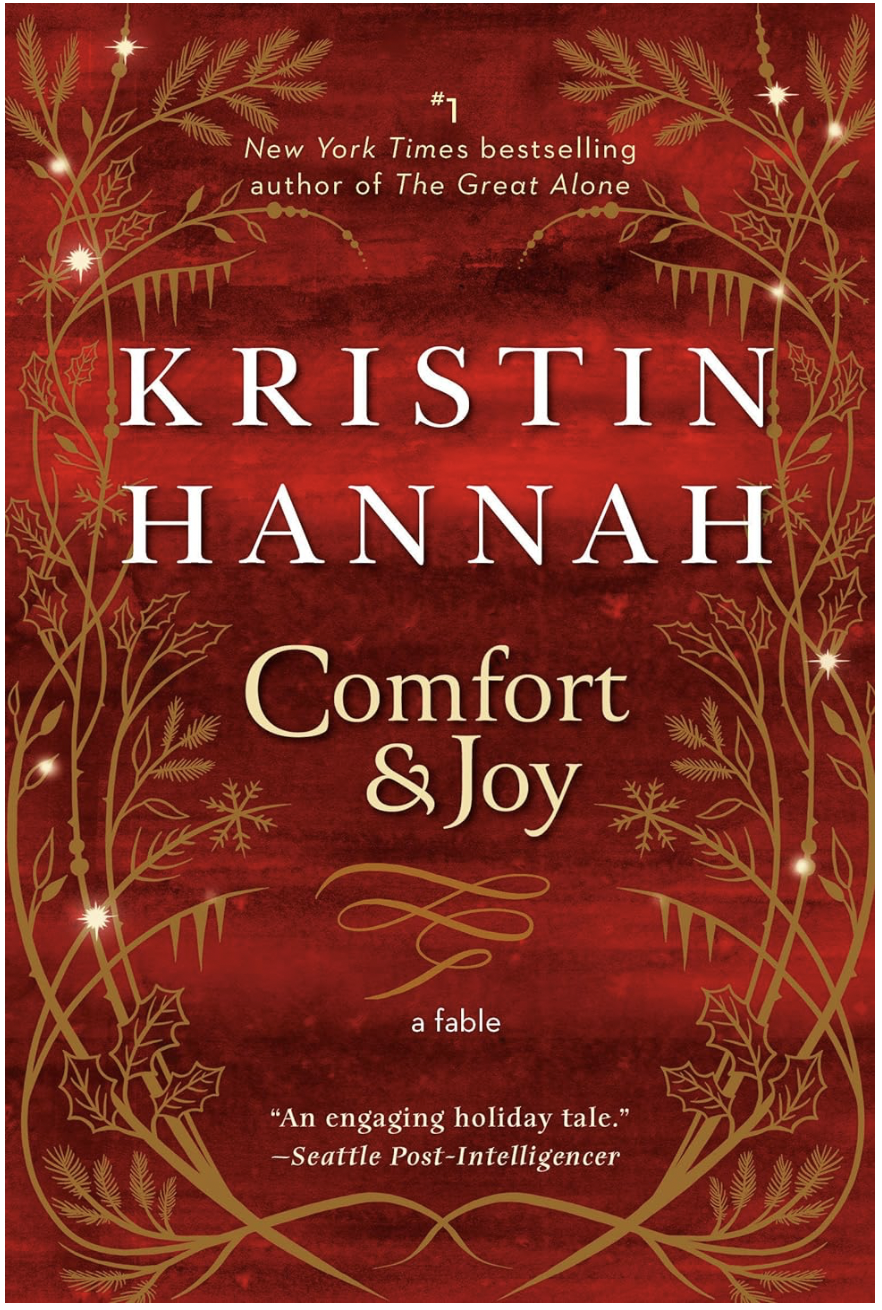 Comfort & Joy by Kristin Hannah
I have read quite a few of Kristin Hannah's books, and always really enjoy them. I think I might need to add this one to my holiday book list. Recently divorced with no family of her own, Joy is beginning to dream of a new life with widower Daniel O'Shea and his son, Bobby, until a fateful Christmas Eve forces her to make a painful choice.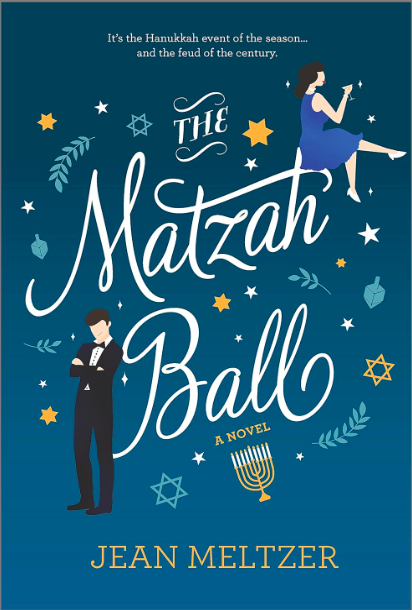 The Matzah Ball by Jean Meltzer
Rachel Rubenstein-Goldblatt, a Jewish woman with a secret career as a Christmas romance novelist, is urged by her publisher to write a Hanukkah romance. She finds unexpected inspiration when she encounters a childhood acquaintance at the Matzah Ball, a Jewish music celebration on the last night of Hanukkah.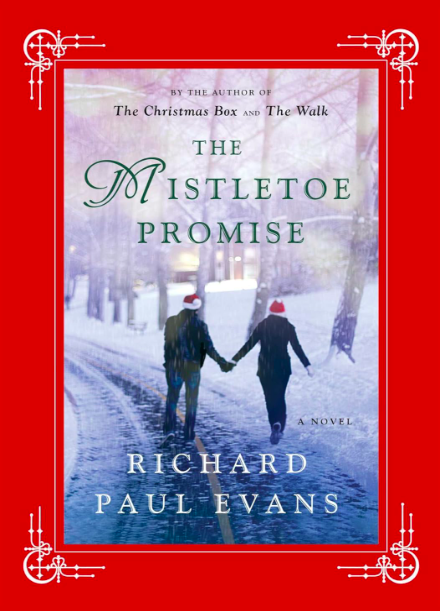 The Mistletoe Promise by Richard Paul Evans
Lonely divorcee Elise pretends to be a couple with a man for eight weeks, until the evening of December 24. He gets very professional and even drafts up a four rule contract. As their fake relationship progresses, her broken heart starts healing. But just as she begins to find joy again, both of their emerging secrets threaten to destroy their relationship. This one also has a Hallmark movie adaptation.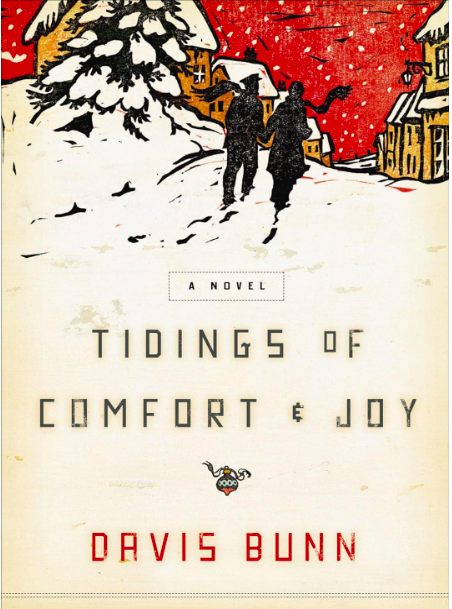 Tidings of Comfort and Joy by Davis Bunn
This sweet Christmas story is set during the aftermath of WWII. Marissa has been ill and is forced to stay with her grandmother while the rest of her family heads to Christmas in Hawaii. Her grandmother decides to share a story that she's never told anyone. As old memories live again through her words, two broken hearts find healing, comfort, and the courage to celebrate Christmas once again.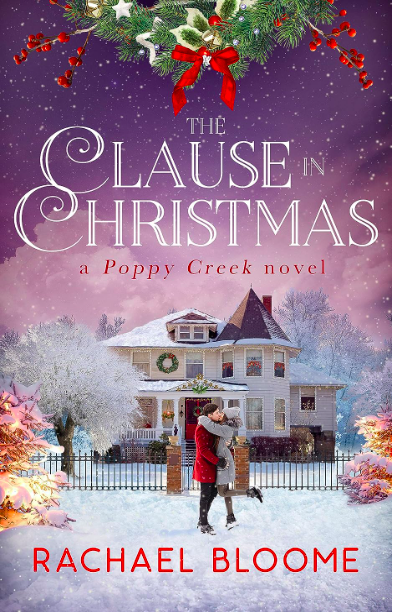 The Clause in Christmas by Rachael Bloome
Broke and unemployed, Cassie hates Christmas. When she unexpectedly inherits a Victorian cottage in a the charming town of Poppy Creek, this might be the Christmas miracle she has been needing. The caveat: there is one clause in the will. Cassie must complete a series of festive tasks for each day in December leading up to Christmas. And it wouldn't be a romance without a disarmingly handsome Christmas-loving lawyer overseeing the inheritance.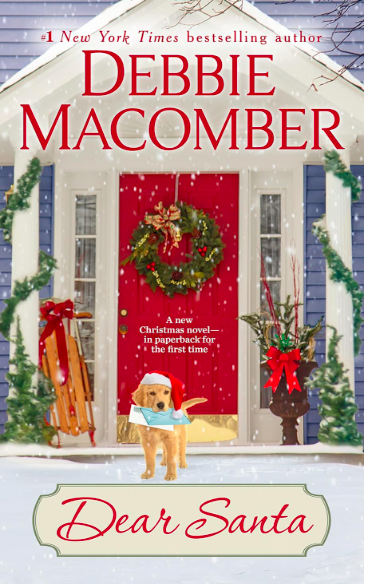 Dear Santa by Debbie Macomber
Debbie Macomber is often known as the queen of Christmas stories. In this one, Linda returns home after the love of her life left her for her best friend and her job seems hopeless. Her mother convinces her to revisit all of her childhood letters to Santa, and after doing so, Linda decides to write a new letter to Santa in an act of healing. With a little bit of Christmas magic, her wishes begin to come true, especially with a handsome former classmate who could end up being a real holiday gift.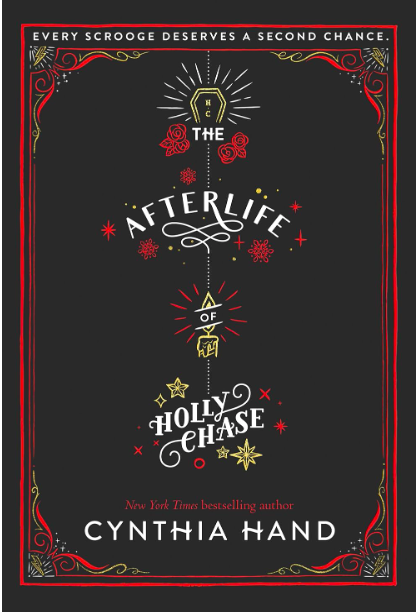 The Afterlife of Holly Chase by Cynthia Hand
I absolutely loved My Lady Jane, so I can imagine this holiday book will be right up my alley. This YA book is about a teenage girl who was visited by three ghosts – think Christmas Carol – to try and convince her to change her ways. She doesn't, she dies, and this is the story of her afterlife working at a top secret company called Project Scrooge. I feel like there has to be some great humor and wit in this one!
Keep Me Warm at Christmas by Brenda Novak
This is the last book in a series by Brenda Novak, but don't worry, it is a stand alone so you don't have to read the previous eight to know what's going on. A star studded actress who was left scarred from a car accident meets Seth while they are both house sitting. She is trying to heal from her accident and Seth, is healing from losing his wife during the holidays. They both learn to trust again, and may possibly find love in the process.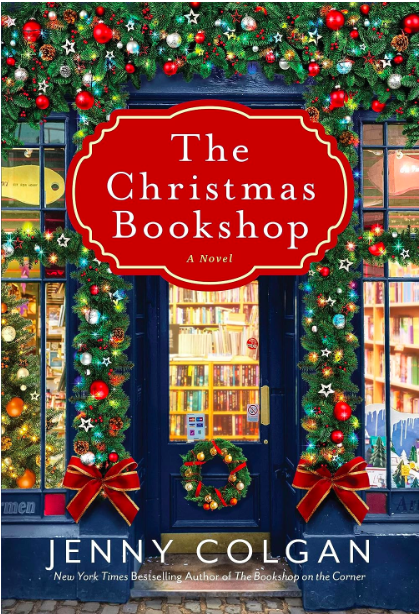 The Christmas Bookshop by Jenny Colgan
You might know Jenny Colgan from her beloved Little Beach Street Bakery books, but these Christmas romance books are holiday happiness on one page. And this one is the #1 book on Amazon's best selling holiday romances list. So it must be good!
And if you'd like a printable copy of this Christmas romance book list that you can take to your library or screenshot on your phone for easy access, just pop in your email address below and it'll come right to your inbox!
if you liked this post about christmas romance books, you might also like these other posts: