Once the Summer Reading Guide is out in the world, one of my favorite beginning-of-summer traditions is making a list of the books that I'm planning to read over the summer (2022 list here, 2021 list here, 2020 list here, 2019 list here, 2018 list here,  2017 list here, and 2016 list here).
Do I ever read them all? Not even CLOSE.
But it's a fun place to start. Here is my summer book list of 11 books I'll hopefully get to during these warmer months: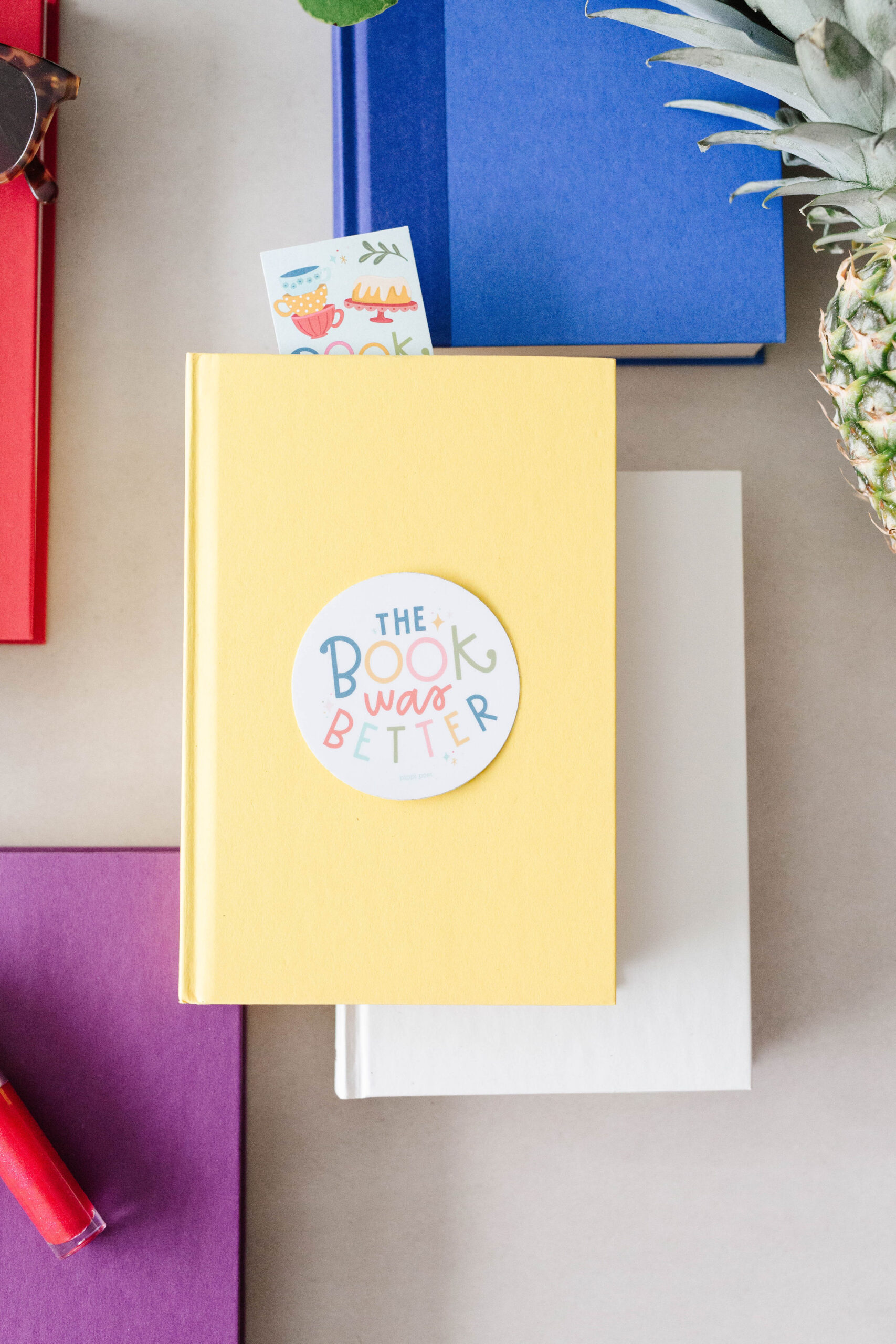 My 2023 Summer Reading List
The Emotional Lives of Teenagers: Raising Connected, Capable, and Compassionate Adolescents by Lisa Damour Ph.D.
I have heard SO MANY raves about this book and since our house is getting a real live teenager this summer, it feels like the perfect time to read it.
The Secret Book of Flora Lea by Patti Callahan Henry
I love a good historical fiction title and this one is getting SO MUCH buzz.  Hazel is a teenager when she and her five-year-old sister, Flora, are evacuated from London during WWII and they make up an imaginary land together, until Flora disappears. Twenty years later, still feeling guilty, Hazel receives a package – a book about the imaginary world she created for her sister. Does this mean Flora is still alive?
A Fever in the Heartland: The Ku Klux Klan's Plot to Take Over America, and the Woman Who Stopped Them by Timothy Egan 
I've had this book sitting in my audio queue for months and I can't wait to get to it this summer. I feel like it's going to be a good book to follow up Empire of Pain – another sweeping non-fiction narrative about powerful people in America.
Talking at Night by Claire Daverley
This one was on Modern Mrs Darcy's Summer Reading Guide and immediately caught my eye! Will and Rosie are the epitome of opposites attract, but they fall in love in high school and it looks like they're meant to be. Until tragedy strikes and it seems their love story is going to be cut short. This is set over many years and I can't wait to read it (it doesn't come out until late June).
Dial A for Aunties by Jesse Q. Sutanto
I listened to Vera Wong's Unsolicited Advice for Murderers this spring (and included it on this year's Summer Reading Guide) and I've heard that this book by the same author is just as delightfully funny and wacky, about a girl who accidentally kills her blind date and then, when her mother finds out, brings in all the aunties to help dispose of the body. I'm definitely planning on listening to it!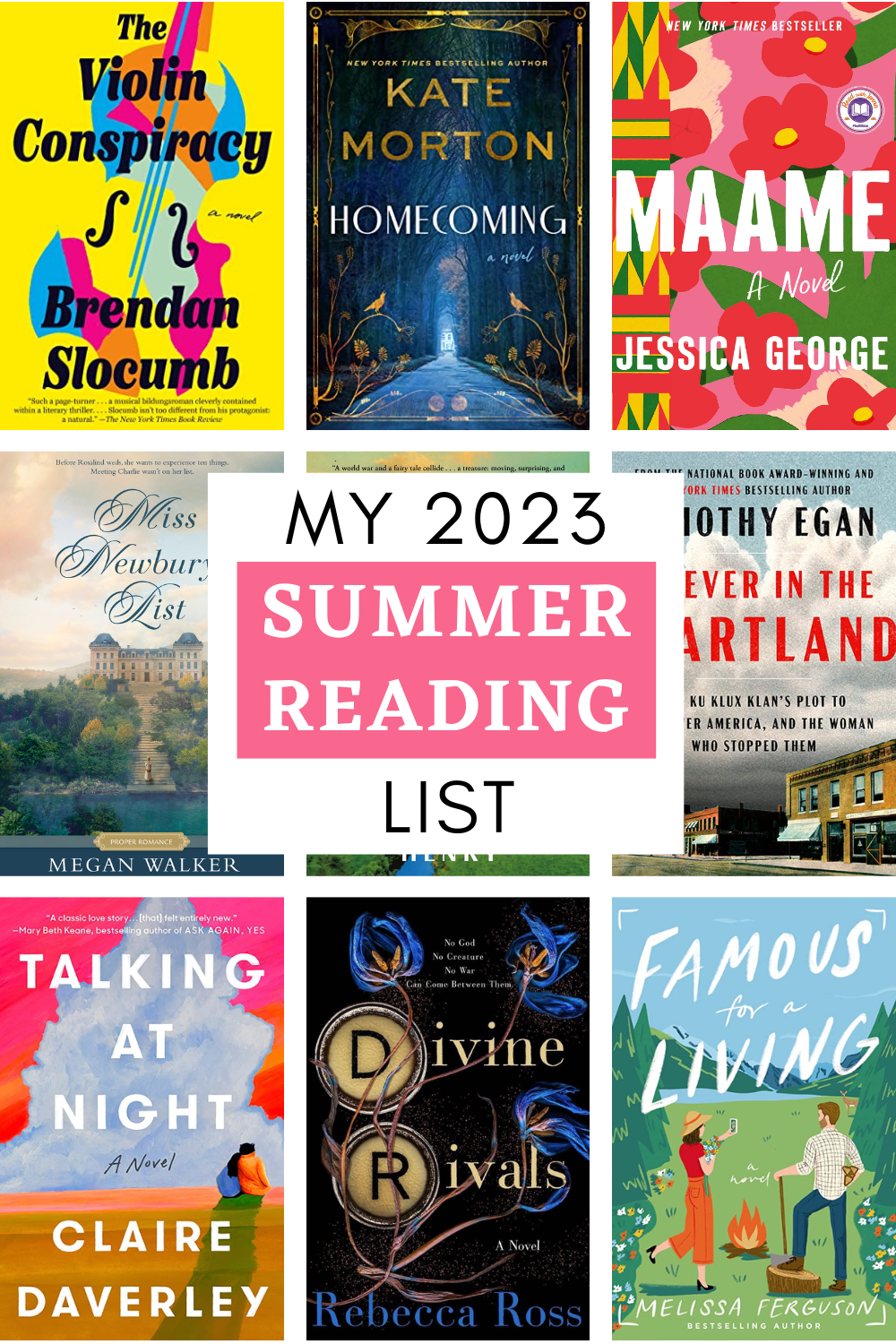 Divine Rivals by Rebecca Ross
After I mentioned Lovely War recently, so many people have told me I'll love this new book that includes Greek gods – I actually started this one yesterday on our drive back from Las Vegas and it's excellent. Two rival journalists fall in love as they take on the warring gods and, you know, the fate of all mankind.
Famous for a Living by Melissa Ferguson
After reading her book Meet Me in the Margins, I knew I wanted to read more of her books and this new one about a social media influencer felt like an obvious choice! Cat Cranwell is a beloved influencer with millions of followers until a partnership goes very wrong and she takes up her uncle on an offer to work at a national park in Montana.
Maame by Jessica George
Analese from the Everyday Reading team mentioned this book earlier this year in a post about what we were all reading and her rave review about this book made me add it immediately to my TBR! The main character is in her 20s and the primary caretaker for her father who has Parkinson's, until her mother returns from Ghana and Maddie finally has a chance to live the life she's dreamed of. But, naturally, it's not going to be what she expected.
The Violin Conspiracy by Brendan Slocumb
I love a good mystery novel in the summer and this one really caught my eye – it's about a Black musician becoming a star in the world of classical music who discovers that his great-great-grandfather's heirloom violin is actually a nearly priceless Stradivarius. And then that violin is stolen, with a ransom note for $5 million left behind.
Miss Newbury's List by Megan Walker
I read her first book earlier this spring and I can't wait to dive into her new release – this has definitely been my year of regency romance, so I couldn't skip this one! It's the story about a woman preparing for her marriage to a virtual stranger and the list of things she wants to do before her wedding day.
Homecoming by Kate Morton
It's been too long since I read a Kate Morton novel (I've read several of them and always found them wildly enjoyable)! This one combines a police-stumping murder in Australia in the late 50s and a journalist in present day London looking for a story to work on. When said journalist is called back to Australia to visit her ailing grandmother, she discovers a true crime book about the case and realizes that her family is connected to this story.
What are you planning reading this summer? Do you make a summer book list? I'd love to hear!
And if you'd like a printable copy of this summer book list that you can take to your library or screenshot on your phone for easy access, just pop in your email address below and it'll come right to your inbox!
if you liked this post about my summer book list, you might also like these other posts: