After the Summer Reading Guide and the Summer Reading Chart and the 100 Picture Books list are all launched, my favorite annual tradition is making a list of the books that I'm planning to read over the summer (2019 list here, 2018 list here,  2017 list here, and 2016 list here).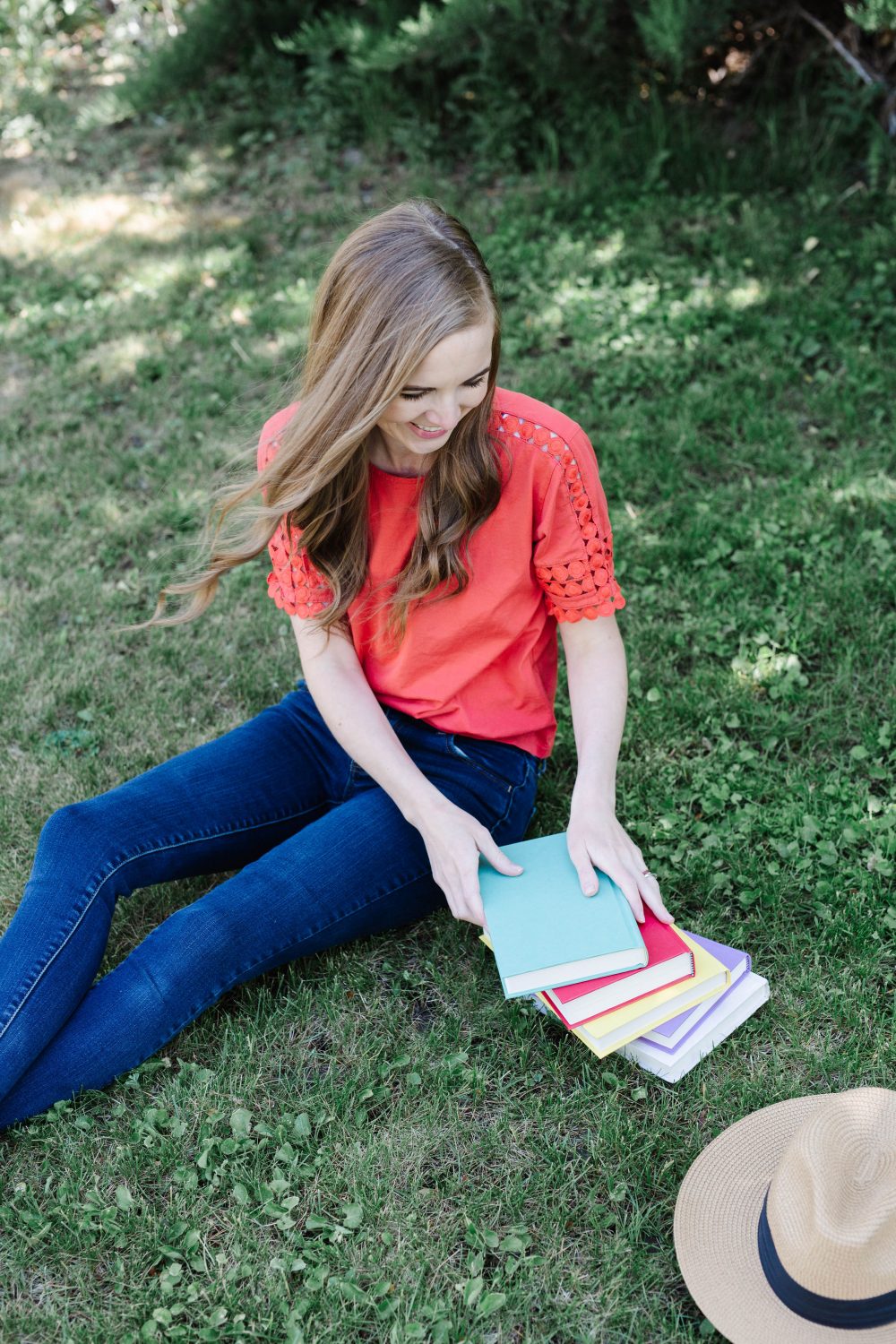 I never get through more than about half of them – last year I read 6 of the 13 titles – but it's a fun way to plan out at least some of my summer reading and keep track of what books I really want to get to during these warm summer months.
Here's what on my list for this summer:
summer reading list 2020
The Ballad of Songbirds and Snakes by Suzanne Collins
I mean, how can this not be first on the list? I preordered this one so I would have it the MINUTE it was released (sometimes you just can't wait around in a library hold line). Plus, I can't resist a good prequel, especially to a series like The Hunger Games.
Code Name Helene by Ariel Lawhon
Modern Mrs Darcy recommended this on her Summer Reading Guide and when she introduced it in the Unboxing zoom call, the chat box exploded with people saying "I LOVED THIS BOOK." Word is that the audio version is incredible and since it has a six month wait at my library, I used one of my Libro.fm credits to grab a copy.
Hotbox: Inside Catering, the Food World's Riskiest Business by Matt Lee and Ted Lee
It's been too long since I read a good food memoir and when my friend Julie said she loved this one, I immediately put it on my to-read list.
The Address Book by Deirdre Mask
Between loving both Walkable City and This Is Where You Belong, there was no way I could avoid picking up this book about what our addresses say about us.
The Heir Affair by Heather Cocks and Jessica Morgan
I love love loved The Royal We when I read it back in 2015 (it's on this year's Summer Reading Guide!) and I'm thrilled to see a sequel coming out all these years later. I always say I'm not that into British Royalty, but . . . maybe I secretly am!
Clap When You Land by Elizabeth Acevedo
My book club read her smash hit, The Poet X, that picked up basically every award on earth last year and I'm looking forward to reading her newest novel in verse about two young women who find out they are sisters in the aftermath of 9/11.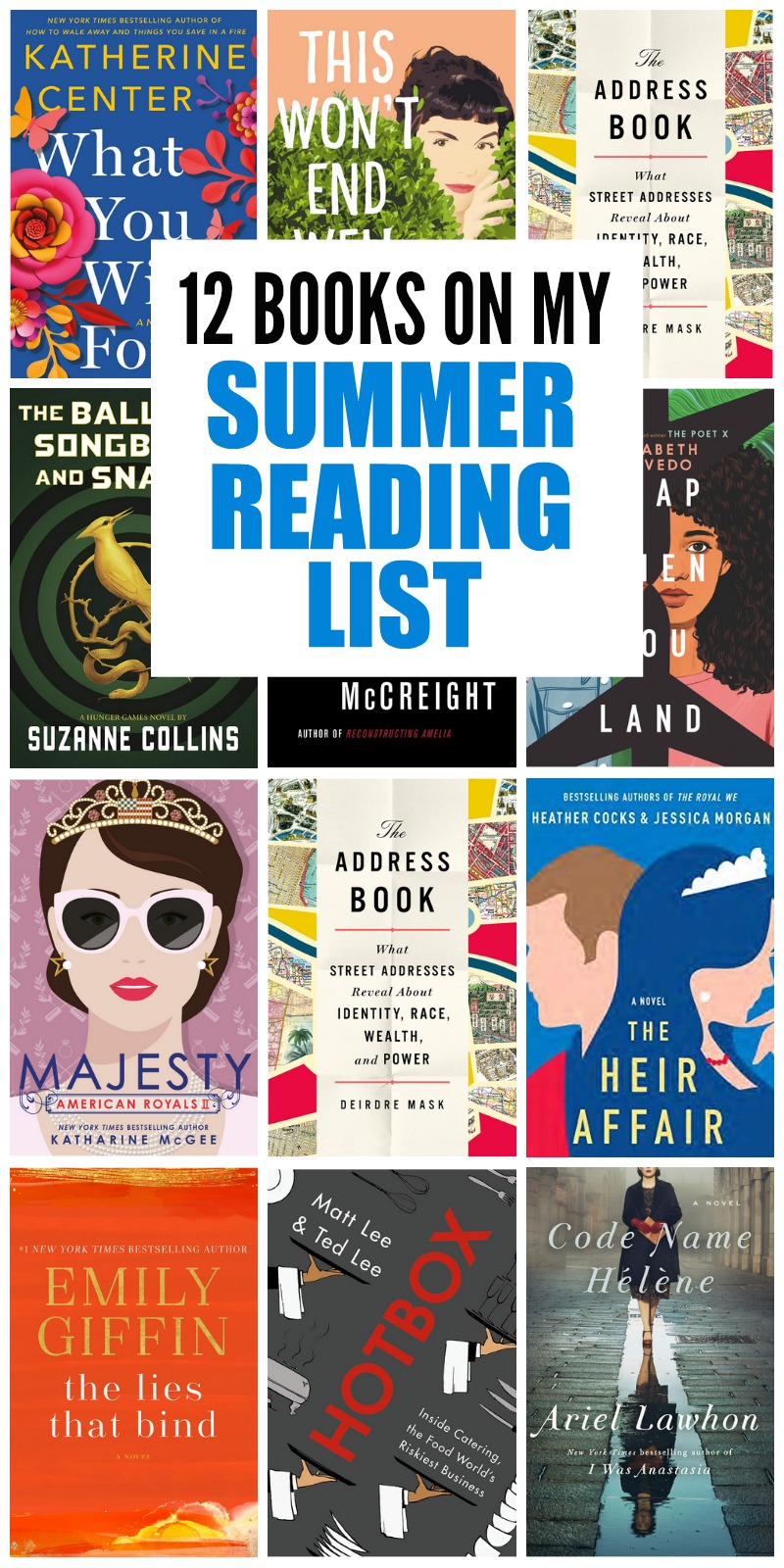 American Royals II: Majesty by Katharine McGee
I mean, the first one wasn't any great literature, but I flew through it on vacation last year and it just felt so perfectly vacation-y that I couldn't resist reading the second one about a reimagined America where there is a royal family. The first one ended on a bit of a cliffhanger, so I'm anxious to see what happens next.
This Won't End Well by Camille Pagan
This is a Kindle Unlimited book that also has the audio included and I've been meaning to read it for MONTHS. Now is the moment. In this one, Annie decides she's not going to let anyone new into her life. But then a new neighbor moves in and. . . well, it's going to spiral out of control.
What You Wish For by Katherine Center
One of my very favorite books I read last year was Things You Save in a Fire (it's on this year's Summer Reading Guide!) so there was zero chance I was going to miss her newest book about an elementary school librarian and a new principal who go head-to-head, made more complicated by their shared past.
The Lies That Bind by Emily Giffin
I am an Emily Giffin completest (even if I think none of her books have been as good as her first one), so naturally I need to read her newest book. This one is about a man who disappears in the chaos of 9/11 and might not be all he claimed to be.
My Wife Said You Might Want to Marry Me by Jason B. Rosenthal
I love Amy Krouse Rosenthal and am still mourning her death. She wrote an article for the New York Times called "You May Want to Marry My Husband" that was published just a few days before her early death from cancer and went viral. This book is her husband's memoir of their life together and picking up the pieces for himself and their children after she passed away.
A Good Marriage by Kimberly McCreight
You know I'm not a big thriller reader, but I figured if there is ever a time to branch out a bit, it's during the summer. This was my Book of the Month Club pick for May and even though just the cover gives me shivers, I'm also really looking forward to it!
And if you'd like a printable copy of this list that you can take to your library or screenshot on your phone for easy access, just pop in your email address below and it'll come right to your inbox!
What's on your summer reading list? I'm always game for more suggestions!
IF YOU LIKED THIS summer reading list 2020, YOU MIGHT ALSO LIKE: